Buell XB12STT Lightning Super TT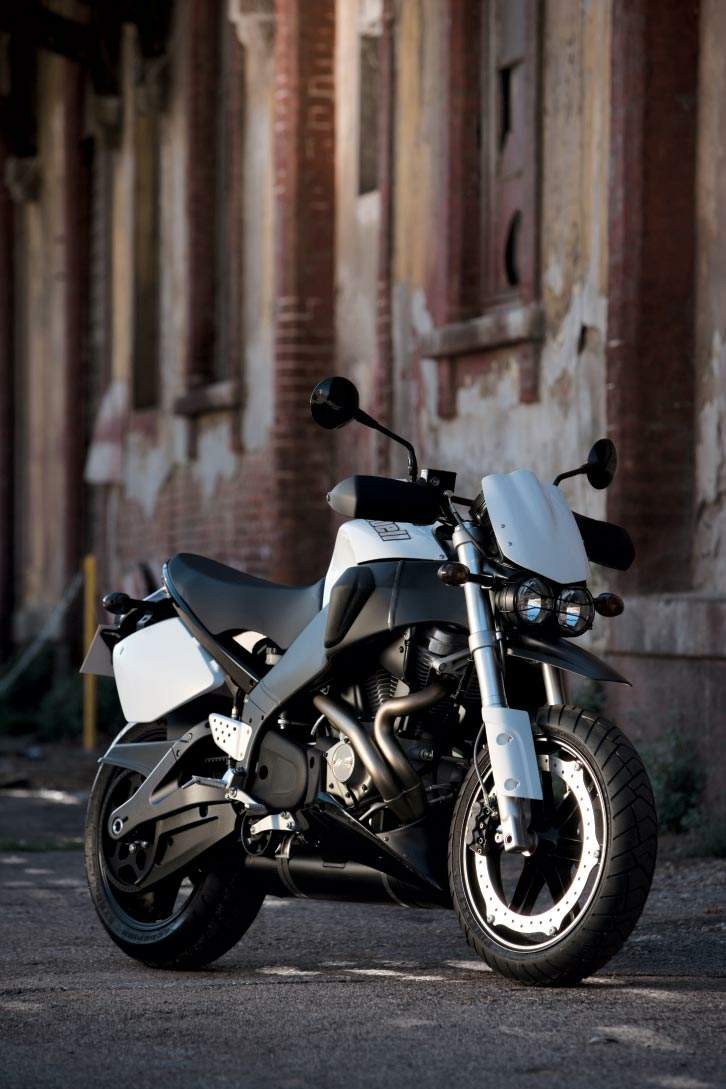 Make Model.
Buell XB12STT Lightning Super TT
Year
2007 - 08
Engine
45° V-Twin, four stroke, pushrod actuated overhead valve,

hydraulic self-adjusting lifters,

2 valve per cylinder.
Capacity
1203 cc / 73 cu in
Bore x Stroke
88.9 x 96.8 mm
Compression Ratio
10.0:1
Co

oling System
Air cooled
Lubrication
Dry sump
Exhaust
Buell InterActive Exhaust
Induction
Ψ49 mm Downdraft DDFI II fuel injection
Starting
Electric
Battery
12V, 12Ah
Max Power
86.9 kW / 103 hp @ 6800 rpm
Max Torque
114 Nm / 11.6 kgf-m / 84 ft-lbs @ 6000 rpm
Clutch
Wet, multi-plate, compensated
Transmission
5 Speed
Final Drive
Belt
Gear Ratios
1st 2.648 / 2nd 1.892 / 3rd 1.407 / 4th 1.166 / 5th 1.000
Frame
Aluminium frame with Uniplanar™ Powertrain vibration isolation system, fuel in frame
Rake
23.1°
Trail
119 mm / 4.7"
Front Suspension
Showa Ψ43 mm inverted forks compression damping, rebound damping and spring preload adjustable
Front Wheel Travel
165 mm / 4.9"
Rear Suspension
Showa coil-over monoshock, remote underseat reservoir and adjustable compression damping, rebound damping and spring preload
Rear Wheel Travel
162 mm / 4.9"
Front Brakes
ZTL type brake, 6 piston, fixed caliper, Ψ375 mm single-sided, inside out, stainless steel, floating rotor
Rear Brakes
Single Ψ240 mm disc, 1 piston floating caliper
Wheels
6-Spoke, ZTL cast aluminium
Front Wheel
3.50 x 17"
Rear Wheel
5.50 x 17"
Front Tyre
120/70 R17 Pirelli Scorpion Sync
Rear Tyre
180/55 R17 Pirelli Scorpion Sync
Dimensions
Length: 2179 mm / 85.8"
Width: 892 mm / 35.1"
Wheelbase
1372 mm / 54.0"
Ground Clearance
143 mm / 5.63"
Seat Height
798 mm / 31.4"
Dry Weight
181 kg / 399 lbs
GVWR
386 kg / 850 lbs
Fuel Capacity
16.7 L / 4.4 US gal
Fuel Reserve
3.1 L / 0.82 US gal
Average Consumption
3.62 L/100 km / 27.6 km/l / 64.9 US mpg
Oil Capacity
2.37 L / 2.50 qts
Standing Ό Mile
12.3 sec
Top Speed
214 km/h / 133 mph
Reviews
Motorcycle USA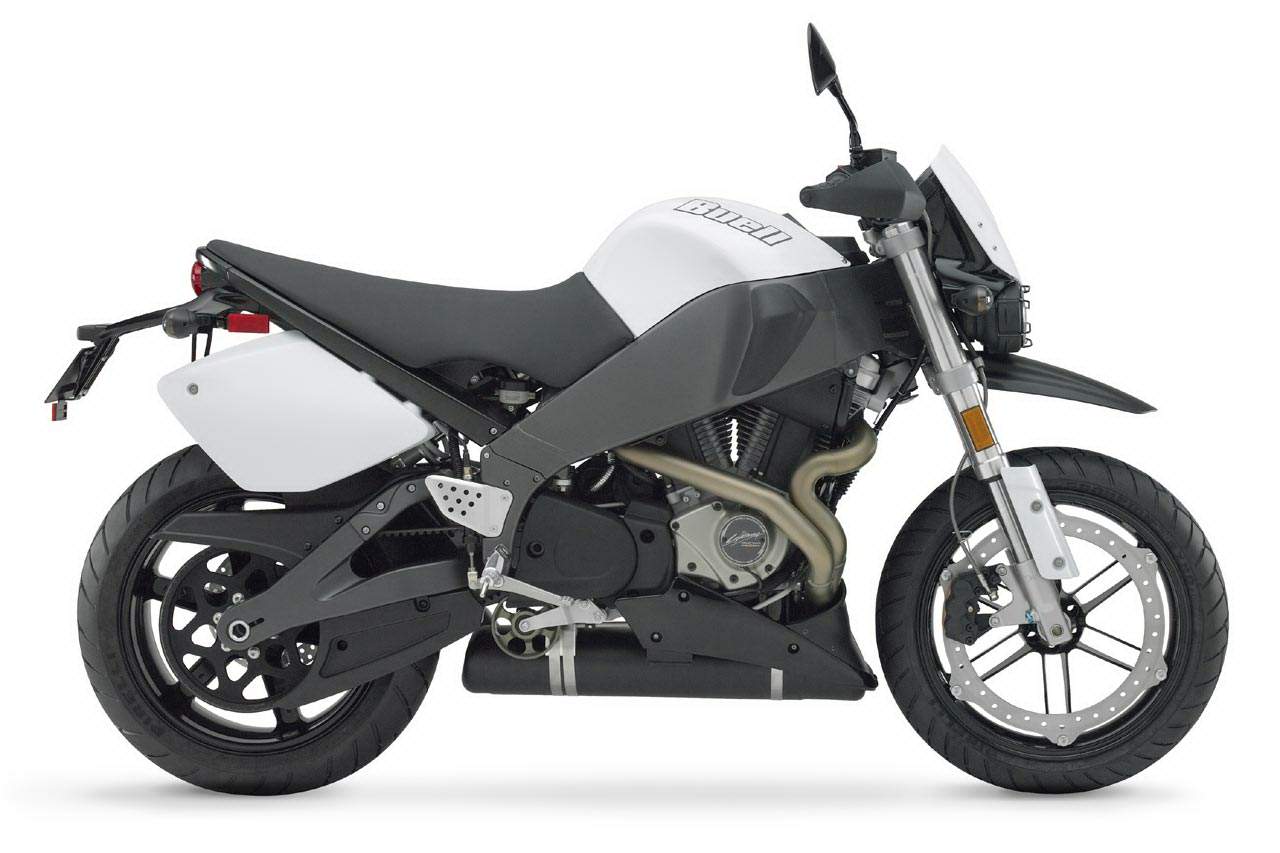 As the latest addition to the Buell Lightning family, the Lightning Super TT XB12STT combines hard core Streetfighter attitude with the style of Supermoto bikes. Primed with 84 ft. lbs. of torque and broad powerband of the Buell Thunderstorm 1203 45-degree engine, the Lightning Super TT is just the bike to attack city streets
.The air/oil/fan-cooled V-Twin engine features DDFI II electronic fuel injection and the Buell Interactive Exhaust is tuned for the ultimate in performance and control. The Lightning Super TT provides a long, smooth 31.4-inch solo seat height with Supermoto-style, while a passenger seat can be added. A 5.63-inch suspension travel and 54-inch wheelbase let you take the Lightning Super TT wherever the road leads. While the Lightning Super TT has a slick, competition-inspired look with racing-style number plates, white Surlyn flyscreen and minimalist Satin Black tail section, the bike begs riders to show their inspiration for customization as these components can easily be personalized. The Lightning Super TT features a Barricade Orange or Arctic White airbox cover molded in color schemes.
Buell Lightning Super TT XB12STT highlights:
• 1203cc (73.4 cid) Thunderstorm Powertrain
• 3.500-inch (88.9 mm) bore and 3.812-inch (96.82 mm) stroke
• 10.0:1 compression ratio
• 49 mm down draft DDFI II fuel injection
• Interactive Exhaust with mass-centralized mounting
• 103 peak horsepower @ 6800 rpm (per SAE J607)
• 84 ft. lbs. peak torque @ 6000 rpm (per SAE J607)
• Designer Black 6-Spoke Powdercoat cast aluminum wheels:
• Front: 3.5 inch (89 mm) x 17 inch (432 mm) wheel with 120/70 ZR-17 tire
• Rear: 5.5 inch (140 mm) x 17 inch (432 mm) wheel with 180/55 ZR-17 tire
• Pirelli Scorpion Sync tires
• Buell ZTL front brake
• Front and rear suspension travel of 5.63 inches (143 mm)
• 43 mm Showa fully-adjustable front suspension with inverted forks
• Showa fully-adjustable rear suspension with coil-over monoshock with remote reservoir
• Narrow Supermoto-style solo seat
• Laden seat height 31.4 inches (798 mm)
• Supermoto-inspired upper front fender design
• Racing style white Surlyn flyscreen and tail section number plates that are easily swapped out as a canvas for moto art and self-expression
• 23.1-degree rake and 4.7-inch (119 mm) trail
• Dry weight: 400 pounds (181 kg)
• Wheelbase: 54 inches (1372 mm)
• Graphite Gray frame and swingarm
• Supermoto-style crossbar with deflectors.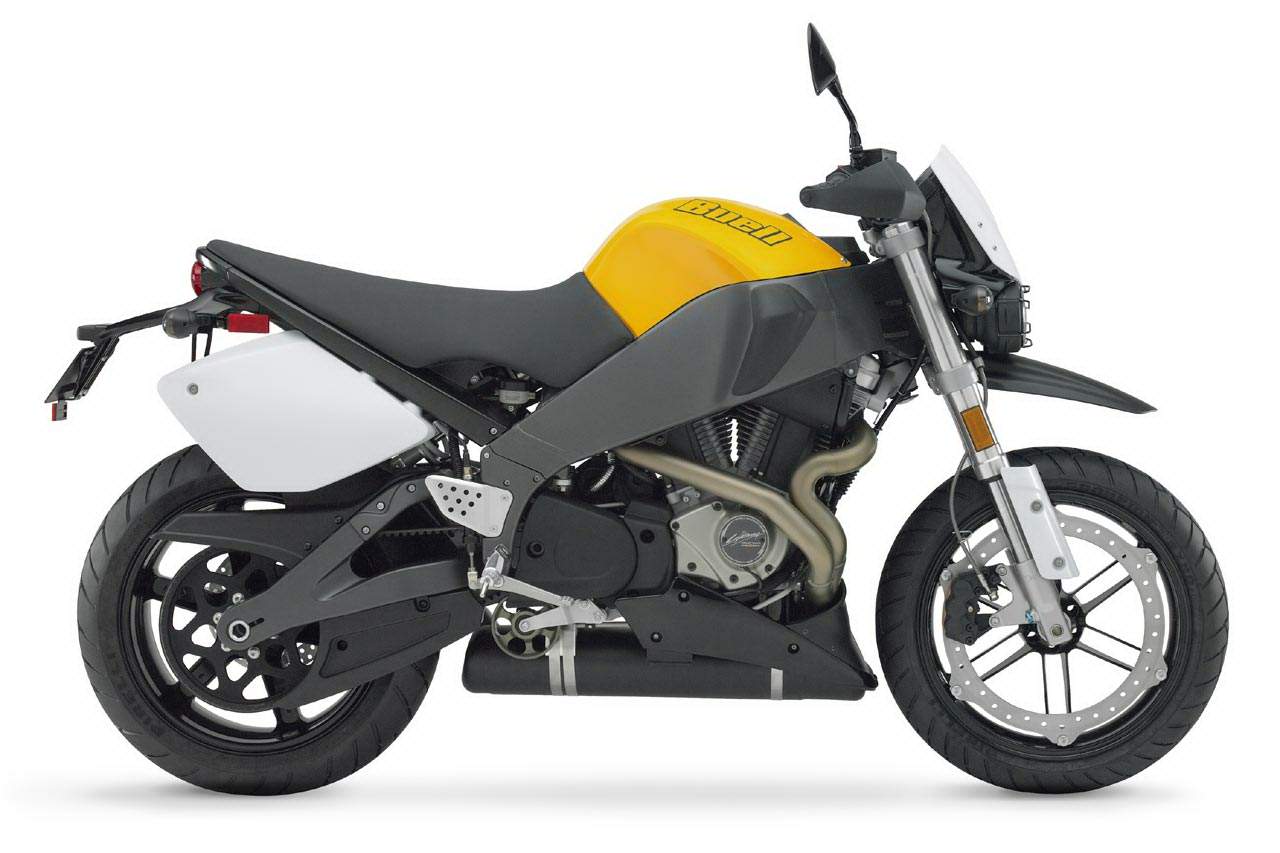 Review

Like a heat-stroked renegade cowboy with a bad attitude, Buell's Lightning Super TT kicks open the doors of the saloon, smacks the barmaid on the ass, downs a double-shot of liver-killer, lays a smoky burnout around the piano before rolling into the street, burning out sideways, flat track style, and heading due west into the sunset waving a middle finger in the air.

And that's why the XB12STT is so damn cool, because it is what it is and makes no apologies for it. The Super TT is an in-your-face hoodlum that combines the best of two of Buell's most current design concepts into an ultra-fun and easy-to-ride method of transportation that is sure to polarize public opinion on the topic of its appearance and functionality.

This latest evolution of the Lightning series is a multi-purpose machine that occupies one specific void in the Buell line-up located somewhere between the CityX and the Ulysses. Buell's CityX is based on the Lightning XB9 which leaves the 984cc X a bit underpowered to be taken seriously as a full-bore hooligan machine. The tall adventure-touring Ulysses features the 1203cc Thunderstorm motor and extra suspension travel that provides a smooth long-distance ride but it's a bit ungainly when the road gets tight and twisty. The Super TT uses a 23.1-degree rake, a bit sharper than the 23.5 degrees in the Uly and XB12SS, but much more relaxed than the 21.0 degrees of the standard Lightning. A generous 4.7-inches of trail combines to keep things relatively stable for such a quick-turning bike. A tall inverted fork with nearly a half foot of travel smoothes bumpy roads.

The journey to uncover the appeal of the Super TT began with an early afternoon jaunt down Southern California's I-5 to Highway 74 that revealed its rider-friendly ergonomics. The supermoto-inspired riding position is afforded by the relationship of the rear-set pegs, motocross-style bars and its long, slim seat. This would be the first, and least entertaining, test of the 5.63-inches of travel offered up by both the fully adjustable 43mm Showa inverted fork and fully adjustable Showa shock. With a 31.4-inch seat height (measured, as Buell and H-D do, with a rider aboard) and an unobstructed view of the road ahead, it makes for a good base to survey the chaos developing before you. The concrete whoops pounding away beneath are kept in check by softly sprung suspenders, the first of a long list of compliments the STT deserves. Blasting along SoCal's infamous Ortega highway on the STT further proved that it is equally at home in the canyons.

As it is with all Buell motorcycles, the STT consumes twisties with minimal effort on the part of the rider, thanks to its responsive nature. It has a very neutral feeling while navigating the seemingly endless onslaught of curves found along Ortega. Thanks to the well-balanced chassis and centralized mass, perpetrated by Buell's Trilogy of Technology philosophy, the STT accepts rider input without resistance and provides a level of riding enjoyment usually reserved for pure sportbikes.

At the heart of this canyon-consuming beast is the air-cooled 45-degree Thunderstorm V-Twin. It has the torque necessary to accelerate quickly in almost any of its five gears, allowing for on-demand passes and impromptu roll-on wheelies when conditions allow, even though the motor stops making power rather abruptly immediately after redline. Just keep the Buell on the boil by shifting around 6800 rpm and there's a claimed 103 hp on tap. This is more than enough motor for the average rider to get their kicks.

And in the event someone underestimates the power of the Twin, they will be thanking Buell for another of its unique components. If you do find yourself overcooking it into a turn, the massive 375mm ZTL front brake rotor and six-piston caliper offers up amazing stopping power along with excellent feel at the lever. So, late braking won't always end in disaster, and the giant single rotor looks really cool, too. But the Super TT has even more to offer the discerning rider than merely being a comfortable commuter platform and competent-canyon carving motorcycle.

When the road gets really, really tight, really, really twisty and full of really, really nasty imperfections including, but not limited to, gravel, chuck-holes, braking bumps and sharp elevation changes, that's right about the time the Super TT is in its element. And this is the secret place Erik Buell intended to dominate with the Super TT.

This particular road, the most exciting and truly taxing portion of our SoCal excursion, occurred on a rarely used single-lane paved path that our trail boss Big Cat revealed to us out of the kindness of his heart. Throughout the ride my adrenalin was pumping, I was smiling and laughing, and Megadeth's "Secret Place" was running rampant in my head the entire time. Thank goodness the likelihood of running across The Man was all but non-existent because, for what seemed like nearly an hour, the SuperTTs were flogged mercilessly, wheelied incessantly and literally pounded into the ground repeatedly in the interest of discovering the answer to that all-important question: Why build this bike?

After much research, the answer to that question is surprisingly simple: Why not? It's so much damn fun to ride a streetfighter and so much fun to ride a supermoto that it now makes perfect sense to combine the two. The STT is more fun to ride hard and fast than a number of narrowly focused bikes on the market today, plus the variety of roads it can tackle make it a truly multi-purpose bike. A pure sportbike, for example, would be hard pressed to hang through that type of terrain at those speeds, and, frankly, the lower fairing would have been smashed to oblivion five minutes into the ride. As it was, the underslung exhaust did take a pounding. (Sorry, guys.) There's just something exciting about the bike that is hard to put a finger on. I think it may stem from the dirtbike-like riding experience.

The torquey V-Twin that does such an admirable job on a standard stretch of canyon road is damn near perfect for a street-bound supermoto such as this. With 84 lb/ft of torque on tap at such low rpm, the 180/55ZR-17 Pirelli Scorpion Synch rear tire grabs plenty of traction, which when combined with the stubby 54-inch wheelbase, 2-inches longer than a standard Lightning XB12S, makes the front end ultra light. When cresting the sharp hills and road undulations that comprised the majority of our covert canyon tarmac, the 120/70 ZR-17 front tire was off the ground more often than not. The point is that the front end was light and wheelies were mindlessly simple on this rollercoaster of a road.

When the ride was over it was clear that this is where the Super TT belongs. Sure, it does a great job as a daily driver, and the 4.4 gallon fuel capacity and nearly 200-mile range makes touring an option as well. But if you want to experience the best of the STT, you need to roll hard and flat-out get it on at your secret place. Whether it's a favorite hidden canyon or fire road, the STT is capable of dispatching it in fine fashion. Once you experience the STT in its element, then you too will understand why Buell went through the effort to build a bike to address the inner hooligan in all of us. An interesting Super TT option is the uniquely graffiti-inspired color schemes available directly from Buell. The STT is available in either Barricade Orange or Arctic White versions but optional painted tank cover, front and side number plates are also available.

The massive twin-spar frame/fuel cell wrapped around a low-maintenance belt-driven air-cooled V-Twin and oil reservoir/swingarm is at the heart of all but one model (the single-cylinder entry-level Blast). The gauges, switchgear, mirrors and bodywork are all basic Buell hardware, as are the 6-spoke wheels and minimalist bodywork. It's the minute differences that make the Super TT different. Buell produces a number of variations on its proven base platform, just like a number of its competitors do, so get over it.

With a MSRP $10,295, the XB12STT is actually one of the less expensive big-bore Buells. Add into the equation an available level of customization to go along with the Lightning attitude, and the Super TT starts to make sense as a good all-around streetbike. This is not a sport fighter. It is not a supermoto. It is a multi-role urban-assault vehicle offered to us by the man as a solution to satiating our inner child.

Source Motorcycle-USA