Cagiva Mito I Racing Sport Production Lucky Explorer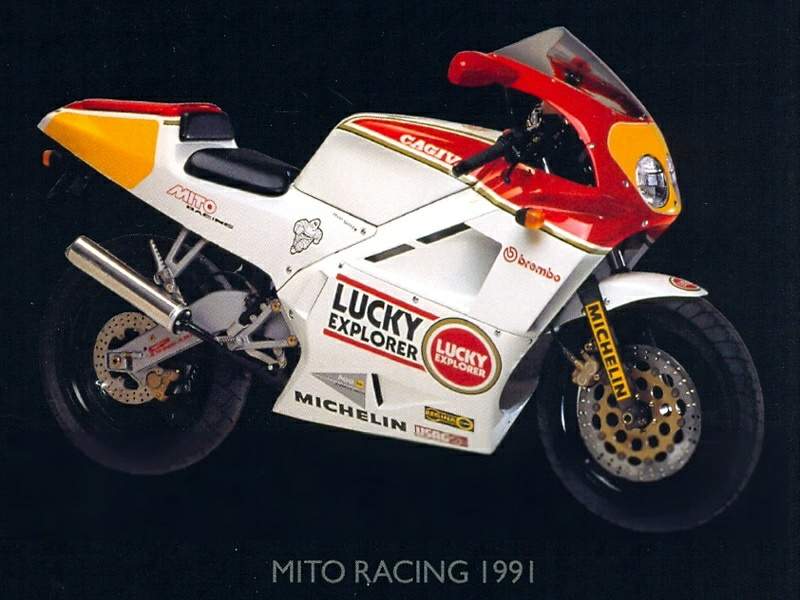 Make Model

Cagiva Mito

I

Racing Sport Production Lucky Explorer

Year

1991

Engine

Two stroke, single cylinder, electric variable power read valve

Capacity

125.6 cc / 7.6 cu-in

Bore x Stroke

56 x 50.6 mm

Compression Ratio

13.0:1

Induction

28mm Dell'Orto flat slide carburetor

Ignition

CDI
Starting
Kick

Max Power

33.5 hp / 23 kW @ 10500 rpm

Max Torque

19 Nm / 14 lb-ft @ 9000 rpm

Transmission

7 Speed
Final Drive
Chain

Front Suspension

USD Telescopic forks

Rear Suspension

Swinging arm single shock

Front Brakes

Single 320mm disc 4 piston caliper

Rear Brakes

Single 230mm disc 1 piston caliper

Front Tyre

110/70-17

Rear Tyre

150/70-17

Dry Weight

117 kg / 258 lbs
Wet weight
125 kg / 275.5 lbs

Fuel Capacity

12.8 Litres / 3.38 US gal

Braking 60 - 0 / 100 - 0

13.1 m / 37.0 m

Standing ¼ Mile

14.0 sec / 148.9 km

/

h

Top Speed

164.2 km

/

h
The myth Racing Lucky Explorer (or Sport Production)

Launched in December 1990 at the Bologna Motorshow and sold since April 1991, Mito Racing, also known as Lucky Explorer or Sport Production, is thought to participate in the Italian Sport Production championship. Motion in one livery Lucky Explorer as its progenitor Arrow SP, Racing take only minor changes to risopetto Myth "base." We see such as:

Adoption of a new cylinder (cylinder 66650E)
Lamellar carbon fiber New exhaust system and carburetor magazine
Ratios shortened primary New rear shock adjustment
The benefits identified by the various magazines of the period are not, as usual, homogeneous: some detect a maximum power to the wheel 29.76 bhp at 10,750 rpm (and thus lower the Myth base) and others to collect over 32cv 11000giri. The same applies for the maximum speed ranging from 166 to 172km / h. Definitely elevated, but as always subject to the particular mechanical state of the tested machine and many other factors. You can still cautiously suppose that the same conditions, a better performance of Racing is a "base". The Racing is not a limited edition.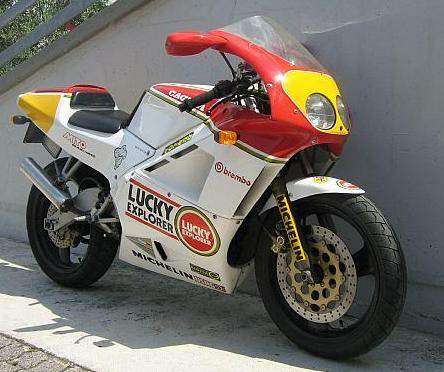 It's tough being a kid in Italy. I mean, quite apart from enjoying a seemingly unending supply of sun, sand, sea or snow (according to season) and lots of luscious Latin lovelies, Italian youth has the opportunity to choose, buy and ride at the age of just 16 the widest selection of high-tech 125cc motorcycles in the world. Hell on wheels, that's what it is.
Honda Italia's NSR125 in 'nude' and fully-faired versions, three types of Aprilia depending on body style and technical specification, the Gilera SP01/02 terrible twins, Yamaha's strangely anonymous TZR125 which anywhere else is the object of lust and envy but in Italy hardly rates a second glance, the line of Cagiva Freccias, and even the little marque that started the whole 125 race replica craze almost a decade ago with their weirdly-named Silver Horse, HRD - the choice is seemingly endless. And these are just the road rockets. That list doesn't even take into account the street enduros and mini-Dakar pseudo-replicas that each manufacturer feels obliged to hedge his bets with.
Hedging your bets is vital in this fickle market, where fashions can change overnight and today's hot seller is tomorrow's discounted leftover. Nobody has proved more adept at forecasting, and even creating, the next bandwagon in two-wheeled Italian chic than Aprilia, whose climb to their present supremacy among Italian manufacturers has been attained almost entirley on the back of their domination of the vital 125 market. Where Aprilia led, the others have latterly had to follow, with the noticeable exception of Honda Italia, whose brave introduction at the '87 Milan Show of a 'nude' version of their NSR125 proudly displaying its cast-alloy Grimeca chassis for all to see proved such an immediate hit with the teen trendsetters that Aprilia actually had to rush out their own nude-bike, the Europa, to compete. Too late, though, to make a mark in 1990. They'd missed the boat and now they all have the Cagiva Mito to worry about.
Cagiva had been known to have a 125 streetbike lookalike version of Randy Mamola's racer under development for many months - I first saw the prototype back in July '89, complete with bodywork that was a scaled-down replica of Randy's red rocket and just about as awesomely sexy, sort of like Grace Jones on wheels, clad in svelte red form-fitting fibreglass. But the Milan Show came and went without any sight of the Cagivina, which instead was launched in a half-hearted fashion in mid-May without bodywork. Were Cagiva so desperate to play catch-up to Honda Italia that they forfeited the chance of imposing their own imprimatur on the 125 roadster market in favour of following Honda and Aprilia? Where was the bodywork the Mito (Italian for 'legend') so obviously lacked?
Answer - on a slow boat from China, or to be more precise, Taiwan, which is where Cagiva obtain an increasing variety of components (just like the Japanese Big Four do), including designer Massimo Tamburini's aggressively curvaceous injection-moulded bodywork. As a major player on the world stage, with assembly plants all over the world, there's nothing so strange in Cagiva doing this, only that shipping times being what they are, logistics sometimes prevent delivery meeting expectation. You won't get anyone in the Cagiva Group to admit so on the record, but that's clearly what happened here. So fearful of losing a summer's worth of the crucial 125 market, Cagiva made lemondade out of the lemon by rushing out a nude version of the Mito in late spring, with locally-made seat and metal tank.
The result failed to dent Aprilia's market supremacy but at least it gathered a few thousand sales pending arrival of the fully-faired version once the boat came in. That duly happened in August just as Italy left for the beach, but once the properly-dressed Mito finally hit the shops, it was no contest: even kids who weren't figuring on buying a new bike this year, or maybe had even bought one already, just had to have one -always assuming they had the odd 5,770,000 lire (£2500) lying around to buy it with (£256 more than the 'nude' version) or could borrow from their dad. That, by the way, is a knock-out price, obtainable thanks to and fully justifying the decision to obtain components in places like Taiwan: the Aprilia Future by comparison is 6,200,000 lire (£2695).
Eighteen-year old Luca Ramazzotti found himself in that very position - we met him and his chums (one Mito, one NSR125 and an Aprilia Futura between them) while taking action pics high in the hills above Lake Maggiore. 'I had a Gilera SP02 earlier this year,' said Luca, 'but then when the Mito vestita (clothed) was presented, I had to have one. For me, it's the most beautiful motorcycle ever made, not like that ugly Honda of my friends! I got a good price from the Cagiva dealer for my Gilera and borrowed the rest from my father. I don't care if maybe by next year the other factories bring out something new - the Mito is lovely to look at, it's based on the bike my hero Randy Mamola rides in GPs and it's fantastic to ride.'
That it is. Having run the gamut of Italian 125 street racers over the past year or so, I've got to tell you there's no contest, the Mito is The Business. On paper it looks like it should be; in photos it seems like it must be; on the road, it is - the horniest-looking, best handling, fastest 125 street bike in the world, tested by MotoSprint magazine in Italy at no less than 107.3mph, the first eighth-litre bike to break the 170kph barrier. But - so what, I hear you say. This bike is only aimed at Italy's pimply youth, teenage members of the style council, what has that got to do with the real world of adult motorcycling? Well, for once, quite a lot.
Because for the first time, one of the Italian manufacturers has built a 125 road rocket that deserves to find a much wider public than Luca and his fellow teenage mutant hero bikers. For a start, it's actually tailored to a normal-sized person, with a 1380mm wheelbase (same as the'89 Cagiva 500 GP bike, no less), surprisingly low-set footrests which are a little further forward than normal on race replicas but are still high enough to prevent grounding even with the amazing grip offered by the wide Michelin radials. They were specially designed for the Mito and its 2.75in front and no less than 4.00in rear 17-inch three-spoke wheels. The fully-adjustable cast-alloy bars have a pronounced downwards droop for serious race-replica posing. Like everything else on the bike, and especially the Taiwanese bodywork, these are made to an incredibly high level of quality, from the deep lustre of the Ferrari-red paintwork to the clean welding on the race-type exhaust and the handsome GP-style twin-spar alloy chassis, fabricated from extruded aluminium spars welded to cast steering head and swingarm pivot castings. The banana swingarm is cast, too, with the hunchback design not only adopted for The Look but also to give a straighter line to the exhaust in pursuit of improved engine performance.
All this results not only in a very comfortable riding position even for a six-foot rider like myself, but amazingly stable yet fast handling - just the sort of recipe Cagiva were searching for (and obtained) on their 1990 500cc GP bike. A 100-mile run before stopping for fuel left no aching limbs nor vibro-massaged extremities, thanks to the effective counterbalancer in the single-cylinder reed-valve two-stroke motor. The wide, flat, race-style seat is set quite high, but doesn't slope forward like on the Mito's Freccia predecessors, and though there is a certain amount of weight on your forearms and shoulders thanks to the dropped bars, it's not excessive. This is a little bike that thinks big. It could almost be a 500 twin in terms of stature, though that illusion is rudely shattered when you thumb the fast-spinning electric starter and the little engine explodes into life with a raucous rattle. This subsides once on the move, effectively silenced by the Mito's all-enveloping bodywork, which incidentally fits together perfectly, with no squeaks or jarring from the five-piece fairing, not even where its flanks met the metal tank. Again, this has a very solid feel for a small bike.
The same thing applies to the handling, which has none of the twitchiness you'd rightly expect from a 125 and which certain of its rivals display in full. Part of this must surely be thanks to those fat Michelins, curiously different in aspect ratio from those fitted to the 'nude' Mito but offering exceptional grip on the bike I rode. However, the rear suspension is really brilliant, for once living up to the rather fatuous 'Soft Damp' epithet Cagiva insist on applying to their rising-rate designs. It irons out road shock and smooths out bumps in a way that seems impossible on such a light bike, scaling 266lb dry against the 'nude' version's 259lb. Steering geometry is fairly conservative by 125 sportbike standards, at 25.5 degrees head angle and 98mm trail which doubtless helps explain the feeling of ease and predictability with which the Mito assaults a winding mountain road - the steering is light, but not over-sensitive. Less impressive are the 38mm front forks, which have 123mm of movement but felt definitely too stiff on compression, so that they hopped noticeably over some rough surfaces. This could probably be ironed out to some extent by playing around with the preload adjustment (the rear shock is also adjustable for this, not always a feature of Latin 125s), but one has to wonder why Cagiva didn't complete the specification of this ne plus ultra 125 road rocket by fitting the currently fashionable upside-down forks which their 500 GP bike and, more importantly, the Aprilia Futura both boast. Probably the answer lies in the price gap between the Mito and the Aprilia, but it would be nice to have had the extra sensitivity of Marzocchi's new range of inverted teles for the street.
No such complaint can be levelled against the Mito's monster front brake, the very same as fitted two-up to its eight-valve Ducati 851SP cousin, a 320mm fully-floating Brembo with latest-spec four-pot caliper, which looks great and works brilliantly. It's more than powerful enough for the Mito even with a full fuel load and rider of, er, 'mature weight', but it also has lots of feel yet is great in panic stops.
But where the Mito really scores over its rivals is in the usability of the little 56 x 50.6m engine - again, the same cylinder dimensions as the 500 GP bike, rather than the Honda-like 'square' configuration of the Aprilias' Rotax-built lump. That means the Cagiva is a rewer, just like the Gilera SP01/02 with similar dimensions, but unlike the Gilera I spent a fraught weekend with last summer (which was basically unusable in town because of its extreme power band and abrupt delivery) the Cagiva once again has the feel of a larger bike. That's not to say you don't have to exercise the left hand to get it really motoring away from the lights, and a smartly-driven Fiat Uno will still give you cause for grief in certain situations, but unlike the Gilera and all the other street rockets I've sampled, the Cagiva can actually be ridden at low speeds off the pipe quite happily.
So, trickling through town in a stream of traffic is bereft of drama. You don't need to keep snatching at the clutch lever to persuade the engine to respond to commands, nor does it hunt and snatch at part throttle openings. There certainly isn't a lot of power on tap till the revcounter needle hits the 3000rpm mark, but it will drive smoothly albeit slowly away from the mark at those revs. The engine is basically the same as that in the C12 Freccia, with the same flap-type electronic exhaust valve but the revised pipe, so that strong power now comes in a little earlier than before at about 6500rpm. Clutch it so the motor gets into that bracket, and the result is quite vivid acceleration for a 125 - nought to 60mph in a tad over seven seconds from a standing start. There's a noticeable extra shove at around 8500rpm when the power valve is presumably fully open, and the engine will keep revving to over 11 .OOOrprn on the tacho (maybe a little less in real life), after which it's all done and power drops off sharply. But by then you should be doing over 105mph in top gear, which is to say, seventh. Yes folks - the Mito (and the C12) is the only bike in the market anywhere in the world with a seven-speed gearbox.
What this means is that the top three gears are all in fact overdrive ratios and very close together - less than 150rpm difference between sixth and seventh, as far as I could make out. But though you tend to get lost coming down the gears for a corner, in practice this don't matter a damn -just keep rowing that slick-shifting lever till you run out of gears and/or steam. The bottom four are wide enough spaced so you can ride the bike 'normally' in town, yet get reasonably rorty performance under
acceleration; the top three are for keeping the eggcup-sized motor on the boil once you get it there.
The Mito deserves to live up to its name: it provides loads of fun for far from loadsamoney - 5.7 million lire (including 18% tax) equates to £2600 in Britain, and given the level of equipment the baby Cagiva boasts, and those sensational lines, that's a fair price. Doubtless if a few thousand more teen style judges like my mate Luca feel the same way, the Mito will achieve its intent of dislodging Aprilia permanently from that number-one slot. •
Source Cycle 1991