Cagiva Freccia 125 C10R Anniversary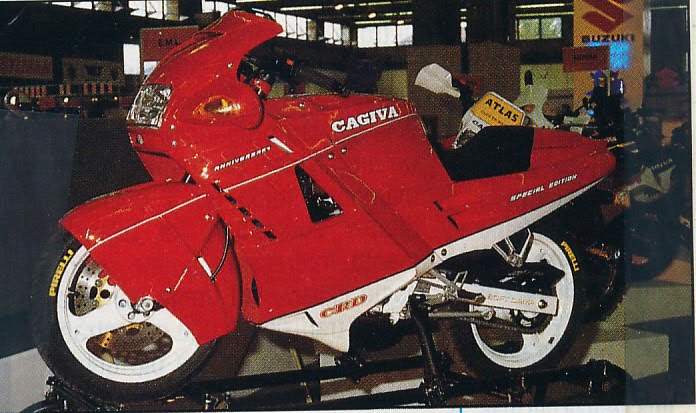 | | |
| --- | --- |
| Make Model | Cagiva Freccia 125 C10R Anniversary |
| Year | 1988 |
| Engine | Two stroke, single cylinder |
| Capacity | 125 cc / 7.6 cu-in |
| Bore x Stroke | 56 x 50.6 mm |
| Cooling System | Liquid cooled |
| Compression Ratio | 13.0:1 |
| Induction | 28mm Dell'Orto premix carburetor |
| Ignition | CDI |
| Starting | Electric |
| Max Power | 27 hp / 19.9 kW @ 10500 rpm |
| Max Power Rear Tyre | 24.1 hp @ 10500 rpm |
| Max Torque | 20 Nm / 14.7 lb-ft @ 8250 rpm |
| Transmission | 7 Speed |
| Final Drive | Chain |
| Front Suspension | Marzocchi telescopic, adjustable anti-dive |
| Rear Suspension | Marzocchi monoshock |
| Front Brakes | Single 260mm Brembo disc |
| Rear Brakes | Single 240mm Brembo disc |
| Front Tyre | 100/80-16 |
| Rear Tyre | 130/80-17 |
| Dry Weight | 128 kg / 282 lbs |
| Fuel Capacity | 16 Litres / 4.2 US gal |
| Consumption Average | 19.8 km/lit |
| Braking 60 - 0 / 100 - 0 | 13.5 m / 41.1 m |
| Standing ¼ Mile | 15.4 sec / 135.8 km/h |
| Top Speed | 163.7 km/h |
Presented at the airport of Bologna 6 April 1988 and sold immediately after the Cagiva Freccia C10R is a slight evolution of the Arrow project was born with a valid C9 submitted one year earlier. The 1988 It is an exciting year for the 125 road and sees the house's competitors Varese present fantastic brand new models like the Aprilia AF1 Sintesi, the MX-1 and Gilera Honda NSR-F. Contrary to the competition record, Cagiva has only an update of a model already 'exists, but although the Arrow project is only a year old and' still perfectly able to withstand competition on equal terms. The C10R remains in production until 1989 when replaced by Freccia C12R. During 1988 is presented Arrow Anniversary limited edition of 500 copies to celebrate the first decade of Cagiva.

Price in 1988: 4,990,000 Lira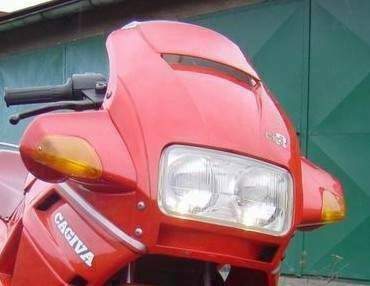 THIS IS Cagivea's RESPONSE to the stiff competition they've been experiencing from Gilera in their home market; the Freccia 125 designed by Massimo Tamburini.
The Freccia makes even Gilera's very trick 125KK look ordinary. The Cagiva runs a water-cooled 56 x 50.6mm single-cylinder two-stroke motor that's claimed to put out 27hp with the aid of a Cagiva Power Chamber - the Italian answer to YPVS and ATAC. But it's the mini-Paso bodywork and attention to detail design that makes the Freccia so impressive. The silencer is shaped to fit closely inside the body, the top of the dummy tank hinges up to reveal petrol, two-stroke and coolant header tanks and the rear mudguard floats with the swingarm
Review
The Italian 125 cc road-bike market has traditionally been filled by a wide range of machines from literally dozens of different manufacturers. Lately, however, the struggle for sales supremacy has rationalised into a five-way battle between Honda's local affiliate and four rival Italian makes: Aprilia, Gilera, Laverda and Cagiva, each trying frantically to upstage the other by producing an ever more sophisticated and alluring product with which to tempt Italian youth into parting with their hard-earned lire.
Cagiva lagged behind the others for a while in terms of mechanical sophistication, but in May 1987 they produced a bike which stunned their rivals and captivated buyers: the 125 Freccia ('arrow' in Italian), designed by Massimo Tamburini, who worked at Bimota for ten years before moving to the Castiglioni brothers' Cagiva group. The Freccia's visually striking styling would look good on any bike, but on a relatively humble and inexpensive 125 cc single, it may well be the most motorcycle for the least money, in real terms, yet put on
That's not to say the Freccia is any slouch in the traffic-light GP stakes. Not only is its single-cylinder, reed-valve, two-stroke engine the first from Cagiva to feature a gear-driven balance shaft which completely damps out unwanted vibrations, but it incorporates much of the techology that won Cagiva the 1986 World 125 cc Motocross Championship and helped their 500 cc grand prix contender. Cagiva claim an output of 27 bhp at 10 000 rpm for the little 56 x 50.6 mm engine, enough to power it to a top speed in independent magazine tests of nc less than 97 mph (156 kph) - more than most 250s could achieve a decade ago. However, it's the way the Freccia delivers this performance which is so remarkable. Thanks to the maker's combination of a CTS (Cagiva Torgue System) power valve, which varies exhaust-port timing according to the engine speed, and CPC (Cagiva Power Charge power chamber, which varies the resonance of the exhaust pipe at low revs, bottom-end and mid-range torgue is far greater than you would expect from a high-revving two-stroke single. The Freccia pulls cleanly from as low as 3000 rpm, until at 7000 rpm there's a sudden surge of extra power as the exhaust valve opens fully, leading to GP-levels of performance at the upper reaches of the rev band - and that remarkable top speed. The close-ratio, six-speed gearbox makes light work of keeping the engine on the boil.
The Freccia's handling matches its performance, with the svelte bodywork hiding a rather different sort of skeleton than its Ducati Paso cousin's unlovely box-section steel frame. The Freccia's chassis looks as if it might have come straight from the race track, although the twin-spar design is executed in chrome-moly steel rather than a race bike's aluminium. You would be hard pressed to tell the difference thanks to the silver paint it's covered in, which does enable the bike to look as good with its clothes off as on.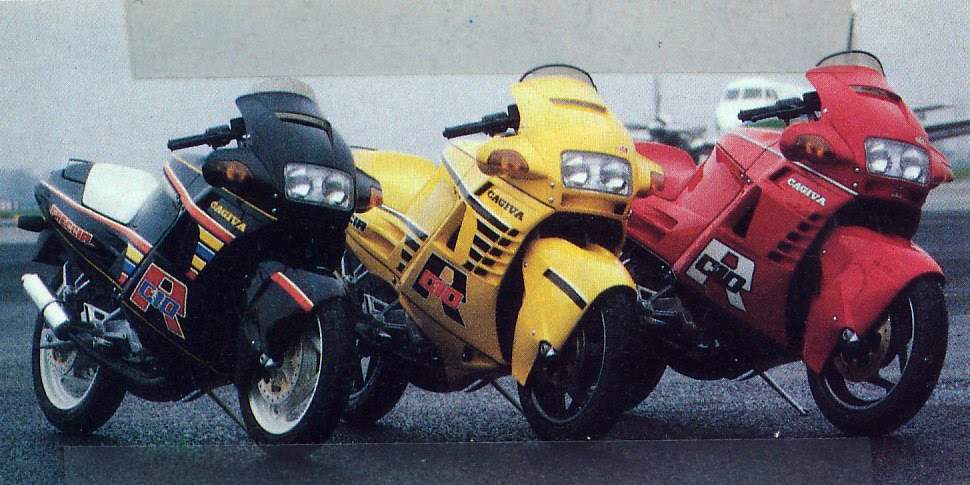 The bodywork is very well made for a high-volume, relatively low-cost model, and fits together well. The flap behind the steering head unlocks to lift up and reveal three plastic tanks stored beneath, one each for water, oil and fuel, the last two mixed together by the automatically variable Mikuni pump, matching the Kokkusan electronic ignition as evidence that Cagiva will buy the best from anywhere they have to - including Japan. But the chassis specification is entirely Latin. Marzocchi suspension front and rear, a 16-inch Grimeca front wheel and 17-inch rear, Pirelli tyres and Brembo brakes, withjust a single front 260 mm disc.
It's worth examining the Freccia's mechanical specification in some detail, because for a high-volume 125 cc road bike it's remarkably sophisticated and completely upstages the opposition. At a sticker price of 4 698 900 lire, it offers amazing value for money - a fact confirmed by the production shortages experienced by the factory in mid '87 as they grappled with demand from the dealers' floors - the more so when Tamburini's strikingly attractive styling comes free as well. If Bimota had ever stooped to making a 125 cc road rocket, the Freccia is how it might have been, although there are some different design themes present in Tamburini's styling for the Cagiva: the front mudguard comes from the KR500 Kawasaki GP bike of half a decade ago, as designed by NewZealander Rod Tingate. The full enclosure concept was inaugurated for street use by Tamburini's successor at Bimota, Federico Martini, on the Ducati-
powered DBI, although Tamburini himself also followed the same lines with his abortive TGAI racing prototype developed at around the same time when he worked for the Gallina Suzuki GP team. Also, of course, Tamburini's own Ducati Paso is reflected in the Freccia by reason of its wide, even slightly bulbous fairing.
But in one sense, though, the baby Cagiva is a true original, the first time that dream-bike styling has been brought to the marketplace for anyone with less than five million lire to spend on it - more satisfying than a dream of buying a Bimota - costing at least five times as much. As Cagiva boss Claudio Castiglioni says, the Freccia deserves to stand on its own feet and be considered for its merits, which are considerable and not available for the same price in any other model. For well under half the price of a Japanese four-cylinder street bike, Cagiva offer a machine which is at least as sophisticated in mechanical terms, and whose performance will comfortably exceed the national speed limits in most countries of the world. Plus it's good-looking, even elegant, and fun to ride. What more should a motorcycle be?
Source Dream Bikes 1988