Make Model.

Ducati 250 Mark 3D Desmo

Year

1968 - 69

Engine

Four stroke, single cylinder, Desmo SOHC, bevel gear driven

Capacity

24

8.6 cc / 15.2 cu in

Bore x Stroke

74 x 57.8 mm

Compression Ratio

10.0:1
Cooling System
Air cooled

Induction

Dell'Orto SS1 29D carburetor

Ignition

Coil, 6V 30W generator (later 6V 70 W)

Battery

SAFA 3L3 13.5 Ah

Spark Plug

Marelli CW260N / Lodge 2HN

Starting

K

ick

Max Power

16

.4 kW / 22 hp @ 7500 rpm

Primary Drive Ratio

2.500:1

Transmission

5 Speed

Gear Ratios

1st 2.46 / 2nd 1.73 / 3rd 1.35 / 4th 1.10 / 5th 0.97:1

Final Drive

Chain

Final Drive Ratio

2.812:1

Front Suspension

Hydraulic fork, Ducati 31.5 mm

Rear Suspension

Swingarm, Marzocchi du

al shocks, 3-way adjustable

Front Brakes

180mm Drum

Rear Brakes

160mm Drum

Front Tyre

2.75-18

Rear Tyre

3.00-18

Dimensions

Length: 2000 mm / 78.7 in
Width: 600 mm / 23.6 in
Height: 940 mm / 37.0 in

Wheelbase

1360 mm / 53.5 in

Seat Height

735 mm / 28.9 in

Dry Weight

127 kg / 280 lbs

Fuel Capacity

13 L / 3.4 US gal / 2.9 Imp gal

Standing ¼ Mile

18.9 sec

Top Speed

150 km/h / 93 mph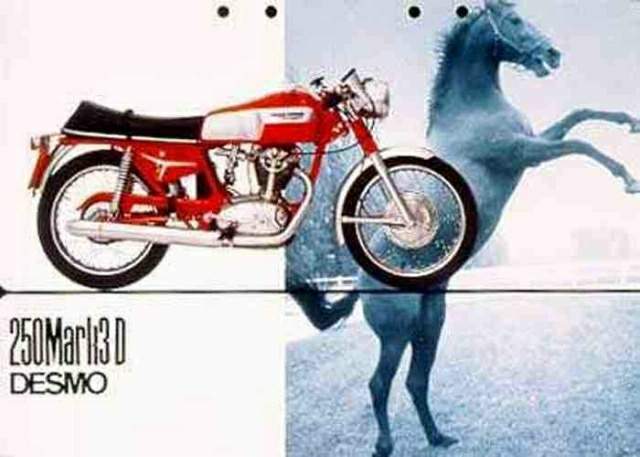 The narrow case Ducati single cylinders were selling well and known worldwide through out the decade. Later in the decade when Ducati introduced the wide-case production models they represented the pinnacle of Ducati singles for the times. A single camshaft that was driven by bevel gears characterized the wide-case Ducati motorcycles.
As a direct descendent of the narrow-case family, the Ducati 250cc and 350cc versions of the wide-case models were first produced in the spring of 1968. The Ducati 450cc was added in the following year. The performance and elegant mechanics of the motorcycles immediately caught the attention of motorcycle enthusiasts worldwide.
Perhaps the most famous wide-case Ducati was the Scrambler. The Ducati Scrambler motorcycle sold tens of thousands around the world, leading to its legendary status. The fast and agile Ducati Mark 3 sports model was soon joined by the Ducati Mark 3D - the first Ducati with the now famous Desmodromic valve gear on a production model.
The word 'Desmodromic' is not actually derived from Italian but rather from two Greek roots, desmos (meaning - linked) and dromos (meaning - track). The Ducati Desmodromic system is unique in that the valves are positively closed and opened by a cam and leverage system, rather than relying on standard valve springs. The same basic Desmodromic layout continues to win world championships today and is deeply seated in the Ducati Brand identify.