Ducati 500 Desmo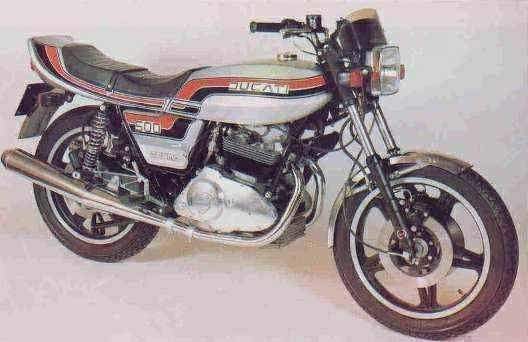 Make Model.

Ducati 500 Desmo

Year

197

8

- 79

Engine

Four stroke, parallel twin cylinder, SOHC, chain driven, 2 valve per cylinder

Capacity

49

6.9 cc / 30.2 cu in

Bore x Stroke

78 x 52 mm

Compression Ratio

9.6:1

Co

oling System

Air cooled

Induction

Dell'Orto PHF30BS/BD

Ignition

Points and coil

Spark Plug

Champion L81

Starting

Electric

Battery

Yuasa Y50-N18L-A1, 12V 18Ah

Max Power

36.8 kW / 50 hp @ 8500 rpm

Clutch

Wet, multiplate

Transmission

5 Speed

Primary Drive Ratio

2.125:1 (32/68)

Gear Ratios

1st 2.500 / 2nd 1.714 / 3rd 1.333 / 4th 1.074 / 5th 0.900:1

Final Drive Ratio

2.923:1 (13/38)

Final Drive

Chain

Frame

Tubular steel, double downtube

Front Suspension

35 mm Paioli telescopic fork

Rear Suspension

Swing arm, 2 x Marzocchi shocks, 3-way adjustable

Front Brakes

2 x 256 mm Brembo discs

Rear Brakes

Single 260 mm Brembo disc

Front Tyre

3.25-18

Rear Tyre

3.50-18

Dimensions

Length: 2050 mm / 80.7 in




Width: 710 mm / 28.0 in




Height: 1060 mm / 41.7 in

Wheelbase

1400 mm / 55.1 in

Seat Height

760 mm / 29.9 in

Dry Weight

185 kg / 408 lbs

Fuel Capacity

1

4 L / 3.7 US gal / 3.1 Imp gal

Consumption Average

4.7 L/100 km / 21.3 km/l / 50 US mpg / 60 Imp mpg

Standing ¼ Mile

13.7 sec

Top Speed

185 km/h / 115 mph
The Ducati 500 Sport Desmo is one of the new breed of increasingly popular half-litre sporting bikes which most of the important manufacturers are now making. This 500 is a 180° parallel-twin four-stroke which like the Darmah and 900SS features desmodromic valve operation.
The practicality of such a system is debatable on road bikes for, although the mechanical opening and closing of the valves means that valve bounce is eliminated, something has to be done to modify the rest of the engine before it is able to rev to limits where conventional engines would run out of breath.
Further, some form of spring is usually advisable to make sure that the valve is shut when starting and such a system is very difficult to design and worse to keep running satisfactorily, with service intervals measured in hundreds instead of thousands of miles. However, the layout works well enough in the Ducati and, even if the company is shy about disclosing power outputs, the bike is well able to match its rivals, with a top speed of over nomph and the ability to cover a quarter mile from start in 13.5 sees. Fuel consumption is only barely as good as its larger stablemates at 45-5ompg so with a 2.6gal tank fuel stops have to be very frequent on long runs.
The Desmo is a very nimble bike on the open road and the rear set pedals and clip-on style bars make sports style riding easy and enjoyable. With three disc brakes to take care of just on 4001b of bike, stopping is easy and fuss free in all weathers with no premature locking or fade. The fact that the 500 is aimed at the rider who enjoys riding fast is accentuated by the saddle being large enough for one person and a very close friend and no more; also, rear foot pegs are not a standard fitting. Were a passenger accommodated, the rider would find that sitting forward would make things very uncomfortable with the controls.
Switchgear and instruments, although adequate are not of the same quality as larger Ducatis, but Italian bike enthusiasts are used to that.
Although the middleweight Ducati has been available for only a few years, it is likely to be replaced by a small version of the famous Taglioni vee-twin which will give an even greater impression that the 500 Desmo Sport is a Darmah shrunk in the wash.