Ducati 500 Pantah Prototype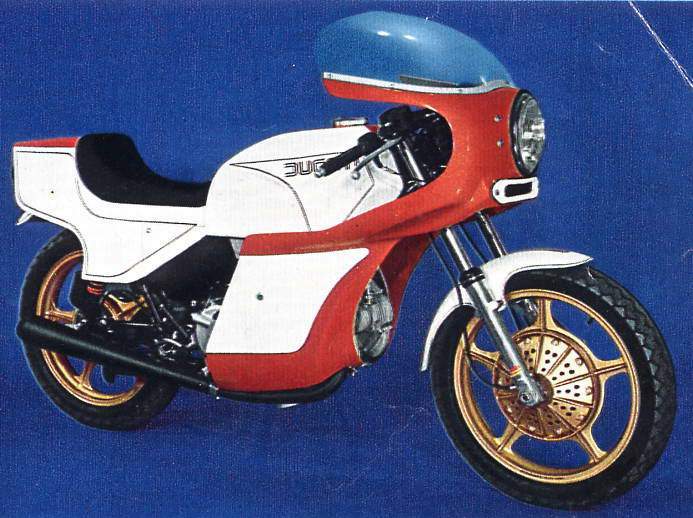 The bike was first shown at the Milan Bike show in December 1979. The prototype was a departure from many of Ducati's standards: it had a trellis frame, with the motor suspended under it acting as stressed member, the swingarm was pivoted onto the rear of the crankcase, the SOHC were driven by rubber belts, the primary transmission was via a Morse chain, the front brake was a Campagnolo "Hydroconico"…. But most of all, the claimed performance was impressive: 500 cc, 60 Hp, 180 kg, 1450 mm of wheelbase… significantly different from the previous bevel head V twins, long, bulky and stable, but also from the ill-designed parallel twins, which never achieved interesting performances.
The 90° V-twin Pantah went as well as it looked, and was quiet and gutsy to boot thanks to Desmo valve gear, toothed belts for the cams and a 60° valve angle - the last a common racing modification. Handling was excellent thanks to a light trellis frame although the suspension was perhaps lagging a little behind this creation. The styling was different, if not to everybody's taste, especially as it looked as if the fairing had come off something bigger. At least it looked a lot more beautiful than the later 600TL
With a top speed of 117mph it was no slouch, but mods, and the later 600 version, could put this up l0mph. More than a decade later, Ducati are still using many of the ideas first realized in the 500 Pantah. Fewer of these models are coming onto the market these days. The original Pantah finally went out of production in mid 1983.
Pantah 500 is where it all begun. The bike had a long and troubled birth, but the result was something that would change the way a motorbike was to be meant. The twin cylinder motor was no more an obsolete, sedate solution, but something that could race against the fours and win.