Derived from racing bikes that have been consistently winning WSB championships since WSB began, the first Ducati Superbike, the 851, was launched in 1987, this bike was followed with the 888, 916, 748 and the 996. The 916 won several worldwide awards including 4 "Motorcycle of the Year" awards from MCN magazine. The 996 replaced the 916 in 1998. An entry into the legend of Italian motorcycling racing, an aggressive, high performance and beautifully designed machines, closely derived from Ducati's currently competing in the WSB. Aimed at purists who want everything from a bike with its compact design and slim silhouette to provide superior handling at speeds up to 170 mph. Combines advanced thermodynamics of 4-valve per cylinder with unsurpassed efficiency of Desmodromic valve system.
With more World Superbike Championships than all the other marques combined, the Ducati Superbikes continue to dominate the World Superbike Championship. Ever since the creation of the first 851 Superbike, Ducati Corse engineers have put unsparing efforts into pursuing an ongoing development of the Desmoquattro engine and of the Superbike family as a whole in terms of technology and performance. It is this kind of commitment that has enabled Ducati to dominate the most prestigious stock-based motorcycle championship in the world.
The ongoing evolution of the Desmoquattro engine spans an incredible period of time and is evidence of the superior engineering and manufacturing quality of this project, which is rightly regarded as the very foundation of Ducati's current technical and commercial success.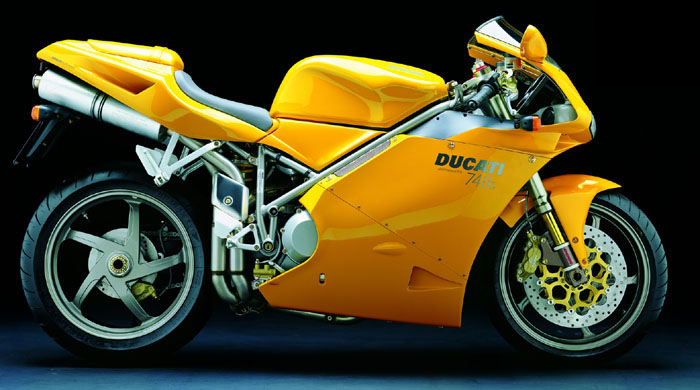 Ducati 748S (2001)
The "S" model comes with lighter 5-spoke wheels (allegedly), upgraded suspension (Showa front and rear suspension components and adjustable rake), and zeus clips for the bodywork that is not available on the 748 "E" models. I think that every year except for the 2000 model year, the bike only came with the monoposto (one-seat) tail section. My motorcycle came with a biposto (two-seat) sub frame so I can just throw my biposto tail section on when I want to take a passenger with me. Other than the suspension and zeus clips, there are no differences in the engine's power output between the 748 and the 748S, for more power you have to buy the "R" model.

Engine
The engine (748cc L-Twin) is very rev happy, producing 97 hp @ 11,000 rpm and 52.8 lbs-ft of torque @ 9000 rpm (at the crank). The engine redlines at 11,500 rpm…
The power delivery of the engine is very smooth, a Billy D. Williams type of smooth, not like the babies skin type of smooth power delivery of an in-line four. The engine really comes alive after 5,500 rpm; if you keep the revs up through a turn you can really use the engine's torque to blast out of turns. I'm big into torque (hence buying a V-twin) and not so much into high hp numbers, although for bragging purposes it would be nice to say that my bike has gobs of horsepower.
Another characteristic of the engine is the amount of engine braking that the engine produces when compared to an in-line four. It's a little awkward at first, but you get used to it.
The sound of the engine is extremely addictive. The stock exhaust sounds nice, but I find that the roaring sound coming from the air box at WOT (Wide Open Throttle) is the most exciting. I definitely plan to get some after market pipes, install larger intake mesh screens, and maybe removing the baffling from the intake tubes to really release the engines deep purr and increase the air intake volume.
It's been so long since I've been riding regularly that I can't remember what my average mileage per tank was. The engine seems to take a little longer to warm up than an in-line 4, so starts on cold mornings can be prolonged, but it does start up strong and idles well.
Common modifications to the engine are larger exhaust (slip-ons & half systems), upgraded chip (usually come with the exhaust), modifying the cams/timing, modifying the fuel injectors (size and/or layout), and big bore kits (855cc and 890 cc). Some people also add an oil cooler and an after market fan control switch to help the bike run cooler.

Drive Train
The hardest thing for me to get used to on the bike was the "dry clutch", especially after learning on a bike with a "wet clutch". I stalled my friends 748 at least 2-dozen times before I finally got it rolling after jumping of a Gsxr-600, the two clutch types have entirely different characteristics. Ducati superbikes get knocked for having a heavy clutch, but after a month or two my muscles got used to it... When I first started riding I dreaded getting stuck in traffic on the bike. There are aftermarket parts to reduce the clutch pulling effort by 20% or so. I've also noticed that the clutch does like to be slipped a little bit more than "wet clutches" when you are taking off from a light.
Common modifications to the drive train are installing a lighter flywheel and increasing the number of teeth on the rear sprocket (stock = 38 teeth). The lightened flywheel helps the engine "spool up" faster and quickens the throttle response, but I have read that it also increases the engine's braking characteristics. Going up a couple of teeth on the rear sprocket helps the bike to accelerate faster and sacrifices some top speed as usual. I'm planning to jump up to 40 teeth later this year. Some people also install vented clutch covers to unleash more of the "clak-clak" sound that the dry clutch makes ("loud clutches save lives"). That's one mod that I won't do because the "clak-clak" sounds like a bike that's about to break down to me, I'll keep it muffled with my stock cover.

Suspension & Brakes
The 748S comes with a fully adjustable Showa rear shock absorber, Showa Titanium-nitride (TiN) coated upside-down fully adjustable forks, steering damper (on all Ducati superbikes) and the rake is adjustable between 23.5 and 24.5 degrees.
I've only been riding for a year and I don't have much experience on other makes of bikes, but I can tell you that I love the suspension set-up on the bike. It's set up like I like a car's suspension… very compliant to the road surface, great feedback, not too harsh, eats up bumps in turns without unsettling the chassis, and turns like the vehicle is on rails. During initial "turn-in" the bike feels rock solid and very precise. When I lean over in turns there is a noticeable transition point where the bike just seems to "fall over" in the turn. The bike is very flick able, you don't have to man handle it to zigzag through a chicane.
Encountering bumps in a turn is no problem, they barely upset the bike, and the bike just stays planted. I get excellent feed back from the suspension and steering, it's almost like my hands are attached to the axles. I've noticed that the suspension is set quite a bit stiffer than other bikes that I've ridden. During regular straight line riding the suspension isn't harsh at all. I believe that the suspension is set up for riders that weigh 70 kg, so I'm "in like flint".
The front brakes grip well, but I could use a little bit more feedback. Well, I probably just need to explore the "lock-up" zone on them. The rear brakes work fine, but the rear brakes on Ducati bikes tend to get air in the lines. So the rear brake lever travel increases as time goes on, you just have to bleed them more regularly. The brake and clutch levers are adjustable to 4 different positions.
Common modifications to the brake system are steel braided lines and aftermarket brake pads. The most popular suspension up grade that I've seen on the 748 is to install a adjustable steering damper.

Comfort
Ducati superbikes (916/748/996/99 are known for their aggressive rider positioning. The bikes do put a lot of weight on your wrist and I've had my wrist go numb and/or get sore on many occasions, especially when I've got a passenger on board. I've also heard a lot of lower back pain complaints too. My lower back doesn't hurt after riding, but I need to stretch it out after a long ride, which is normal. I found that laying on the tank and just being relaxed in general are great ways to increase comfort on the bike.
The engines do tend to run a little on the hot side. Heat from under tail exhaust can really get your thighs cooking in the summer time when you are sitting in traffic. I read that the aftermarket half and full system exhaust decrease the amount of heat that you feel on your thighs.
The pre-2002 models have engine air exit vents near the top edge of the side fairings. These exits are located right in front of the rider's shins and if you don't have motorcycle boots on your shins will get hot.
The stock windscreen is pretty low and opens you up to getting blasted by the wind at speeds above 75 mph or so and it's hard to get full protection from the wind when you are tucked behind it at high speeds.
You ever wonder why Ducati superbike riders sometimes flap their arms while riding? It's because the mirrors are pretty much useless, you have to pull your elbows in toward your body to see anything in your mirrors. So that's why we look like we are doing some kind of bird dance sometimes…
Other than the issue mentioned above the bike fits me (5', 10") like a glove, it almost feels like I'm in the fetus position when I'm tucked in. The bike has a very narrow feel to it and when you look forward and backward the bike feels pretty short.
Common modifications that can make the bike more comfortable to ride are higher clip-on handle bars, throttle rockers, aftermarket seat (Sargent or Corbin as usual) as usual, higher windscreen, carbon fiber exhaust cans (better heat transfer characteristics than aluminum or titanium), carbon fiber exhaust heel guards, and a carbon fiber under tail section (better heat shield than the plastic one). I've had experience with the "throttle rocker" and so far it's eliminated any pain or numbness in my wrist, I'm dying to see how it does when I have a passenger. I purchased a Zero Gravity "double bubble" windscreen for my bike and it really makes a difference when sitting up right and when tucked at high speeds. When I rode with tennis shoes on the carbon fiber exhaust heel guards really made a temperature difference when compared to the stock metal units.

Fit and Finish
I've only found one paint blemish on the bike; the paint has some sort of hazy looking paint in a little section on the gas tank. The only other area that I don't like is the gap between the front edge of the seat section and the bodywork directly below the gas tank. A ¼" gap is a little much for me.
The fairings have an "okay fit". I've had two different V-shaped (below radiator) bodywork pieces on my bike, one that came on my bike and another from a friend's bike and they both fit differently. The other troublesome bodywork region is in front of the rear tire where the exhaust and lower fairings meet. The right side of my lower right side fairing is singed where the exhaust used to touch the fairing. Again, this happens on some superbikes, not all of them.
Common modifications included carbon fiber bodywork and 3M film to protect the leading edges of the bodywork and the gas tank. I highly recommend the 3M film to any motorcycle rider out there.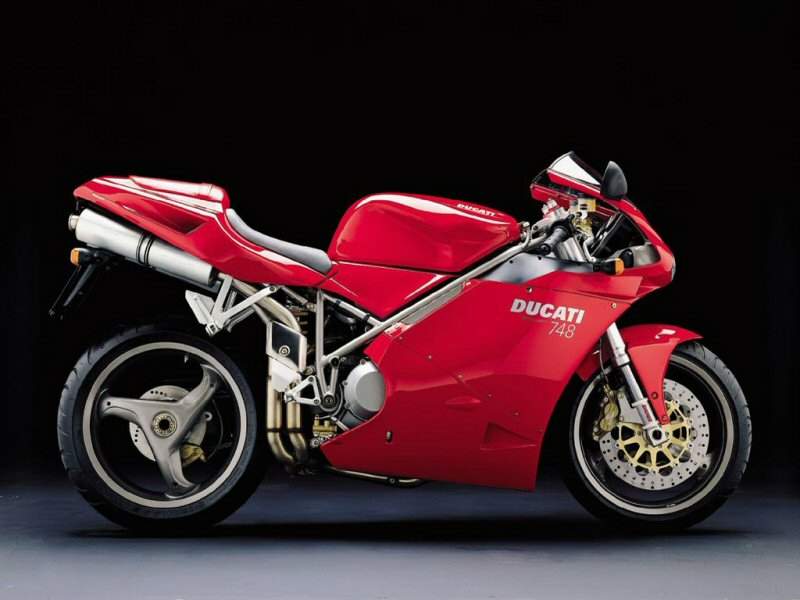 Service
The major gripe that I hear and read from non-Ducati riders is the cost and frequency of getting the valves adjusted. The service intervals for the valve adjustments is every 6,000 miles and the cost is about $300-$500. The bikes come with free service cards to be used at the 600, 6,000, and 10,000-mile mark. These cards are transferable to other owners if you buy the bike used. The bikes also come with a 2-year warranty and the warranty can be extended for something like $500/2-year period.
I highly recommend spending some time to research the dealer that you're thinking about buying the bike from. I also highly recommend spending some quality time at the dealership to get to know the dealer's staff and their regular customers. A dealer can make or break your purchasing and servicing experience.
The dealer that I purchased the bike from was great with the purchase and the service. Their staff is very nice and knowledgeable (they eat and sleep Ducati). They're almost like family and the regular customers there gave me a lot of useful Ducati and dealer feedback when I was thinking about purchasing the 748. They also have "pot-lucks" every Wednesday evening for everyone (all riders and non-riders welcomed) to hangout and eat.
You also get free membership to the "Desmo" owners club, with this you receive a card that you can use for free towing if you ever get into trouble on the road.

Reliability
My first 748S was very reliable, the only problem that I had with it up until it's mystery engine problem was a cracked coolant tank at 3,300-miles. It took a little while (about a week) to get a replacement tank, but it was fixed for free. I have read that this is a common problem on Ducati bikes, so I have an extra coolant tank that I purchased for $20 on EBay just incase it happens again.
I have read about many Ducati Superbikes with over 50K miles on them, but my first Ducati developed a mystery engine problem at the 6,000-mile mark. For some reason the engine would always die when I'd come to a stop. The dealer and other Ducati techs looked at it for a very long time, but it couldn't be fixed. The great thing is that Ducati replaced my bike, it took 2 months, the last 2 good riding weather months of the season, but they did replace it. So I got an extra 6,000 miles on a 748 thanks to Ducati.
I only have 190-miles on my replacement bike so far because of the relentless bad weather, so I can't address any reliability issues with my new ride yet. Hopefully there will be none, but this time I'll keep a little log…

Common Problems
The most common problems that I've heard and read about with the Desmoquattro engined Ducati Superbikes is Rocker arm flaking, engine coolant tank cracks, clutch slave cylinders that break, and faulty (cheap) electronics (voltage regulators). Ducati replaces the Rocker arms that flake for free and I believe that there was a recall on the faulty clutch slave cylinders.
Review by Tifosi in DCSportbikes