Ducati dramatically updated its 748 line in 2000 with the 748R, which the Bologna firm described as the 'most advanced bike it had ever produced'. A comprehensively revised fuel-injection system combined with larger airbox, bigger valves, new cams and pistons, CNC-machined cylinder heads and titanium conrods to give 106bhp, or 112bhp with race exhaust. A revised frame and new Showa forks also contributed to a bike of stunning roadgoing performance and unprecedented racetrack ability. But in its initial seasons the 748R failed to win back the World Superbike championship for Ducati.
Derived from racing bikes that have been consistently winning WSB championships since WSB began, the first Ducati Superbike, the 851, was launched in 1987, this bike was followed with the 888, 916, 748 and the 996. The 916 won several worldwide awards including 4 "Motorcycle of the Year" awards from MCN magazine. The 996 replaced the 916 in 1998. An entry into the legend of Italian motorcycling racing, an aggressive, high performance and beautifully designed machines, closely derived from Ducati's currently competing in the WSB. Aimed at purists who want everything from a bike with its compact design and slim silhouette to provide superior handling at speeds up to 170 mph. Combines advanced thermodynamics of 4-valve per cylinder with unsurpassed efficiency of Desmodromic valve system.
smaller, lighter, sealed-for-life battery

Ducati Corse gun-metal gray

Carbon fiber airbox

Öhlins adjustable steering damper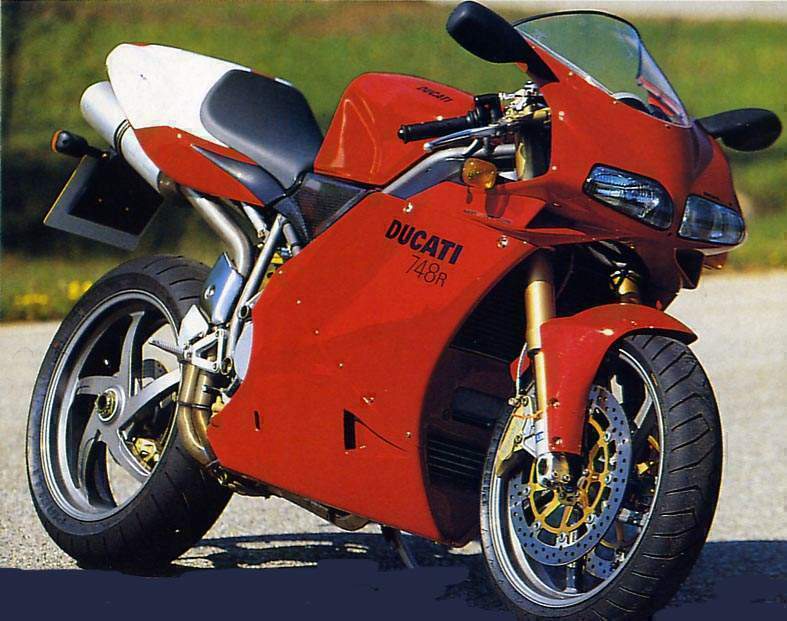 SUZUKI GSX-R750 vs DUCATI 748R
SUZUKI GSX-R750
When biking historians are looking back on the tail end of the 20th century, in say 30 years from now (and assuming that bikes really will be more than of just historical interest in 2030) I'm convinced that the GSX-R7S0 will be seen as a milestone machine. It was one of the first real race-reps, offering something approaching race bike performance on the road. It didn't rely on a huge surfeit of power, but enough of it in a very taut lightweight package to sell bikes by the bucketload.
But things move fast in the sports bike market, and the old GSX-R750 was looking increasingly silly against the new generation of 600s - it was heavier, more expensive and costlier to insure than any of them, but not a lot faster. So good were the new 600s, it almost seemed as if the 7S0 class itself was going the way of the proverbial dodo. But now Suzuki has re-invented the class with the latest GSX-R 750, a bike that moves the goalposts again, and you can identify advances to three key areas: chassis, engine and aerodynamics.
Reflecting developments in race bikes, where new materials allow more rigid, yet lighter, frames, the new bike's compact twin-spar aluminium alloy frame, longer swing-arm and more weight on the front wheel seems to be just the right combination. Compared to the old GSX-R, the frame is about 10mm shorter horizontally from steering head to swing-arm pivot and about 13 mm shorter vertically from the bottom of the steering head to the swing-arm pivot. It's lighter than the '99 model and has 10% better torsion in its rigidity-to-weight ratio. The swing-arm is 20mm longer than before, yet lighter as well. Rake and trail are actually unchanged, but the new set-up puts extra weight over the front wheel for in-corner grip (51.4% against 50% last year).
The engine? Like almost everything else about this bike, it's smaller and lighter than it was last year, but more powerful as well. The weight loss comes from innumerable changes to what is really an all-new motor, from one-piece cylinders/upper crankcase to forged pistons and stiffer con-rods.
And at 139brfp and 631b ft, it's now got a decent power/torque advantage over the 600s. But even more . important than these peak figures is their linear delivery. A second butterfly valve in the fuel injection system is controlled by the black box (the first depends on the twistgrip, as before) which ensures that intake air velocity is always high, even at low rev/large throttle openings.
The result, says Suzuki, is a boost to low rev torque, a less jerky throttle response and fewer emissions. As for aerodynamics, that's all about being as narrow and clean as possible, and that's what the Suzuki engineers have delivered. In short, they've come up with more power, less weight and the promise of better handling, all in a more compact overall package. Does it work?
First Impressions
All these paper specs filled me with anticipation, which made it doubly disappointing to have a big get-off at the GSX-R launch at Donington Park a few months ago. My memories of being upright on the bike were a little bit hazy, but they were good ones, so I was looking forward to finally riding the bike on the road.
First impressions: the Suzuki looks more eyecatching and less bulky than any of its predecessors, but it's out on the open road that the overwhelming impression of light weight asserts itself. At 166kg, this 750 is lighter than some 600s, and feels it. It's a long way from Crawley to Cornwall, and though the riding position is sports bike good, after 135 miles my hands and bum started to ache, which made me take a slightly early fuel stop. The screen and fairing give adequate wind protection, but with a tank bag fitted I did find the turbulence shook my helmet and blurred my vision slightly. (By the way, when the fuel light starts to flash you have only got about 10 miles left). I put just over 12 Litres of fuel into the 18 litre tank. Good, considering I was travelling down the motorway at an indicated 90mph, giving 47mpg. More typical up and down the box riding on twisty south-west roads cut that to just under 40mpg, but it's what you'd expect for this sort of bike.
Island Race
To my mind, our Cornish roads are the nearest anyone will get to the feel of racing on the Isle of Man without actually doing it. And they're perfect for the GSX-R, especially when the revs soar over 7,000 and the induction howl gets louder and louder, as the motor pulls strongly all the way to 14,500rpm. It can't half rev! I'm convinced that over 7,000 revs the GSX-R750 will give an Rl a run for its money. The Yamaha would still have the edge at low to mid-range revs, thanks to its extra capacity, but there's not much in it higher up. The authentically track-biased exhaust note just adds to the impression. If you've never experienced a state of the art sports bike, do so, as it's unbelievable. If you had the space, the speedo would indicate 17Smph in 5th gear at 14,500, leaving you with another gear to go. The handling at this speed is fair, considering the tyres were standard Michelin Pilots, which usually perform well, but for some reason the pair on this bike felt a little vague. Brakes at these speeds need to be spot on. The front brake is pretty good, but I found the rear to be oversensitive - just touching the lever would have the rear end snaking around.
The clutch and gears work together so smoothly that I didn't miss a gear once, and the steering is also excellent, being slightly quicker than an R1, but not quite as quick as the
Ducati's. The rear shock was on standard settings, but I felt the whole bike needed to be stiffened slightly front and back to give a better feel. Again, maybe the tyres had something to do with this. A steering damper comes as standard, which on the fast bumpy road smooths out the wobbles.
In fact, it was interesting riding the 748 and GSX-R back to back, as these two 750cc sports bikes are like chalk and cheese. Despite the Suzuki's excellent handling, it was the Ducati's sharp handling and quick steering that stuck in my mind, though there's no disputing that the Japanese bike takes the biscuit in sheer speed.
Details
The finish on the Suzuki, to my mind, is not brilliant, but for £7,500 you're getting a huge wedge of technology and almost limitless supplies of adrenalin. The pillion seat is optional and you have to remove the seat hump to fit it, but I wouldn't have thought many pillions will be volunteering for a ride on the back of one of these. Instrumentation is easy to use, being a state of the art mixture of digital speedo and minor functions with an analogue rev counter.
Verdict
Most definitely a race track bike, but equally as good on the public highway. It shows just how far things have come that the GSX-R feels much like a Grand Prix bike would have done ten years ago. The difference is you can ride this one to work every day, it will always start and you won't get any trouble with sponsors! For someone who wants to feel like a racer on the road, it's good value. AB
DUCATI 748R
There's one thing you notice about the Ducati 748R immediately. Before you take it up through the gears to the 12,000rpm red line; before you blip down through the box on clutchless changes. Even before you start the thing. It feels far, far lighter than it really is.
Believe it or not, this small, delicate sports bike weighs a whopping 192kg - that's 26kg heavier than the Suzuki. Presumably we've got the steel trellis frame and theV-twin's heavy flywheel to thank for that, but whatever the cause, you simply don't notice the weight, even when you're sitting on the thing. In fact, you'd swear it was lighter than the GSX-R.
Maybe it's partly psychological, because the 748 is so small. The tank is very slim, allowing me to have both feet firmly on the floor, knees bent. The riding position is obviously a full racing crouch and so comfort is non-existent -your weight is so far forward you can almost peek over the front of the fairing and look down at the front Pirelli. At town or even legal speeds the weight on your hands and wrists is a real pain and the thinly padded seat is not really designed for sitting on for any length of time. It's almost as though the Ducati's designers knew that most owners would spend most of the time hanging off the thing, so why waste time and money on a squishy seat, eh? This isn't a criticism though. The 748 is a real-deal race replica with no road comforts incorporated or intended. In any case, with those big Termignonis booming beneath you and a twisty road beckoning, this becomes a beautifully comfortable motorcycle.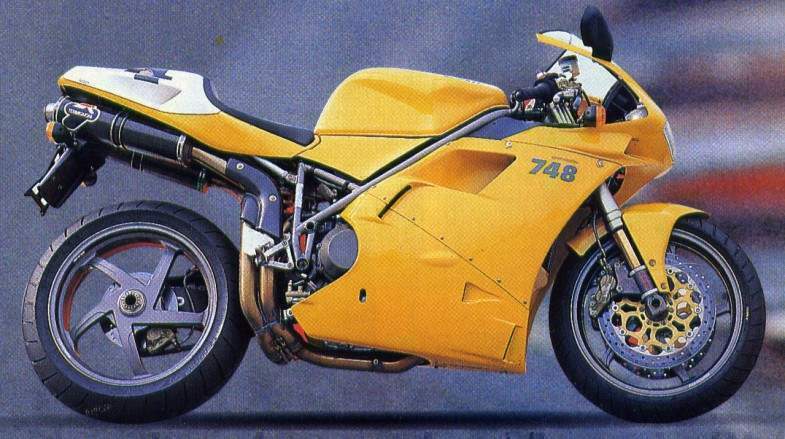 Theory & Practice
Initially the Duke feels a little flat, but then it is very high geared for a sports 750 and most of the real power lies near the top end of the rev range. Leave it in a high gear with less than 7,000rpm showing and roll on the throttle...very little happens. It doesn't bog down or hesitate, just slowly builds a little more speed. However, ride it with the tacho between 9,000rpm and the 12,000 limit and the rewards are a lot more impressive.
In fact, it's best to ignore top gear if really pushing on; it is in effect only an overdrive, and if the 748 could really pull 12,000rpm in top, you'd be doing 180mph! Highly theoretical, and not part of the real world - I found it was actually quicker in fifth, with a shade over 160mph showing when chasing Alan on the Suzuki, enough for most people and only a few mph short of the 996. Indicated speeds on the smooth-cut rev limiter are 95mph in second gear and 125mph in third. As an illustration of its high top gear, 70mph comes up at just over 4,000rpm, while lOOmph needs only 6,S00rpm.
But keep it on the twisty 'B' roads and top speed becomes irrelevant anyway.
Most Rewarding
I am convinced the little Duke handles as well as any current production machine available. The front end is particularly planted, and aided by the factory fitted steering damper, can be put into fast sweepers as hard as you like. And beware, if you're not careful this sort of thing becomes addictive. No matter how quick you attack your favourite bends the bike always gives the impression that it's well within its capabilities and could be run through far quicker! Because of the fairly modest torque available you can power out hard in a low gear without fear of it spinning up or getting out of shape. So in a way it's more rewarding to ride than the Suzuki or something like an Rl. I never tried to alter the Steering Head Angle -there's a choice of two on the 748R, but it looks relatively easy to do, via a castellated sleeve inside the steering head.
This sure-footedness is certainly enhanced by the tyres, Pirelli Dragon EVOs, but race compound 'Corsas' on this bike. (Ducati later confirmed that it had already done some track miles before we rode it). They warm up quickly, are ultra sticky, but grip stays consistent even after many hard ridden miles. The Brembo brakes are sharp enough to howl the front tyre though, even when warm. Bite is instant and there was no sign of fade when used hard, even though the discs were showing a blue tinge after one spirited ride out.
The gearbox is superb, a very positive action with only a light flick needed, although it does feel heavier when ridden at slower speeds. The dry clutch has the normal Ducati rattle, but ours had a strange slipping feeling, accompanied by a howling noise on sharp take-offs. The action is also very heavy, but again is only noticeable at town speeds. It also had a feature peculiar to the top-notch 748s, a slipper clutch. This is really intended for track use, and enables you to click down through the box just with a blip on the throttle and without touching the clutch lever. The slipper clutch synchronises everything and I found that even clutchless downchanges to first at high revs were possible.
Fuel Consumption Averaged 32mpg, although it is immaterial really because you wouldn't want to use this bike for touring, or even longish motorway trips. If you did you'd need to stop and stretch your back long before the fuel light came on! There's no gauge of course, or a reserve, but the 21 litre tank should give you around 13 0 miles before that light shows. While we're .on details, it's nice to see that Ducati has finally produced a sidestand that stays down, while all the switchgear does what its supposed to. We can't say much about pillion comfort as the R, unlike lesser 748s, only has one seat. But that's quite appropriate for such a single-minded machine. There are however three ways in which people other than the rider can enjoy the Ducati as well:
1) Listen to theTermignonis as you whang past them.
2) Gaze at the bike after you've parked up.
3) Wheel the 748 into your front room, and the whole family can admire it!
Verdict
If you want a true race replica and only use your bike for occasional weekend blasts the 748R is perfect. To my mind it has no faults whatsoever. It is designed for a purpose and does exactly that, perfectly. It's certainly not cheap at £10,600, but depreciation will be low. It makes even more sense if you can do without the R's luscious extra bits and go for the standard 748, which saves £2,300 and only loses out 8bhp after all. When you consider a 996 SPS is around £17,000, in Ducati terms it begins to look like a bit of a bargain. M
Source MOTORCYCLE SPORT & LEISURE 2000