Make Model.

Ducati 749

Year

2003

Engine

Four stroke, 90°"L"twin cylinder, DOHC, desmodromic 4 valve per cylinder.

Capacity

748.4 cc / 45.7 cu in

Bore x Stroke

90 x 58.8 mm
Cooling System
Liquid cooled

Compression Ratio

11.7:1
Lubrication
Wet sump
Engine Oil
Synthetic, 10W/40
Exhaust
Single steel muffler with catalytic converter

Induction

Marelli electronic fuel injection, 54 mm throttle body

Ignition

Digital CDI

Spark Plug

Champion, RA6HC, NGK CR9VX
Starting
Electric

Max Power

76 kW / 103 hp @ 10000 rpm

Max Torque

77 Nm / 7.8 kgf-m / 56.8 ft-lb @ 8500 rpm
Clutch
Dry multiplate with hydraulic control

Transmission

6 Speed

Primary Drive Ratio

1.84:1 (32/59)
Gear Ratios
1st 2.466 / 2nd 1.765 / 3rd 1.400 / 4th 1.182 / 5th 1.043 / 6th 0.958:1
Final Drive Ratio
2.78:1 (14/39)
Final Drive
Chain
Primary Drive
Straight cut gears, ratio 1.84

Front Suspension

Showa 43mm fully-adjustable upside-down fork with TiN
Front Wheel Travel
125 mm / 4.9 in

Rear Suspension

Progressive linkage with fully-adjustable Showa monoshock
Rear Wheel Travel
128 mm / 5.0 in

Front Brakes

2 x 320mm Disc, 4 piston calipers

Rear Brakes

Single 245 mm disc, 2 piston caliper
Front Wheel
New Y-shaped 5 spoke design light alloy, 3.50 x 17
Rear Wheel
New Y-shaped 5 spoke design light alloy, 5.50 x 17

Front Tyre

120/70 ZR17

Rear Tyre

180/55 ZR17
Rake

2

4.5°
Trail
97 mm / 3.8 in
Dimensions
Length: 2095 mm / 82.5 in
Width: 730 mm / 28.7 in
Height: 1090 mm / 42.9 in
Wheelbase
1420 mm / 55.9 in
Seat Height
780 mm / 30.7 in

Dry Weight

199 kg / 438 lbs

Fuel Capacity

15.5 L / 4.1 US gal / 3.4 Imp gal
Reserve
3.0 L / 0.8 US gal / 0.7 Imp gal

Consumption Average

5.6 L/100 km / 18 km/l / 42.3 US mpg / 50.8 Imp mpg

Braking 60 km/h - 0

12.0 m / 39.4 ft

Braking 100 km/h - 0

37.5 m / 123.0 ft

Standing ¼ Mile

11.2 sec / 203 km/h / 126 mph

Top Speed

240 km/h / 149 mph
Instrumentation
Speedometer, rev counter, high beam indicator, turn signals, oil pressure warning light, low fuel warning light, neutral light, water temperature, Immobilizer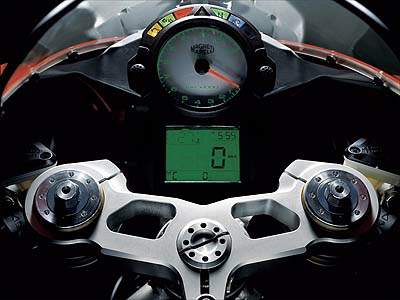 That's right, all the way to the Spanish Main and what does it do but rain.
Typical. Halfway through the morning of our scheduled ride at Circuito Almeria, though, the clouds parted, the track began to dry, and we did get in a brisk track session or two on Ducati's all-new 749 Superbike -- the one that looks just like the 999.
In fact, the 749 is so similar to the 999 in all respects that I'm not going to take time out of my presidential campaign to go through it all; go back to our earlier 999 postings, and know that the 749 got all the same stuff, including CAN electric system, revised ergoes, useless mirrors, the works.
It differs mainly in price, and bore-and-stroke really. Instead of the 999's 100 x 63.5 dimensions, the 749 schwings its 90mm pistons through 58.8mm strokes. Other than that, the 749 gets the whole Testastretta Enchilada treatment, with steepened included valve angle of 27 degrees, bigger valves, 6.9 CPU brain choreographing 54mm throttle bodies, etc.

One other thing: the 749 wears a 180-section rear on its 5.50-inch rear wheel, while the 999 sports a 190 just to confuse the issue slightly--the issue being that the 749 turns and swaps direction considerably lighter than the 999--nice on the track, nicer on the road. Somebody at the track test, in fact, said the 749 had its adjustable steering set at the steeper 23.5-degree rake, which sounded completely believable. Later that night, a Ducati engineer said No; all the bikes were set up in the standard 24.5-degree configuration. These reciprocate on a new, more rigid crank with better mass centralization, and oil delivery.
A 5mm shorter stroke doesn't sound like much, but gyroscopic force increases exponentially as everybody knows, and so that slight reduction in crank mass results in a difference you can feel when it comes time to throw the 749 into one of Almeria's tightish-yet-flowing corners. Like a 600 next to an open-classer, there's little difference in the size of the bike itself (Ducati claims 435 pounds, wet, for the 749 and 439 for the 999), but something about the smaller-motored bike always seems to feel tighter and righter (probably because you're arriving at the corner slower?). Ducati claimed 124 horses for the 999, and our dyno was down but Cycle World's says 116 at 9500 rpm. Ducati's 103 claimed horses (at 10,000 rpm) for the 749, then, ought to be right around the 96 or so produced by a current inline-four 600. More to the point would be the 56.8 foot-pounds of torque at 8500 rpm.
Though it's "only" a 750, it was easy to leave the Ducati in one gear while recconnoitering Almeria in the wet with none of the jerkiness you used to get lugging small-bore Ducatis around.

The icing on the cheaper cake that is the 749, is, for me anyway, the simple fact that you get to spend way more time with the smaller bike's throttle pinned. Primary and internal gearbox ratios are the same as in the 999, but the 749's final drive ratio is 2.785 instead of 2.4. As a result, the smaller bike feels much revvier.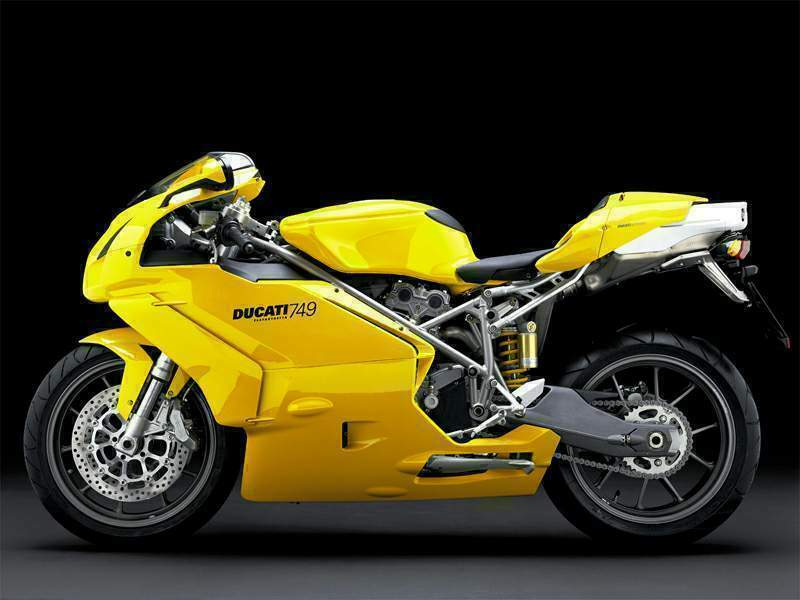 There's a loooong backstraight at Almeria, and driving off the final second-gear corner onto it was one of the more delicious moto-moments of recent memory: roooll the throttle wide-open, use the ample draft provided by Mark Hoyer, and feed the 749 gears as the shift-light blinks... by the end of the straight, I was seeing the top of fifth gear and an indicated 220 kph... (four-pad Brembo calipers when it's time to stop, are magnificent).

Honestly and truly, if I were wanting a 999 for street/occasional track-day use, I would rather have the 749, but that's just me and I'm part of the great Liberal Biased Media, so you'll have to make up your own mind...
Shall we go into the back room to speak to the sales manager then? We can put you on a base 749 for $13,495--that's $4200 cheaper than the 999 BUT, the base 749 doesn't have adjustable rake (it's set at 24.5 degrees) which you really don't need. More niggardly and harder to overlook, however, is that the base model comes in biposto only, which means no adjustable ergoes (which again doesn't matter if you'll be taking a passenger along). Finally, the base model's fork does not have the TiN coating, and it uses a Boge shock (which worked fine on the billiard-smooth Almeria track).
Source By JohnnyB, Mar. 16, 2003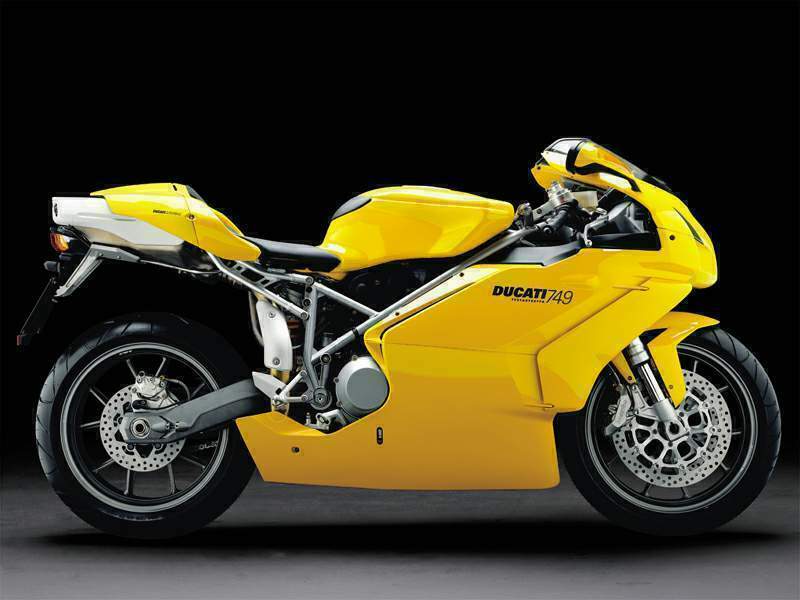 Review
Road test by Simon Bradley
It may come as something of a surprise to hear that the 749, despite all appearances to the contrary, is not just a 999 with smaller holes in it. Strangely enough, the only paper difference is the rear tyre, reduced to a 180 section from the more fashionable 190 fitted to the larger bike. So perhaps I should rephrase myself. Although technically the 749 is no more (and no less) than a 999 with smaller holes and a skinnier rear tyre, it feels comletely different.
Like its larger sibling, the 749 is a radical redesign of its predecessor sharing little more than the tankbadge and a few common components. Also like the 999, the 749 has exchanged some of the purity of line and sheer elegance of the older model for a rather more functional appeal. I have to say that, having had more of a chance to get used to the new shape, I honestly do quite like it, especially in the bright yellow with which this particular 749 is blessed.
Technical stuff matters on a bike like this, so lets get down to it. The biggest change from the outgoing (but still in limited production for the diehard fashionista) 748 is the engine. For the first time, the Testastretta engine has been shrunk and fitted to the 749. What this means, apart from another cool badge on the fairing, is healthy amounts of power and torque right through the rev range. While nobody would accuse the 749 of being a low revving torque monster, it certainly has far more oomph that its predecessor. Ally that to a silky smooth gearbox and you have a recipe for making very quick progress indeed. But there is a price for all this. Despite the beefier engine curves, the 749 thrives on revs. The more the better. And that means it likes a drink every now and again. Well, every 100 miles or so, actually, ridden with any degree of enthusiasm. Still, no problem - the fuel light gives plenty of warning and reserve seems to be generous enough for all but the most dedicated chancer to reach a garage before taking a walk.
As we're talking about a supersports Ducati, mentioning that the handling is sublime is probably rather unnecessary. But I'll do so, just in case. The handling is almost perfect - rock steady stability allied to a razor sharp turn-in and a degree of chuckability the likes of which the 999 could only dream of.
Which brings me to my earlier point. Despite the bikes being ostensibly the same, the 749 is so much easier to ride than the 999 that you might be forgiven for thinking they were totally different machines. And I don't know why. The only differences are that rear tyre and the reduced reciprocating mass of those smaller pistons. Maybe that's enough - I don't see how - but whatever else there is combines to make a devastatingly potent road bike and track-day tool. There is no doubt that for the lazier rider the 999 will be easier to fire out from a corner - the huge amount of grunt makes sure of that - but the 749 will have turned into the corner later, harder and maybe just that bit faster.
Now of course all this talk of getting on the power harder and earlier is rather less important for road riding than for the track. On the road perhaps the 749 suffers a little from a lack of outright power. There are times when, perhaps, it would be nice to be able to get a move on without doing the gearbox tango. But then again, perhaps I'm being picky. Not once did I find the 749 lacking performance or usability - indeed it probably has some of the most usable power around today - and I never really wanted to be going any faster than I was at any given time. But sometimes you just want to relax and take it easy, which is something that doesn't come naturally on the 749.
While we're talking about road riding, we should get some of the practicalities out of the way. The mirrors, despite what you may have heard elsewhere, do actually work and will let you see something other than the state of your elbows. You just need the right technique, just like on the larger bike. The ride is reasonably comfortable, although the miniscule screen means that your neck will cry enough way before your bum, especially if you're getting a bit of a move on. But that's not a problem, because, as mentioned before, you will run out of petrol before you run out of endurance anyway.
Our test bike, by the way, was a 749 S - until the R version comes out next year it is the top of the 749 ladder. Blessed with higher spec suspension and far more adjustability than the base model, the S is otherwise mechanically identical. Cogniscenti will tell you that the Nitrided forks give the game away at 1000 paces, but I prefer to sit on it and look at the beautifully crafted triple yokes instead. Either way, you'll be pushed to tell the difference when you're moving.
Verdict
If you do more than one or two trackdays a year, if your riding is more for fun than anything else, if you're a rider who enjoys getting the most out of your bike and working a bit to do so then the choice is easy. Buy a 749. If you're a slave to fashionable numbers or ride with more purpose, or even if you are simply lazier and want ready performance on tap without any effort then you should think twice.
Me? You know, I think I'd rather like a 749s monoposto.
In yellow, please.
Tech Specs