Ducati 999R SBK Team Fila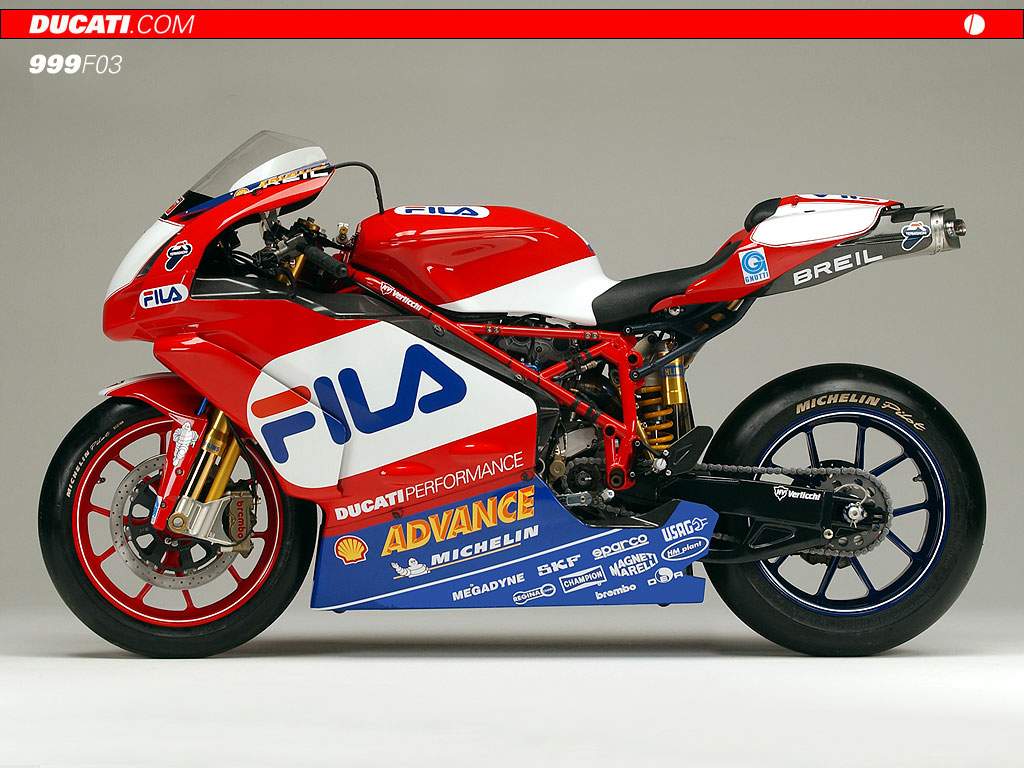 Ducati's 'third' chapter in the World Superbike Championship with the 999

The teams WSBK history began in 1988 with the 851/888, continued with the 916/996/998 from 1994-2002 and now the next era gets underway with the debut of the all new 999.

The 999 shares most of the fundamental engineering components with its 998 predecessor: twin-cylinder testastretta desmo engine, tubular trestle frame, underseat exhausts.

The Factory '03 Superbike has been designed hand-in-hand with the road-going 999R, guaranteeing that the homologated bike has all the characteristics required for this high-performance racing version.

The working organisation was fundamental in this respect: a totally dedicated team, led by Ernesto Marinelli, was responsible for every phase of the 999 F03's development, but it constantly interfaced with the group that developed the 999R streetbike, led by Gianluigi Mengoli.

The 999 was designed using experience accumulated over the years with the development of the 998: a key element here is the dual rear swingarm, which was successfully tried out by Carl Fogarty in private testing at Phillip Island in 2000, but which was not fitted to the 998, because it differed considerably from the production version.

This solution has considerably improved the behaviour of the bike on used tyres, by eliminating the chattering that was often present in the same conditions on the 998.

The entire project has followed the methods used for the development of the Ducati Desmosedici MotoGP: an integrated virtual design, and particular attention paid to aerodynamics, which together with the new swingarm is one of the strong points of the new bike.

The changes made to the 999 twin-seater to produce the 999R, which was the starting-point for the 999 Factory, are the result of wind-tunnel work carried out in collaboration with the British aerodynamics specialist, Alan Jenkins.
Ducati 999R SBK F03 Team Fila 2003
Neil Hodgson and Ruben Xaus spearheaded Ducati Corse's World Superbike Championship attack in 2003.

The 2003 season was the first time since 1994 that Ducati has competed with a totally new motorcycle in the World Superbike Championship. The previous model, the 916, which was introduced in 1994, has been incredibly successful and the various EVOlutions over the years to keep it competitive have enabled Ducati to win 8 Constructors' titles. The 916 won in 1994, 1995 and 1996, the 996 in 1998, 1999 and 2000 and the 998 Testastretta won the 2001 and 2002 world championships.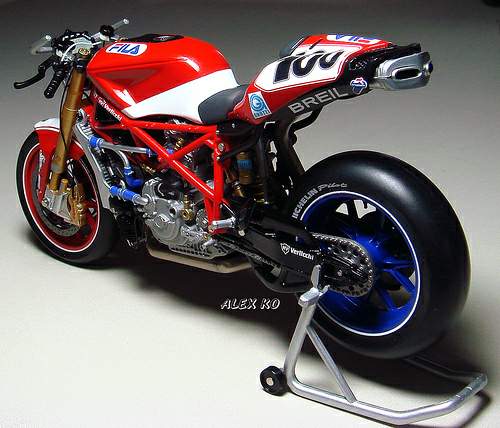 Ducati 999R F04 Team Fila 2004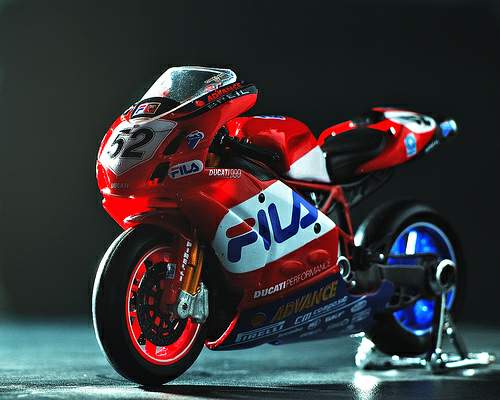 Regis Laconi and James Toseland spearheaded the Ducati Fila team attack in the 2004 championship on board the successful Ducati 999 factory bikes.