Ducati 999R SBK Team Xerox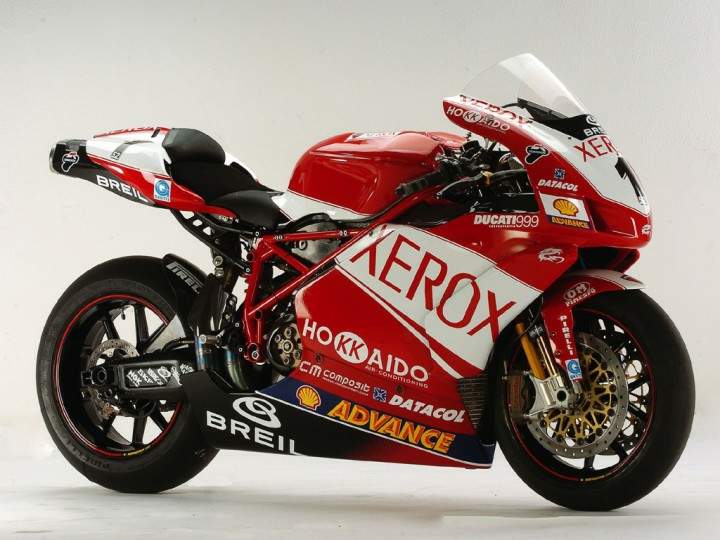 2005 Press release
Ducati and Xerox Announce World Superbike Partnership

Ducati Corse announced that it will take part in the 2005 World Superbike Championship with a new title sponsor, Xerox. The announcement was made during the international media launch of the team in the Ducati factory in Bologna, Italy.

The deal, which will initially run for two years, will see the team renamed Ducati Xerox Team. The partnership marks Xerox's second year in World Superbike sponsorship. Xerox, who were introduced to the world of Superbike racing in 2004 with Stefano Caracchi's satellite Ducati NCR team, are now aiming for the top through their association with the Championship's most successful protagonists.

The Ducati Corse factory team has dominated the sport in recent years, winning five of the last seven World Riders Championships. Ducati Xerox Team enters 2005 as the reigning champions in both Constructor and Rider Championships. Briton James Toseland and Frenchman Regis Laconi, who will race the Ducati 999 F05 machine, finished one-two last year with a total of 28 podium finishes including 10 race victories across the 11 round/22 race season.

Commenting on the sponsorship, Richard Wergan, Head of Marketing Communications for Xerox Europe said: "Ducati has a rich legacy of producing winning teams and bikes which perform to the highest standard. They also have a dynamic and unrivalled image, and so a Xerox partnership with a brand such as Ducati - both demonstrating technological innovation and high performance - is an extremely desirable one. World Superbikes is one of the most exciting and fastest growing motor sports in the world and sponsoring the number one team is highly appropriate for a market leader such as Xerox," he said.

"World Superbike continues to be vitally important for Ducati and we have demonstrated that with our commitment over the years, even when the championship has been going through a less healthy period" declared Ducati Corse CEO Claudio Domenicali. "Now we are very pleased to welcome the return of our traditional competitors to the championship because it again offers us the possibility of showcasing our racing products against world-class opposition on a level playing-field.

"Racing is in Ducati's DNA and World Superbike is essential for the development and EVOlution of our production bikes. When we race and win, we know that the spin-off from racing will eventually be felt throughout the entire Ducati production range.

"This year it gives me great pleasure to welcome the new partnership with Xerox, who become our new title sponsor. Xerox and Ducati are both leaders in their respective fields, both are internationally-renowned, highly successful and enthusiastic companies and we are sure that the new Ducati Xerox Team will be a force to contend with in the championship" concluded Domenicali.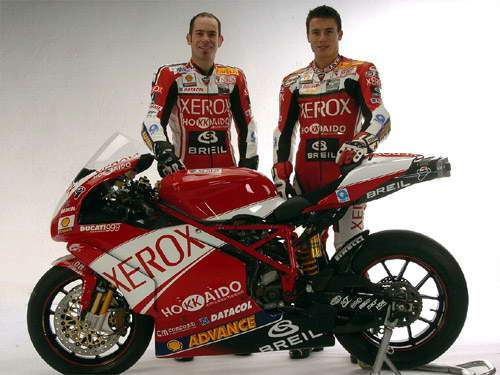 Ducati 999R F06 Team Xerox 2006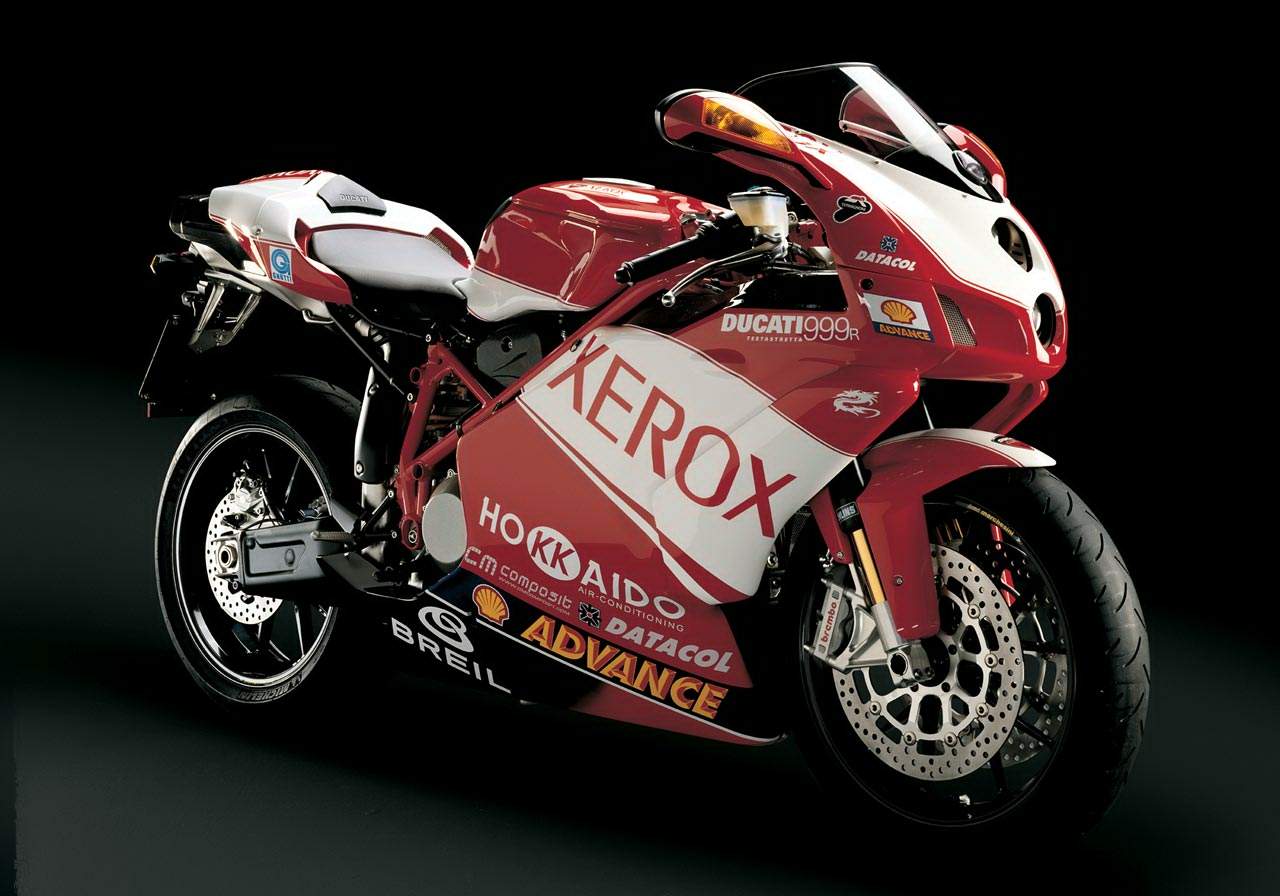 2006 Press release
Troy Bayliss will go back to World Superbike championship after 3 years in MotoGP. He'll rejoin the factory Ducati team with whom he won the title back in 2001. He and Lorenzo Lanzi will replace the current rider line up of James Toseland and Regis Laconi.
BAYLISS: "The biggest thing is that it feels like I'm coming home ... I'm really looking forward to hopping back on a Ducati Superbike. Even though the bike has changed quite a lot, the engine is still very similar and has been much improved since I've been away so it's a built-in package already waiting there for me. I have a lot of good memories from the past and I aim to continue having more of them ... I've been there and done it before, it's still all in the memory bank so hopefully I can come back and have a good season next year. It's going to be awesome and I just can't wait to start. The championship is looking strong now, all the manufacturers are back and it's going to be great to be there with Ducati and challenge all the other guys for the title".
LANZI: "I am really happy to join the factory Ducati Xerox Team in the World Superbike Championship, because it was an aim I had fixed for myself in 2003 when I was racing in Superstock. Now that it's happened I am so happy because it is the dream of so many Italian riders to race for the Ducati factory team. I have arrived in the team at the right time. I know everyone in the squad and have already won two of the last races of the season so my motivation is high. In addition I will have a true maestro at my side like Troy Bayliss, who will help me for sure. Now I just can't wait to start the new season with my new Ducati Xerox Team!"
DUCATI (Paolo Ciabatti) "Next year we will be taking part in the World Superbike Championship with an exciting new rider line-up and the F06 version of the Ducati 999. We warmly welcome Troy and Lorenzo into the team and believe that this combination of experience and youth will help us to continue our winning tradition in World Superbike. Rider changes are always a hard choice to make and it was particularly difficult on this occasion, because James Toseland and Regis Laconi have both made a fantastic contribution to Ducati's success in the last two years, James winning the 2004 title and Regis scoring ten wins with us. I would like to thank them for everything that they have done for Ducati in this period and wish them all the best for the future"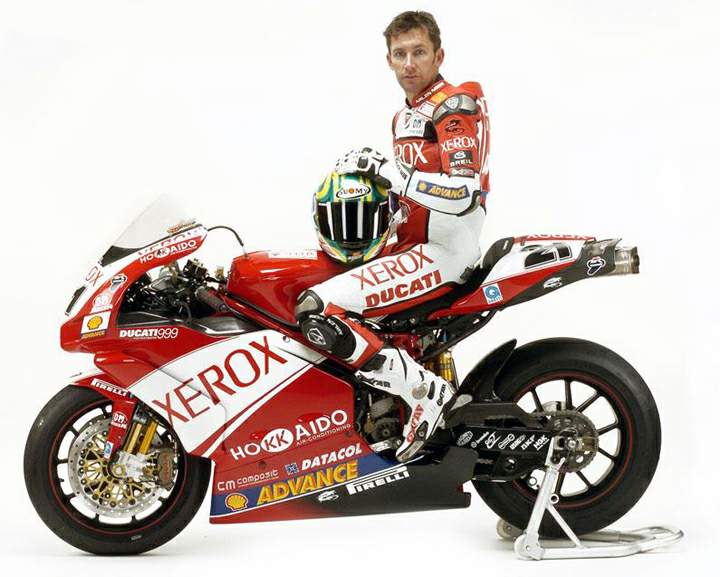 Ducati 999R F07 Team Xerox 2007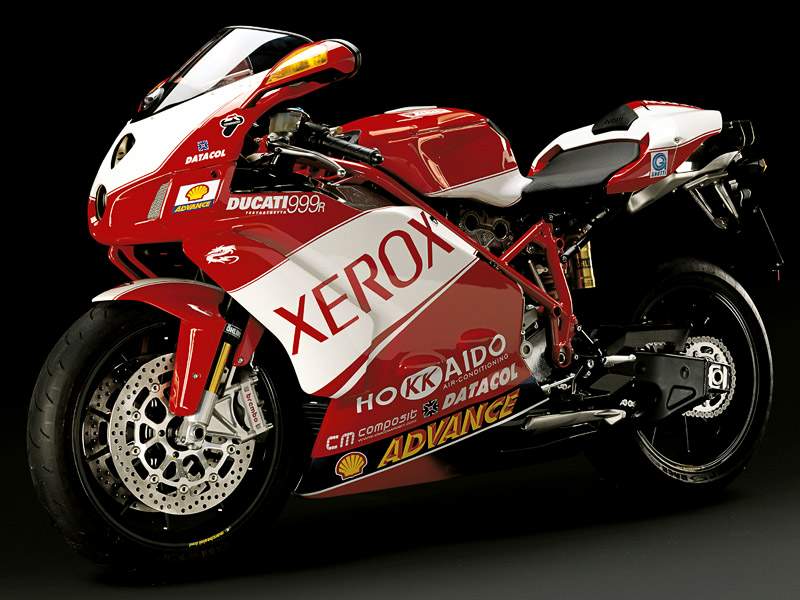 2007 Press releade
The World Superbike Championship moves into its twentieth year in 2007. Very little has changed for last year's championship-winning Ducati Xerox Team, which goes into the new season with renewed hopes of success, by double world champion Troy Bayliss and his Italian team-mate Lorenzo Lanzi, who line up together again.
On the technical front the successful Ducati 999 machine, which enters its final year of world championship racing, also remains the same, apart from an updated version of the idle control in the electronics package. With title sponsor Xerox also on board for a third successive year, the Ducati Xerox Team is gearing up for what promises to be another splendid year of World Superbike racing.
Bayliss and Lanzi will race the 999 F07 in 2007. Bayliss entry into the factory Ducati World Superbike team in 2000 came about following Carl Fogarty's career-ending crash in 2000. Sixth overall in his first season was followed by the Australian's domination in 2001 as he took the title. His twelve wins in 2006 are testimony to the incredible competitiveness of the Australian and he lines up for the next two seasons with the Ducati Xerox Team. A reconfirmed Lorenzo Lanzi has been in terrific form over the winter, recapturing the sort of performance that initially earned him his place in the factory Ducati squad for 2006. Now it just remains for the 25 year-old Italian to confirm those testing results in this year's races.
Source Ducati.com 2007