Ducati Cucciolo T1 / T2 / T3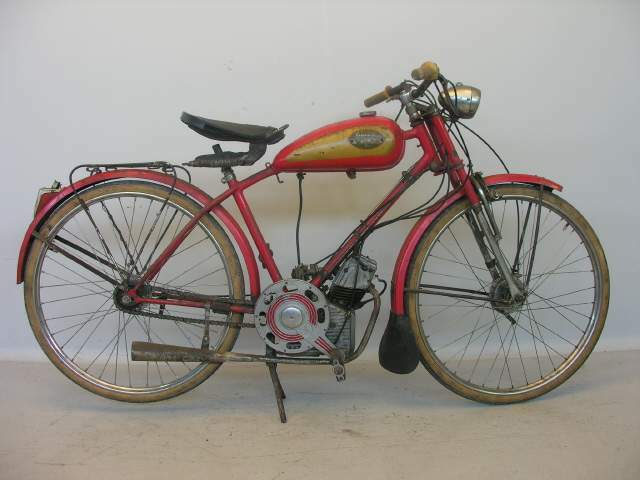 Make Model.

Ducati Cucciolo T1 / T2 / T3

Year

1946 - 52

Engine

Four stroke, pullrod single cylinder, 12 mm intake, clip-on

Capacity

T1 / T2: 48 cc / 2.9 cu in
T3: 60 cc / 3.7 cu in

Bore x Stroke

T1 / T2: 39 x 40 mm
T3: 43.8 x 40 mm

Compression Ratio

T1: 6.25:1
T2 Turismo: 5.5:1
T2 Sport: 6.5:1

Cooling System

Air cooled

Lubrication System

Splash, gravity drip feed

Induction

Weber or Dell'Orto 8 mm

Ignition

T1: 12 mm Spark plug, 4-pole flywheel magneto with 2 Ducati coils
T2:

14 mm Spark plug, 4-pole flywheel magneto with 2 Ducati coils

Starting

Kick

Max Power

T1: 0.93 kW / 1.25 hp @ 5250 rpm
T2 Turismo: 0.6 kW / 0.8 hp @ 5500 rpm
T2 Sport:

1.25 hp @ 5500 rpm

Clutch

Wet, multiplate

Transmission

T1 / T2: 2-Speed
T3: 3-Speed

Gear Ratios

T1: 1st 12.5 / 2nd 10.25:1
T2: 1st 18.2 / 2nd 10.5:1

Final Drive

Chain
Frame
Bicycle wit clip-on engine

Front Suspension

None

Rear Suspension

None

Front Brakes

Bicycle type

Rear Brakes

Bicycle type

Front Wheel

Bicycle wheel

Rear Wheel

Bicycle wheel

Dry Weight (engine only)

T1: 7.8 kg / 17.2 lbs
T2: 8.0 kg / 17.6lbs

Fuel Capacity

2 L / 4.2 Us pt / 3.5 Imp pt

Top Speed

40 km/h / 25 mph
35 km/h / 22 mph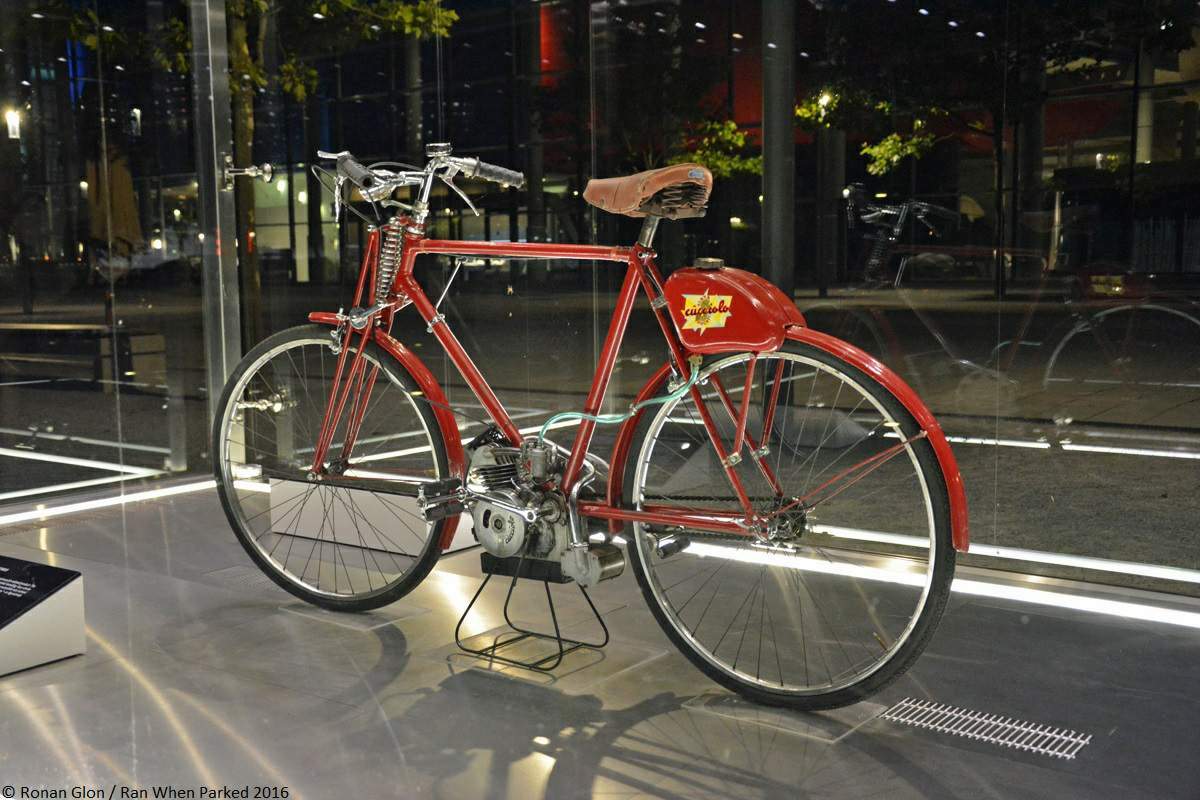 The Ducati Cucciolo was a 4-stroke clip-on engine for motorized bicycles conceived during and shortly after World War II by a Turin lawyer, Aldo Farinelli, and developed with a self-taught engineer, Aldo Leoni.

During the war, Aldo Farinelli began working with the small Turinese firm SIATA (Società Italiana per Applicazioni Tecniche Auto-Aviatorie) with the idea of developing a small engine that could be mounted on a bicycle. Farinelli's and Leone's first prototype was running on the streets of Turin in Autumn of 1944. The yapping sound of the engine's short stubby exhaust inspired the name Cucciolo ("little puppy") for the motor. Weighing a little over 17 pounds (7.7 kg) and giving 180 miles per US gallon (77 km/l) when installed in a bicycle.

On July 26, barely one month after the official liberation of the country, SIATA announced their intention to sell Cucciolo engines to the public. It was the first new automotive design to appear in postwar Europe. Some businessmen bought the little engines in quantity and installed them in frames, thus offering for sale the first complete units.

Soon demand outstripped the limited production capabilities, so SIATA found a manufacturing partner in Borgo Panigale, near Bologna. Ducati was a well-known name in electronics and appliances, and in the post-war torn Italy, it was seeking new opportunities to employ its workers and facilities, so a licensing agreement with Siata was reached. Production rose from 15 units in 1946 to over 25,000 in the following years, when Ducati reached an exclusive agreement for the production.