Ghezzi Brian Sport Monza 1000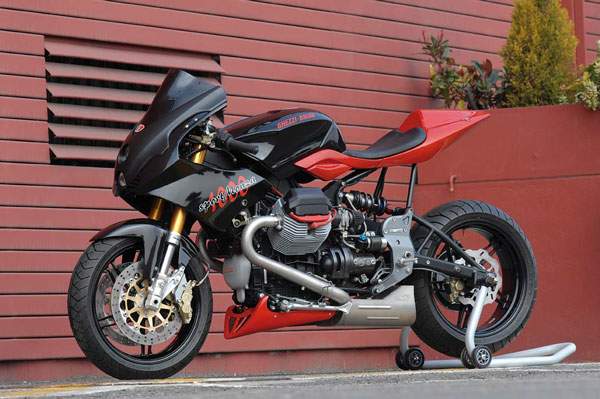 SPORT MONZA 1000 Ghezzi-Brian gives the chance to turn a well-loved Moto Guzzi bike, the V11, into a true Superbike.
The Ghezzi-Brian engineers have completely redesigned the Model V11 look and the result is a modern, aggressive-looking bike. And, since we are talking about Ghezzi-Brian, nothing has been left out to give it outstanding, uncompromising performance thanks to engine and chassis modifications.
The V11 will finally be and look like a true superbike, filling in a traditional gap in the Moto Guzzi products list.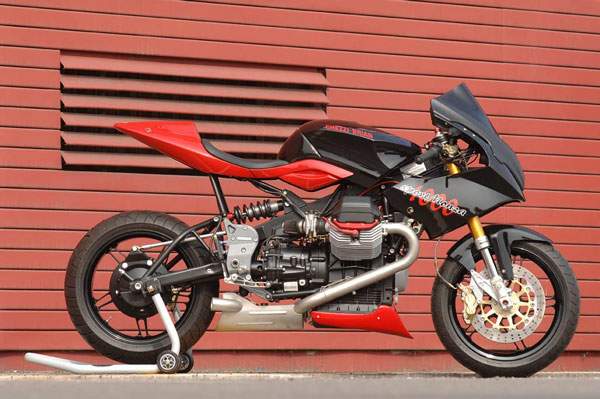 The fixed aesthetic kit includes:
- Body and front fairing
- Front/rear frames
- Seat
- Lights
- Aluminium gasoline tank and pump
- Belly pan
- Digital dashboard (optional)
Various options available.
- Paioli fork ø 41
- Mupo fork ø 43 or 46
- Mupo monoshock-absorber
- Braking system with Brembo radial calipers
- Stearing plates with setting trail
- Forged aluminium or magnesium rims
- Aluminium swivel arm
- Aluminium push rod with uniball
The upgrades allow to reach up to108 hp
- High compression forged pistons
- Special connecting rod
- Camshaft
- Fuel electronic injection module
- Exhaust system
Source and more GHEZZI-BRIAN.COM