Ghezzi Brian Furia Replica V11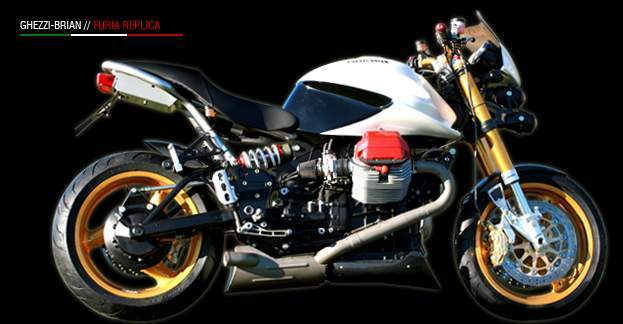 A kit for Moto Guzzi V11
The kit turns this bike into a real naked, lighty and agile, with aggressive design and a unique personality: a real street-fighter with a handsome look and outstanding performances.
A truly enjoyable bike, both alone and when carrying a passenger. It can give great feelings, with the right torque to take you out of any bend, but it is also confortable to ride in town or cruise. And, most of all, it is an exclusive bike, for few privileged only. Let its charme seduce you as you ride, on the road, and listen to the mighty throb of its "Big Twin".
The Ghezzi-brian engineers have completely restyled the look of Model V11 and nothing has been left out in terms of engine and mechanics. The result is a powerful, handsome bike with outstanding performances.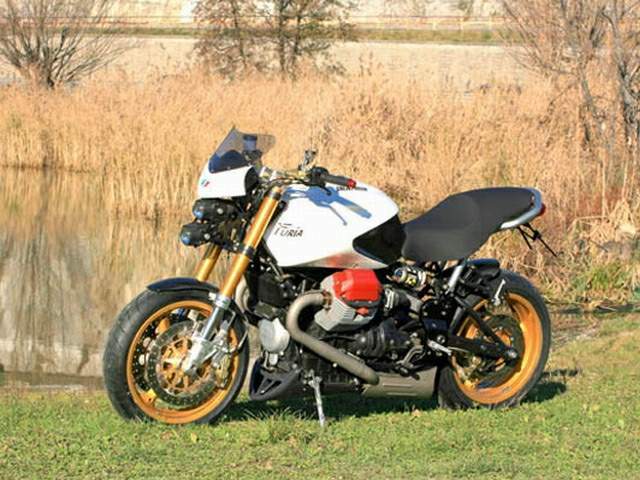 The standard aesthetic kit includes:
- body and front fairing;
- seat;
- lights;
- Aluminium gasoline tank and pump;
- Belly pan;
- Digital instruments (optional).

Various options available.
- Ø 43mm front forks;
- Mupo AB1 monoshock-absorber;
- Braking system with Brembo radial calipers;
- Forged aluminium rims;
- Aluminium push rod with uniball;
- Adjustable foot-rests.
The upgrades allow to reach up to108 hp
- High-compression forged pistons;
- Longer piston-rods;
- Camshaft;
- Dedicated electronic fuel injection;
- Twin-spark ignition;
- Titanium exhaust system.
Source and more GHEZZI-BRIAN.COM