Gilera 850 Twin Prototype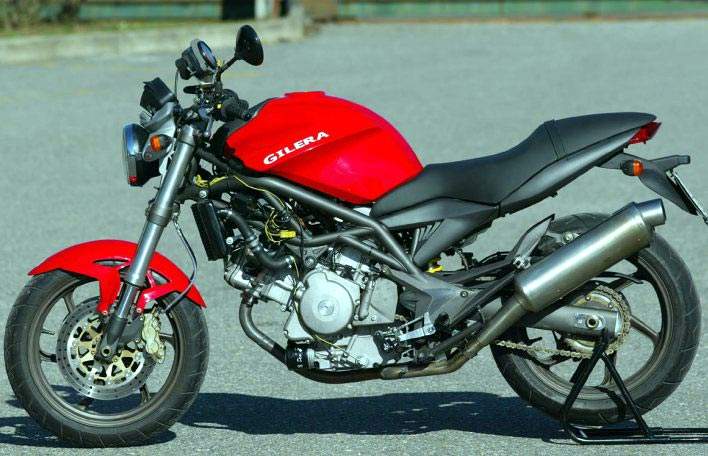 Okay, you Honda Hawk diehard fans. Your ship may finally have come in. Housed in the compact, Cagiva Raptor 650 frame (which, typically utilizes a Suzuki SV650 engine), Piaggio is developing a naked 850.


Featuring a six-speed transmission within the small and light 839cc engine, the fuel-injected prototype should see production (yes, most likely in this same frame -- remember, Piaggio is now part owner of Cagiva). Expect a 2003 model bearing the Gilera trademark.

This twin is being carefully developed by chief engineer Lucio Masut (pictured at right), and will eventually be produced in both 850 and 1020cc versions, both for motorcycle and scooter use (yes, the mega-scooters will get bigger, yet).

We warned you last September that Piaggio was coming on strong with the Gilera marque. The v-twins will compliment the already available 600 supersport introduced by Gilera last year. The supersport, of course, contains the Suzuki GSX-R600 motor, while the v-twins will feature Piaggio designed and engineered engines.


Features
1. The prototype chassis is from a 650 Raptor, while the wheels are from the 1000cc version. That gives a hint about how small and light the motor is.
2. Twist the throttle and thereís instant punch reminiscent of a 916-engined Monster.
3. We reckon itís making up to110bhp at the back wheel.*
4. The acceleration is so strong itís a struggle to hold on. Thereís a little rough patch around 3000 revs, but all you have to do is give it a rev and it pulls cleanly past that. Itís strong until about 5500rpm. Then something gives this bike a major kick in the pants all the way to the rev-limiter at 9400rpm.
5. The fuel injection on this test model is excellent. It hunts ever so slightly when you hold a steady throttle, but it can handle any amount of cack-handed throttle control.
6. Mid-range power is smooth and meaty. Between 3500rpm and 4000rpm itís already strong.
7. There will be cosmetic changes to the rather bland-looking motor before production.