Gilera KZ 125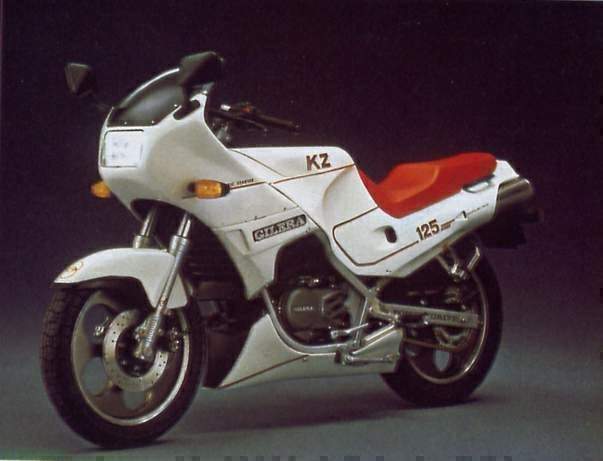 | | |
| --- | --- |
| Make Model | Gilera KZ 125 |
| Year | 1986 - 87 |
| Engine | Two stroke, single cylinder, reed valve |
| Capacity | 124 ccc / 7.6 cu-in |
| Bore x Stroke | 56 x 50.5 mm |
| Cooling System | Liquid cooled |
| Compression Ratio | 13.0;1 |
| Induction | 28 Dell'Orto PHBH carburetors |
| Ignition | CDI |
| Starting | Electric |
| Max Power | 29.3 hp / 21.8 kW @ 9900 rpm |
| Max Torque | 18 Nm / 13.2 lb-ft @ 10250 rpm |
| Clutch | Multi-disc oil bath |
| Transmission | 6 Speed |
| Final Drive | Chain |
| Frame | Diagonal double cradle tubular steel |
| Front Suspension | Fork traditional 36mm. Antidive adjustable |
| Rear Suspension | Hydraulic shock absorber adjustable in spring preload Court Cosso |
| Front Brakes | Single 240mm disc 2 piston caliper |
| Rear Brakes | Single 240mm disc |
| Front Tyre | 100/80-16 |
| Rear Tyre | 120/80-16 |
| Seat Height | 760 mm / 29.9 in |
| Wet-Weight | 126 kg / 277.7 lbs |
| Fuel Capacity | |
| Consumption Average | 19.9 km/lit |
| Braking 60 - 0 / 100 - 0 | 14.4 m / 43.3 m |
| Standing ¼ Mile | 15.8 sec / 133.1 km/h |
| Top Speed | 152.6 km/h |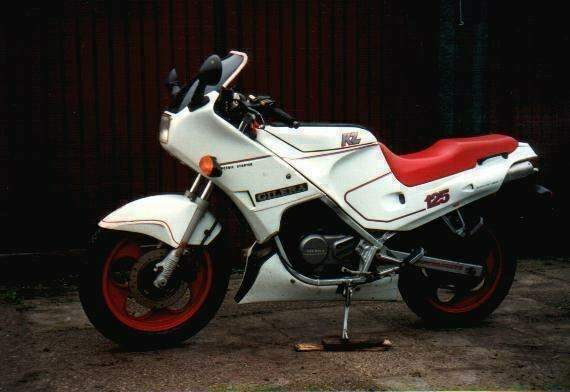 LIKE A LOT OF other motorcyclists, I'm a schizophrenic: not to the point of requiring specialist psy-Irfiiafjric help (is there any core for addiction to bikes?), but in the following sense. On the one hand, part of me is essentially traditionalist, respectful and aware of motorcycling's glorious past and resounding heritage. But at the same time I'm a techno-freak, hopelessly hooked on new two-wheeled ideas and technology. This split personality becomes united when you consider the current offerings from the historic house of Gilera. For years the famous Italian company languished in the shadow of its Vespa scooter cousin, both owned by Piaggio, but as scooter sales have declined, especially on the Italian home market, so Piaggio have stepped up investment in Gilera, Italy's oldest bike manufacturer.
From being the dismal and rather sad place I last visited five years ago, the Gilera factory at Arcore, north of Milan and near Monza, is nowadays humming with activity and stuffed full of the latest machine tools and computer-aided design equipment. The 730 workers turn out more than 25,000 two-wheelers per year, as well as subcontracted parts for Ferrari and Fiat cars. At the same time Gilera's design team, headed by Ing Lucio Masut, has produced a series of increasingly sophisticated small-capacity bikes which have propelled Gilera to the top of the Italian motorcycle sales chart, even overtaking their high-profile competitors at Cagiva in the 1985 charts.
The Gilera 125RV and its Arizona Hawk trail bike counterpart were the best-selling motorcycles in Italy last year, ahead of the Cagiva Aletta Oro, with the rest nowhere. It's been a remarkable transformation from rags to riches in less than five years, and one which illustrates the importance of investment if a manufacturing industry is to survive and prosper - a lesson which the British motorcycle companies signally failed to grasp, and went bust as a result.
The 125KZ is already being produced at the rate of up to 120 a day and is being sold in big numbers in Italy as well as shipped abroad to fuel what Gilera hope will be a resurgence of their export fortunes. The higher performance KK version is due later this year, but meantime the KZ is neatly priced at exactly the same level as its slower, less sophisticated Cagiva rival, while offering the most performance (92mph in KK form, 88mph as a KZ), highest level of specification and greatest allure of any 125cc street bike built anywhere in the world today. And that includes Japan and even the Honda NS125 produced in Italy.
Is that really so, or am I just reading from the Gilera press handout? Not guilty, your honour, because at Monza I had the chance to assess for myself the new-generation Gilera KZ, and I would be telling an untruth if I didn't say I was impressed. Having got there before most of the Italian journalists, I jumped on the bike without really enquiring too deeply into its technical secrets. Perhaps if I'd done that I wouldn't have been so surprised at its performance. Although Monza's autostrada circuit is probably not the best place to try out a one-eighth litre road bike, halfway round the first lap I found myself wondering seriously if 1 hadn't hopped on a 250 by mistake. Or was this a twin which Gilera had sneakily slipped in on us, in prototype form? Quick look down at the exhaust: no, only one pipe there - but how come there's no vibration from the reed-valve two-stroke single even when its spinning at over 9000rpm and the speedo is reading 90mph-plus? Having ridden the latest version of the 125 Cagiva Aletta Oro only the day before, I knew the sort of vibes a highly-stressed 125 single can impart through the bars and rests - yet the Gilera was both noticeably faster and smoother, as well as being perfectly tailored to my six-foot stature. Sitting on the bike I felt totally at ease - the first time that's happened on a 125 road bike, even the quite spacious Laverda.
More questions: anybody riding a strange bike for the first time, even a friend's, owes it to himself to take a quick look at the tyres before setting out, in the interests of remaining in one piece. When I did so I saw that the Gilera is equipped with 16-inch wheels front and rear designed by Gilera and made for them by Grimeca, who also produced the highly effective 240mm single front discs and neat little four-pot Nissin-type caliper. Even though at 2491b dry, there's not a lot of Gilera KZ for them to have to stop, once you add in the rider's weight plus the fuel load contained in the plastic tank beneath the lockable, flip-up shroud, their performance becomes even more remarkable -1 honestly thought I was riding a bike that had twin front discs. But back to those wheels: shod with Pirelli's new Phantom-like S-rated MT45Z rubber, they permitted the most incredible cornering angles and offered as much confidence as
Yet in spite of the 16-inch wheels I found it was only with an unreasonable amount of effort that I could get the right footrest to ground - and being a flip-up one that didn't matter anyway. Try as I could, I didn't manage to make the rear suspension bottom out even with my somewhat, er, greater weight than that of the average 125 road rider, and this not only added to my confidence in the ground clearance, but also ensured great stability and a sense of progressive response for such a light, normally twitchy little bike.
Another surprise was the fact that even with the 16-inch wheels and that effective front brake, the Gilera didn't sit up at all under heavy braking, displayed no trace of understeer and could be pointed into a corner with the brakes hard on. Given that the principal market for the bike will be younger riders, most of whom are in the early stages of their motorcycling career, the safety aspects of this can't be ignored. We all make mistakes when we're riding, but when you have less experience you tend to make more. If you go into a corner too deep on the Gilera and squeeze the front brake hard to scrub off speed fast, it won't respond by sitting up and under-steering you off the road into the ditch like other bikes I've tried with 16-inch wheels. Full marks for suspension design and steering geometry.
Having said that, the one aspect of the 125KZ I didn't care for - apart from the protuberant mirrors - was the rather wooden and unresponsive feel of the 35mm Forcella Italia front forks. These junior versions of the units now fitted to many GP bikes have adjustable compression damping to provide a sort of antidive effect, but no alteration possible to the preload. They behaved OK in turns but didn't communicate road feel well under braking and turning into a corner. Personally I thought they were too stiffly sprung, though they didn't go as far as chattering when cranked over into a fast corner, so I suppose I shouldn't complain ,too much. They just weren't up to the standard of the rest of the bike. But when all's said and done, it was the sheer performance of that little engine that impressed me most. Provided you row. the six-speed gearbox to keep revs up above the 6000rpm mark, you have remarkable acceleration from the 56 x 50.5mm engine, which turns out 26hp at the gearbox at 9250rpm. Combined with the light weight, that's enough to give the sort of performance that a 250 offered up to five or six years ago, allied with 1986 standards of handling and bang up to date styling with more than a hint of the VFR750 Honda.
After half an hour of blasting round Monza, much of the time holding the poor little engine unmercifully flat out, but without it complaining once or the water temperature moving above 80°, nor the Pirelli rubber becoming overheated or sliding, I pulled in to take a closer look at the spec sheet for this amazing little bike.
That's when I got really impressed, because what we have here behind the svelte bodywork and the Oriental-type acronyms is a high-tech motorcycle that would not have disgraced any of the Japanese Big Four. Based on the RV engine, the KZ unit is as smooth as it is thanks to a contrarotating balance shaft, gear-driven off the crank and slightly out of phase with it.
Normally, on such a small engine, a balance shaft might be considered an expensive, power-sapping luxury, yet on the KZ Gilera have still figured out a way to produce the highest performance in its class without sacrificing flexibility. This has been achieved by a unique combination of the nowadays conventional Yamaha-type power valve and a Honda/ Suzuki-style power chamber. They vary the height of the exhaust port and dimensions of the pipe in the interests of increased power and flexibility. At the same time, the single 26mm Dellorto carburettor draws its air from a plastic airbox fed with cool air forced in through the wind-tunnel developed bodywork and two inlet tracts.
Finally, again for the first time on a 125 (so Gilera claim), the KZ is fitted with a CDI ignition with variable advance. The cooling system has a three-way thermostat coupled to the water pump, which avoids hot spots in . the system and the consequent thermal shock from rapid changes in the temperature of coolant flowing over a given spot.
This state of the art two-stroke road engine will in due course also be fitted with a carbon-fibre reed valve, though for the time being a steel one is used. The motor is matched by the cycle parts, which include highly effective monoshock Pro-Link type rear suspension employing a famous name from the Motocross world to supply the vertically-positioned unit -Corte e Cosso.
The square tube steel frame is a small-scale version of the Bimota HB2 chassis. Widely spaced tubes run down to a well-braced swingarm pivot and an alloy subframe to support the seat and tank shroud, formed as one piece. Wheelbase is a compact 1350mm, though one reason I felt so comfortable on the bike, while at the same time having no ground clearance .problems, is the seat height of 760mm -the same as most 250s.
With Gilera intent on exporting the KZ and its KK cousin (that's got a slightly more powerful engine as well as a secondary fuel tank under the engine) as well as the four-stroke Dakota range, my ride on the high-tech 125 convinced me that it's time some of us in countries outside of the Mediterranean area looked at 125cc road bikes afresh. They are relatively inexpensive, economical to run and above all fun, offering a turn of performance out of all proportion to their cubic capacity. Now that Heron have started to import Gileras into Britain, and with Japan, Germany and Scandinavia also on the Gilera hit list, not to mention moije traditional markets like Spain, Portugal and Holland, the Gilera name looks like its in for a revival of its former ory. And with other exciting new projects in store, involving multicylinder designs, Gilera look set to prove it isn't only the Cagiva-Ducati axis that is waving the Italian flag high against the might of the Japanese factories.Watch this space.
Source MOTORCYCLE International 1986