Harley Davidson FLH 1340 Electra Glide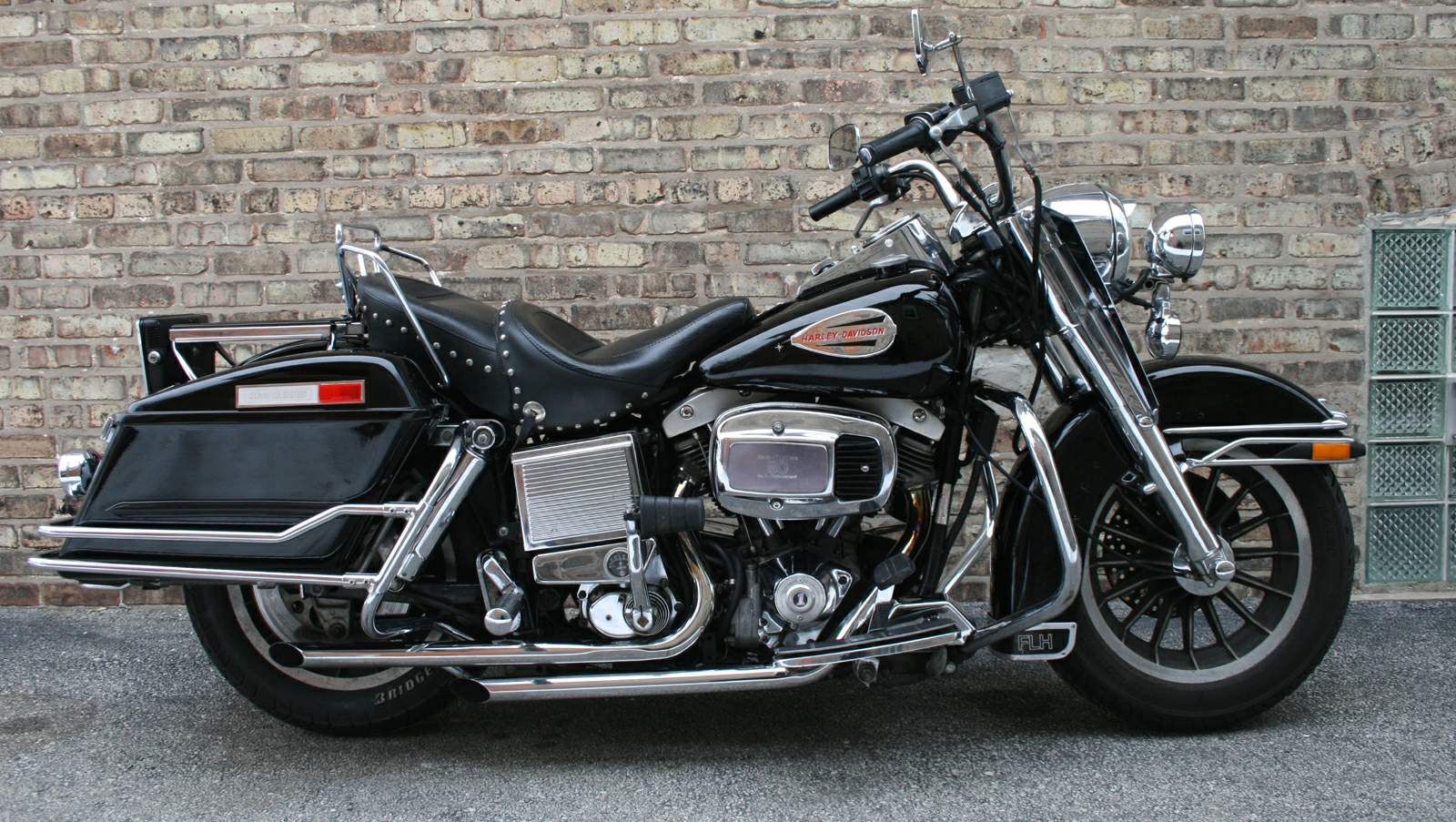 | | |
| --- | --- |
| Make Model | Harley Davidson FLH 1340 Electra Glide |
| Year | 1978 - 83 |
| Engine | Four stroke, 45° V-Twin, OHV, 2 valves per cylinder. |
| Capacity | 1337 cc / 81.5 cu-in |
| Bore x Stroke | 88.8 x 108 mm |
| Cooling System | Air cooled |
| Compression Ratio | 7.4:1 |
| Induction | 38mm Keihin carb |
| Ignition | |
| Starting | Electric |
| Max Power | 67 hp / @ 6000 rpm |
| Transmission | 4 Speed |
| Final Drive | Chain |
| Front Suspension | Telescopic forks |
| Rear Suspension | Dual shocks swinging arm |
| Front Brakes | Single 254mm disc 1 piston caliper |
| Rear Brakes | Single 254mm disc 1 piston caliper. |
| Front Tyre | MT 90-16 |
| Rear Tyre | MT 90-16 |
| Wet Weight | 345.0 kg / 760.6 lbs |
| Fuel Capacity | 19 Litres / 5.0 US gal |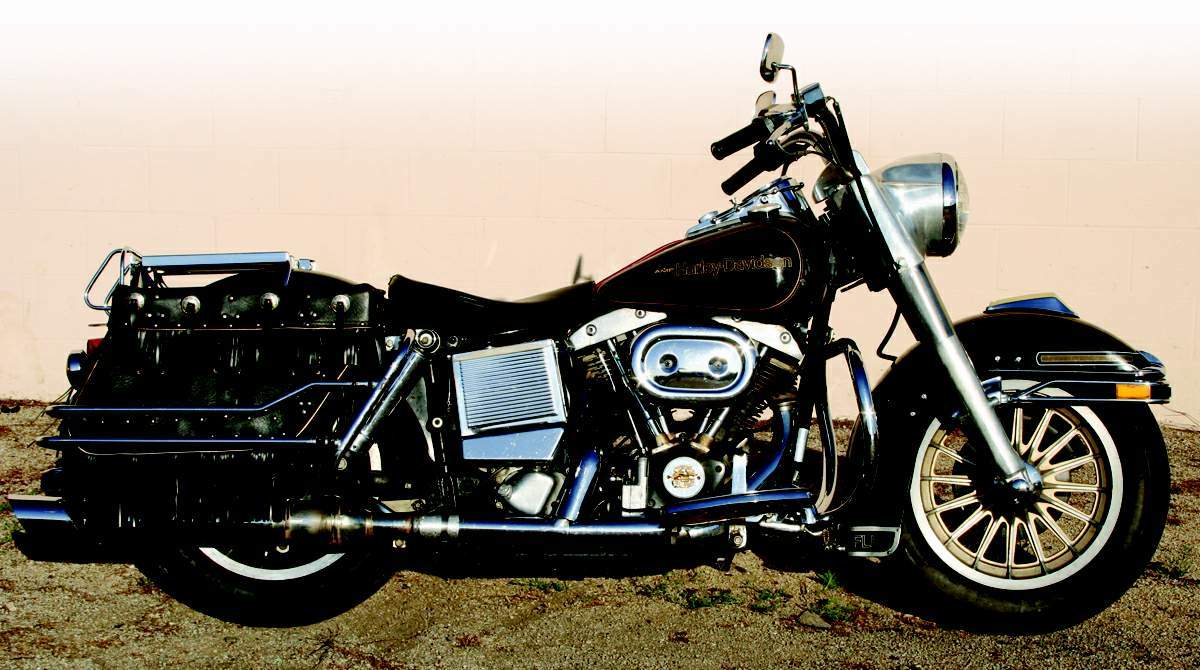 The Electra Glide Harley-Davidson is probably the most famous motor cycle ever, and certainly the machine that made Milwaukee famous is the one bike which just about anyone in the street can identify readily.
For 1978, the familiar 45° vee-twin engine of the Glide was uprated from its famous 1200CC to a full 8ocubic inches, which is 1338.8cc, making it the largest capacity bike ever built by the American company and one of the largest built by anyone anywhere.
With 7221b of weight to carry, the Glide needs all the power it can get and is still only just able to reach the magic 100mph in" its latest guise. Just to save the Glide owner from any nightmares, a centre stand is not fitted, and the bike has to be rolled on to its massive crash bars for any repairs or wheel changes. The company boasts that the bike has the widest tyres available for its flagship in1978 and they really do grip the road in the dry, even to the point of screeching when they start to break traction. In the wet, however, the beast deserves the upmost respect for they are quite willing to break away even at low speed. The single disc units mounted at either end are not nearly as effective as the drum units of older models, and this is one point where Harley-Davidson would have done better sticking to their famous traditions.
The rider tucked behind the large fairing has a beautifully contoured fully sprung seat to sit on which easily compensates for any harshness in the suspension, while there are neat foot boards instead of the usual pegs. The footboards are necessary as trying to pivot one's right foot on to the car-like rear brake pedal would be impossible if you tried to keep the ball of your foot in touch with the bike. Just to emphasise the car-like style of the Glide, a foot-operated clutch pedal is available to special order; this would rule out even further any pretentions one might have to sports riding. The Electra Glide is purely a tourer, though, and the makers even believe that the rider will have plenty of time to look down at the tank-mounted speedometer and operate the tank-mounted light switch, such is the lazy style of the machine. Mounted as standard at the rear is a large top box and colour matched side panniers, each with its own chrome-plated crash bars.
On the road, most 2500c machines will romp away from it from a standstill but there is no better machine made for travelling two-up with as much luggage as you would want in supreme comfort over as many continents as you would have time for.
Motorcycling Monthly 1978 Harley Davidson. FLH80 vs Moto Guzzi 850T3
IT has an American name. The styling is pseudo-American. The riding position is pure Transcontinental. But in everything else the continent to which the Guzzi 'California' belongs is self-evidently Europe.
I suppose it's a bit like the San Francisco branch of the Mafia. The Stateside trappings are there for all to see, but the origins remain firmly rooted in Italy.
Obviously Moto Guzzi had an American market much in mind when they designed their 850cc transverse V-twin power unit. It is not, to be frank, by any means the best example of the type
every Guzzi I've ridden so far has felt as if it was running on square bearings! — but it is undeniably both powerful and flexible.
And there's more much more
to a 'California' than just the motor. Not that I took to the bike straight away.
One country's copy of another's speciality is always something of an acquired taste, and for the first ninety miles or so it was the faults that I noticed.
For a start, after years of 'European' riding positions, the 'California'comesas something of a shock. Big wide dual seat though, being Italian, it's still rock hard, despite its implied promise of armchair comfort allied to bars that put your hands almost in your lap, and forward-set footboards. Glance at yourself in the shop windows as you pass (ah, you do it too, do you?) and you look rather like a straggler from the Pioneer Run.
What with that; and that knocky motor; and Guzzi's infathomable switches; and I almost decided to chicken out and hand the bike back with polite thanks and such excuses as I could muster. Meanwhile, I still had to get back to Poole, and I viewed the morning's ride down the motorway with a distinct attack of no-enthusiasm.
Mentally damning the clock, I decided to turn off at Havant and follow the road across Southwick Hill, north of Portsmouth — a byway I've hardly used since my despatch-riding days in the Marines. I recalled that it used to be quiet, up there, and as I'd developed a taste for nice slow motoring on this alien beast at least I could do it in comfort.
And that is how I contrived to turn up late at the office every day for the next week; and to revise a lot of my thinking about the way bikes should be ridden. If the 'California could have talked, this was the sort of biking it would have asked me to give it.
With nothing much in mind, I ambled the big V-twin up the hill; chugged past Fort Southwick, and swung off towards Wickham. And suddenly I realised something was different.
For the first time for years, it was the biking, not the bike, that actually counted. I had forgotten the Guzzi completely. Now, the years were slipping away as I magic-carpetted through those Hampshire lanes, and I was beginning to recapture the heady joy of earlier days, when every ride was an adventure.
But why? Why? Thinking it over, I realised that I was being forced to ride tall. To sit up straight, and look towards the horizon, and the vistas leading up to it. I was seeing things that for years I'd been too pre-occupied with machine control to bother with. My head had been thrust forward and angled downwards. I'd been hunched over the controls like a clerk over a desk, my attention concentrated on the few hundred yards in front of me, and the instruments. . . .
Instruments? The thought struck me like a punch on the nose. I hadn't looked at the speedo in miles! There had been no need, because I could tell by the feel of the bike that the Guzzi was well within itself.
A steady 50mph was confirmed by a hurried glance at the dials, and then it was back to the 'head up, sit back, enjoy it' routine. The hard part I now knew I could leave to the machine — and again I remembered that I'd been biking, on machines of up to 600cc, for nearly five years before actually owning a motorcycle that boasted a speedometer. My mates and I had always ridden by feel and judgement. That was another lost art I was rediscovering; and enjoying.
Completely taken with this new-found freedom, I detoured down lanes that snaked and looped; past signposts to places with names redolent of a more leisured era. Boarhunt. Waltham Chase. Fisher's Pond. Winchester. . .
Winchester? I gazed aghast at the signpost. I'd been so pre-occupied with the sheer fun of riding the 'California' that I'd strayed miles out of my way! There was nothing for it, now, but to get on to that damned motorway and start eating up the miles.
And here's the odd thing. Doing just that, the evening before, had been almost a penance. Now, heading the Guzzi along the M27 and opening up to 70mph was simply the extension of a pleasure.
Again, I just sat there. Bolt upright, noting how the bike's oddly truncated windscreen in fact kept virtually all the draught away. Riding high, visor flipped backWards so that I could feel the breeze caressing my face. Just the throb of the engine to break the whistle of the wind — a throb that was now not a distraction, but a pleasurable indication that the bike beneath me was almost a live thing — at once powerful but docile.
That ride set the pattern for the rest of my test mileage on the 'California'. Wherever possible, I turned off the main roads as soon as I could, and chuntered down the byways. Always, it was the actual riding that thrust itself to the forefront.
Increasingly, I was taking the 'California' for granted.
If I'd been doing anything but a test report, I doubt if I could ever have forced myself out of this state of biking bliss long enough to be analytical about the bike. But, when you look at it, a bike has got to be very very good indeed before its rider can have such confidence in it that he can virtually ignore it altogether.
The basis, ot course, is Guzzi's superb rolling chassis. The motor I could take or leave — though I eventually came to view it with affection. Not sotheframeandthe forks. I suspect that, with a history of racing and record-breaking stretching back to the days just following World War One, Guzzi have forgotten more about making motorcycles steer than most other companies have ever learned. At Mandello del Lario, they developed bikes that had a combination of weight distribution and torsional stiffness that enabled the Guzzi team to more than hold their own with the 'fours'while still using only streamlined singles.
Much of that knowhow has been kept — and used!
On corners, the 'California' could be cranked over, and over, and over. And when I was so far over that I felt my ear would start brushing the ground, could lay 'er over a bit more. Nothing grounded — the footboards never seemed remotedly likely to scrape. Nothing stepped out of line. Pulling 'g' like a fighter plane in a vertical bank, the Guzzi just swept remorselessly through the bend as fast as I cared to push it.
Cranking from side to side for a series of swerveries? Effortless! Just nudge her, and she altered direction. Torque reaction? What's that? You'd need to be very ham-footed with the gearchanges to make the shaft-drive rear end give even a sedate twitch. And all this not on a racer with rearsets and clip-ons, but on an' unashamed tourer with footboards, cowhorns, and screen.
In fact, there's been a lot of thought put in to Americanising the Guzzi. The footboards are not in the least cramped, and give ample scope for altering your position from time to time on a run. The gearchange remains slick and quick. And the brakes — as always, with the coupled Brembo system —.are a model for all.
Take just one tiny design point that is indicative of the care Mandello have taken. The brake pedal, as is usual with this system, controls one front disc and the single rear disc. And it is of typically American pattern — a big, almost upright, car-type pedal raised well above the footboard. You'd think that, in an emergency, it would be hard to locate.
Projecting from the pedal, some inches behind the main pad, is a small rubber-covered peg. When I was told that this was designed to guide my foot on to the brake, I almost crowed with laughter.
"Pull the other one and hear the bells ring, brother!" I chortled. Yet I was wrong. Every time I lifted my foot to operate the brake, that little peg snuggled down against my instep, and left the ball of my foot neatly poised on the pad. I could get excellent stopping power just with a dab; head-jerking stops if I used the remaining independent front anchor as well.
It's the ancillaries that usually let Italian bikes down. So it was with the 'California'. Nothing major. Just irritants. Like the speedo cable snapping (hardly surprising: it seemed to have been installed by a trained spaghetti-tangler!); and those atrocious handlebar switches; and a horn that sounded like a laryngitic bullfrog from the Pontine Marshes.
But I wouldn't let such niggles put me off this grand bike, not for a moment. I kept my claws on it as long as I decently could, before passing it on to the test team for its Mira session, and I still bore the staff by rambling about its virtues.
Just how manifold those are can be judged by two things. When I reverted to
'European'-styled bikes, it took me five hundred miles to re-accustom myself to the 'lean on the wind' riding position that has been my normal stance for over 750,000 miles. I kept trying to sit back, drop my arms, and get my feet forward.
And I've altered the riding style of a lifetime. Now, I keep my head higher and look much, much further afield.
It was the 'California'thattaughtme, in two short weeks, to ride tall. . . . I
NOT SO SUPER BIKE . . .
TAKE every Transatlantic cliche you've ever read; roll them all into one; and you've still barely got the charisma that flows from the mighty, monstrous Harley-Davidson 'Electraglide 80'.
This ultra-heavyweight is so American that you feel it should be poured from a bottle and slid to you along a bar counter. And with 80cu. in. of muscle-bound motor to propel it, anticipation starts conjuring up visions of long sun-baked roads leading ever Westward across the tumbleweed. Eighty cubes American, after all, is a mind-blowing 1340cc in European terms. That's enough to make this latest Harley the ultimate Superbike. Unfortunately, it isn't a super bike at all
From the land that dominates the space age — the world's greatest industrial power — has come this 1978 contender crammed full of the technology of the era of Bonnie and Clyde. Here it is, in all its massive pretension — the biggest vintage fake in the world!
Short runs on 'Electraglides' had rather sold me on the type, and I was eager to try one out over more than the ten or twenty miles I'd previously managed. Now, I wish I hadn't. I would rather have kept my illusions.
Believe me, the disappointment sets in early. Walk outside, as I did, to run the rule over an 'Electraglide' just brought down from the Midlands by a visibly shaken Geoff Carless.
"You're welcome to this one!" was his terse comment.
I looked it over, and it still seemed good to me. Big,yes. Abikeformen with hair on their chests. Those two mighty cylinders — each of them greater in capacity than a whole Kawasaki Z650 — slanted invitingly apart; more than a little erotic. The Black Cherry paint scheme and ample chromework made the bike look mean. This is the one the baddies would'ride, not the cops.
"Watch out for the pannier lids", cautioned Geoff. "They fall off over sixty."
I came back to earth with a bump, and started to check out the Harley's massive glass fibre luggage equipment: top box, and panniers. Thequality — or, rather,the lack of it — appalled me. Not up to average British standards, in my view. And the locks were stiff and awkWard. For the first time, but not the last, I started to compare this £4000 motorcycle with the cheap imports from Eastern Europe: and not invariably to the Harley's advantage.
A pool of oil was rapidly forming on the ground below the bike. Seems the breather blasts lubricant on to the chain, which might otherwise tend to get itself neglected, down there in the oceanic depths of machinery, fenders, and panniers. Fine for the chain — but days later I was still trying to get out of my garage floor the stains that were visible evidence ofthe Harley's overnight stay.
Geoff leaned over the massive tank, and inserted a key to unlock the single console switch that controls ignition, starter, and lights. A quick check that the bike was in neutral, and he turned the
knob while I waited expectantly.
It is difficult to describe the noise. One can only assume that the factory in York, Pa., employs a redundant Hollywood sound effects man to produce it on each '80' that is sold. A mighty clanking was followed by a slow metal lie whirring as if a recalcitrant Wright Cyclone was being cranked into life on a beat-up 'Flying Fortress'. Then, with final triumphant clangour, the big V-twin started up. Music! Apart, that is, from the background rattles which took me right back to the film sets, and the engine rooms of countless Diesel-powered US destroyers clattering round the Seven Seas in search ofthe various enemies of the good ol' US of A.
That sound-effects man at work again.
More than a little apprehensively, I climbed aboard for my 80-mile trip home. There's no centre-stand on the Harley but the side stand has-been designed to lock down positively once the weight ot the bike comes on to it. Sensibly: since you'd need the combined efforts of Batman and Spiderman to lift this one if you dropped it!
I've read an American report on the BMW that claimed that first gear engaged with the noise of the breech being closed on a 16-inch gun. If so, then Harley can claim to have bettered BMW on this count, since every gear on the '80' went in with a slam that could be heard for yards. A week later — fully helmeted, and with the engine of my CX500 running in a busy London main street — I knew precisely when Charlie Deane was ready to move off without bothering to look in my mirrors. He was on the Harley, a good ten yards behind me, yet I could still hear him snicking (?) into first. . . .
Memory fades, and I am not going to claim that out of the thousand or so bikes I've ridden over the past 33 years there 'wasn't one with a worse gearchange than this. There may have been — the little Guzzis of the '50s, for instance, had pretty stiff positive-stop devices but if there was I've mercifully forgotten it.
Certainly; no bike of my acquaintance has had a worse combination than a rocking pedal gearchange, set well forward over miniscule footboards, and connected by a stiff linkage to a harsh box. Add in a heavy clutch — understandable, that, in view of the engine size and the weight of the machine and you really appreciate engine flexibility.
Leastways, you would appreciate it if you had it. Nope, friend. The Harley
(predictably) don't - er, doesn't. . . .
Now this, to me, was not just the most disappointing aspect of a disillusioning test: it was also the most inexplicable. We have — I had — one thousand, three hundred and forty cubic centimetres of engine. True, a V-twin has off-beat firing which precludes absolute smoothness. But, the type does enjoy good primary balance, and the irregular firing intervals mean that the crankshaft receives a reasonably steady impulsion to keep it turning at low speeds. Flexibility is a V-twin characteristic and the Harley is a V-twin from a line of V-twins stretching back 75 years.
So how come it hasn't got it? Dunno. But it hasn't. Engage top gear at less than 30mph, and the whole plot jerks and shakes like a bronco about to unseat you. Accelerate from 30mph in top gear, and the thunder of the exhaust note is drowned by the pinking of the motor, even on four-star fuel. When the opposition hares away from lower speeds on two-star, one suspects that all is not well in the design department in beautiful downtown York.
So, clanking, pinking and thundering by turns, I accelerated up to 70mph. Bad vibes, man! The speedo blurred on its mounts luckily, it's so badly placed (in the tank-top console) that you can barely look at it on the move anyway and the entire monster shook as rough, raw vibration coursed through the massive frame tubes. I understood, then, why the bars are rubber-mounted. . . .
Whether by design or not, normal European cruising speeds are beyond the rider of an 'Electraglide'. Not beyond the 'Electraglide' itself, of course: but certainly beyond this rider and every other member of ourtestteam. Naturally, we did press on and up into the '90s that's our job — but none of us would choose to do so for fun. By that time, the vibration from the motor and the weaving ofthe bike combine to make Harley-riding the sort of pleasure that is more easily obtained by donning a hair shirt and settling down on a bed of nails for an hour or two of Chinese water torture.
Not being notably masochistic by nature, I simply slowed down. A top gear cruise of 55mph, I found, was the speed that suited the machine best (is it a concidence that 55-per is also the US speed limit?) and so long as I restricted myself to that sort of performance I actually enjoyed the ride — orwould have done, had the screen not started flapping in my face because a securing bolt had jettisoned itself despite its self-locking nut. The replacement dived overboard after 30 miles — I must admit I had a sneaking sympathy with it! — but eventually we got one to stay put by using copious quantities of Loctite.
Bliss, of course, was short-lived. Determined to enjoy myself, even if it killed me, I'd chosen the long way home through the New Forest and along the coast. Come Southampton, whenever I slowed to town speeds the bike took to emitting a persistent squeal as the wheels revolved.
That sound-effects man again. This time, he'd built in the typical noise of a Union Pacific box-car. It sounded so realistic I almost stopped, to peer underneath and see if anybody was riding the rods. ...
It wasn't a non-stop run, anyway. Just off theM27 East, a car drew alongside, its driver waving wildly and pointing to the rear of the Harley. No mirrors are fitted — the bike, after all, is a whole pound under four thousand quid, and what do you expect at the price? — so I signalled a left turn and stopped.
That wasn't so easy, either. Harley fit flashers, for sure. But they don't fit an indicator switch like anybody else. Instead, you have a silly little button on each bar, and to keep the flashers operating you have to keep the button pressed. Have you or, more to the point, has anyone in York, Pa. ever tried operating clutch, throttle, front brake, and a push button all at one and the same time? I thought not! Mind you, the system has one real advantage.
When the flasher cannister stops operating (as ours did) you can simply keep jabbing the button to flash the indicators. Real technology that!
And that gesticulating car driver? He'd done me a good turn (as others were to do for Charlie Deane later on) by wigwagging that a pannier lid was about to lift off and go into orbit. Though I had carefully fastened the hook-type key lock at Poole, within 50 miles it had vibrated undone. It happened again and again.Good points?
They were hard to find. The riding position would have been comfortable, but for the sheer width of the tank, combined with the obstruction caused on the right by the massive air cleaner casing. Since the footboards were set rather close in, and the massive gear and brake pedals hogged most of the space, dictating where the rider's feet could go, the combined result was that one had to ride bow-legged. Hollywood again. The bike was obviously designed around one of those bandy cow-pokes!
The ride, then? I liked it, but I kept mainly to well-surfaced roads. Neil Millen didn't, and came back to report that the rear end bottomed uncomfortably on quite small irregularities in the surface. He also slated the screen and handlebar fairing (he found it inefficient for its size) and was appalled by the ease with which the Harley would ground on corners. I'd got over that one by keeping the bike almost upright, and leaning my own considerable weight outwards.
Poor Charlie Deane suffered the worst fate.
He had to ride it into Central London, and he confessed afterwards that he'd never worked so hard on a bike in his life. True, it is not designed for inner city commuting even if, at times, you do feel that you're riding the world's largest scooter — but one can hardly by-pass all civilisation just because the bike doesn't happen to like it.
In the end, everybody who rode it came to much the same conclusion. If the Cavalry had been forced to ride to the rescue on Harleys instead of horses, the Injuns would have won.
As value for money, it's a non-starter.
Take the Harley name off the tank; call it a Cossack; pretend it was built in the USSR and not the USA; and I doubt if you'd find a handful of buyers even at a tenth of the price. With this model, you're getting biking's most expensive badge!
-Charisma the Harley certainly has. The man (and the girl) in the street invariably stopped, pointed, looked awe-stricken. If it's turned heads you want, then this is your bike. But, assessed as a serious proposition the Harley — or, rather, this Harley — comes nowhere. Maybe I take a lot of convincing, but I'm still inclined to think that the faults we encountered were peculiar to the 'Electraglide 80', rather than to Harleys in general.
The 1000cc Sportster, for instance, just hasto be a far, far better bike than this. In fact, the '80' shares some demerits with the 1000cc BMWs a basic, traditional engine enlarged beyond its natural limits; allied with an unwillingness to redesign rather than restyle.
HARLEY DAVIDSON ELECTRA GLIDE FLH 80
GUZZI 850-T3 CALIFORNIA
Currently, the world's biggest-engined bike. Powered by a 45° pushrod V-twin engine, of 1338.6cc capacity (80 cu.in.). Bore 88.8mm xstroke 108mm. Compression ratio 8:1. Claimed power, 65bhp at 5,400 rpm. Claimed torque, 71.5 lb. ft. at 3,800rpm. Power transmitted through a duplex chain primary drive to a dry multi-plate clutch. Four-speed gearbox, with remote rocking-pedal foot change on left, above footboard. Chain final drive.
Electrics include an inductive-discharge ignition system; 12v. 32ah battery; starter motor with Bendix drive; 225watt alternator;
60/50 watt headlamp; flashers, with emergency system inbuilt; twin spot-lamps; warning lamps for ignition, oil, main beam.
The power unit and gearbox are mounted in a rolling chassis comprising duplex cradle frame with swinging-fork rear suspension; shrouded telescopic front forks; cast alloy wheels and 5.10 x 16T Goodyear tyres; 10-in. hydraulic disc brakes front and rear. The fuel tank is formed as two linked compartments, each with separate filler. Fuel capacity 4V2 gal.; oil tank capacity, 6y2 pints. Kerb weight, 722lb. Price, £3,999 inc. VAT.
Developed from the V7 Guzzis sold to several Police Departments in California, the big Guzzi is powered by a 90° pushrod V-twin engine of 844cc capacity. Bore 83mm x stroke 78mm. Compression ratio 9.5:1. Claimed power 68.5 bhp at 7,000 rpm. Power transmitted through dry multi-plate engine-speed clutch. Five-speed gearbox with rocking-pedal change above left footboard. Final drive by enclosed shaft.
Electrics include double contact-breaker and auto-advance ignition system; 12v battery; a 0.7 hp starter motor with electromagnetic ratchet control; 280-watt alternator; 45/40watt headlamp; flashers; warning lamps for high beam, oil pressure, neutral, low beam, generator.
The bolted-up power/ transmission unit is mounted in a rolling chassis comprising a duplex cradle frame with swinging-fork rear suspension; Ceriani-type telescopic front forks, wire-spoked wheels with light alloy rims; 3.50 H18 front tyre; 4.10 H 18 rear tyre; 300mm twin discs at front; 242mm single disc at rear. One front and rear disc coupled to brake pedal, hydraulically operated. One front disc operated by lever, with independent hydraulic system Fuel tank, 5.3 gal. capacity; oil sump, 5'/2 pint