Make Model

Harley Davidson FLHR Road King

Year

2007 - 08

Engine

Four stroke, 45° V-Twin, Twin Cam 96 vibration isolation-mounted Valves Pushrod-operated overhead valves; w/ hydraulic self-adjusting lifters; two valves per cylinder

Capacity

1584 cc / 96 cu-in

Bore x Stroke

95.2 x 111.2 mm
Cooling System
Air cooled

Compression Ratio

9.2:1

Induction

Electronic Sequential Port Fuel Injection (ESPFI)

Ignition

Single-fire, non-wasted, map-controlled spark ignition
Starring
Electric

Max Torque

124.7 Nm / 92 ft. lbs @ 3000 rpm

Transmission

6 Speed
Final Drive
Belt
Gear Ratio
1st 9.593 2nd 6.65 3rd 4.938 4th 4 5th 3.407 6th 2.875
Frame
Mild steel, square-section backbone with twin downtubes

Front Suspension

41.3 mm telescopic, cartridge-style damping

Rear Suspension

Short, air-adjustable shock

Front Brakes

2x 292mm disc 4 piston caliper

Rear Brakes

Single 292mm disc 4 piston caliper

Front Tyre

MT90 B16

Rear Tyre

MU85 B16

Rake Steering Head
26°
Fork Angle
29.2°
Trail
170 mm / 6.7 in
Dimensions
Length 2413.0 mm / 95.0 in
Width 949.96 mm / 37.4 in
Height 1399.54 mm / 55.1 in
Wheelbase
1290 mm / 63.5 in
Seat Height
Laden 673 mm / 26.5 in
Unladen 711 mm / 28.0 in.
Ground Clearance
129.5 mm / 5.1 in

Wet Weight

368.3 kg / 812 lbs

Fuel Capacity

22.7 Litres / 6.0 US gal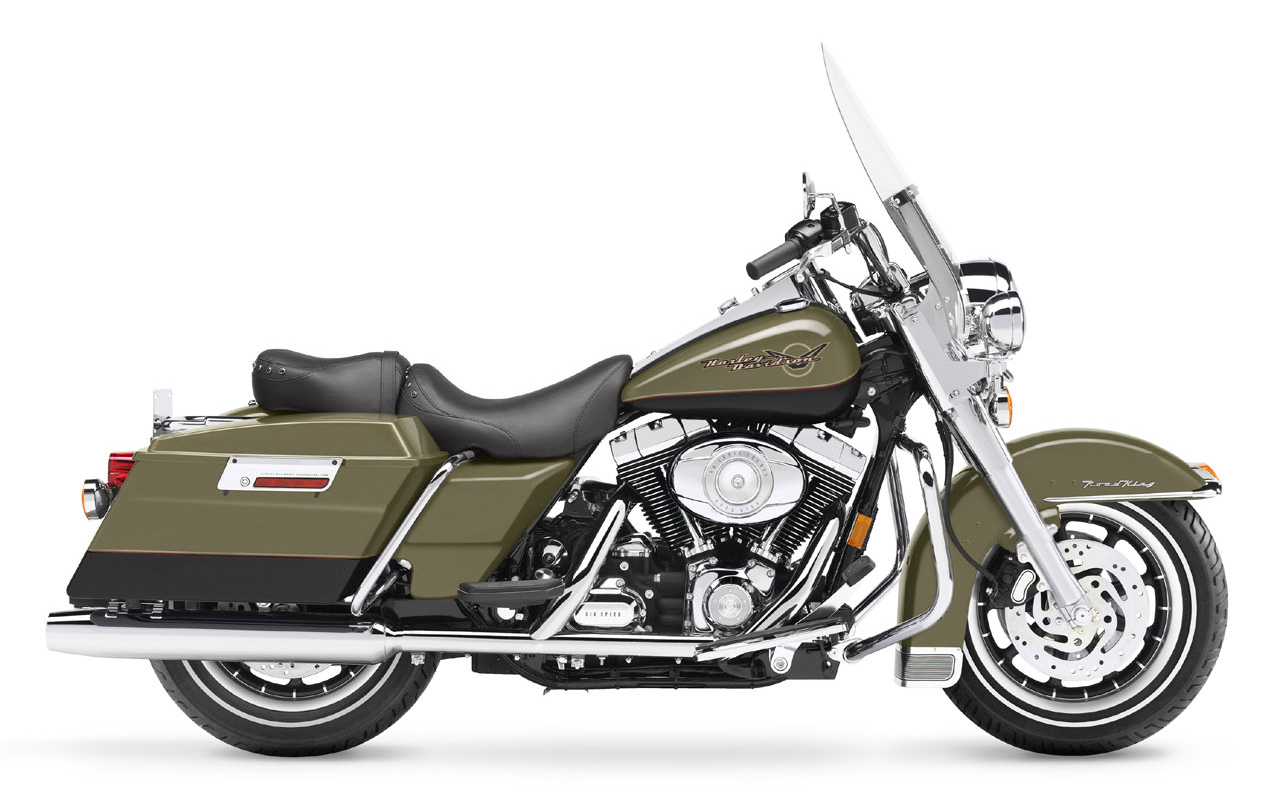 The FLHR Road King provides timeless Harley-Davidson styling with riding comfort of a Touring chassis now featuring the Twin Cam 96 engine and 6-speed Cruise Drive transmission. Locking, weather-resistant hard-shell saddlebags and a large, detachable windshield help resist the elements. A two-up touring seat, air-adjustable rear suspension and footboards enhance the experience for the rider and passenger. The large, clear-lens Hiawatha headlight and clear-lens auxiliary passing lights, console-mounted speedometer and a deep skirted FL front fender provide a commanding presence on the road. Ten color options for 2007 include four two-tone combinations.
New rubber mount, 1584cc Twin Cam 96 engine
Black powder-coated engine with chrome treatment
New 6-speed Cruise Drive transmission
Standard Electronic Sequential Port Fuel Injection (ESPFI)
New redesigned football shape air cleaner
Heritage-rich styling
Large Hiawatha headlight and chrome nacelle
Detachable windshield
Large, tank-mounted speedometer
Two-piece Touring seat
Weather resistant and lockable GTX nylon hard saddlebags
Triple-disc brakes
Air-adjustable rear suspension
Review
In the previous two issues of American Rider, we considered a "convertible" Dyna Super Glide (February issue), and a couple of models in the Softail line (April issue) as all-around motorcycles capable of touring, cruising, and just looking good while sitting still. Each had its benefits and limitations. In fact, every motorcycle has certain built-in limitations. Sport bikes offer high-speed fun and adrenalin rushes, but they torture us on the open highway; touring bikes cuddle us on the long haul, burden us on tight twisting roads. So the question becomes, what's the best compromise?
For me, it's a Dyna; I like its lightweight, sporting nature. Clement Salvadori prefers the Electra Glide, and Reg Kittrelle owns and loves his Road Glide. For you, maybe it's a Heritage Softail or a Sportster. But let's not immediately make up our minds without first considering the minimalist FLH touring model, the 2007 FLHR Road King. It's not a full-on bagger but has plenty of untapped load-carrying potential; and it is not a sportbike but, being unencumbered by a large fairing, is nimble enough to hustle around in tight environments. Let's call it the "Town & Country Glide."
At first glance the Road King appears to be styled like the original Electra Glide of 1965. Fact is, this "era look" actually dates to the original dual-shock Duo-Glide of 1958, the first big Harley to sport twin rear suspension struts. Combined with its Hydra-Glide front fork and 16-inch balloon tires, the King harkens back 50 years, to an era when parents were sure their kids' minds were being corrupted by that new rock-and-roll music.

As far as converting the FLHR from a touring configuration to a stripped cruiser, the only item that's readily removable is its Detachable pop-off windshield. Surprisingly, with this removed, the King takes on a pleasant old-time feeling, clean and low. Re-install the shield and the bike looks awkWardly tall and more cluttered, although as the miles and the bugs build up, the screen becomes more desirable.

For some inexplicable reason, the Road King's basic black MSRP is $1,250 more than the Electra Glide Standard's, which comes equipped with a fully laden "bat wing" fairing that contains a tachometer, something missing from the King. The King does, however, have the ability to strip the frontal protection, and it is endowed with a powder-black-and-chrome engine, transmission and primary cover rather than the Standard's powder-silver-with-chrome finish. For comparison, the King lacks a cigar lighter, pre-wiring for an antenna, gas-cap lock (it's a side-located screw cap); and it has a two-piece seat instead of one-piece, which is either good or bad depending on your attitude. Speaking of MSRP, the red pearl paint on our test bike costs $335 more than Vivid Black.

What the Road King offers that other FLH baggers lack is a more naked appearance and more nimble handling. As mentioned, without its windshield the thing even looks like it's more manageable, and it also feels lighter when hoisting it off its sidestand...which belays Harley's claimed dry weight of the Road King at 737 pounds, only one pound less than the E-Glide Standard. Go figure.

Enough of these comparisons, let's look at our Universal candidate. The latest Twin Cam 96 supplies power through the compliant 6-speed Cruise Drive transmission. This is without question the best engine/gearbox combination that Harley has ever offered for its regular production bikes. The engine delivers a peak of 92 pounds-feet of torque and more than 90 pounds-feet over a 500-rpm range. This is perfect for keeping the engine in its strongest torque range, as shifting gears keeps the engine speed within this window of pulling power.

With its direct-drive sixth gear, transmission gear noise is non-existent while cruising in top gear; however, the straight-cut fifth gear churns and clamors. While you may wonder which gear you've engaged between first and fourth, because they are so noise-free, there's never a question about being in fifth. A green "6" light glows on the speedometer face when in top gear. Selecting gears is a dream, and neutral is easy to find.

Other control systems operate without significant glitches. The cable-actuated clutch engages progressively and smoothly, and the lever offers useful feedback, although you will may notice a feint "chirp" sound as the clutch fully hooks up. Brakes are top-notch, with very strong power up front. The rear is noticeably effective, although I have never been comfortable about the FLH's rear brake in near-lock-up panic stops because it offers little feedback through the pedal.

All the electrical switchgear, warning lights and the speedometer are standard Harley issue. One hand switch that was obviously missing was the cruise control buttons, as this is an option not supplied on the test bike. It was sorely missed; be sure to ante-up for this very convenient option. The FLHR is pre-wired to accept it.

The FLHR is also pre-dispositioned to accept a huge array of touring options from Harley's Genuine Parts and Accessories catalog. For long-distance exploring, most riders will no doubt opt for a passenger backrest and a rack - or a Tour Pak - and possibly the rider backrest. Beyond that, the choices are endless (see sidebar).

Luckily you won't have to purchase optional hard-shell saddlebags because they come standard have with convenient ignition-keyed locks. At 64 Litres(2.26 cubic feet), they hold plenty of gear and add immense convenience. The floorboard height is adjustable, and the passenger gets floorboards, too. (The FLH models are the only Harleys equipped with passenger boards.) The rider's seat measures a comfortable 14 inches across and offers very good bucket-shaped support. The pillion, at 12 inches long and 11 inches wide, promised to coddle the passenger's bottom.

The floorboard-to-seat relationship is the same as the Electra Glide and Road Glide, although the bucket seat locked my rear in one place and did not allow me to adjust the seating position. The King comes equipped with Harley's "Buffalo" handlebar, which has a semi-buckhorn shape. While many riders might like this, I found that it placed my hands in such a position to cause discomfort in the shoulder area on longer rides.

The front suspension is sprung slightly taut, which, for my 160-pound weight, gives a mild hobbyhorse ride over concrete expansion joints. Heavier rider will likely experience a better ride. The rear shocks are air-adjustable so a nice compromise setting could usually be found for most road conditions. Very little, or no air gave me the best highway ride; pumped up they provided what seemed to be a competent setting for riding tight, twisty roads.

There is one flaw in the Road King's manners, one that may be the deal-killer for some riders. With its two-point powertrain stabilization system, the bike lacks real stability when ridden hard. It has a tendency to dance and wobble when hammering over fast roads, and sometimes the bike becomes unsettled over dips and bumps when leaned in a turn. This can be mended with an aftermarket stabilizer, such as the True Track we tested in our last issue; however, as delivered the bike's high-speed competence suffers. The irony of this situation is that although the FLH models have more cornering clearance than the Heritage Softail models, the Heritage has a rigidly mounted powertrain and feels much more secure when ridden hard.

Another minor complaint - one that is common to all Harleys equipped with a fairing or windshield - is the engine noise that is reflected by the windshield. Remove the shield and much of the engine's clattering commotion disappears; in place, the shield seems to amplify every mechanical click.

One of the standard features that will please '07 FLHR owners is the Smart Security System. Triggered automatically by a key fob, it locks out the ignition and fuel system whenever the fob is located more than a few feet from the bike. Just walk away and the Road King is secure as a Tweety Bird in a cage.

The FLHR Road King is an easy machine to whip around in parking lots and to back into awkWard parking spaces. It has proven to be a versatile traveler and is equally at home around town and out in the country. The only question the potential buyer will have to ask is, "With its classic 50-year-old "era" style, is the Town & Country the bike for me?"
Source Americanrider.com