Make Model

Harley Davidson FLHTCU/I Electra Glide Ultra Classic

Year

2001 - 02

Engine

Four stroke, 45° V-Twin, Twin Cam 88® vibration isolation-mounted Valves Pushrod-operated overhead valves; w/ hydraulic self-adjusting lifters; two valves per cylinder

Capacity

1449 cc / 88.4 cu-in

Bore x Stroke

95.3 x 101.6 mm
Cooling System
Air cooled

Compression Ratio

8.9:1
Lubrication
Dry sump, internally mounted, crank driven gerotor pressure and dual scavenge pump with spin on 10ì pressurized oil filter

Induction

Carburetion 40 mm constant velocity with enrichener and accelerator pump / Electronic Sequential Port Fuel Injection ESPFI

Ignition

Single-fire, non-wasted, map-controlled spark ignition
Starting
Electric

Max Power

67 hp / 48.8 kW @ 5200 rpm

Max Torque

116.6 Nm / 86 lb-ft @ 3500rpm
Clutch
Wet 9-plate

Transmission

5 Speed
Final Drive
Belt
Gear Ratio
1st 10.110 2nd 6.958 3rd 4.953 4th 3.862 5th 3.150
Frame
Mild steel, rectangular section backbone w/ twin down-tubes Swing Arm Conventional rectangular

Front Suspension

Air-adjustable

Rear Suspension

Air-adjustable

Front Brakes

2x 292mm discs 4 piston calipers

Rear Brakes

Single 292mm disc 4 piston caliper

Front Tyre

130/90-16

Rear Tyre

130/90-16
Rake
26°
Trail
157.5 mm / 6.2 in
Dimensions
Length 2497 mm / 98.3 in
Wheelbase
1612.9 mm / 63.5 in
Seat Height
Laden2 693.4 mm / 27.3 in
Unladen 779.8 mm / 30.7 in
Ground Clearance
130 mm / 5.1 in

Dry Weight

385 kg / 848.8 lbs

Fuel Capacity

19 Litres / 5.0 US gal
The Ultra Classic® Electra Glide® has all the features of the Electra Glide Classic, and more. The 'Ultra' offers electronic cruise control, 40-watt-per-channel, 4-speaker, AM/FM/WB cassette sound system, separate passenger radio controls, CB, intercom and headset. Effective lower fairings come standard and shield you from the elements while offering convenient storage compartments and great looks. The King Tour-Pak® is carpet-lined and comes with soft luggage liners as well as dual tail/stop lights for added visibility and style. Its power source is the Twin Cam 88™ engine, glittering with chrome and fed by sequential port fuel injection, standard.
-Bat-wing, fork-mounted fairing
-Lower fairings with storage compartments
-Fiberglass saddlebags and deluxe King Tour-Pak®
-Fabric-lined Tour-Pak
-Dual tail/stop lights
-Custom-fit soft luggage liners
-Plush seat and passenger backrest
-Full instrumentation
-40-watt per channel, 4-speaker stereo
-CB and intercom
-Electronic Cruise Control
-Electronic Fuel Injection, standard
-Vibration-isolated, Black and Chrome Twin Cam 88™ Engine
-Triple-disc brakes
-Air-adjustable touring suspension
Vehicle specifications and features may vary from country to country depending on local laws, and some models are not available in certain countries.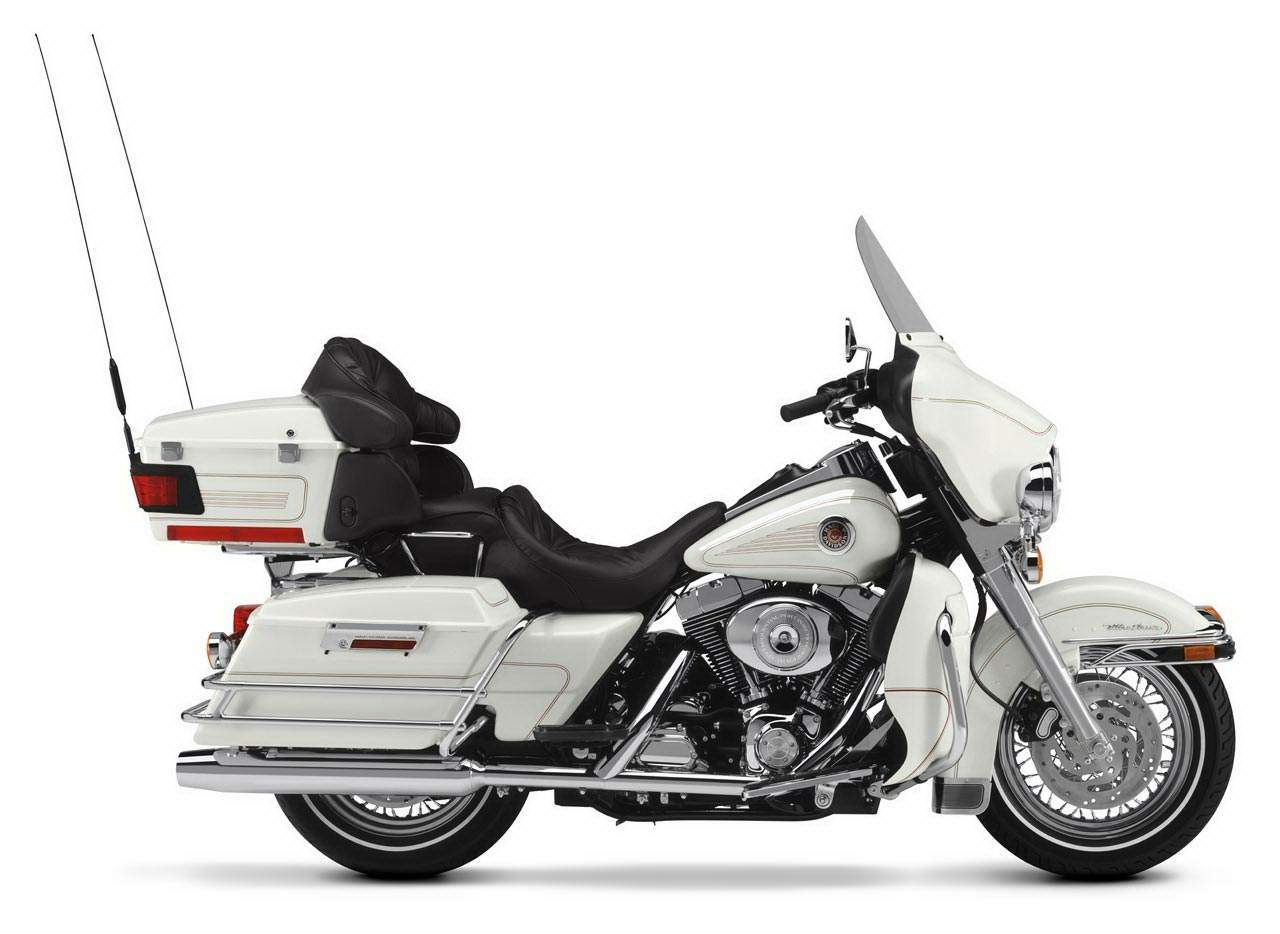 Review
In the early days, anyone who could ride more than a couple hundred miles in a day was made of iron. And probably an exceptional mechanic, because the bikes were made of iron, too. Nowadays, with the current crop of high-mileage, big-rig touring bikes, it's not uncommon for a touring rider to see a thousand miles in a single day's worth of saddle time. Which luxo-touring motorcycle is best suited for this task? We decided to sample the best offerings from Japan, America and Europe to find the answer.
Surprisingly, the only common ground our three heavyweight tourers (a Honda Gold Wing SE, Harley-Davidson Ultra Classic Electra Glide and BMW K1100LT) have was how much they cost; you'll lay out at least fifteen big ones for any of them. You see, while the Honda has always been a purpose-built tourer, both the Harley and BMW are adapted from standard motorcycles, and the resulting differences in how they roll down the road is amazing.

Levels of equipment also vary. The BMW and Honda have liquid cooled engines with shaft drive, the Harley uses the familiar 80 inch air cooled engine with drive by belt. The Harley and BMW have fuel-injection, the Honda carburetors. The Harley and Honda have cruise control, the BMW doesn't. The Harley and Honda have stereo/intercoms/CB units, the BMW a radio only. The BMW has a trick servomotor-controlled adjustable windshield, Honda's is manually adjustable, and the the Harley's shield offers one-time adjustment via a hack saw. We could continue, but what does it mean on the road?

Ride along as we put these behemoths through the paces on a 2500 mile tour up California's coastline to San Francisco, across to Yosemite National Park, through the Sierra Nevada mountain range at altitudes up to 10,000 feet, then over to Arizona and its blazing desert heat, all before returning to the concrete canyons of L.A. to test their mettle as daily commuter mounts.

3. Honda GL-1500 Gold Wing SE

With its 1000cc opposed-four-cylinder layout, belt-driven cams, liquid cooling, shaft drive, and fuel tank under the seat, the original Gold Wing recast the world of big-rig motorcycling when it came out in 1975. But touring still wasn't easy.

Used to be that if you wanted to turn a motorcycle into a touring bike, even a Gold Wing, you had to put it together yourself. Buy the fairing, saddle bags, trunk, and spend countless hours trying to make it all fit to a bike that wasn't designed for the stuff.

Then, with the introduction of the 1980 Gold Wing Interstate, you suddenly had all the tools you needed for a long-distance touring mount. Air suspension, wide, high-mileage tires, adjustable seating, an integrated full fairing, saddlebags, and trunk. Even came with an optional stereo. The evolution of the Gold Wing, now in its fourth generation, has taken it to a point where it is now one of the top selling motorcycles in Honda's vast lineup, sharing top billing with the hot-selling CBR600F3 sport bike. Through the years no other touring motorcycle has enjoyed the popularity of the Wing.

The GL-1500's much-heralded six-cylinder powerplant is its heart and soul, delivering smooth, seamless performance that covers the ground effortlessly. It pulled the steepest mountain grades we could throw at it without hesitation, even fully loaded. Dispatching of slower traffic was as simple as dropping it into fourth gear and twisting the throttle. And it'll cruise the interstate readily at speeds that will have the local constables quickly writing you an invitation to traffic school -- Editor-in-Chief Plummer covered about 32 miles in Utah in less than 15 minutes, fully loaded with a passenger and the radio blaring.

All this performance, though, combined with the Wing's portly 816-pound profile, extracts a toll on fuel economy, and you'll see the Honda's reserve fuel light come on after only 150 miles or so. In short, the Gold Wing sucks gas. On one particularly long, blazingly hot stretch of Arizona two-lane, we had to refuel after 138 miles, netting only 26 mpg.

Prodigious thirst can be a good thing, as we found both the rider and passenger seats to be too soft, resulting in backside fatigue after 130 miles in the saddle. The seat-to-bar relationship of the Wing was the best of our three touring mounts, though, offering a level of comfort unmatched by the others. The Honda's large fairing and adjustable windscreen offers the rider complete wind protection and submerges him in a cone of silence, allowing the rider to watch the miles roll by unfettered by wind buffeting. But the fairing becomes a liability on a hot day, like any day around the Arizona desert, and we found the Wing's fairing ventilation system lacking, leaving both the rider and passengers' legs baking from engine heat spilling up from underneath the bodywork.

Where the Wing really shines is in its luggage capacity. The huge, fully integrated saddlebags come with nifty, high-quality saddlebag liners that can be lifted out and carried into the hotel or campsite. Together with the large top trunk (also equipped with a liner bag), you'll be able to carry enough gear to last a couple for a week-long tour. In typical Honda fashion, the SE has, by far, the best detailing and most carefully conceived touring features, and its myriad comforts and electronic gadgets kept us well occupied during some of those long empty stretches of highway.

All of these accessories, though, force a compromise. If there's ever been a recurring complaint about the Wing, it has been its weight, which has increased more than 250 pounds since that original model in '75. The SE's handling, although respectable for a machine this size, never feels completely planted in turns, and it exhibits a ponderous, unwieldy feel while riding around town, with both problems accentuated by an overly soft, Cadillac-style suspension that lets the Wing wobble when the going gets twisty.

Is touring boring? It shouldn't be, yet the Wing is a shade characterless compared to the other two bikes. And when the road starts to wind and twist, its limited ground clearance and heavy weight consign it to the back of the pack. If touring was all interstates -- well, we'd probably buy cars.

2. Harley-Davidson FLHTCUI Ultra Classic Electra Glide (w/EFI)

The FLHTCUI is a bike spawned from years of slow, deliberate improvements. As evidenced by the seven letters in its name, the Ultra Classic is the product of a long, distinguished line of H-D touring motorcycles that are definitely American. Uniquely styled, it all started with the big-twin tourer FLT in 1980 (which remained in the lineup until last year), followed then by the FLHT in 1984. The 'C' came along during the mid-eighties when some more standard features were added in, and the 'U' is the Ultra designation for yet more features (FLHTC Electra Glide Classic is still available). Finally, the 'I' was appended in 1994 when Harley introduced the electronic fuel-injected version. Around town the Harley struck a balance between our other two touring rigs. It is listed at 765 pounds dry, but it carries its weight well, and was surprisingly manageable at slow speeds despite its fork-mounted fairing. Comfortable and responsive, the Ultra handles everyday commuting in urban confines better than either the Gold Wing or the Beemer, with all its controls well laid out, falling readily to hand and foot. It has a good sound system that was easy to control and increased in volume with speed and rpm. We found both the stereo and intercom/CB more convenient to operate than the Honda's since the hand controls are easier to reach and use. And the Harley was the only one equipped with radio/intercom controls for the passenger, a very nice touch on a long ride.

Out on the open highway, there is a distinct lack of wind hitting the rider due to the tall windscreen, and the Ultra's upright seating position is a plus for long-range comfort. The windshield did manage to garner several complaints, though, as it was just the right height for the top edge to obstruct the rider's line of sight, meaning riders in the 5' 8" to 6' category are either crouching to look "under" the top of the shield, or straining to look over it. Harley does, however, offer both taller and shorter shields as accessories for the Ultra. Offering a bit more luggage capacity than the BMW, the Harley's hard saddlebags were still a tight fit compared to the Gold Wing. The top Tour Box, though, was the best of the three, with an easy-to-use side-latch opening and more than adequate space for all that stuff the significant other hates to leave behind. As an extra bonus you can remove most of the touring gear (fairing lowers, saddlebags, and with some extra effort, the Tour Box) in under an hour for a lighter ride.

Suspension action is about what you'd expect from a large, comfort-oriented touring mount: soft yet controlled on smooth level pavement, but we quickly overwhelmed it while trying to follow the Beemer heading down a mountain pass. The Ultra does handle tight mountain roads much better than the Gold Wing, though. The triple disc brakes are typical Harley, very effective but requiring a strong pull to stop the large machine.

Floorboards are more comfy than footpegs on longer rides, allowing more room to move your feet around. The forward mounted foot controls are huge and somewhat clunky, but are very easy to use, and the ergonomics of the riding position are excellent. Ample ground clearance and rollerskate-quick steering allow relaxed cruising gait anywhere, even on winding country roads.

Plus, of course, the eighty inch motor rumbling around somewhere in the engine room adds a distinct character to this touring beast. Out on the road, other Harley riders wave at you. Whenever you stop, little old men appear as if from cracks in the sidewalk to tell you about their model JD and the ride to Phoenix in 1930. And you'll never be short of something to talk about in the coffee shop, that essential component of every motorcycle tour.
1. BMW K1100LT ABS

In this crowd of heavyweight motorcycles, you could coin the BMW K1100LT as the "sport" bike of the bunch. It's not equipped with extreme touring amenities like the Honda's on-board air compressor (which fills the rear air shock and has a hose extension for inflating tires), or the cruise control that both the Honda and the Harley have. As a result of this spartan approach, the K bike is also missing a lot of the weight of the other touring mounts. While it's not a small bike, at a claimed 551 pounds dry it's not that much heavier than a regular sport-touring literbike.

This, along with the Bosch fuel-injection system, made the BMW well-suited for quick riding through the higher Sierra mountain passes while on our tour. We rode across four over-8000-foot passes, and a number of smaller ones, in the course of three days of traversing the Sierras. The LT was in its element.

We were surprised at how well the big Beemer worked. Its high power-to-weight ratio was a pleasant surprise in a full-dress tourer, and the fuel injection kept the mixture correct over any altitude changes. The motor was an absolute joy to use, with crisp throttle response, and the LT was entirely capable of day-long, triple-digit-speed touring. Got a problem with a slow-moving econo-box on the steep road up that favorite mountain pass? Just drop a gear and nail the throttle and he's history. Riding in such great scenery helped take our minds off the relative lack of features compared to the other tourers. We often forgot to even switch on the radio -- which was a good thing, as we have to shame BMW for cheaping out on the stereo's speakers, which were incapable of handling enough volume to combat wind noise on the freeway. On the plus side, though, the handlebar mounted controls are especially convenient to use.

Heading down the other side of mountain passes the touring nature of the LT came into play. The pulled-back bars put the rider in more of a sit-up touring posture, and their rubber mounting added to a vague feeling of not being solidly connected to the front end. The combination makes spirited cornering something you have to think about rather than experience. The LT does have adequate ground clearance and is stable once heeled over into a bend -- though it has a tendency to "fall in" to turns once the going gets fast -- but compared to more sporting iron it takes a while to get the big K bike to turn. 'Flicking it in' isn't an option. Regardless, at the end of any twisty road, the K bike is still miles ahead of the Gold Wing and the Electra Glide.

Once out of the mountains and onto some of the straighter routes of our tour, we found the above-mentioned ergonomics much more acceptable. The layout was pretty good, although our taller riders felt the bars came back a little too far. The pegs are not in the usual forward location common to most tourers, but in a more natural position a little more rearward. The fairing is very protective, even a bit overly so -- taller riders will be bumping the front side covers with their knees all day long. It's too bad we tested this bike in the middle of summer rather than winter when the fairing and heated grips would have been really appreciated. The windscreen adjusts up and down via a switch mounted on the left bar, even while zipping down the road at warp speed. The range of adjustment is wide, and there are a number of useful positions.

The Harley and Honda have floorboards for passengers (and the driver on the Harley as well), but the BMW comes equipped with standard footpegs for both, a point of dislike for passengers, who all complained about the BMW's pegs. They were either too far back and they could only get the heel of their boots on them rather than riding on the balls of their feet, or they were too high for taller passengers whose knees would cramp. Passengers also reported that the removable top trunk, which is mounted on plastic arms, wiggles around enough to be noticeable, and is less than confidence-inspiring when leaning against the seatback. It also whacks the passenger in the back when the bike hits a bump if they're not leaning completely against it. The hard luggage saddlebags were easy to remove, if a bit on the small side when compared to the H-D or the Wing. But the BMW came equipped with a high-quality, easily removable and roomy tank bag that helped make up for the lack of rear luggage space.

Nitpicks were few with the BMW. Despite the EFI, we found that the rapidly emptying fuel tank stopped the fun long before rider discomfort set in, usually around 160 miles. Moving the bike's weight up hill and pushing the fairing through the air sucks fuel, and our mileage ran down into the low 30 mpg range when riding fast up through the mountain passes. There isn't much noticeable vibration, but the vibration the rider does feel is all of the annoying, buzzing type. There's a peak of vibration right around 4000 rpm, which is about 75 mph in fifth gear. At that speed the clutch lever buzzes madly. We feel the big K bike could use another gear, or a higher top gear ratio. The seat height is too high for riders under 5' 10" tall, but taller riders weren't happy, either, because of the lack of kneecap clearance on the front fairing panels: The shape of the stock seat prevents them from sliding back to a more comfortable position. Corbin Saddles used to be a factory option for top-of-the-line BMWs, which saved many BMW riders a lot of money since they buy aftermarket seats anyway (thus leaving them with two seats and having to pay retail for their second instead of one lower-priced option).

The BMW-LT exudes an air of competence, like you could ride it across the country next week if you can talk the boss into the time off work. The bike and all the fittings are made to last a long time, and if you live where there are more curvy roads than straight, it'll reward with much more cornering performance than either of the other tourers, and you won't have to trade in much comfort for it either.

Conclusion With this group there was no clear winner, but after much round table discussion and lots of editorial finger pointing and fist pounding on the office conference table, we called it a tie on points between the BMW and the Harley, with the BMW coming out on top due to its garnering more first place votes. The Gold Wing was simply too big for our tastes, and was often referred to as "that RV" by the staff. The Beemer and the Harley, although each taking a different approach to long-distance riding, seemed to work better on the blue highways, roads off the beaten track. The BMW's ride was characterized by pure efficiency, the Harley simply had character.
In a sport that is fast becoming overly specialized, with bikes to suit every niche, it's refreshing to find three so very different motorcycles that can all handle the demands of touring. Motorcycle touring can still be an adventure, and the flavor of that adventure is entirely up to you.

Specifications
Manufacturer: Honda
Model: 1996 GL1500SE Gold Wing SE
Price: $17,099
Engine: sohc, 2-valve, Opposed Six-cylinder
Bore x stroke: 71 x 64mm
Displacement: 1520cc
Carburetion: Twin 36mm Computer-monitored CV
Transmission: 5-speed plus reverse
Wheelbase: 66.5 in.
Seat height: 29.1 in.
Fuel capacity: 6.3 gal.
Claimed dry weight: 816 lbs


Manufacturer: Harley-Davidson
Model: 1996 FLHTCI Ultra Classic Electra Glide
Price: $17,500
Engine: ohv, 2-valve, V-Twin
Bore x stroke: 88.8 x 108.0mm
Displacement: 1340cc
Carburetion: Sequential port fuel injection
Transmission: 5-speed
Wheelbase: 62.68 in.
Seat height: 28.00 in.
Fuel capacity: 5.0 gal.
Claimed dry weight: 765 lbs.

Manufacturer: BMW
Model: 1996 K1100LT ABS
Price: $16,590
Engine: Liquid-cooled, in-line four-cylinder
Bore x stroke: 70.5 x 70 mm
Displacement: 1093cc
Carburetion: Bosch electronic fuel injection
Transmission: 5-speed
Wheelbase: 61.6 in.
Seat height: 31.9 in.
Fuel capacity: 5.2 gal.
Claimed dry weight: 551 lbs.

Riding Impressions: 1. Brent Plummer, Editor-in-Chief

Ick! I hated them all. BMW, how can you produce such an awesome bike like the R1100RT -- which has the heated grips and trick, adjustable windshield with a torquey Boxer motor -- and still bring the K1100LT to market? There's simply no comparison between the two; if you want an awesome Bavarian tourer, go for the RT.
The Harley? Too slow and heavy. If I'm going to putt around on four-lane highways on a hog, I'll do it on a raked-out Dyna Wide Glide with forward pegs, not on a 750-pound Super Duper Ultra Fuelie Bad Glide "H" Classic. What's with all those goofy letters and names, anyway? For what it's worth, my girlfriend liked the Harley the best because she felt most secure in the all-steel-framed passenger accommodations.

Now don't get me started on the Gold Wing. I just don't understand -- it wallows horrendously in turns, and puts me to sleep on the highway because it's a two-wheeled car. I hate cars, never owned one, probably never will, and I certainly don't want a motorcycle that reminds me of all the cages clogging up perfectly good roads around the world. In short, this was the least enjoyable test I've participated in since starting Motorcycle Online two years ago.

Here's what I'd do: If I wanted a pre-built tourer, I'd go to some local dealers and testride BMW's R1100RT and Honda's ST1100 in the same day, and probably buy whichever one I could get the best deal on. But if I was really going to drop 15 grand on a motorcycle, I'd buy a Valkyrie, get one of J&M's soon-to-be released 10-disk CD changer stereos that fit in Grifter bags, throw on either a Rifle windscreen or Vetter adjustable "flairing" (a servo-motor controlled fairing that is both height and width adjustable) a tank bag with a clear top pocket to hold a map and a Corbin seat with fully adjustable passenger and driver backrests. Then I'd have a 100 horsepower tourer with the smoothest motor made, fully adjustable everything, and a CD player. In short, I'd have it all.

2. Tom Fortune, Managing Editor

I don't get it. Well, maybe I do. It's hard for me to understand how most of MO's staffers picked the BMW as the best heavyweight tourer. Sure, it has great power and four-star handling for a big touring bike, but the engine buzzes like a Swedish sexual appliance, it's uncomfortable as hell for anyone over 5'-8", has small, clumsy-to-use luggage, no intercom or cruise control, and a radio that's nothing more than a cheap car stereo transplant. Yet it still retails for over 16 grand? For that kind of cash, it's just not something I could spend six hours a day riding on a long tour.
I guess I could see how our mostly young staff would prefer the sportier nature of the Beemer. But what it really boils down to is experience -- years of it. Heavyweight touring is about day-long stints in the saddle with total rider comfort and convenience -- the ability of a motorcycle to carry its passengers down the highway for hundreds of miles at a time in vibration- and maintenance-free smoothness, and without requiring the rider to have the stamina of the Power Rangers to do it. The appreciation of this can only be developed through years of riding. In this light, there's only one clear choice in a heavyweight tourer -- Honda's Gold Wing. Believe me, the Harley is a close - very close - second to the Wing in this respect, losing out only because of its relative lack of power (although I love the response of the EFI-equipped Harleys). But the Beemer? Sorry guys, it's not even in the running.

3. Todd Canavan, Associate Editor

When asked to rank these bikes, the first thought that came to my mind was that this was more like a RV shootout than a motorcycle test. I'm sure to get flamed for writing this, but the cocoon of isolation that the Goldwing places you in was maddening to me. The Goldwing's cooling vents were largely useless, spewing engine-heated air over the rider. At almost 850 pounds, the Wing was just too large and cumbersome for my tastes. The Harley-Davidson made a better around town, "I look like I'm going cross-country" bike than it did as a cross-country tourer. It also had to be the loudest stock Harley we've ever tested, and was almost deafening at elevated freeway speeds. And I expected more oomph from the big V-twin powerplant. Nothing a dip into the Screamin' Eagle catalog couldn't fix though.
To me, the BMW performed the most like a motorcycle in this test, but was still far from perfect. The rubber bushings in the handlebar mount were too soft, which led to a bit of a mushy feeling. The trunk is mounted rather loosely, and didn't inspire confidence in passengers leaning back on it. That said, the full-boat Beemer is still my pick of these three.

4. Billy Bartels, Graphics Editor

For 15 to 20 thousand dollars, a bike has to do a little more than tour really well. Many will disagree with me, but I want more in a bike. Thus, I would have to say I'd pick a machine that is not in this test for my personal touring machine, but as far as these tourers go I picked the Goldwing in last place, narrowly behind the Beemer with the Harley first. The Wing was fine on the open road, with ample horsepower to lug its 816 pounds around, and the wind protection was nice, unless it was hot. Around town it was a total pig and tended to want to tip over at low speeds. The fit and finish was really good, and I liked the radio. I had a Love/Hate relationship with the 'K' bike. It was reasonably light, very maneuverable, and has the cool electronically adjustable windscreen. It was most like riding a motorcycle, as opposed to an RV. On the down side, BMW ruined a perfectly good motorcycle by making it a tourer -- the whole bike just seems to be an afterthought. The fairing and bags aren't attached very well, and it has a strange ignition key setup too. For a touring bike, the seat was rather uncomfortable, causing the rider to slide forward and hit his knees on the fairing.
The Harley? Well, it was slow. For me that was the only complaint. Ergonomics were good, fit and finish were top-notch, and it tied the Wing for range because it's better mileage made up for a 1.3 gallon-smaller tank. Around town it was downright sprightly for its 765 pounds. I felt that, all things considered, it was the best combination of touring and everyday use of this bunch.
1. BMW K1100LT ABS

In this crowd of heavyweight motorcycles, you could coin the BMW K1100LT as the "sport" bike of the bunch. It's not equipped with extreme touring amenities like the Honda's on-board air compressor (which fills the rear air shock and has a hose extension for inflating tires), or the cruise control that both the Honda and the Harley have. As a result of this spartan approach, the K bike is also missing a lot of the weight of the other touring mounts. While it's not a small bike, at a claimed 551 pounds dry it's not that much heavier than a regular sport-touring literbike.

This, along with the Bosch fuel-injection system, made the BMW well-suited for quick riding through the higher Sierra mountain passes while on our tour. We rode across four over-8000-foot passes, and a number of smaller ones, in the course of three days of traversing the Sierras. The LT was in its element.

We were surprised at how well the big Beemer worked. Its high power-to-weight ratio was a pleasant surprise in a full-dress tourer, and the fuel injection kept the mixture correct over any altitude changes. The motor was an absolute joy to use, with crisp throttle response, and the LT was entirely capable of day-long, triple-digit-speed touring. Got a problem with a slow-moving econo-box on the steep road up that favorite mountain pass? Just drop a gear and nail the throttle and he's history. Riding in such great scenery helped take our minds off the relative lack of features compared to the other tourers. We often forgot to even switch on the radio -- which was a good thing, as we have to shame BMW for cheaping out on the stereo's speakers, which were incapable of handling enough volume to combat wind noise on the freeway. On the plus side, though, the handlebar mounted controls are especially convenient to use.

Heading down the other side of mountain passes the touring nature of the LT came into play. The pulled-back bars put the rider in more of a sit-up touring posture, and their rubber mounting added to a vague feeling of not being solidly connected to the front end. The combination makes spirited cornering something you have to think about rather than experience. The LT does have adequate ground clearance and is stable once heeled over into a bend -- though it has a tendency to "fall in" to turns once the going gets fast -- but compared to more sporting iron it takes a while to get the big K bike to turn. 'Flicking it in' isn't an option. Regardless, at the end of any twisty road, the K bike is still miles ahead of the Gold Wing and the Electra Glide.

Once out of the mountains and onto some of the straighter routes of our tour, we found the above-mentioned ergonomics much more acceptable. The layout was pretty good, although our taller riders felt the bars came back a little too far. The pegs are not in the usual forward location common to most tourers, but in a more natural position a little more rearward. The fairing is very protective, even a bit overly so -- taller riders will be bumping the front side covers with their knees all day long. It's too bad we tested this bike in the middle of summer rather than winter when the fairing and heated grips would have been really appreciated. The windscreen adjusts up and down via a switch mounted on the left bar, even while zipping down the road at warp speed. The range of adjustment is wide, and there are a number of useful positions.

The Harley and Honda have floorboards for passengers (and the driver on the Harley as well), but the BMW comes equipped with standard footpegs for both, a point of dislike for passengers, who all complained about the BMW's pegs. They were either too far back and they could only get the heel of their boots on them rather than riding on the balls of their feet, or they were too high for taller passengers whose knees would cramp. Passengers also reported that the removable top trunk, which is mounted on plastic arms, wiggles around enough to be noticeable, and is less than confidence-inspiring when leaning against the seatback. It also whacks the passenger in the back when the bike hits a bump if they're not leaning completely against it. The hard luggage saddlebags were easy to remove, if a bit on the small side when compared to the H-D or the Wing. But the BMW came equipped with a high-quality, easily removable and roomy tank bag that helped make up for the lack of rear luggage space.

Nitpicks were few with the BMW. Despite the EFI, we found that the rapidly emptying fuel tank stopped the fun long before rider discomfort set in, usually around 160 miles. Moving the bike's weight up hill and pushing the fairing through the air sucks fuel, and our mileage ran down into the low 30 mpg range when riding fast up through the mountain passes. There isn't much noticeable vibration, but the vibration the rider does feel is all of the annoying, buzzing type. There's a peak of vibration right around 4000 rpm, which is about 75 mph in fifth gear. At that speed the clutch lever buzzes madly. We feel the big K bike could use another gear, or a higher top gear ratio. The seat height is too high for riders under 5' 10" tall, but taller riders weren't happy, either, because of the lack of kneecap clearance on the front fairing panels: The shape of the stock seat prevents them from sliding back to a more comfortable position. Corbin Saddles used to be a factory option for top-of-the-line BMWs, which saved many BMW riders a lot of money since they buy aftermarket seats anyway (thus leaving them with two seats and having to pay retail for their second instead of one lower-priced option).

The BMW-LT exudes an air of competence, like you could ride it across the country next week if you can talk the boss into the time off work. The bike and all the fittings are made to last a long time, and if you live where there are more curvy roads than straight, it'll reward with much more cornering performance than either of the other tourers, and you won't have to trade in much comfort for it either.

Conclusion With this group there was no clear winner, but after much round table discussion and lots of editorial finger pointing and fist pounding on the office conference table, we called it a tie on points between the BMW and the Harley, with the BMW coming out on top due to its garnering more first place votes. The Gold Wing was simply too big for our tastes, and was often referred to as "that RV" by the staff. The Beemer and the Harley, although each taking a different approach to long-distance riding, seemed to work better on the blue highways, roads off the beaten track. The BMW's ride was characterized by pure efficiency, the Harley simply had character.
In a sport that is fast becoming overly specialized, with bikes to suit every niche, it's refreshing to find three so very different motorcycles that can all handle the demands of touring. Motorcycle touring can still be an adventure, and the flavor of that adventure is entirely up to you.

Specifications
Manufacturer: Honda
Model: 1996 GL1500SE Gold Wing SE
Price: $17,099
Engine: sohc, 2-valve, Opposed Six-cylinder
Bore x stroke: 71 x 64mm
Displacement: 1520cc
Carburetion: Twin 36mm Computer-monitored CV
Transmission: 5-speed plus reverse
Wheelbase: 66.5 in.
Seat height: 29.1 in.
Fuel capacity: 6.3 gal.
Claimed dry weight: 816 lbs


Manufacturer: Harley-Davidson
Model: 1996 FLHTCI Ultra Classic Electra Glide
Price: $17,500
Engine: ohv, 2-valve, V-Twin
Bore x stroke: 88.8 x 108.0mm
Displacement: 1340cc
Carburetion: Sequential port fuel injection
Transmission: 5-speed
Wheelbase: 62.68 in.
Seat height: 28.00 in.
Fuel capacity: 5.0 gal.
Claimed dry weight: 765 lbs.

Manufacturer: BMW
Model: 1996 K1100LT ABS
Price: $16,590
Engine: Liquid-cooled, in-line four-cylinder
Bore x stroke: 70.5 x 70 mm
Displacement: 1093cc
Carburetion: Bosch electronic fuel injection
Transmission: 5-speed
Wheelbase: 61.6 in.
Seat height: 31.9 in.
Fuel capacity: 5.2 gal.
Claimed dry weight: 551 lbs.

Riding Impressions: 1. Brent Plummer, Editor-in-Chief

Ick! I hated them all. BMW, how can you produce such an awesome bike like the R1100RT -- which has the heated grips and trick, adjustable windshield with a torquey Boxer motor -- and still bring the K1100LT to market? There's simply no comparison between the two; if you want an awesome Bavarian tourer, go for the RT.
The Harley? Too slow and heavy. If I'm going to putt around on four-lane highways on a hog, I'll do it on a raked-out Dyna Wide Glide with forward pegs, not on a 750-pound Super Duper Ultra Fuelie Bad Glide "H" Classic. What's with all those goofy letters and names, anyway? For what it's worth, my girlfriend liked the Harley the best because she felt most secure in the all-steel-framed passenger accommodations.

Now don't get me started on the Gold Wing. I just don't understand -- it wallows horrendously in turns, and puts me to sleep on the highway because it's a two-wheeled car. I hate cars, never owned one, probably never will, and I certainly don't want a motorcycle that reminds me of all the cages clogging up perfectly good roads around the world. In short, this was the least enjoyable test I've participated in since starting Motorcycle Online two years ago.

Here's what I'd do: If I wanted a pre-built tourer, I'd go to some local dealers and testride BMW's R1100RT and Honda's ST1100 in the same day, and probably buy whichever one I could get the best deal on. But if I was really going to drop 15 grand on a motorcycle, I'd buy a Valkyrie, get one of J&M's soon-to-be released 10-disk CD changer stereos that fit in Grifter bags, throw on either a Rifle windscreen or Vetter adjustable "flairing" (a servo-motor controlled fairing that is both height and width adjustable) a tank bag with a clear top pocket to hold a map and a Corbin seat with fully adjustable passenger and driver backrests. Then I'd have a 100 horsepower tourer with the smoothest motor made, fully adjustable everything, and a CD player. In short, I'd have it all.

2. Tom Fortune, Managing Editor

I don't get it. Well, maybe I do. It's hard for me to understand how most of MO's staffers picked the BMW as the best heavyweight tourer. Sure, it has great power and four-star handling for a big touring bike, but the engine buzzes like a Swedish sexual appliance, it's uncomfortable as hell for anyone over 5'-8", has small, clumsy-to-use luggage, no intercom or cruise control, and a radio that's nothing more than a cheap car stereo transplant. Yet it still retails for over 16 grand? For that kind of cash, it's just not something I could spend six hours a day riding on a long tour.
I guess I could see how our mostly young staff would prefer the sportier nature of the Beemer. But what it really boils down to is experience -- years of it. Heavyweight touring is about day-long stints in the saddle with total rider comfort and convenience -- the ability of a motorcycle to carry its passengers down the highway for hundreds of miles at a time in vibration- and maintenance-free smoothness, and without requiring the rider to have the stamina of the Power Rangers to do it. The appreciation of this can only be developed through years of riding. In this light, there's only one clear choice in a heavyweight tourer -- Honda's Gold Wing. Believe me, the Harley is a close - very close - second to the Wing in this respect, losing out only because of its relative lack of power (although I love the response of the EFI-equipped Harleys). But the Beemer? Sorry guys, it's not even in the running.

3. Todd Canavan, Associate Editor

When asked to rank these bikes, the first thought that came to my mind was that this was more like a RV shootout than a motorcycle test. I'm sure to get flamed for writing this, but the cocoon of isolation that the Goldwing places you in was maddening to me. The Goldwing's cooling vents were largely useless, spewing engine-heated air over the rider. At almost 850 pounds, the Wing was just too large and cumbersome for my tastes. The Harley-Davidson made a better around town, "I look like I'm going cross-country" bike than it did as a cross-country tourer. It also had to be the loudest stock Harley we've ever tested, and was almost deafening at elevated freeway speeds. And I expected more oomph from the big V-twin powerplant. Nothing a dip into the Screamin' Eagle catalog couldn't fix though.
To me, the BMW performed the most like a motorcycle in this test, but was still far from perfect. The rubber bushings in the handlebar mount were too soft, which led to a bit of a mushy feeling. The trunk is mounted rather loosely, and didn't inspire confidence in passengers leaning back on it. That said, the full-boat Beemer is still my pick of these three.

4. Billy Bartels, Graphics Editor

For 15 to 20 thousand dollars, a bike has to do a little more than tour really well. Many will disagree with me, but I want more in a bike. Thus, I would have to say I'd pick a machine that is not in this test for my personal touring machine, but as far as these tourers go I picked the Goldwing in last place, narrowly behind the Beemer with the Harley first. The Wing was fine on the open road, with ample horsepower to lug its 816 pounds around, and the wind protection was nice, unless it was hot. Around town it was a total pig and tended to want to tip over at low speeds. The fit and finish was really good, and I liked the radio. I had a Love/Hate relationship with the 'K' bike. It was reasonably light, very maneuverable, and has the cool electronically adjustable windscreen. It was most like riding a motorcycle, as opposed to an RV. On the down side, BMW ruined a perfectly good motorcycle by making it a tourer -- the whole bike just seems to be an afterthought. The fairing and bags aren't attached very well, and it has a strange ignition key setup too. For a touring bike, the seat was rather uncomfortable, causing the rider to slide forward and hit his knees on the fairing.
The Harley? Well, it was slow. For me that was the only complaint. Ergonomics were good, fit and finish were top-notch, and it tied the Wing for range because it's better mileage made up for a 1.3 gallon-smaller tank. Around town it was downright sprightly for its 765 pounds. I felt that, all things considered, it was the best combination of touring and everyday use of this bunch.

Source Motorcycle.com