Harley Davidson FLHX Street Glide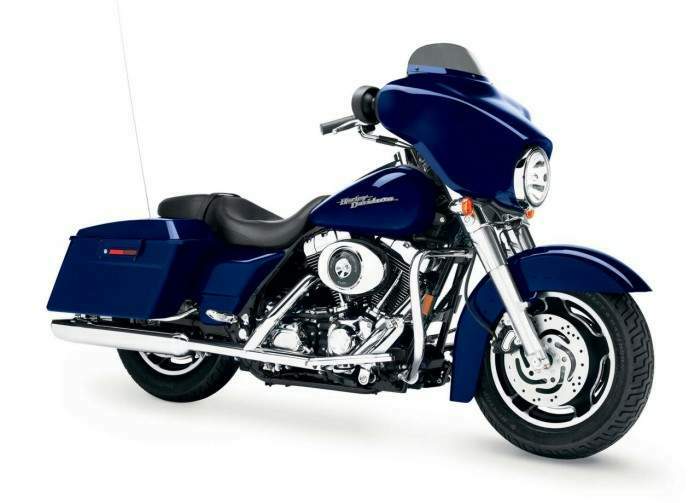 Make Model

Harley Davidson

FLHX Street Glide

Year

2006

Engine

Four stroke, 45° V-Twin, Twin Cam 88® vibration isolation-mounted Valves Pushrod-operated overhead valves; w/ hydraulic self-adjusting lifters; two valves per cylinder

Capacity

1449 cc / 88.4 cu-in

Bore x Stroke

95.3 x 101.6 mm
Cooling System
Air cooled

Compression Ratio

8.9:1
Lubrication
Dry sump, internally mounted, crank driven gerotor pressure and dual scavenge pump with spin on 10ì pressurized oil filter

Induction

Carburetion 40 mm constant velocity with enrichener and accelerator pump or ESPFI 38 mm throttle bore electronic sequential port fuel injection

Ignition

Single-fire, non-wasted, map-controlled spark ignition
Starting
Electric

Max Torque

116.6 Nm / 86 lb-ft @ 3500rpm

Transmission

5 Speed
Final Drive
Belt

Frame

Mild steel, rectangular section backbone w/twin downtubes

Front Suspension

41.3 mm; Triple Circuit Damping (TCD), 116mm wheel travel

Rear Suspension

Air-adjustable, 50.8mm wheel travel

Front Brakes

Single 292mm disc 4 piston caliper

Rear Brakes

Single 292mm disc 4 piston caliper

Front Tyre

D402F MT90B16 72H

Rear Tyre

D402 MU85B16 77H
Rake
26°
Trail
157 mm / 6.2 in
Fork Angle
29.2°
Dimensions
Length 2400 mm / 94.5 in
Wheelbase
1613 mm / 63.5 in
Seat Height
Laden2 668.0 mm / 26.3 in
Unladen 693.4 mm / 27.3 in.

Dry Weight

338 kg / 745 lbs
Wet Weight
352 kg / 776 lbs

Fuel Capacity

19 Litres / 5.0 gal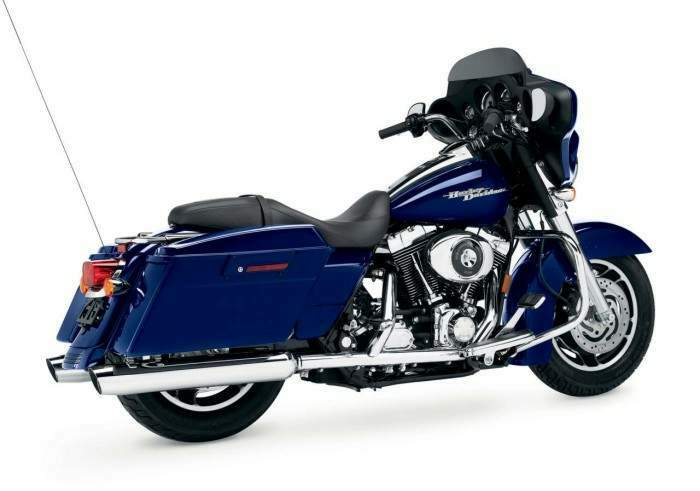 FLHX Street Glide™ Model Overview
The FLHX Street Glide has proved to be every bit the dresser with an edge for riders interested in considerable custom and comfort. Taking its key styling cues directly from design trends in the custom marketplace, the Street Glide presents full touring capability in style and comfort. It comes equipped with the traditional "bat wing" fairing, the 40-watt Advanced Audio System by Harman/Kardon, durable GTX nylon saddlebags, air-adjustable rear suspension and triple-disc brakes.
By adding the Twin Cam 96 engine, 6-speed Cruise Drive transmission and ESPFI, while reducing clutch lever effort, the Street Glide becomes even more capable of cruising the streets or touring the country. Also new this year is a redesigned football shape air cleaner.
A smoked mini-wind deflector sits above a batwing fairing with mounted mirrors. Low rear suspension puts the Street Glide close to the road with a seat height of 26.3 inches. The rear fender is filled between the saddlebags with Tri-line LED lighting to the bottom of the fender. Black, Slotted Disc Cast Aluminum wheels and slash-cut mufflers further emphasize the low profile.
Streamliner footboards, brake pedal and passenger pegs add to the Street Glide custom styling. A stretched, chrome fuel tank console features a special smoked-chrome emblem. The style and performance combines for a lower, lighter and cleaner touring motorcycle that rides proudly with its Electra Glide heritage. The Street Glide is available in six solid colors: Vivid Black, Black Cherry Pearl, Black Pearl, Deep Cobalt Pearl, Pacific Blue Denim and Pewter Denim.
FLHX Features:
New rubber mount 1584cc Twin Cam 96 engine
Black powder-coated engine with chrome covers
New 6-speed Cruise Drive transmission
Standard Electronic Sequential Port Fuel Injection (ESPFI)
New redesigned football shape air cleaner
40-watt CD/AM/FM/WB/MP3 Advanced Audio System by Harman/Kardon
Silver face gauges
Batwing fork-mounted fairing with smoked mini wind deflector
Fairing-mounted rear view mirrors
Clean front fender
Black, Slotted Disc Cast Aluminum wheels
Smoked chrome 3-D tank emblem
Custom bucket seat with perforated insert
Streamliner footboards, brake pedal and passenger pegs
Low Profile rear suspension
Rear fender ground effects
Low-hung license plate mount and hidden plate illuminator
Lockable GTX Nylon hard saddlebags with color-matched latches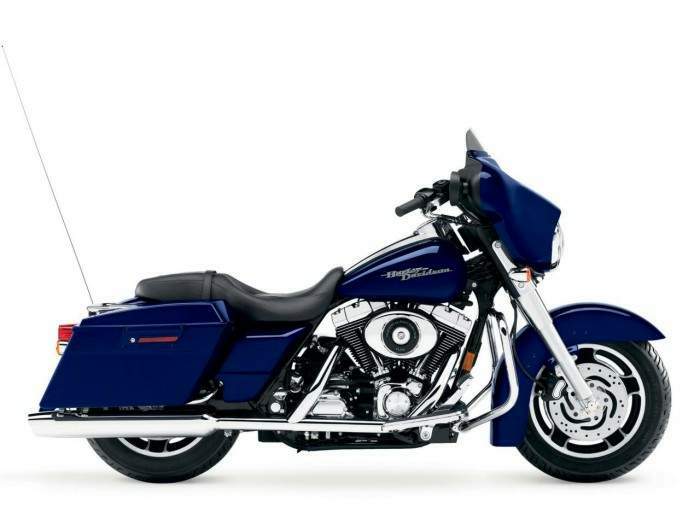 Review
When the FLHX Street Glide was introduced in the summer of 2005 as a 2006 model, it entered an era of unprecedented improvements in Harley's touring family of baggers. Based on all the new features and benefits that were implemented that year—combined with its slammed custom styling—the 2008 FLHX, or X-model, has quickly become Harley's hottest selling touring model.

Indeed, Harley positioned the 2008 machine as "having a combination of custom and comfort...perfect for cruising city streets." Although it doesn't take high performance to roam city streets, some might consider it a necessity to look cool doing it, and the X-model has plenty of spectator magnetism. There's the low smoked windscreen, billet turn signals, color-matched saddlebag latches, low-slung license plate, new sculptured tank console, fenders stripped of trim, and triple-LED flushed rear fender lights. Sleek fairing-mounted mirrors clean up the looks, along with chrome-rimmed gauges with silver faces. With these kinds of details, when it comes to cruising there's no finer bagger in the FLH line.

Question is, after a few days in the saddle on the open road, how good is it?

Part of the answer to this query comes from a look at the improvements over the two years since the original FLHX introduction in 2006. Many engineering improvements have combined to make the entire FLH family the best in Harley's history. The FLHX inherited Harley's TC88 engine and five-speed transmission, and Harley graced it with an all-new 80-watt Harman-Kardon sound system, touted as setting a new standard for the motorcycle industry. It also acquired CD/MP3/AM/FM/WB capabilities with a digital display and easy-to-use more intuitive menus for bike-to-bike communication, 150-channel XM radio, and optional hands-free Bluetooth cell phone and integrated GPS navigation.

2006 was also the year that clutch-lever effort was reduced by 24 percent, and a higher-output three-phase 50-amp, 650-watt alternator with vastly improved charging capacity was added.

In 2007 the TC96 and six-speed Cruise Drive transmission entered the picture. This latest all-new powerplant had a claimed 17 percent more torque, along with hydraulic cam-chain tensioners to replace the quirky spring-type, and new EFI injector nozzles and Oxygen sensors that helped to make engine response seamless. Many owners opted for the EPA-legal 103-inch kit, which bolts in place without a lot of fuss.

The cassette-type Cruise Drive had quiet running helical gears, and new engagement sliders reduced shifting effort. The strengthened gearbox also had direct final-drive that lowered engine speed by 11 percent, dropping revs at 75 mph from 3,227 to 2,859 rpm. As a bonus, the primary chain got an automatic hydraulic tensioner.

Other '07 changes included extended oil-change intervals to 10,000 miles for the engine and 20,000 miles for the gearbox. New tuned mufflers contributed to improved performance and gave out a more authoritative exhaust tone. And the new Smart Security System added more security for the bike and peace of mind for the owner.

Now, in addition to the evolutionary changes mentioned, the 2008 model offers its owners a longer cruising range and shorter stopping with the addition of a larger 6-gallon fuel tank and very competent Brembo brakes with an optional Anti-lock Braking System (ABS). A new cushion drive in the rear wheel hub helps to smooth out power delivery; and adding Harley's cruise control is now simpler thanks to the "throttle by wire" electronic throttle control.

Yes, the years have been good to the Street Glide, which now accelerates quicker, stops shorter and goes farther than its original 2006 version, not to mention the many added low-maintenance features.

Getting down to specifics, one of the more notable features of the X-model FLHX is its low 26.3-inch seat height. This comes from a low-slung seat that's somewhat thinly padded, and from chopped suspension that's 1 inch lower than other FLs. Although this is a big plus for those riders who like or need low seating, the Street Glide clearly lacks the ride qualities of the longer-legged FLs. Some of the smallest road irregularities can be felt, as dips, ledges and potholes make themselves known, especially at the rear. Large bumps deliver a solid jolt, and the bike hobby-horses over concrete slab highways.

To be fair, Harley engineers have done a good job of selecting damping and springing rates, but the fact is that short struts simply can't match the performance of longer ones. Still, over most smoother road surfaces the rider won't even notice.

That cool low-cut windshield is also a win-win-lose proposition. It looks great and allows the rider to peer over the top, eliminating that annoying glare of taller screens; however, it also results in a buffeting windblast that can become noisy and tiresome at high cruising speeds.

Handling is virtually identical to the Electra Glide Standard, from which the X-model was cloned. Stable at high speeds, it's also fairly easy to maneuver at low speed. Its fork-mounted batwing fairing and 780-pound wet weight will make themselves felt, although the low seating helps. If you like to ride fast, you won't be able to hustle it through corners like you would a Standard due to the slammed suspension—the jiffy stand drags on the left and the right footboard touches first on the right.

The rear-view mirrors look good and perform well, giving a very wide, clear view behind. Clutch action is light and positive, shifting is slicker than ever, and it's impossible to tell that the throttle is not operated by a cable. The most impressive controls, however, are the brake levers. The new Brembo units provide excellent feedback and control; even maximum-braking stops were smooth and controllable. Our test bike was equipped with optional ABS, which helps to give riders more confidence. When encountering dirt or gravel in a braking zone, it was reassuring to know that the wheels would not lock and skid.

Our test machine also had an optional detachable luggage rack, sissy bar backrest and pad. We found these to add a great deal of convenience, providing secure attachment points for additional luggage as well as more comfort for the passenger. A short hop with a passenger on board failed to draw any negative comments except for a slight mention of the minimal seat padding. The seat is new for 2008, although we cannot pronounce it an improvement in terms of rider or passenger comfort. The rider's seat area begins to impose "monkey butt" after only a day-long ride.

While seats can easily be changed, ride height is harder to adjust. But we wouldn't adjust a thing on the X-model; although the low seating brings only marginal comfort on all-day rides and a slightly firm, occasionally harsh ride, it is these qualities that contribute to this machine's charm. It has the style and looks that make it appealing, and any performance handicaps—arguably minor—can only be judged as both expected and accepted.

Does the Street Glide make a good tourer? Keeping its minor limitations in mind, it certainly offers more comfort than many Harley models that are ridden for thousands of miles by hardcore travelers. Plus, convenience items like saddlebags, sound system and optional equipment make it a friendly travel companion. It is easy to understand why it is such a popular model.
Source American Rider