Make Model

Aermacchi / Harley Davidson SST 350 Sprint

Year

1976 -

Engine

Two stroke, single cylinder

Capacity

341 cc / 21.3 cu-in

Bore x Stroke

80 x 68 mm
Cooling System
Air cooled

Compression Ratio

9.6:1

Induction

34mm

Dell'Orto

Ignition

Battery & coil later Electronic CDI

Starting

Electric & kick

Max Power

27 hp / 20 kW @ 7000 rpm
Clutch
Wet multi-plate

Transmission

5 Speed
Final Drive
Chain

Front Suspension

Oil damper Ceriant telescopic fork

Rear Suspension

Pivoted fork and Betor dampers 3-way adjustment

Front Brakes

Single disc

Rear Brakes

Drum

Front Tyre

3.25 -19

Rear Tyre

4.00 -18
Seat Height
828 mm / 32.6 in

Dry Weight

114 kg / 252 lbs

Fuel Capacity

10.5 Litres / 2.7 US gal

Consumption average

55 mpg

Standing ¼ Mile

15.7 sec

Top Speed

90.3 mph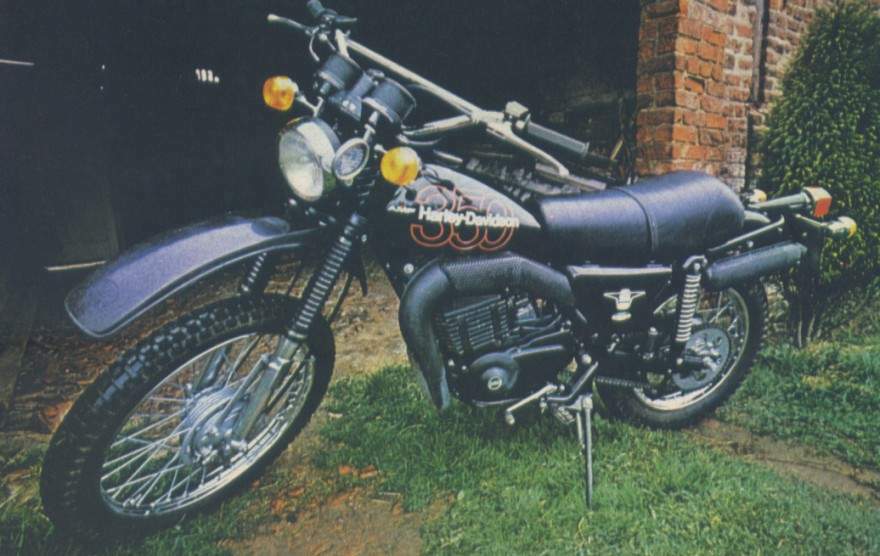 The biggest of the little ones from Harley-Davidson's Italian factory at Varese. David Cobbold rides both trail and road 350s, the only Harleys not sold in the USA.
Harley-Davidson's Italian subsidiary at Varese produces a range of single cylinder 2-stroke motorcycles in both road and trail versions which are very attractive performance-wise, but have hitherto lost out on their rightful share of the British market on account of the high price tags and poor spares back up. It is high on HD's list of priorities to remedy this situation, and as this is the anniversary year for the American concern, look out for tempting offers.
The SST (Road version) and SX (Trail ver-
sion) 350's are a logical extension of their existing range which previously covered 125, 175 and 250 categories. However, to produce a medium-sized 2-stroker in this age of increasing noise and air pollution control is perhaps more of a gamble than might at first appear. Indeed HD at Varese do not expect their 350 to be on sale in the States, where the rest of the 2-stroke range has considerable success, and, incidentally, undersells its Japanese competitors by a handsome margin (SX 250 goes for $775 against around $1190 for the Suzuki or Yamaha equivalent). Italian VAT schedules, which penalise the over 350cc categories were probably a major incentive.
Aesthetically, both machines are an improvement on pleasant enough smaller systems. The SX has a pleasant looking up and over exhaust in matt black which looks as if it's straight off a motocrosser. The seat looks (and is) more comfortable, and the general appearance is most purposeful, with a welcome absence of unnecessary frills. The same goes for the SST, which has a lower and leaner look, with its lazily drooping bars, strongly reminiscent of the Milwaukee V-Twin. On the road version, the exhaust is low-slung, though also matt black, and the front brake is a 264mm Brembo disc. Apart from this, and a 21" front wheel on the SX, the technical specifications are almost identical although the SX version revs a might higher, at 7100 against 6800 for the SST.
Getting astride the SX, I noticed the cleverly positioned filler cap for the separate oil tank. This is between the petrol tank and forkhead, thereby ensuring that you remember to keep
the works lubricated. Riding position is about Above: Front stopper on the e * r .l j i . ... ... roadster is Brembo s tormidpertect for the dual purpose mount this is, with aWe 264mm unit motocross pattern bars of just the right width and distance from the seat. Foot controls were fine and it took me no time to feel at home on this machine.
The up and over exhaust runs to the left of the fuel tank and seat, which involves an inevitably close encounter with the riders left knee. However, the heat shield which protects all exposed parts of the exhaust is fully effective, as the writers unmelted plastic trousers will testify. Starting proves no problem with either version whether hot or cold, the kick start having a longish travel which didn't foul the passenger foot rest, although a pillion rider would have to watch his toes! My main criticism and this goes for both versions is the appalling electrical switghcear. HD say they are planning to change this on all their models, and I reckon the sooner the better, as this is a bad case of ship spoiling.
Moving off, I was immediately struck by the torque put out by this motor. It feels almost like a large Triumph and the front wheel can be lifted easily in the first three gears. The clutch is smooth and progressive, so such antics are purely voluntary. These two factors render the bike emininently usable in town traffic, where juggernaut dodging becomes a pleasure. To add to the joy, the five speed gearbox is slick in use, and has a positive action which makes gear and neutral finding easy. Power really starts to push things along at about 4500 revs, but the motor will pull cleanly and strongly from 2000. On the SX, front brake is 160mm. diameter drum, which proved perfectly adequate for dual trail/road use, not being too sudden on the rough, while remaining capable of stopping the machine from highish road speeds without trouble, provided the lever was pulled firmly. The rear drum balanced this well, and you'll have to be pretty violent with it to lock up the back wheel.
The SX was shod with Taiwan-made tyres of trials pattern, about which I had some apprehensions for the road part of the test. These proved unfounded, as adhesion was good in basically dry conditions, and any breakaway that occurred under high-speed cornering was preceded by plenty of warning. Their rubber compound was clearly a road/trail compromise, and adhesion on wet grass was minimal, although this could be improved by varying the pressure. Stability whilst belting flat out down the motorway was also worry-free. Italian motorcycles have an enviable and well-earned reputation for their handling, and this one is no exception. The lightness of the bike (129 kilos) and the power of the motor are fully complimented by a frame/suspension set up which is hard to fault. Ceriani forks need no introduction from me, and proved excellent under varied test conditions. On the road, the bike could be chucked into tight corners and picked up with a whip of throttle in complete confidence. Should the rear end step out on a
wayward patch of gravel, a quick pull on the bars is enough to correct,
The motor's flexibility held a further surprise for me when I took the SX up a very rocky mountain track which in parts approached a trials section in terrain. When I finally ground to a halt across a huge boulder, I discovered that I had been in second rather than first. In fact the gear selector is too near the footrest for this type of going, and as the gears can be shifted without the clutch, so sweet is gearbox action, I had inadvertently pulled up on the lever whilst trying to keep my toe clear of some obstacle. But this is not a criticism, as the machine is not a trials iron, although the lowdown torque of the motor tempts one to tackle such going.
The steering lock is a bit limited for tight manouvering.
Some of the SX's rivals have a more sophisticated specification, but is this really necessary in a trail bike? Surely, one of this bikes advant-
ages is its mechanical simplicity. The chrome bored motor has benefited from Harley Davidson's considerable racing experience (road race 250cc world champions in 1974, 1975 and 1976).
This is a machine that really can be used to ride to work, take on a weekend run to your country retreat? and then given a good bashing round some hill or forest tracks,, without seeming hopelessly unsuited to any of these uses.
The SX's road going brother, the SST, felt very different at first, due to its cowhorn handlebars, which were narrower and swept back towards the rider. For town use, and the occasional blast up the highway, these bars are comfortable and give a relaxed riding position, but for sustained high-speed roadwork of which this bike is eminently capable, a flatter bar would be much less tiring. The seat also is different, having rather less padding, and regrettably lacking the cross ribbing which maintains the backside in its intended position on the SX. With the SST, I found myself sliding backWards and forwards under the considerable effects of acceleration and deceleration
The motor exhibits the same characteristics as the trail version, although the test machine was noticeably smoother. Even at top speed, no vibration was felt on the SST, whereas there was a fair amount of tingling in the bars when revving over 6500 on the SX. As has been mentioned, the trail version does rev higher, and this may explain things. Also the bikes ridden were factory prototypes which had received a considerable thrashing from the riders who had been testing them under all possible weather and road conditions for eighteen months. Harley say there are working on this vibration for the production models, and my guess is that it will not be a problem. Tyres on the road machine are Pirellis, with a rib pattern up front, and these were excellent in mixed wet and dry going. It was a joy to heel the bike into a long fast curve and feed the power on. It would go exactly where it was pointed and was not upset by either bumps or ruts. When it came to stopping time the Brembo front disc was superlative. Braking action was smooth and progressive, with enough power to pull you up in a very short distance should this be necessary. As with the SX, the rear drum complimented the front brake very well, and nobody should have trouble stopping the SST in an orderly fashion.
Exhaust noise is reasonable with the SST, which is not the case on the SX if large hand-fuls of throttle are used in town. Mechanical noise is what one would expect from a large 2-stroke single, and again is more pronounced with the SX. Yet again, mention must be made of the fact that the bikes ridden had the equivalent of about three years hard use, and whilst it is far from a bad thing to test a well-used version of a new machine, some lattitude must be allowed in matters such as mechanical noise and general appearance and finish. Therefore I am not commenting in detail on these, for I had a good look at a pre-production series on the assembly line, and frame welding was excellent and paint finish looked very good. In the past, chrome has been of poor quality on the Italian made Harleys, but the American parent has imposed new quality standards and chrome finish is now beefed up on all models.
Both machines are good looking, commend-ably simple, and well balanced, with a powerful motor that has excellent torque characteristics. Frame and brakes are hard to fault, bearing in mind the dual use to which the SX will be subjected. The SX is a true multi-purpose mount, and should give its owner much pleasure on the road. The SST is a medium-sized road burner with superb handling and must rival larger machines in performance, due to excellent power to weight ratio. U.K. price will be the deciding factor as to whether these machines get the share of the market they deserve on their intrinsic merits alone.
Source Witch Bike