Husqvarna SM 450R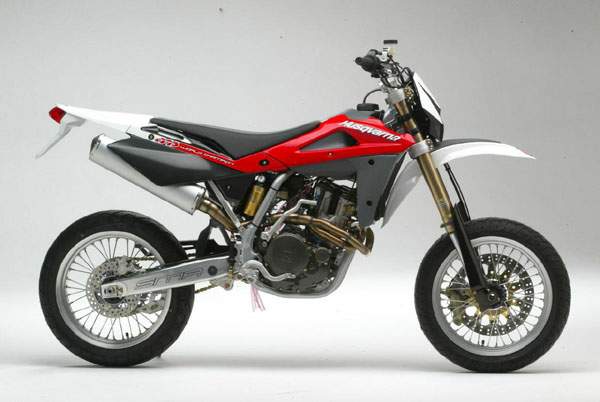 Make Model

Husqvarna SM 450R

Year

2005-06

Engine

Liquid cooled, four stroke, single cylinder, DOHC, 4 valves per cylinder.

Capacity

449

Bore x Stroke

97 X 60.7 mm

Compression Ratio

12.0;1

Induction

41mm Keihin FCR

Ignition / Starting

CDI / electric & kick

Max Power

Max Torque

Transmission / Drive

6 Speed / chain
Frame

Steel single tube cradle (round tubes);

rear frame in light alloy

Front Suspension

45mm Marzocchi "Upside-Down" telescopic hydraulic fork with advanced axle. compression

and rebound stroke adjustment

Rear Suspension

Sachs progressive "Soft Damp" type with single hydraulic shock absorber, spring

preload adjustment, compression and rebound adjustment

Front Brakes

Single 320mm disc

Rear Brakes

Single 220mm disc

Front Tyre

120/70 -17

Rear Tyre

150/60 -17

Dry Weight

122 kg

Fuel Capacity

9 Litres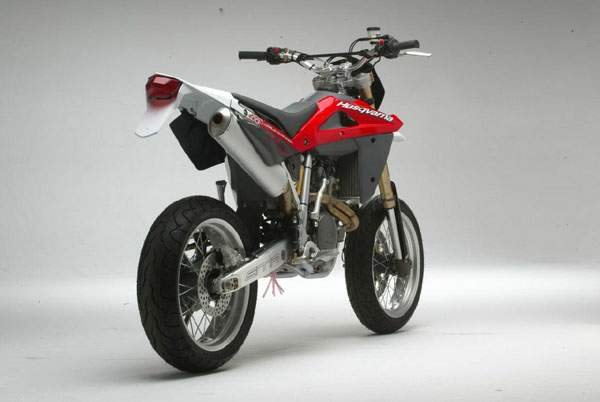 To celebrate 100 years of success, Husqvarna brought a new sense of style to track bikes unveiling a masterpiece, the TE 510 Centennial. The new SM 450-510 R are direct descendants of the Centennial and have that same unmistakeable style but now emphasised by new bodywork and colour-coded fittings.

The fuel tank, saddle, side panels, number holders, headlamp grille and mudguards are the same style as the TE 510 and give these new 4-stroke DOHC bikes an exciting new appeal. There are three colour schemes: The classic Husqvarna yellow/blue race colours, red/white like the Centennial model and black.

The work by the Husqvarna team however was not just a re-styling makeover. The SM version 4- stroke engines were significantly modified to increase both power output and reliability. The new engines have larger stem titanium valves to increase durability even under the hardest use.

The leading edge technology used to make these valves came from a supplier that is one of the leaders in the world of car racing.

The new profile SM 450/510 inlet camshaft optimises performance working in conjunction with new valve seating arrangements.

A new multi layered steel (MLS) head gasket minimises deformation caused by tightening and provides even heat distribution throughout the engine.

The latest generation 41 mm Keihin MX carburettors have been fitted to all 4-stroke models.

These new carburettors have been specially calibrated for Husqvarna to provide improved fuel flow under all types of use. Cold starting and hot engine re-starting problems are now a thing of the past thanks to the double action COLD/HOT starter button.

The engines all have electric starters. The electrics system is fitted with a safety device to prevent accidental starting whether the bike is in neutral or in gear.

Primary transmission on the 450 engine is now the same as on the 510 with a very strong aluminium (Ergal) machined clutch basket with hard anodic oxidation coating to improve clutch plate slide and reduce wear on the contact surfaces.

New features are a new crankshaft on the 450 with con-rod pin diameter increased from 30 to 34 mm, a new roller bearing with increased load capacity and silvered bearing shells, a redesigned con rod and different crankshaft balancing to reduce vibration.

Significant reworking to the electrical system was also carried out.

The digital CPU is programmable and recognizes both throttle position (TPS) and individual gear selection (GPS).

Ignition timing was modified to make starting easier and a new alternator has an improved battery re-charging that allows improved charging even from low revs.

The high-resistance rivet less flywheel on the TC 450/510 models is perfectly suited to the very abrupt torque changes required by motocross use.

Further work was carried out with the intention of reducing overall weight and improving manoeuvrability, as these elements are especially important on a motocross machine. Particular attention was paid to the suspension and brakes and many new improvements were incorporated. It was for this reason that all the new models were fitted with Sachs shock absorbers with a topout spring that improves suspension function mainly during rebound, and especially whilst under hard braking by minimising the bouncing often found in deceleration.

The shock absorber seals and chamber were also re-designed to improve cooling.

The lower shock absorber hinge featuring a roller bearing is also new.

All the rear suspension link needle bearings are now longer to reduce friction and improve durability.

Suspension settings have been modified as a result of tests by Husqvarna motocross team riders.

The new Brembo brake system features a floating 4-caliper 320 mm front disc.