Make Model

Husqvarna SM 450R

Year

2006 - 07

Engine

Four stroke, single cylinder, DOHC, 4 vlave

Capacity

449 cc / 27.4 cu-in

Bore x Stroke

97 X 60.7 mm

Compression Ratio

12.0;1
Cooling System
Liquid cooled
Lubrication
Wet sump

Induction

41mm Mikuni TMR Carburetor

Ignition

Digital CDI
Starting
Electric & kick

Max Power

46.9

hp

/ 34.5 kW

@

8500

rpm

Max Torque

41.5 Nm / 30.6 lb-ft @ 7000 rpm
Clutch
Wet, multiple discs, cable operated

Transmission

6 Speed
Final Drive
Chain
Gear Ratio
1st 2.000 (28/14), 2rd 1.611 (29/18), 3th 1.333 (24/18), 4th 1.086 (25/23), 5th 0.920 (23/25), 6th 0.814 (22/27)
Frame

Steel single tube cradle (round tubes);

rear frame in light alloy

Front Suspension

50mm Marzocchi Upside-Down telescopic hydraulic fork with advanced axle; compression and rebound stroke adjustment

Front Wheel Travel
250 mm / 9.8 in

Rear Suspension

Progressive 'soft damp' with hydraulic adjustable single shock absorber; spring preload adjustment, compression and rebound adjustment compression stroke double adjustment
Rear Wheel Travel
290 mm / 11.4 in

Front Brakes

Single 320mm disc 4 piston caliper

Rear Brakes

Single 220mm disc 1 piston caliper

Front Tyre

120/70 -17

Rear Tyre

150/60 -17
Wheelbase
1495 mm / 58.9 in
Seat Height
915 mm / 36.0 in
Ground Clearance
270 mm / 10.6 in

Dry Weight

119.2 kg / 262.8 lbs

Fuel Capacity

9.2 Litres / 2.4 US gal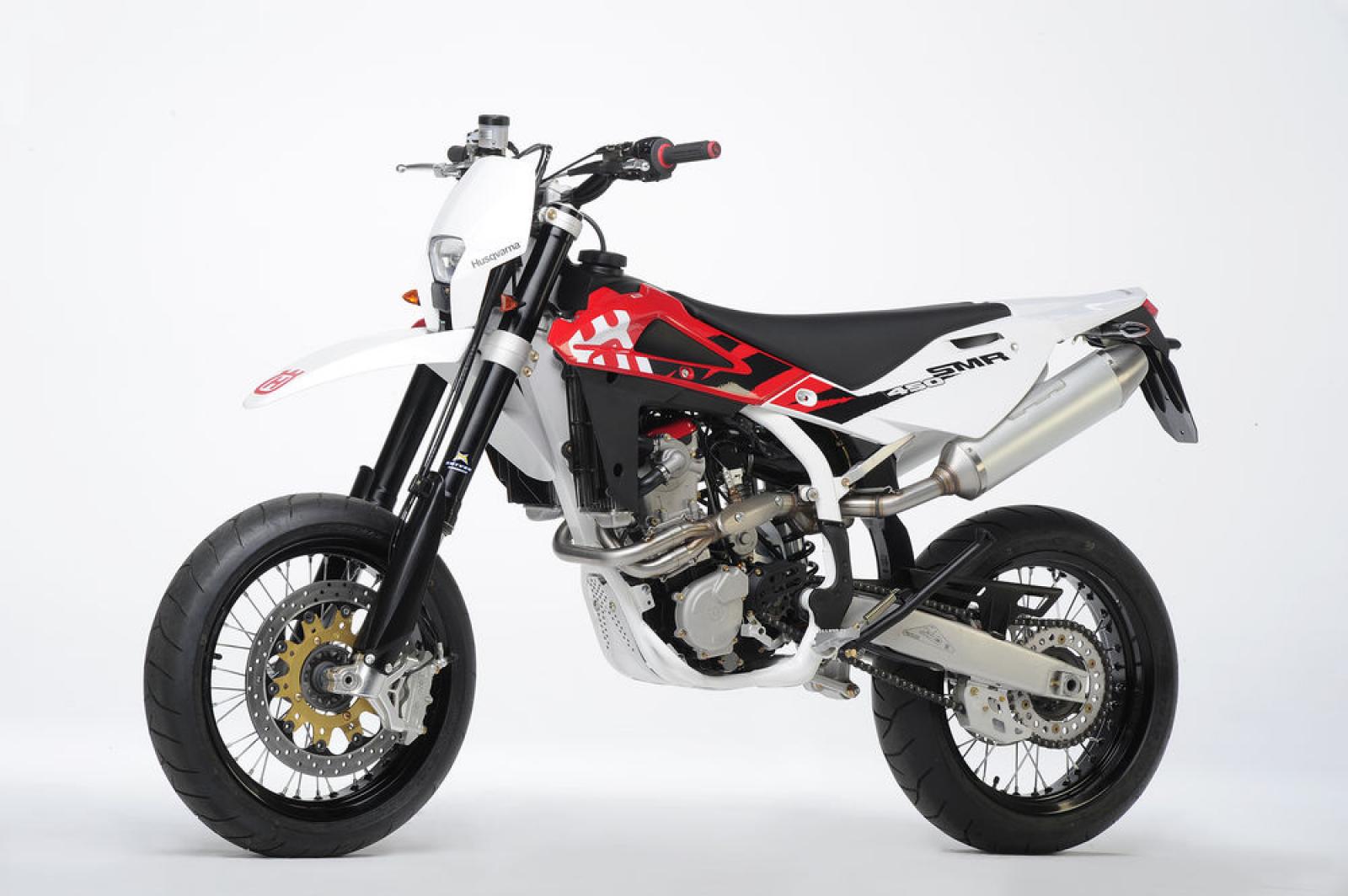 Once you've completely redesigned a bike's frame, improved the rest of the chassis elements and introduced fuel injection to the already powerful motor, I guess you can say you have completely revamped that motorcycle. Only that this time we are talking about two models that feature the exact same features, despite the cylinder capacity.

The Husqvarna SM 450 R and SM 510 R stand as the new impressive entries and we're in for some real Supermoto fun.
Husqvarna hasn't long produced the two models, especially the SM 510 R, but they did manage to pull it through each and every year and got out with a clean image.
The Husqvarna SM 450 R Super motard was first manufactured in 2003 and it featured a carbureted 449cc single cylinder underneath the 11.7 Litres
(3.09 gallons) tank. It was all covered in black (rims made an exception) with only a little bit of blue for the decals and Husqvarna logo on each side.

In 2005 the Husky SM 450 R was radically upgraded both concerning exterior design and mechanics. It was among the first models of this maker to feature the red and white color scheme together with the modern styling which can also be found on it today, but what radically made it stand out was in fact under all that plastic. The engine was now superior to the previous generation thanks to the DOHC fuel control system, digital ignition, kick starter and Mikuni TMR 41mm carburetor. It was a real piece of modernity as it featured a wet, multiplate type, hydraulic clutch and six-speed gearbox. The front brakes diameter was 320mm front and 220mm rear so the manufacturer aimed towards performance, but a little more refinement was needed.
Also, in 2005 was first produced the SM 510 R, an exactly identical looking motorcycle as the first launched SM 450 R (black was the key as well), but the engine and chassis goodies were all top notch, like on the new (at the time) SM 450 R. The tank began getting smaller on the biggest version (as strange as that might be) as the new release had a 2.38 gallons tank.

The 2007 Husqvarna SM 450 R was more of a track machine as it featured aggressive styling (headlight excluded) and a more attractive red, white and green paintjob. Rims were painted red. The exhaust system was provided by Arrow for better engine performance and the gas tank featured 2.43 gallons.

Still, the 2007 SMR450 Supermoto and SMR 510 Supermoto models were produced as genuine replicas of the world Motard championship winning machines. The engines differ only in strokes of 60.7 and 67.8 mm, exactly what you will read on the 2008 specs page.
The streets have never seen such beautifully packed-up motards that are true testimonies of Husqvarna's perseverance and assumed evolution.

Get the mirrors and the headlight off of it (both look the same so the hell with plural) and you're set with a racing looking thing inspired on the track machines that lead to its creation.

At the front end, the massive Supermoto wheel and 320mm brake disc speak about performance and accuracy as well as the forks, mudguards and handlebars. All of these elements are black in order to create the striking contrast that attracts everybody on the showroom floor. But what's so characteristic at every Husky, street, track, motocross or off-road destined is the white front fender with the black stripe on it. This last piece smoothes-out the pass from the fender to the black headlight fairing and also makes the two elements look like one.

On the sides, the red panels look sharp even though they were reduced to a minimum and blended perfectly in with the new fuel tank that they surround. Also perfectly blended in is the narrow seat together with the side number plates and the white rear fender which makes sure that the "circle" is completely closed.

The Supermoto 17 inch rims are painted matte black while the frame is white. A mighty cylinder underneath the gas tank looks like a true performance and fun source with the exhaust exiting on the left rider side.

Once you finally end up in its seat the first thing you'll do is wonder if that is even a seat because, as the manufacturer claims, these things are supposed to stand as commuters apart from track machines, but I have serious doubts this goal is being completed. Frankly, you won't last more than an hour while going from point A to point B. If there are some stop lights in the middle, you will seriously crave for some weekend track activities to clean out the five days of nightmare if you indeed go for it and buy this thing for the commuting purpose.

A single push of a button is required in order to get the engine started and it is recommended to let it worm up a bit given to the fact that these are purely accelerating machines with awesome throttle response so the engine would have to operate at just the right temperature.

I first got on the SM 450 R and gave it a go in the environment that it most hates: the city. I don't know if this was a test for the bike or for the biker, but I do know that this is not the ace it kept hidden in its sleeve.

The four-stroke, four valves, DOHC, liquid cooled single cylinder was strongly revised for 2008 model year and it now features brand new camshafts which perform spotless on also new titanium valves. It all results in great throttle response and better reliability. Generously open the throttle out of the corners and you'll see what Motards are all about as the front wheel will have trouble staying on the ground. That is mostly due to the brand new electronic fuel injection. Developed in collaboration with Mikuni, the system, together with the previously mentioned DOHC valve opening system will have your arm muscles ripped in a split second.
The great advantage that both the 450 and 510 SM models have is the lightweight that characterizes them. At only 260.1 lbs, a piece of machinery that produces approximately 54 HP (450) or even more, 60 HP (510) will put an end to any challenge when the red light turns great. Other motorcycles won't stand a chance thanks to the impressive power to weight ratio that characterizes the two Husky bikes. Performance numbers weren't released, but you can make a pretty good idea of how all that performance if being valued by an expert rider on a closed course track.

Also on the track, not only the engine will prove its best when the straight line will invite you to widely open the throttle, but the entire equipment fitted on this bike will have you amazed in an instant.

The frame is versatility itself so it will prove competitive on any given conditions, but on the track a rider will feel well at home and constantly invited to lean more and more with even more speed and notice how confident is the feedback provided by the frame's new geometry.

Contributing to the impressive riding feel and at the way these things corner is the Marzocchi forks with new calibration and finish and the new Sachs shock absorber featuring 18 mm piston and valve system. For the track, the front end seemed a bit too soft, while the rear end made things a little hard on my lower back so I took off two clicks from the compression damping on the rear shock and immediately sorted things out. I could now ride even more confidently and ride a bit more comfortably.

Did I mention the brakes? Absolutely wonderful! I have no objections whatsoever related to the 320mm front respectively 240mm rear Brembo brakes. Not for the faith hearted! Revving the engine higher and higher when a tight corner approaches will actually determine your conservation instinct to kick in as you will find yourself hitting the brakes in the very last possible moment. But that is no problem for the Brembo brakes. It slows down extremely sharp and powerful, making sure that you're in again for some arm-ripping accelerating fun.

And on the SM 510 R everything is taken a step forward as you would expect. Even though the chassis is the same and the wonderful brakes keep doing their job wonderfully, the engine is the one that does all the difference. In fact, not even the engine, but the bigger stroke is the element that clearly says its word.

Wonderful new bikes has Husqvarna delivered and if you don't plan on riding the one you choose to work, but simply for fun on twisty roads, or even on a Supermoto track, you will reach to the conclusion that there was no better choice for you to make.
1The answer is on everyone's lips so I would like to hear it from you. How do things like the power to weight ratio, brakes and chassis work for you? I know they were spotless in my case, but the seat had given me a very hard time, so I am always waiting for second thoughts.
Source Top Speed