Make Model

Husqvarna SM 610S

Year

2000 - 04

Engine

Four stroke, single cylinder, SOHC, 4 valves

Capacity

576 cc / 35.2 cu-in

Bore x Stroke

98.0 x 76.4 mm
Cooling System
Liquid cooled

Compression Ratio

9.0:1

Induction

Dell'Orto PHBH/Mikuni BST 40mm

Ignition

Electronic, with adjustable advance
Starting
Electric

Max Power

50 hp / 36.5 kW @ 6750 rpm

Max Torque

50 Nm / 36.8 lb-ft @ 6800 rpm
Clutch
Wet, multiplate type, hydraulic control

Transmission

6 Speed
Final Drive
Chain
Frame

Steel single tube cradle (round tubes);

rear frame in light alloy

Front Suspension

Marzocchi "Upside-Down" telescopic hydraulic fork with advanced axle. compression

and rebound stroke adjustment

Rear Suspension

Sachs progressive "Soft Damp" type with single hydraulic shock absorber, spring

preload adjustment, compression and rebound adjustment

Front Brakes

Single 320mm disc

Rear Brakes

Single 220mm disc

Front Tyre

120/70 -17

Rear Tyre

150/60 -17
Dimensions
Lengt: 2200 mm / 86.6 in
Width 820 mm / 32.3 in
Height 1240 mm / 48.8 in
Wheelbase
1505 mm / 59.3 in
Seat Height
860 mm / 33.9 in
Ground Clearance
240 mm / 9.4 in
Dry Weight
139.0 kg / 306.4 lbs

Wet Weight

148 kg / 326.5 lbs

Fuel Capacity

9 Litres / 2.4 US gal

Consumption Average

19.8 km/lit

Standing ¼ Mile

13.2 sec

Top Speed

171.3 km/h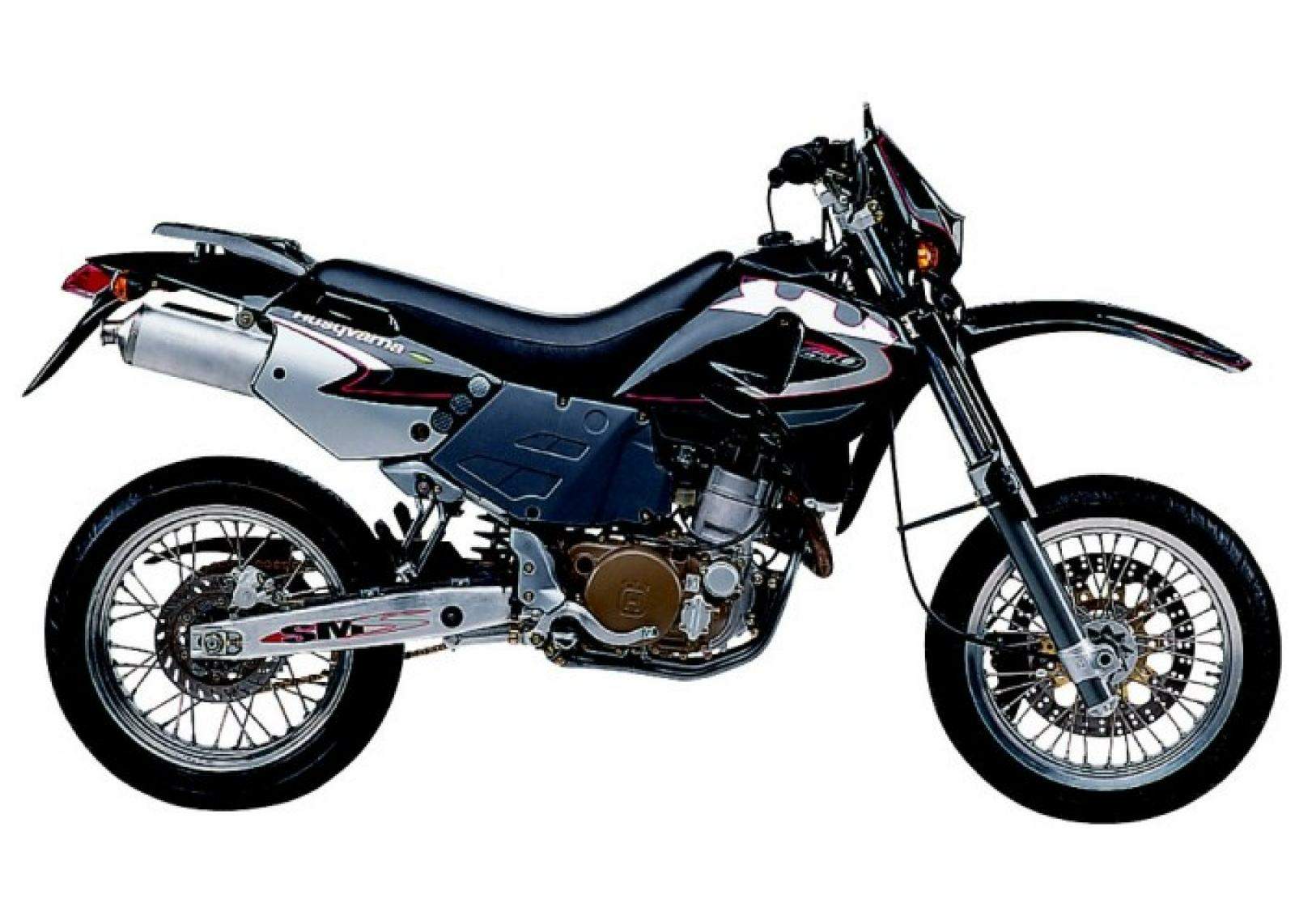 The firm's latest machinery is built around a 576cc single-cylinder four-stroke engine. The SM610 Supermotard follows the familiar continental route of fitting lightweight 43cm (17in) wheels, large racing brake discs and sticky sports tyres to a low-geared, torquey off-road machine. The result is a quick, highly manoeuvrable bike, which enthusiasts claim is a match for conventional superbikes on tight, twisty mountain roads. Despite a comparatively low top speed, the SM610 has blistering acceleration, which with its light weight and high-quality suspension makes it exciting to ride.
HUSQVARNA'S SMS610 might just be the ultimate urban assault vehicle. It is amazing that one machine can be so much versatile, from cranking through the twisties leaving big superbikes behind, to sliding around wet suburban streets and pulling huge monos, the Husky motard is all fun. And although this is the user-friendly version (the SMR competition model, is, well, faster) we tried the bike out with a few hot up bits which made even better....
What Is It?

A Supermotard is basically a dirt bike with some wide 17-inch wheels/tyres and a big front brake. They came about when a style of racing that incorporated both dirt and tar surfaces became popular in parts of Europe. Supermotard is an extremely skillful, fun and cost effective style of racing which has taken off in Europe because it appeals to both competitors and spectators alike from a grass roots level. Supermotard racing is just beginning in Australia.

Supermotards might just be the Next Big Thing. Interest in these hybrid dirt bike/road machines is high, because they are heaps of fun and bloody versatile...

The SMS610 is basically the same bike as Husky's adventure off-road TE-E610 (see our test in the October issue), with a couple of basic changes to the wheels and front brake. If you had two sets of wheels you could have two bikes in one. The most significant update from last year's model is the addition of a long-range 17-litre tank; consumer demand said the nine litre unit was too small for Australia's long distances. It's shape and size make the bike look more aggressive, but there is a downside; when full of fuel, the front wheel is likely to stay on the ground, and when it is up, wheelies are less controllable.

Engine
The SMS uses Husqvarna's endurance (electric start) 610cc powerplant, this motor is designed to be reliable and low maintenance for practical/non-competition usage. The motor utilizes a totally different configuration than Husky's competition motors. With two oil pumps and two oil filters it is built to last, and also uses a lower compression ratio to allow the use of standard fuels and to increase engine life.

Basically the endurance motor sacrifices horsepower and gains reliability and much lower running costs. Internal balancing reduces most of the vibration that you would normally get with a big single, making for comfortable riding. The SMS is a great commuter bike - it is comfortable cruising relatively short distances. With a tall upright riding position and a tight turning circle, it gives the rider a good view of what is happening and great manoeuvrability.

Get it out on some twisty roads and you "can crank this thing... it's a very easy bike to ride. Depending on the type of corner, amount of traction and your preference you can hang off the SMS like road race machine or throw the bike down and sit up on it, motocross style, with your leg out if you like. Bad NSW roads are one of the motard's specialties; the WS doesn't get unstable like a road bike when you hit bumps and potholes due to its ample suspension. Don't get me wrong, you can still crash but there is a much broader sweet spot compared to the average sports bike.

The engine performance of the SMS in its standard form is a bit disappointing. If you were planning on lofting the front wheel effortlessly out of corners, forget it. Sure you can pull the odd wheelie but it can take quite a lot of effort. Acceleration is only average and you really need to flog the thing to make it go.

The front brake is not something that needs to be upgraded. The huge 320mm disc is almost as big as the rim and would look more at home on a superbike. With a massive brake, a grippy front tyre and a twisted mind, amazing things can be done. If you have never done a stoppy and feel the understandable urge to do so, get on one of these.

Compared to your average sport bike it can seem like cheating; when you brake hard the motocross-style suspension dives so much that it is almost natural for the back wheel to leave the ground.

Can you imagine pulling 100km/h "balance point" (seriously up there) stoppies to a red light? (You do get funny looks.) What about 60km/h stoppies with someone on the back? I don't think anything else needs to be said on the matter (thanks to various mates for being such good guinea pigs).

The SMS is smooth and a pleasure to cruise around. However, when you ride a motard you might want more...

Upgrade # 1
With a catalytic converter and ultra quiet restrictive muffler the standard SMS is only capable of so much. ADR compliance can tone a bike down in a big way (I can hear ultra conservatives stressing already). Take off the converter, bolt on a beautiful Aussie made Staintune muffler and richen up the carby accordingly and the SMS feels like the noose has been loosened from around its neck.

The Staintune muffler retails for just under $600 - your local Husky dealer will have (or can get) some data on appropriate jetting changes. The Staintune muffler comes with removable quiet tip. There doesn't seem to be any performance benefit by removing the tip, just a serious increase in unnecessary volume (see, I can be responsible).

With the SMS in this state of tune the power is better but not outrageous; it allows the motor to do what it is capable of, and translates into a better ride. Acceleration is good and with a little clutch work a respectable wheelie is on the cards (now it IS a supermotard) and the motor generally doesn't need to be flogged to get from A to B. If you are looking for any level of performance this is the bare minimum.

Upgrade #2
A couple of days before I was due to return the SMS I had a call from Hans at Husky Imports; he had just unpacked a genuine Husky hot up kit for the SMS. The power was a bit conservative, he offered to fit the high compression piston and "go fast" camshaft. Now we're having a good time! With motor work the SMS 610 is a much more serious toy.

Now acceleration is impressive from down low and lofting the front out of corners is a reality, and now we're pulling fourth and fifth gear wheelie action. With the extra power the motor is still smooth and relatively vibration free.

Obviously, when you hot up a motor you could be jeopardizing its reliability and longevity, but with these relatively mild upgrades there shouldn't be any major problems. If you are looking for decent performance this is definitely what you will want to consider. As these hot up parts just hit the shore Husky Imports didn't have a price, check with your local dealer.

As mentioned the SMS is set up with pillion pegs, but there really is not enough room for two adults to fit on comfortably as the small luggage/grab rack digs into the passenger, keep double up riding to a minimum.
As with most machines the standard steel handlebars are quite cheesy and a set of alloy bars would be a nice touch. Acerbis hand-guards come standard and will be appreciated when it's cold. Instrumentation is thorough with speedo, tacho and all the relevant warning lights. I am sure some will like the traditional Husky colour scheme but the stealthy black is more suitable for a motard in my opinion.
The SMS 610 retails for $10725+ORC, if this style of bike sounds good to you, wait until you get a ride on one!

Source husky.com.au