Husqvarna TE 450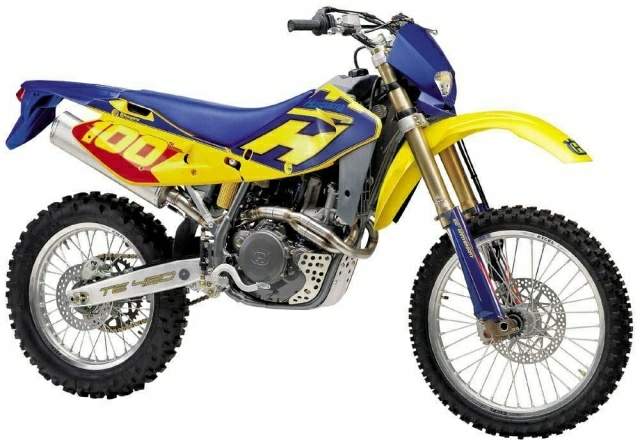 Make Model

Husqvarna TE 450

Year

2002 - 03

Engine

Four stroke, single cylinder, DOHC, 4 valves

Capacity

449 cc / 27.4 cu-in

Bore x Stroke

97 x 60.7 mm
Cooling System
Liquid cooled

Compression Ratio

12.0:1
Lubrication
Dry sump with 2 oil pump rotors and cartridge filter

Induction

41mm Keihin MX carburetor

Ignition

CDI
Starting
Electric & Kick

Max Power

46.9 hp / 34.5 kW @ 8500 rpm

Max Torque

41.5 Nm / 30.6 lb-ft @ 7000 rpm
Clutch
Hydraulically-actuated multiplate wet clutch

Transmission

6 Speed
Final Drive
Chain
Gear Ratio
1e 2.000 (28/14), 2nd 1.611 (29/18), 3th 1.333 (24/18), 4th 1.086 (25/23), 5th 0.920 (23/25), 6th 0.814 (22/27)
Frame

Steel single tube cradle (round tubes);

rear frame in light alloy

Front Suspension

Marzocchi "Upside-Down" telescopic hydraulic fork with advanced axle. compression

and rebound stroke adjustment

Front Wheel Travel
300 mm / 11.8 in

Rear Suspension

Sachs progressive "Soft Damp" type with single hydraulic shock absorber, spring

preload adjustment, compression and rebound adjustment
Rear Wheel Travel
320 mm / 12.6 in

Front Brakes

Single 260mm disc

Rear Brakes

Single 220mm disc

Front Tyre

90/90-21

Rear Tyre

140/80-18
Dimensions
Height 1290 mm / 50.8 in
Length 2215 mm / 87.2 in
Width 820 mm / 32.3 in
Wheelbase
1460 mm / 57.5 in
Seat Height
975 mm / 38.4 in
Ground Clearance
340 mm / 13.4 in

Dry Weight

116 kg / 255.7 lbs

Fuel Capacity

7.7 Litres / 2.0 US gal
Bazza has just ridden the new Husqvarna TE450 and is mightily impressed. Take a good look now, he warns. If it goes past, you won't see it again.
Like everyone else, AMT has been waiting for Husqvarna to shake the cobwebs out and give us a new engine for the TE range of four-stroke enduro/trail bikes. A lot of flash bikes have turned up over the past five years, some with impressive engines, and in the face of all these fabulous reciprocating masses Husqvarna looked like it might be left behind in the race for more sophisticated four-stroke technology.
All right, the engine in the pre-2002 four-strokes might have been venerable, and even very successful - as a 400 it won a swag of cross-country championships all over the world - but that lump had been in those bikes a long time, and by 2000 even Husky lovers were starting to grumble "give us electric start" and "we want something that revs like a YZ426".
You can't please all the people all the time, sometimes you can't please any of the bastards any of the time, but the development engineers at Husky obviously knew it was time to park the old 400 and do something about giving dirt riders what they wanted. So, what we have here is a new generation 250 and 450, while the 570 motor will remain unchanged. "Probably until the end of 2003," says Husqvarna importer, Hans Appelgren.
As we all know, developing a new engine takes years, and with the sort of high class competition around these days, what ever Husky came up with had to be good or it'd be laughed out of the paddock. Well, there won't be any laughing. This thing is more than good. It's a ball tearer!
The bike we got to play with was a pre-production five-speed TE450, brought out here to stifle the grumbles and let everyone know that when the proddie does turn up in April this year, it'll be everything we expected. (It will also be a six-speed). We're not in the habit of testing pre-production machines because the factories often change or fine-tune pre-prod bikes before they let them go. Okay, they might be small changes, but we never know exactly what they'll do so we're careful in case we give our readers the wrong impression. The worst thing that can happen - though it hasn't happened yet - is that what eventually turns up in the showroom is a pig compared with the greyhound we rode six months earlier.
Sodding & grey
We dutifully turned up at Husky Imports in Sydney, well, Penrith actually, at the base of the Blue Mountains, which were more grey than blue because of the endless sodding rain.
The new TE450 is deadset, bloody fast and a lot of fun to ride. It feels nothing like the old TE400 and there's no reason it should. The chassis - very much like that on Husky two-stroke models - is new from the swingarm forward, a single-beam split-end design constructed of chromium molybdenum-treated steel, wrapped around the engine block and with a solid box section near the steering column for additional rigidity.
All the gear on the 450 is top shelf, but what makes this bike better than any Husky that went before it is the engine. Not often, but occasionally when you climb on a new bike and screw the throttle for the first time, you get That Feeling...oooh, this is nice! The unmistakable sense that you've encountered something out of the ordinary. We felt that with the amazing Yamaha YZ250F, a mighty little bike that came out of the blue and surprised the hell out of us, and felt it again with this Husqvarna.
You wouldn't want to smash this thing. It's very pretty. After stumbling around with the graphics, colour scheme and plastics for some time, Husky has finally hit the right buttons. This TE looks sharp and racey.
European trail bikes always have superior controls to their Japanese counterparts and the TE is another example of it. Where the Japanese would fit low-rent speedway bars that make you feel like you're riding with your hands in your back pockets, Husky ( or KTM or Husaberg) give you nice bars, Thomaselli in this case, mounted in off-set clamps that enable you to adjust the bars 5mm forward or backWards, a bonus if you're taller than average or picky about your bar setup.
The speedo is a very neat (and inexpensive) digital gadget that takes up very little space behind the bars and definitely won't be damaged in the average crash, unless of course you crash in front of a truck. The fork triple-clamps are new. The levers are new too, and this bike gets a Magura hydraulic clutch, ho-hum on road bikes, maybe, but not an everyday deal on most dirt bikes.
Hydraulic clutches are brilliant. More fragile components on the handlebars means more likelihood of crash damage, certainly, but characteristically, hydraulic brakes automate clutch adjustment and have a light, one-finger touch that feels very nice on the trail, specially when youíre flogging your arse off on the hill from hell.
The Husky has a Brembo brake setup, as usual, but this time the rear disc is a full floater, a design that makes sure the disc stays centred between the pads. (We'd like to know why dirt bike manufacturers don't use floating discs on the front wheel. If anyone out there knows and would like to explain it, that'd be nice.) The front brake is first class, with plenty of power and nice modulation but a light touch.
Racer light
The previous model wasn't exactly a heavyweight on the scales but this bikes feels as light as a two-stroke race bike, because it is, and changes direction just as easily. Nor is it as difficult to start as some Husabergs - we once tested a Husaberg that not even the distributor could start - and it produces less mechanical engine noise than the brilliant but clattery KTM520. The only thing I dislike about this bike is that I can't afford one (though I'm open to graft).
The TE450 should be compared not with the KTM EXC400 but the EXC520. This bike has more grunt and way better throttle response than a KTM400, and it revs harder. It's a missile. A little bit of throttle gives you a gutful of acceleration. Throttle response is brilliant - there's no other word for it. The buzz factor was amplified by the five-speed MX box and very short top-end gearing, but if the six-speed production bike has anything like the acceleration and throttle response, there'll be a lot of happy blokes blasting around the scrub on these things.
High-tech and ready to rip
The 2002 engine is new from the ground up, a lightweight, high-tech, high-revving brute that incorporates several innovative features.
Husqvarna has focused on reducing the mass, and therefore the weight, of the valve-train components, to the extent that this valve-train is said to weight 30 percent less than the equivalent components in the old 400 engine. As an example of where all the weight has gone, the four valves are constructed in titanium and have a stem diameter of only 4.5mm. The valve spring, collar and cup are also extremely light.
Valve clearance is achieved with a shim, also with a diameter of 4.5mm, and to locate such a small shim Husqvarna employs what it calls a "finger rocker", which itself forms part of the valve-train. Husqvarna says that as well lightening the whole valve-train structure, a rocker arm in place of the usual tappet enables "extreme" cam timing and engine speeds as high as 13,000rpm.
The donk needs plenty of oil then, and gets it. It is a dry sump design with two trochoidal oil pumps, one supplying the head and the crankshaft and one extracting oil from the crank and then delivering it to the gearbox.
The powerplant is equipped with an Kokusan electronic ignition capable of three dimensional mapping. This unit uses the motion of the flywheel to calculate engine speed and the position of the gear selector to determine which gear you're in. Its Mikuni flat-slide carb-adapted from Superbikes and used here for the first time on a dirt bike - has a throttle position sensor. Meanwhile the ignition is able to calculate which one of 12 different timing curves is appropriate to the situation you've got yourself into. The outward manifestation of all this techno whizz-bangery is an engine that revs like buggery and gives fantastic throttle response.
And of course, there's electric start. The compact electric-starter unit is mounted at the rear of the cylinder, the electronic ignition module at the front of the engine, while the water-pump is mounted high to keep it away from locks and rogs and any crash-related damage.
The clutch is a hydraulic unit and the clutch basket a one-piece stainless steel item. The forged piston runs in a Nikasil-coated bore, and the bore/stroke dimension of 90 x 60.7 yields a displacement of 449cc, every one of them determined to make your eyes water.