Husqvarna TE 250ie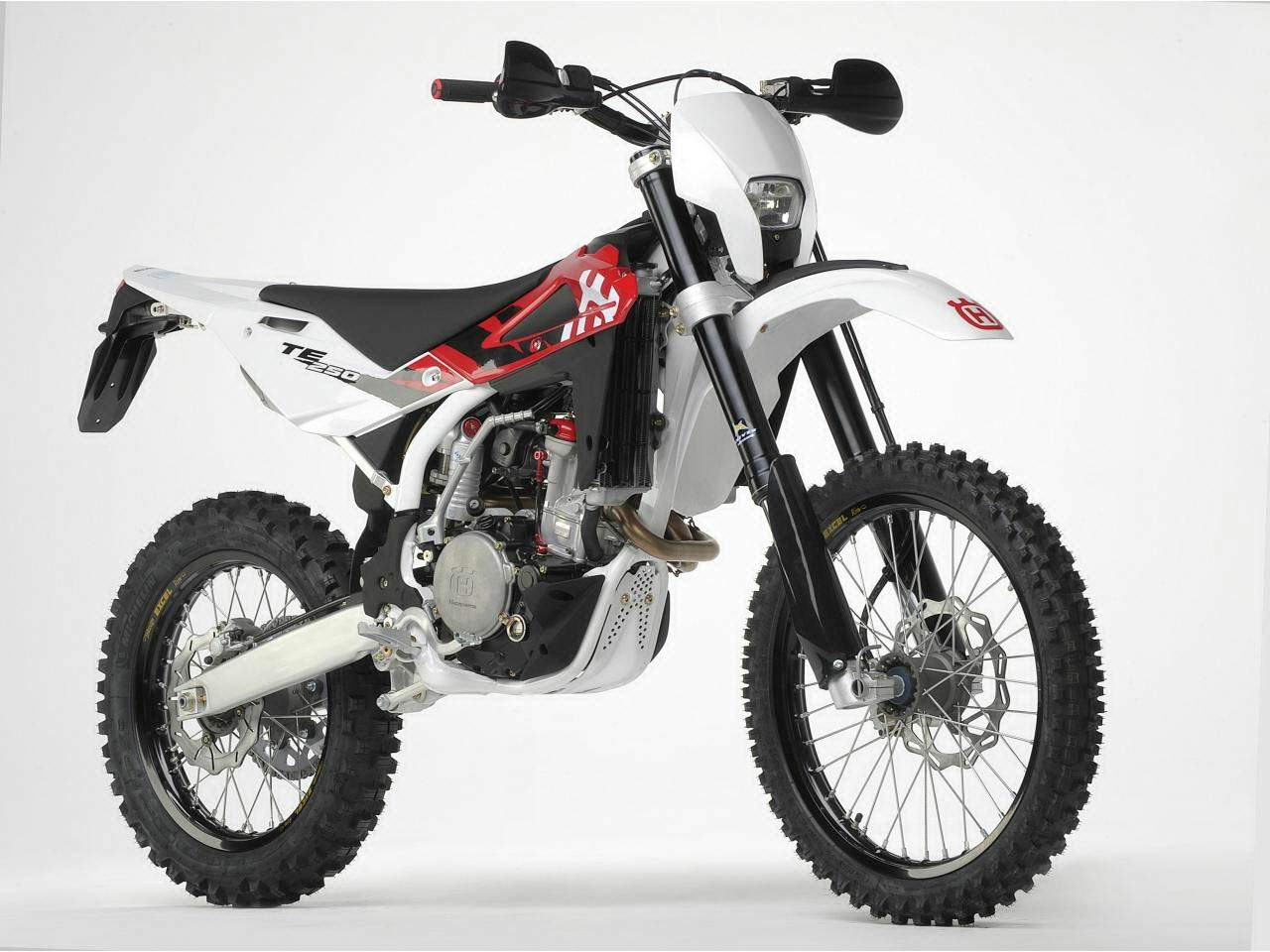 Make Model

Husqvarna TE 250ie

Year

2008-09

Engine

Liquid cooled, four stroke, single cylinder, DOHC, 4 valves per cylinder.

Capacity

249

Bore x Stroke

76 x 55 mm

Compression Ratio

12.9;1

Induction

Electronic Fuel Injection

Ignition / Starting

C.D.I. electronic, with variable advance (digital control) / electric and kick
Clutch
Transmission: Wet

Max Power

Max Torque

Transmission / Drive

6 Speed / chain
Gear Ratio
1st: 28,205 2nd: 22,721 3rd: 18,803 4th: 15,329 5th: 12,974 6th: 11,491
Frame

Steel single tube cradle (round, rectangular and ellipsoidal tubes); rear frame in light alloy

Front Suspension

50mm Marzocchi "Upside-Down" telescopic hydraulic fork with advanced axle; compression and rebound stroke adjustment

Rear Suspension

Sachs shock absorber Progressive "Soft Damp" type with single hydraulic shock absorber; spring preload adjustment, compression and rebound adjustment (compression stroke: double adjustment), 296mm wheel travel.

Front Brakes

Single 260mm "BREMBO", fixed disc type with hydraulic control and floating caliper

Rear Brakes

Single 240mm "BREMBO", floating disc

Front Tyre

90/90-21

Rear Tyre

120/80-18
Seat Height
963mm / 37.91 in

Dry Weight

107 kg

Fuel Capacity

7.2Litres
l / 1.9 gal.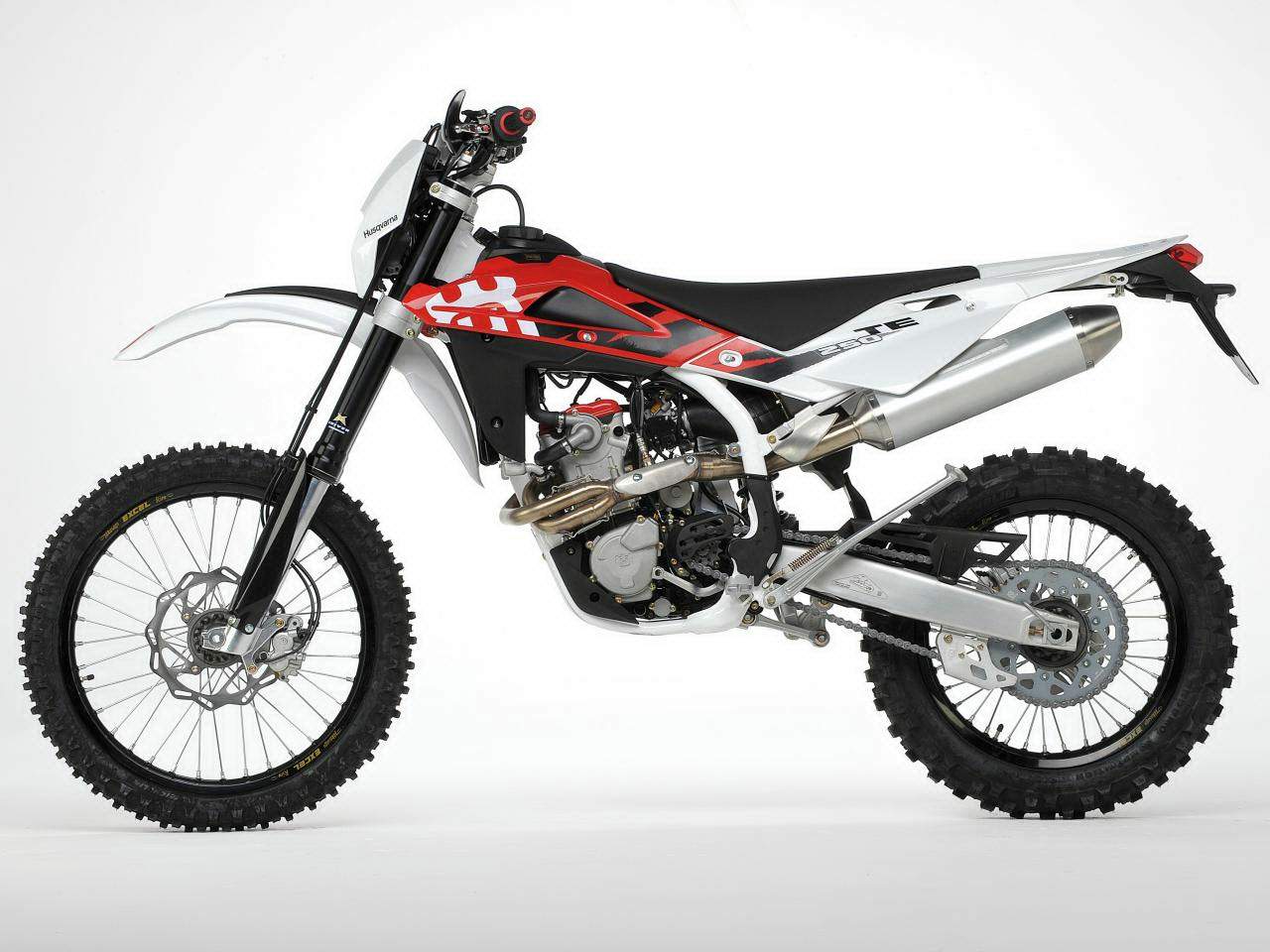 For 2008 Husqvarna takes all its Enduro models to a whole new level and the TE 250 is one of the priorities. The key to its success is, of course, the fuel injection system which makes the bike feel like it is on steroids, but we shouldn't neglect the fact that all that muscle is being properly valued by a completely new chassis.

Husqvarna created it so it would make a point in the highly acclaimed 250cc off-road category and considering the TE 250's versatile character and impressive four-stroke power, we reckon they did a damn good job and the bike finds its honorable place among the best in the business.

In order to keep that place, it receives completely new frame, rear suspension, rear frame, ergonomics and plastics, but what comes as both an innovation and a pure factor of performance is the brand new electronic fuel injection system that not only makes sure to keep the bike were it belongs in the customer's eyes, but directs it even further.

History
2002 Husqvarna TE 250

Husqvarna first introduces the TE 250 in 2002 model year as an Enduro / off-road model participating in the race to celebrity and being powered by a 249.5cc four-stroke single-cylinder engine featuring four valves per cylinder and a bore and stroke of 76 x 55 mm. So apart from the carburetor, there isn't much difference compared to the model reviewed today. There was also an E-starter fitted on the bike from the first day of production and that gets it even closer to what we are facing today.

But what doesn't do that is the five-speed gearbox, the 220mm rear brakes diameter and the 2.11 gallons tank that saw their way on the bike for 2002 model year.

In its first years of production, the color combination was Blue and Yellow.

After launching the TE 250, Husqvarna had planned the first important revision for 2005 when the bike received a Mikuni TMR 36 mm carburetor, digital ignition and dry sump with two oil pump rotor and cartridge filter to improve the engine's performance while the clutch was now wet, multiplate type, hydraulic.

Chassis improvements also made out of the TE 250 a top notch product. The bumps were by now absorbed by an upside-down telescopic hydraulic adjustable fork and progressive soft dump with hydraulic adjustable single shock absorber. Fuel tank got a bit smaller (2.03 gallons).

For 2006, the Husky TE 250 became brighter, smarter and a bit faster and smoother. The colors weren't so dark, but what's most important are the mechanics. Even though the engine remained the same, it was now mated to a six-speed gearbox. Front suspension was provided by Marzocchi and rear suspension by Sachs. This is also the year when the rear disc brake diameter increased to 240mm.

By 2007, the year when BMW bought Husqvarna, the TE 250 was approaching the Red/White color scheme and the manufacturer tried to improve the bike's previous additions with new features such as the new automatic decompression system added to the kick starter. The suspensions were recalibrated and the brakes were now supplied by Brembo.

2008 Husqvarna TE 250

Decisive for an Enduro bike is definitely the way it looks as the visual factor and the finishing touches have a significant impact on the sales charts and on how a bike is either appreciated or unappreciated.

Thank Husqvarna that the TE 250 completes with all the requirements and ends up being a beautiful trail machine. It not only attracts due to its slender and yet aggressive look, but thanks to the color combination which comes on all Husqvarna models.

The Red and White color scheme makes the Husky easy to identify and sets this maker apart from the strident colors used before the introduction of Red and White last year.

Its designers intended on making everything look like it's made from one piece and they did succeed as the seat blends perfectly in with the fuel tank and the side panels, the side number plates and the rear fender.

Up front, the fender is white with a little bit of black on it, in the area where it comes close to the black fairing surrounding the stylish headlight.

Also black are the fork, mudguards, handguards and the seat.

2008 Husqvarna TE 250

I've reached to the conclusion that not only Japanese bikes are excellent on the trails (pretty late I guess), but also other motorcycles made by Husqvarna and KTM. And one of the models that significantly contribute at this change of opinion is the TE 250 which I had the opportunity to test. This bike is a real blast!

It is all due to the impressively built and tuned four-stroke engine, but most of all to the electronic fuel injection which gives better throttle response and makes the bike more agile and faster. Immediately noticeable is the great torque delivered from down low and the mid-range power. I've also ridden carbureted Japanese bikes and although they get pretty close to it, fuel injection is incomparable. By simply twisting the throttle in any given gear and at any rpm level the reaction will be a healthy "hit" coming from the rear wheel that spreads the dirt on the trails like no other.

Shifting is smooth and precise thanks to the wet clutch and six-speed gearbox which also contributes at the power that comes constant in any situation. You can choose your gears for the different type of riding that you prefer, but I gave this baby a real goooo and changed the gears only to keep the front wheel from lifting. The sixth gear, which is not found on its competitors, has the purpose of letting the bike reach a higher top speed and so better value the impressive powerplant.

But the fuel injection system is not the only great addition for 2008. The chassis is completely new and I would describe it as being versatile, light, and a great feedback-provider. You can easily direct the bike in the needed situation as it responses in a split second and immediately finds its way on the tough trails that never go unexplored. But for the sharp-handling behavior to be complete, the rear suspension was also improved and tuned for better absorbing the bumps while still remaining stable and rigid. This is the balance that everybody aims at, and Husqvarna has done it almost perfect I can say.

Trail bikes are also supposed to be a bit more comfortable that the motocross models and the TE 250 feels great now that its seat has been lowered by 10mm and the rider feels more in control on the machine. This is also due to the narrow seat which accommodated me very well and didn't felt hard after only a few hours.

Ok, so the new Husky TE 250 goes like no other, it is being spoiled with a six-speed tranny, has impressive Marzocchi front and Sachs rear suspensions. What could you ask more?

Ohh, I get it! The Brembo brakes complete the package since last year when they were fitted on the bike so you will take part at some real braking action. Applied on 260mm front, respective 240mm rear discs, the brake calipers do a damn good job and let the rider know that applying only the front brake at decent speed will definitely result into a wheelie. I always brake on both wheels in the same time and I didn't do an exception with this occasion.

All in all, this is a truly impressive motorcycle that is being set apart by its innovative equipment and quality features. Riding it feels excellent and once you've got a feel of it, you will never choose any other maker again.

By presenting such a filled-with-technology motorcycle that had already an impressive fun club, Husqvarna proved having the ability to take an already successful motorcycle to a whole new level of performance both concerning engine power and torque and handling. Impressive work! You will definitely agree with me on this one!

Source Top Speed