Husqvarna WRE Dual 125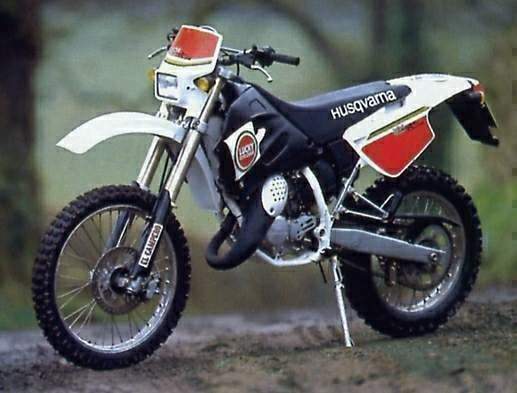 | | |
| --- | --- |
| Make Model | Husqvarna WRE 125 |
| Year | 1994 - 00 |
| Engine | Two stroke, single cylinder, reed valve |
| Capacity | 124 cc / 7.6 cu-in |
| Bore x Stroke | 54 x 54.5 mm |
| Cooling System | Liquid cooled |
| Compression Ratio | 8.8:1 |
| Induction | Dell'Orto PHBH 28 BS carburetor |
| Ignition | C.D.I. electronic, with adjustable advance (digital control) |
| Starting | Kick |
| Max Power | 15 hp / 11.2 kW @ 10500 rpm |
| Clutch | By the oil contained in the crankcase |
| Transmission | 6 Speed |
| Final Drive | Chain |
| Gear Ratio | 1st 2.692 (35/13), 2nd 1.800 (27/15), 3rd 1.333 (24/18), 4th 1.100 (22/20), 5th 0.954 (21/22), 6th 0.869 (20/23) |
| Frame | Double tube cradle with steel round tubes; rear frame with steel square tubes |
| Front Suspension | 40mm Marzocchi Upside-Down telescopic hydraulic fork with advanced axle |
| Rear Suspension | Progressive "Soft Damp" type with single hydraulic shock absorber; spring preload adjustment |
| Front Brakes | Single 260mm disc 4 piston calipers |
| Rear Brakes | Single 220mm disc 2 piston calipers |
| Front Tyre | 90/90-21 |
| Rear Tyre | 120/80-18 |
| Wheelbase | 1500 mm / 59.1 in |
| Seat Height | 880 mm / 34.6 in |
| Ground Clearance | 325 mm / 12.8 in |
| Dry Weight | 111.1 kg / 244.9 lbs |
| Fuel Capacity | 11.2 Litres / 2.9 US gal |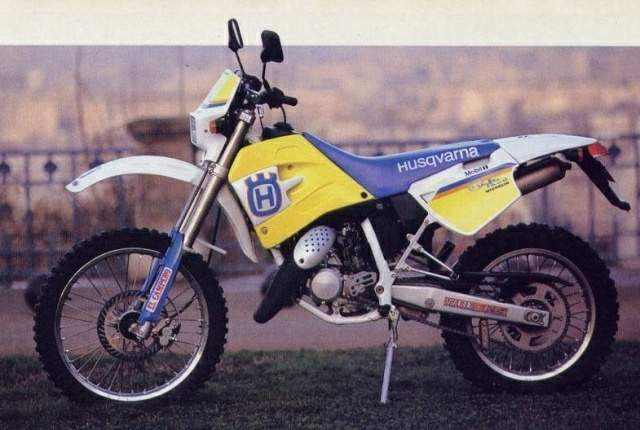 You can always tell a thoroughbred the moment you ride one, lean and purposeful, frisky and temperamental, you know the sort, great fun in short bursts but not the sort of thing you'd want to live with. The first time I rode the Husky WRE-125 I didn't know whether to tickle the kick starter or blow up its nostrils. It was fun, it was furious, it was progressively harder to start. And you know what? I loved it.
It may still have the Swedish name Husqvarna emblazoned across the seat but Husky is now a wholly Italian affair, and has been since 1986 when it was taken under the wing of the giant Castiglione empire (they of Cagiva and Ducati fame). The styling is now red-blooded Latin and as sexy as the motor is powerful.
Husqvarna have targeted this machine directly at those people who want a genuine dual purpose tool for riding around town during the week, and then to give it some stick at the weekend. Despite its aggressive appearance it is not an enduro mount, that market is reserved for the higher specification (and costlier) WR125. This is Husky's latest entry into the 125cc trail bike market, locking horns with Yamaha's trusty DT and Suzuki's capable TS, and available in either 12hp trim or the full (33hp) monty.
This is then, we are assured, a green laner. That may well be the case but I doubt you'd be welcomed at your local TRF meet if you had the audacity to turn up on one of these. For a start there's the noise, not only is the WRE outrageously loud when it's on the pipe but it's got a sharp-edged crackle that carries for miles. Then there's its cross-country capability which will put most other bikes to shame. While the rest of them are still fastening up their waxed cotton Belstaffs, on the Husky you'd have buggered off into the distance.
So what exactly is this machine useful for? Quite simply having fun. Charging around country lanes and exploring muddy tracks wherever the fancy takes you. Not only that but even though its not strictly touted as an enduro bike it would make an ideal clubman mount especially for the burgeoning number of trail bike enduro events that are springing up.
There's no getting away from the fact that the little motor displaces just 124.6cc so power delivery is bound to be a bit peaky. Even so, in unrestricted form, the WRE produces more power, and with a broader spread than either of its Japanese counterparts showing both of them a clean pair of heels on and off the road. Not all of this is down to the Husky's power advantage, some of it is undoubtedly due to the WRE's better chassis and suspension package, allowing it to float over bumps that would catch out a lesser machine. On the road this makes for a rock hard ride, amplified by the foam seat that is narrower than Errol Flynn's moustache, and reinforces your belief this is a bike that is meant to be ridden standing on the pegs.
Adding to the WRE's enduro cred is the lack of dials. For your money you get a speedo and odometer but that's it. Accessories such as a tachometer or neutral light are deemed far too frivolous for a bike destined to spend much of its life off road. Me, I figure it's just as important being able to find neutral down a muddy lane as it is on a busy A-road. Without a tacho, changing gear is a bit of a hit and miss affair, it's a question of revving it until the power drops away and then kicking it up a cog.
The Husky is also a tall bike, I'm a smidgen under six feet and had great difficulty reaching the ground with both feet - this is not a bike with which to attempt your CBT.
The Husky will probably find favour then with the weekend workout brigade rather than scrofulous school-leavers, especially when you consider its asking price of a quid short of three grand. Cheap the WRE isn't but then thoroughbreds never are, are they?
Source Motorcycle International 1994