Reduced to the max! The new KTM 390 Duke has everything that has always made great bikes great: sufficient power, ample torque, and low costs at an extremely low weight. It handles extremely well and comes into its own wherever nimble agility is called for. In short: no other bike offers more riding fun for your money than the 390 Duke!
At a full 44 hp from 375 cc of displacement, it's head and shoulders above its 200 cc sister model, while the chassis has of course been enhanced to cope with the extra oomph. Still, the new 390 Duke weighs in at less than 150 kilograms fully fuelled – not only raising its dynamics above many a higher-capacity bike but also making it a sporty alternative to pricey maxi scooters.

A NEW FAMILY MEMBER
The Duke family tree struck roots already in 1994, when the first fully-fledged KTM street bike, the original Duke, came into the world of motorcycles. To the present day, the Duke has seen four evolutionary stages, reaching its preliminary peak with the R-Version of the current 690 Duke. 2011 for the first time saw a smaller offspring in form of the extremely successful 125 Duke, which promptly went to the top of the European sales charts, selling more than 10,000 units in the first year of its existence. In the spring of 2012, the 200 Duke followed, and now the 390 Duke closes the gap to the larger models 690 Duke and 990 Super Duke R. And we can already tell you – this family is going to get still bigger in future!

ENGINE & CHASSIS
Thanks to the typical, compact KTM design, the 390 Duke's highly sophisticated single cylinder engine weighs in at only 36 kilograms. Two overhead camshafts, four valves, a forged piston and a Nikasil-coated cylinder ensure, among other things, that the 375 cc are good for 44 horsepower. The power enhancing force feed lubrication with crank case evacuation lowers the crank drive's rolling resistance, contributing to the powerful torque. The ultra-light trellis frame and cast aluminium swingarm round off a compact package. Top quality suspension components by WP Suspension, disc brakes developed by Brembo and the disengageable 9MB ABS by Bosch are standard and add even more riding dynamics, as well as safety while powering through the twisties.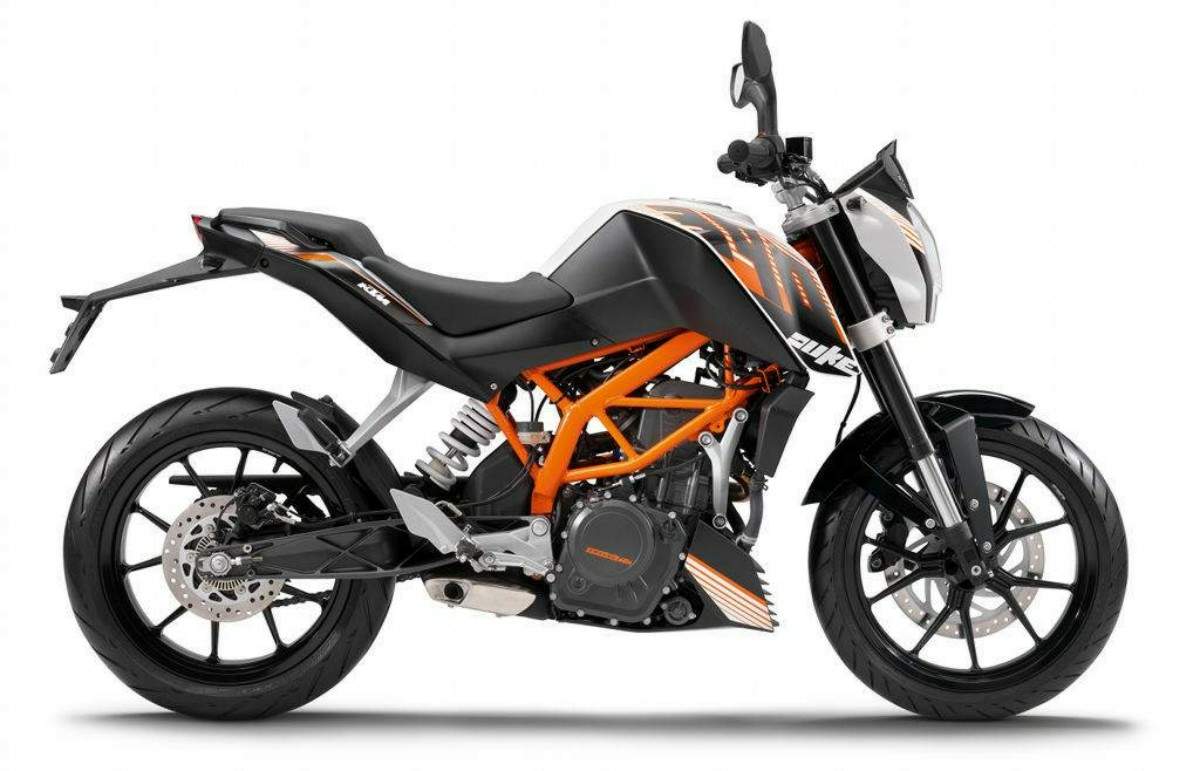 MCNews.com.au review
Okay, let's start with the most important piece of news about KTM's new 390 Duke. KTM Australia have priced the machine at $6995 plus on road costs. A KTM at budget prices…? That's new….. And it marks a shift in focus from the Austrian brand to concentrate on bringing more bang for buck to their showrooms.

The savings that have enabled KTM to enter this new low-price area of the market come from shifting production of the small Duke range to India via 47 per cent stakeholder Bajaj Auto. A massive powerhouse of a company that is teaching KTM a thing or two about production techniques, quality control and is helping to bring KTM's flair for design and performance to the masses. The 390 Duke will be the first KTM model sold across their entire 76-country market.

The KTM 390 Duke is a lithe machine with its bright orange laser-cut steel trellis frame standing out from the shrouded 11-litre fuel tank, with a distinct sharp taper to nothing as the bodywork terminates at the rear. So short is the bodywork that a very lengthy rear mudguard juts out markedly backWards to try and shroud the road spray thrown up by its 150/60 ZR 17 rear tyre. The bodywork itself is so short that it terminates in-line with the rear axle.

Like all Duke models before it, the 390 is all angles and sharp changes of direction, yet somehow still manages to carry it off with a great degree of style. To my eye KTM do nakedbike styling better than anyone, the 990 Superduke R looks brilliant and the coming 1290 Superduke R promises to bring new levels of awesome to factory built Nakedbikes.

On the 390, the rims look great and the cast swingarm is super tasty in comparison to the box-section mild steel or aluminium on similar machines. All the components have a look of quality about them. Perhaps the only thing that doesn't look horn is the rear sprocket. KTM can, of course, sort you out with a much tastier anodized aluminium sprocket along with all manner of other things via an extensive accessories catalogue. To really see the fine detail touches on this machine check out our comprehensive pictorial here.
The extremely naked profile and single-cylinder engine has helped keep the claimed dry weight down to a tiny 139kg. That is more than 20kg lighter than Honda's CBR250R, more than 30kg lighter than Kawasaki Ninja 300, and nearly 40kg lighter than Honda's new CBR500R. This is a seriously light bike - a great asset that makes for a very forgiving package.

It also feels very small, but somehow managed to cater fairly well to riders of all sizes on the launch. Those over the 6-foot mark felt a little locked in with their knees against the tank shrouds, but still comfortable enough to spend a full day in the saddle without much complaint. The tiny little shroud above the comprehensive instrumentation seems, remarkably, to actually help a little with the wind, although this is still a very slim nakedbike thus weather protection is minimal.

Ergonomically, I felt at home pretty much straight away and the Duke 390's perch is not an unpleasant place to be; relatively vibration free, at least until you start sustained cruising at speeds over 120km/h when a few niggling vibes start to appear. There is a pillion seat but I imagine taking anyone further than a short 10km commute would involve some serious hate.

The engine is a high-tech four-valve unit with DLC coated finger followers, a lightweight forged piston and Nikasil coated cylinder.

Even on the wet, snowy and very elevated mountain passes around Salzburg, the Duke's 375cc single could reach 160km/h, at least according to the speedo anyway. I couldn't get much more out of Kawasaki's faired twin-cylinder Ninja 300. KTM claim 44hp at 9500rpm from the short-stroke (89mm bore x 60mm stroke) engine with 35Nm of torque at 7250rpm.

This is quite a remarkable output from a well-mannered 375cc single that will happily tootle around town in the upper gears with hardly a grumble. Such are the wonders of modern cylinder-head design paired with a well sorted fuel-injection system. Those familiar with KTM's large capacity twins well know that EFI tuning was not KTM's strong suit, with this new Bosch managed 46mm throttle body KTM have turned a corner, and thank god they have as bad fuelling high-compression (12.9:1) road going single would be a defiantly cantankerous sod of a thing.
The Duke 390 is instead a smooth running little sweetheart, particularly above 4000rpm but much less than that can be used in lower gears without much snatch or complaint. On the highway it happily cruises at 100km/h turning a leisurely feeling 5000rpm.

Swapping cogs is a joy via an all-new six-speed box and thanks to that single-cylinder torque the Duke jumps off the line eagerly. The throttle action itself is quite long, perhaps to better help learner riders to smoothly apply the throttle and make for smoother acceleration and on-off throttle commuting. The ratios are wisely chosen and it is easy to keep the little Duke on song.

Braking hardware proved up to the job with a 300mm radial-mount single disc clamped by a four-piston caliper designed by Brembo and produced under licence in India. BYBRE is the curious branding. They worked well enough on the launch with nice progressive feel and a decent amount of bite but the Austrian test route was run on undoubtedly awesome, but very wet and cold mountain roads, thus the stoppers were never pressed seriously hard. We did have a go though considering the conditions

Similarly, we were unable to accurately gauge Ground Clearance but I suspect the pegs might be a little low for serious knee-scraping nutters. The stoppers bring added safety to the package via a latest generation Bosch 9MB two-channel ABS system, which can be turned off if stunting is your thing.
KTM-owned company WP, produce the beefy 43mm inverted forks and matching monoshock rear. Both ends offer a handy 150mm of well damped travel but the only adjustment provide is rear preload. Despite the lack of damping adjustment, riders of all sizes praised the suspension of the machine; it is a long way from the crudely damped and undersprung crap found on no-name Chinese bikes.

Thanks to its light weight and high-performance Metzeler Sportec M5 rubber the Duke 390 is supremely agile while retaining an impressive degree of stability.

The 11-litre tank is modest but KTM are claiming 3.4 litre per 100km fuel economy under the standardised EU testing regimen. That sounds too good to be true but it is likely the 390 Duke will easily better 200km between fills and offer frugal, economical motorcycling.

KTM Australia's aggressive $6995 price on the 390 Duke is highly competitive, especially considering the standard ABS. Most rivals charge a $500 premium for that excellent safety aid, which is of course highly important for the new riders this machine is aimed at.

Although at that price I can see plenty of well-seasoned motorcyclists being won over by the 390 Duke as a second-bike or commuter. It looks horn, goes well, handles well and is great fun to ride.
Source mcnews.com.au