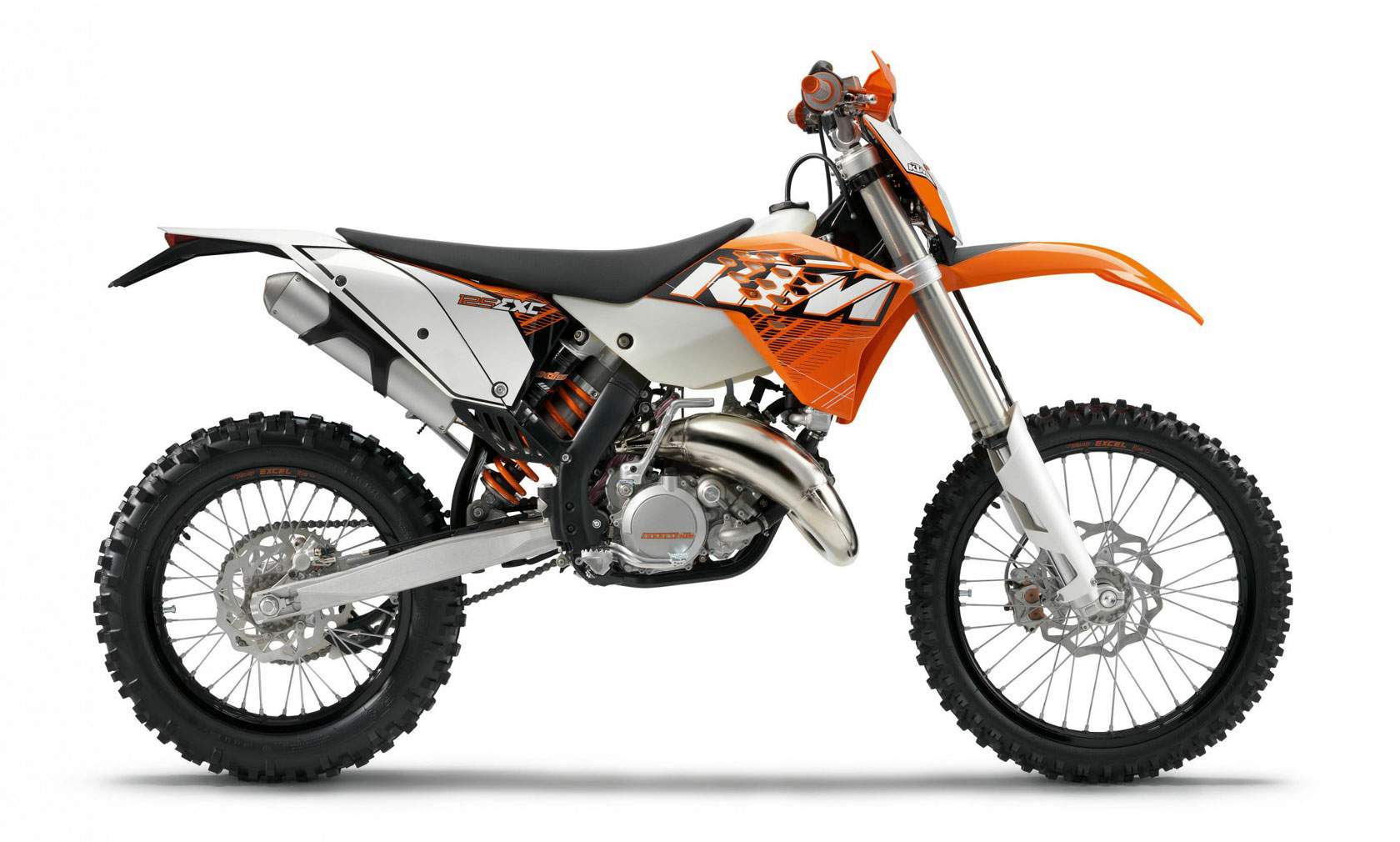 With its ultra-easy handling, minimal weight and low costs, the 125 EXC is the ideal enduro for the E1 class. The free-revving and lively two-stroke engine is the most powerful of its type and has gained even more performance for the current season. Not least, the 125 EXC's completely revamped chassis with a new frame will ensure the lightest enduro on the market retains its popularity in future, above all with young potential champions.
2012 KTM 125 EXC Features and Benefits
NOW WITH EVEN MORE PERFORMANCE
NEW INTAKE SNORKEL, NEW AIRBOX
The redesigned airbox on the 125 EXC and the flow-optimised intake flange between the airbox and the carburettor now ensure even better charging with fresh gas. This results in even freer revving and even more power in all rev ranges for the liquid-cooled, two-stroke machine.
NEW EXHAUST EXPANSION CHAMBER
The 125 EXC's new exhaust expansion chamber has not only improved in quality; in conjunction with the two-stroke machine's exhaust control system, its optimised soundbox ensures an extra shot of engine power - explosive, but dependable.
NOW WITH AN EVEN MORE SUPERIOR CHASSIS
NEW FRAME
The completely revamped frame made from high-quality chrome-molybdenum steel is characterised by even greater lateral stiffness. It is also even better at absorbing jolts introduced by the suspension system, whereby the playful handling and comfort of the 125 EXC have been further optimised.
NEW SWINGARM, NEW PDS, NEW SETTING
The 125 EXC's new, lighter, cast aluminium swingarm accommodates the shock absorber more centrally, in order to load the swing arms more evenly. The new, 7 mm (0.28 in) longer PDS shock absorber with adjustable rebound and high/low-speed compression damping, and a new setting is installed more flatly, so providing even more progression.
TELESCOPIC FORK, NEW SETTING
The 125 EXC is equipped with the latest WP upside-down fork with wider adjustment ranges and a new setting. The sensitive responsiveness and outstanding damping of the open-cartridge fork with 48 mm (1.89 in) outer tubes are a perfect complement for the 125 EXC's playful handling and precision.
NEW WHEELS
Practically unbeatable in terms of weight and stability, the new wheels have CNC-machined hubs, Excel rims, zinc/nickel-coated spokes and aluminium nipples. They reduce the unsprung and gyroscopic masses, hence bolstering the playful handling of the 125 EXC.

BODYWORK, KICKSTARTER
The 125 EXC's new bodywork with the very slim seat and spoiler lines, plus excellent contact points, perfects the bike's ergonomics, making handling even simpler and more precise. The longer rear fender protects the rider and the redesigned kickstarter makes it easier to start the engine.