KTM 200 EXC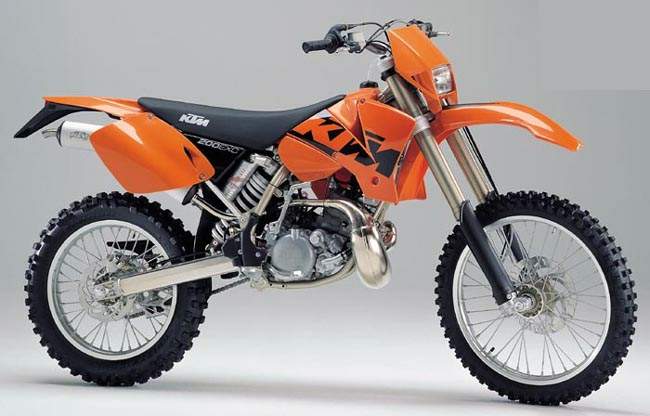 Make Model

KTM 200 EXC Enduro

Year

2003 - 04

Engine

Single cylinder, 2-stroke

Capacity

193 cc / 11.8 cu in

Bore x Stroke

64 x 60 mm

Compression Ratio

12.5:1

Co

oling System

Liquid cooled
Oil
1:40 mixture, 2-stroke, Shell Racing X

Induction

Keihin PWK 38 AGI flat slide

Spark Plug

NGK BR8EG

Ignition

Kokusan 2K-3 digital

Starting

Kick

Clutch

Wet, multi-plate, hydraulically operated

Transmission

6 Speed

Primary Drive Ratio

23/73

Gear Ratios

1st 13:33 / 2nd 15:31 / 3rd 17:28 / 4th 19:26 / 5th 21:25 or 17:17 / 6th 20:20

Final Drive Ratio

14/48 or 14/45

Final Drive

Chain, 5/8 x 1/4"

Frame

Central chrome-moly-steel frame

Front Suspension

WP 48 mm upside down fork

Front Wheel Travel

300

mm / 11.8 in

Rear Suspension

WP Progressive Damping System shock absorber, aluminium swingarm

Rear Wheel Travel

335 mm / 13.2 in

Front Brakes

Disc brake with carbon-steel brake disc Ø 260 mm (10.2 in), brake caliper floated

Rear Brakes

Disc brake with carbon-steel brake disc Ø 220 mm (8.7 in), brake caliper floated

Front Tyre

90/90 - 21" MT83

Rear Tyre

120/90 - 18" M59

Steering Head Angle

63o

Wheelbase

1461 mm / 57.3 in

Ground Clearance

390 mm / 15.3 in

Seat Height

925 mm / 36.4 in

Dry Weight

97

kg / 214 lbs

Fuel Capacity

9 L or 11 L / 2.4 US gal or 2.9 US gal / 2.0 Imp gal or 2.4 Imp gal
Updated Features
Fork - In 2003, all EXC models will be outfitted with White Power USD 48 mm forks. In contrast to the 43 mm of 2002, the new fork has now three bushes per fork tube, which ensures a better guidance of the inner tubes during compression travel. Both wipe and radial shaft seal, as well as the bearings, were obtained from new suppliers and, in combination with a new fork oil, ensure a markedly improved response. KTM also improved chromium quality of the fork coating to prevent excessive "pumping up" of the fork in use. The fork plates on the Enduro models were adapted to the new fork diameter.

Shock Absorber - The WP PDS shock absorber was modified considerably. A bigger compensating tank and a larger oil volume prevent premature fading. Changed flow cross-sections for the oil stream and new tuning setups provide better progression. This results in an improved response with a greater impact resistance.

Axle/Hub - All EXC models come with a new front-wheel axle enlarged from 20 to 26 mm for greater directional stability, stiffness and a more accurate turn-in ability. The front-wheel hub was also given a new design and its diameter increased from 36 to 52 mm. The rear-wheel hub was also reinforced from 48 to 64 mm.

Handlebar/Footrest - All 2-stroke EXC models come with a high quality conified Renthal handlebar, all 4-stroke EXC models with a 12mm higher Magura handlebar of identical design. All 2003 EXC models will be fitted with the broader footrests of the SX machines.

Clutch Hose - To prevent damage all models are fitted with flexible steel clutch hoses.

Tank/Spoiler - All EXC models boast a new tank with the "SX" look. Also the shape of the tank shrouds is made uniform for both models. The advantage for the Enduro models is a more ergonomic tank/seat contour and thus a better sitting position. All tanks come in a basic orange, slightly transparent. The EXC tanks are equipped with new fuel cocks.

Speedometer - The Enduro models come with a highly functional digital speedometer with a control unit which, as an option, can be remote controlled at the end of the handlebar (trip master).

Plastic Components - The new series look for 2003 is taken from KTM's winning 2002 GP Team. All models come with a newly designed front wheel fender for improved splash protection. A full-width radiator guard (on the 4-stroke racing KTM's) provides for optimum air guidance and efficient cooling. A new, seamless seat cover creates an ideal surface.

Graphics Design/Colors - In 2003 the rear mudguard and the side paneling are orange, the shrouds, lamp mask, and the front mudguard is also orange. The seat is black. The KTM shroud logo was given a new design so as to cover the entire shroud. The frame and the hubs are power-coated in a gold hue, matching the color of the fork and the handlebar.

Improvements specific to the 200 EXC
Transmission - Considering the ever increasing engine performance of recent models, the new 125/200 6-gear transmission now comes with a new, wider and thus more load-resistant 2nd gear.

Gearshift Mechanism - A new aluminum gear selector drum having narrower shift grooves permits an even smoother shifting operation, especially in extreme-load situations (powershift). In addition, a new bearing roller of the gearshift fork helps minimize wear.

Crank gear/Piston - The 200cc models are given a new crankshaft for improved balancing and reduced inertia weight. The result is the reduction of vibrations and weight as well as a quicker throttle response.

Cylinder - A new molded silicone ring supersedes the paper seal to provide ideal sealing for the 200cc cylinder head. The combustion chamber in the cylinder head was given a new shape and the transfer ducts were modified in a new casting mold for optimum power yield.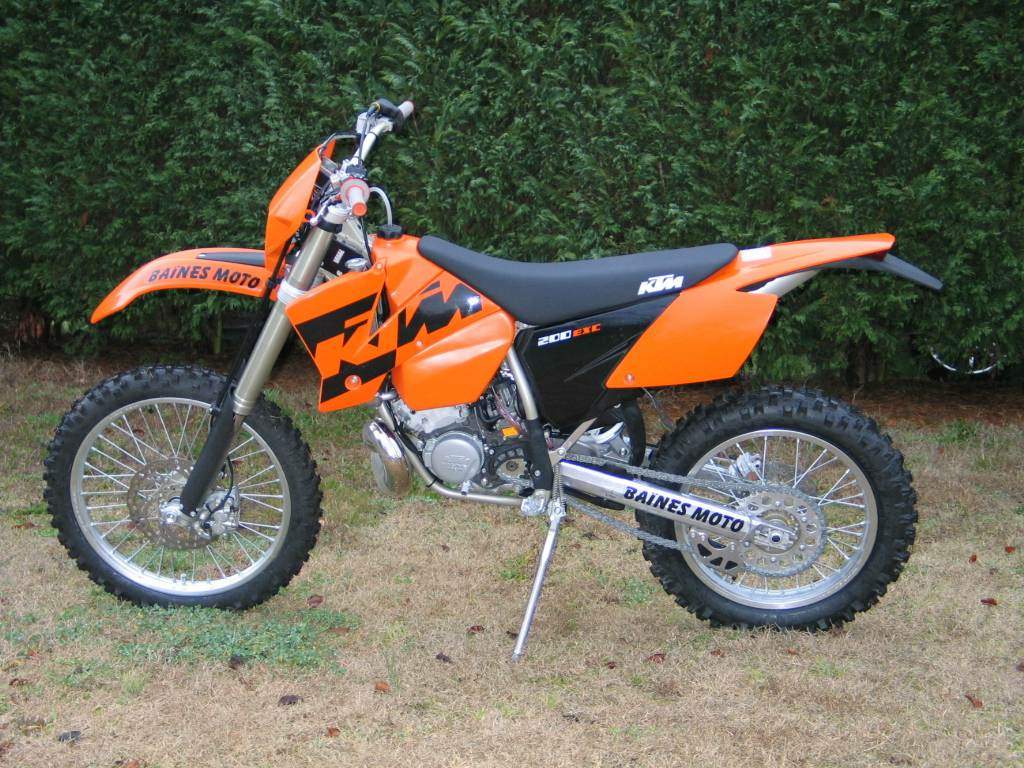 I've had quite a few dirt bikes over the 30 years I have been riding off-road; from my first, a 1975 Honda XR75, to my last and favorite, a 2003 KTM200EXC. In between I had several Kawasaki KDXs; 80cc and a couple of 200cc bikes; a Yamaha YZ125; and an ATK250 (American made dirt bike!). My last few years of riding have been in the Missouri Ozarks. It is hilly, rocky & can get pretty steep. I bought the YZ125 because it was light weight & easy to "throw around" but what I found was that when I got it in the tight & rocky woods the on & off power band (no power down low & then it's all there) was too tricky for me, so I was slipping the clutch a lot.
The KTM200EXC has been the perfect bike in this environment. I bought my bike used from a dealer that had it on consignment. It had only 72 miles on it, so it was still in almost new condition. My favorite thing about the bike is the engine. It lugs down lower than the 400cc 4-stroke engine on my Suzuki LTZ400 Quadsport, without dying. When I twist the throttle it winds up quickly & goes, probably faster than any 200cc bike should. I like the feel of the hydraulic clutch, which has not faded, but also which I haven't had to abuse because of the way the engine pulls at the lower rpms.
I weigh about 175lbs, stock it has soft enough suspension to not break your teeth out on the rough & sometimes square edged terrain here in the Ozarks. It also hasn't bottomed out on me either, not that I am taking any super cross sized jumps.
I like the easy access airbox, no tools needed to open or remove the filter. When I bought the bike one of the radiators had been bent a little, probably from being laid down. I knew I would probably do the same or worse so I purchased some radiator guards. They came in handy. With the rocky terrain I decided to add some more protection to the bike. I installed some real nice & not so cheap Cycra hand guards & also a rear disc guard that I made from a piece of aluminum I had on hand, real cheap. The bike already had an engine skid plate in place. The KTM chain guide has held up well, even in the rocks.
I really enjoy riding the bike but have two complaints with it. First, the front fork seals are leaking again, this being the 2nd set. Next the seat is pretty hard or maybe I've just gotten soft riding on the cushy ATV seats. That's it for complaints; I really like the bike A LOT.
The bike came with an owner's manual that puts all of the Japanese owner's manuals I've seen to shame, KTM is made is Austria. It is very detailed with good pictures for everything but a complete rebuild, though it does have a breakdown of every single part that the bike is made from & its' part number (down to the nuts & bolts inside the engine). It comes with a primary big manual, a separate book for the engine, one for the front suspension & one for the rear. Now these are not shop manuals you have to buy, they are what comes with the bike, very nice. Most of the manuals for the Japanese machines give few details in a small booklet & then say "take it to an authorized dealer" for anything more than gapping the spark plug. Having detailed manuals is good because there aren't as many KTM dealers as there are for the Japanese brands, but I think people are catching on to how good these bikes are off-road. I see quite a few of these orange bikes now.
KTM uses high quality components such as WP suspensions, Renthal handlebars & sprockets, Acerbis plastics & so on. Nothing has broken from lack of quality, except possibly the front fork seals.
The bike is pretty quiet, having a very large stock silencer & spark arrestor, which is handy these days for off-road riding.
KTM offers 200cc, 250cc & 300cc 2-stroke off-road bikes. The 200cc bike is considered KTMs trail bike with the 250cc used in more of the racing applications & the 300cc used for more wide open terrain. I've heard that the 300s work well in tight stuff, too, as they can be tractor like but will also really move in the desert when opened up. You can find these bikes in XC trim with a wider spaced gear box & also the 250 & 300 with an electric start versions, sweet. For the non-pro like me this bike is plenty fast but can be hopped-up if desired. KTM has a catalog full of specialized parts that you can buy or the aftermarket has quite a few also. In my opinion this bike is ready for what it was designed to do (handle tight, tough, slippery terrain) right off the showroom floor. Now if I could ride like David Knight maybe I would need a faster bike.
Thanks for reading, God Bless & go for a ride with someone this weekend.