KTM 200 EXC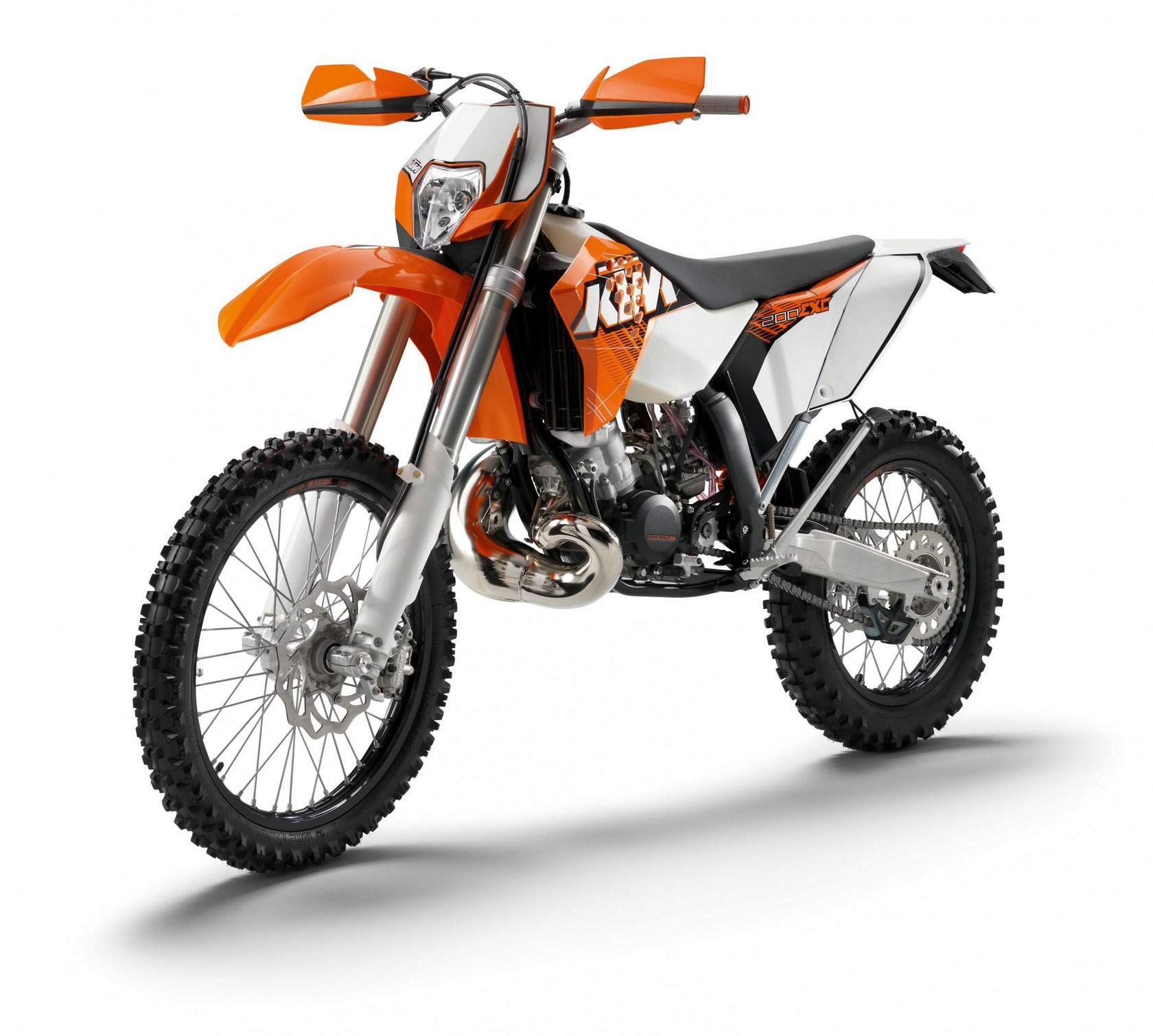 Make Model

KTM 200 EXC Enduro

Year

2009 - 10

Engine

Single cylinder, 2-stroke

Capacity

193 cc / 11.8 cu in

Bore x Stroke

64 x 60 mm

Compression Ratio

12.5:1

Co

oling System

Liquid cooled
Oil
1:40 mixture, 2-stroke, Shell Racing X

Induction

Keihin PWK 38 AGI flat slide

Spark Plug

NGK BR8EG

Ignition

Kokusan 2K-3 digital

Starting

Kick

Clutch

Wet, multi-plate, hydraulically operated

Transmission

6 Speed

Primary Drive Ratio

23/73

Gear Ratios

1st 13:33 / 2nd 15:31 / 3rd 17:28 / 4th 19:26 / 5th 21:25 or 17:17 / 6th 20:20

Final Drive Ratio

14/48 or 14/45

Final Drive

Chain, 5/8 x 1/4"

Frame

Central chrome-moly-steel frame

Front Suspension

WP 48 mm upside down fork

Front Wheel Travel

300

mm / 11.8 in

Rear Suspension

WP Progressive Damping System shock absorber, aluminium swingarm

Rear Wheel Travel

335 mm / 13.2 in

Front Brakes

Disc brake with carbon-steel brake disc Ø 260 mm (10.2 in), Brembo brake caliper floated

Rear Brakes

Disc brake with carbon-steel brake disc Ø 220 mm (8.7 in), Brembo brake caliper floated

Front Tyre

90/90 - 21" MT83

Rear Tyre

120/90 - 18" M59

Steering Head Angle

63o

Wheelbase

1461 mm / 57.3 in

Ground Clearance

390 mm / 15.3 in

Seat Height

925 mm / 36.4 in

Dry Weight

97

kg / 214 lbs

Fuel Capacity

9 L or 11 L / 2.4 US gal or 2.9 US gal / 2.0 Imp gal or 2.4 Imp gal

Review

Bike Sales
The 200 EXC Enduro combines the simple handling of a 125 with the impressive power of a 250cc bike. A special bike for those who know what they want: the best of both worlds for the all-important edge here and now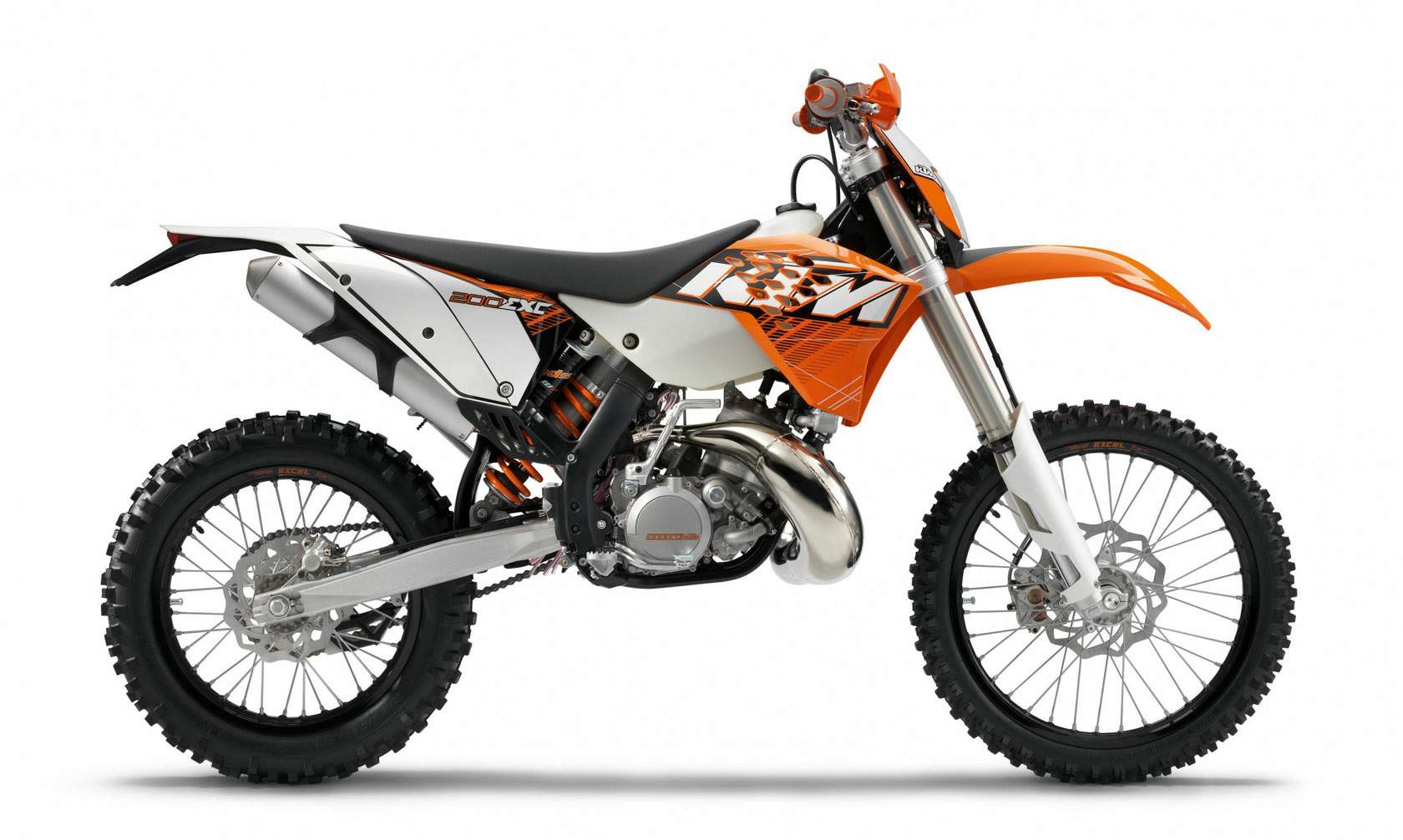 THE BIKE
KTM beat all the other manufacturers off the mark with their 2008 release, sending us the 200EXC and 300EXC a full month before any other manufacturer had product. The 200EXC wasn't widely talked about when it arrived with a 300EXC, and most conversation centred on the bigger bike. Like, did it have even more power than last year? Is electric start the be all and end all of two-strokedom? Would Dr Dan have enough beer for the post ride appraisal?

Before we even got to ride them, Bazz whipped out his camera and did a highly-strung artiste impression. "Push it over there, no not there, there!" "The light's all wrong". "Now angle it away from the camera". "Did the flash go off? No!? Bring it closer!" The upshot of all these manoeuvrings was that we got to experience the comparative weights of the two bikes. On paper the specs say there is less than three kilos between them but it felt at least 5 kilos after pushing them all over the goddamn park.

The 2008 200EXC comes with an all-new frame based on the 250SXF chassis. The tubing has a different profile, with flat twin spars. To their credit KTM have stuck with chrome-moly tubing so you're getting the best there is. Along with the new frame is a new sub-frame, while the swing-arm and shock also come from the race bike. All these changes are said to improve handling but we thought last year's bike was spot on so that shows you how much we know. The 200EXC is a featherweight and this has big ramifications in handling, as you'll see.

A BIT OF BLING
Why Bazz took so long getting the perfect photograph is beyond us. Granny Johnson with her Kodak Brownie can't take a photo that makes the 200EXC look bad because KTM have stepped it up in the bling department. None of that "less is more" crap in plain orange and black. The 200EXC is now adorned with fat graphics, black anodised rims and a nickel-coated exhaust.

At the risk of being predictable, we'll start at the performance discussion at the beginning. The 200EXC has to be the easiest bike we've started this century. The kick-starter is well placed, and getting a full swing on it doesn't require a half pike from the high board. One short, sharp jab punches it to life every time. (unless you've dumped it in a hippo pool, then it takes two kicks). With a bit of practice even Granny Johnson was starting the 200EXC and doing circle-work in the driveway.

When you sit on the thing it feels small. We're not suggesting KTM has been altering our minds with subliminal messages; we're saying they must be! When the 200 and 300 are lined up you can't tell them apart until you read the stickers. That being the case, we still swear the 200 is smaller, way lighter, and we're prepared to bet Mike Tank's house on it. How does a bike that's identical in size feel so much more compact? It must be the weight distribution. Can't be anything else.

If you've ridden a KTM two-stroke in the last couple of years you'll know exactly what to expect from the KTMidget cockpit. It's well laid out, spacious, yadda-yadda … Smaller riders will find seat height an issue though. While the KTM is slim, it's also quite tall. Your average sun-tanned boofhead will find it quite roomy but short guys will have to stretch for the ground.

Suspension is handled by a WP 48mm fork. It's not the twin-chamber variety found on the MX bikes but it does get a new pre-load adjustor. We were so happy with the suspension we didn't touch a clicker all weekend. The rear is handled by the same shock found on the MX bikes, and angled further forward in imitation of the race setup. Whether these changes have done what they're meant to we can't say. What we can tell you is that we liked the suspension last year and we still like it. The front-end jitters we whinged about last year are gone and the bike steers quickly and accurately.

Brakes? Brilliant! The KTMidget has great stoppers. Be prepared to hang on when you throw out the anchors though because the speed washes off very quickly. It's true one-finger braking. Brembo brakes have taken a commanding lead in the braking stakes in our opinion. They used to be so-so but in the past two years we haven't ridden a Brembo shod bike that was been anything less than impressive.

MORE OF THE SAME
The biggest surprise however was the motor. We've been startled by the torque of the little KTM over the years but this year we were drop-dead impressed. The torque at low revs is more than a 200cc bike has any right to develop. Don't be lead into thinking that this thing will take on a 450cc thumper in this area though. It won't, but the power is both strong and accessible for ordinary mortals and we like that. This engine provides a smooth, steady surge of acceleration, provided gear selection is on the money. We found ourselves torquing up hills that we'd expected to charge in a frenzy of clutching and revving.

After the strong bottom end the mid-range goes quiet though. It's smooth and predictable but it's not going to pin a smile on your dial. It's a little flat to be honest. The top-end is what you expect from a small bore two-stroke and that comes on with a rush that sends this featherweight hurtling down the track. Be prepared to dance with the lever because the six-speed box is slick but the ratios are quite close together. At about 70kph you're looking for seventh.

This brings us to an interesting question: who would buy this bike and what would he do with it? It's not an open trail blaster, and you soon find that out after riding the 300. If you're into straight line drag races and popping power wheelies on a whim you'd buy the 300EXC every time, and if you want to add open fire-trail blasting into that mix, it's a no-brainer, buy an open class thumper.

None of this is where the 200EXC excels, in fact it's pretty ordinary in anything requiring fifth or sixth gear. Five kilometres on the open road above 70kmh and you have no feeling in your fingers and toes. But that's not the point, and shouldn't be a surprise.

We have a small motor with modest power output, but with the bike's light weight and great handing, in conditions that suit it it's genuinely fast. If it was a rugby league play it'd be Benji Marshall. Very few bikes will keep up with it when the trail gets technical. It tips into turns faster than Bazz on his way to the bar fridge and is right at home in tight stuff where the bigger bikes can't use all their power. It'll laugh at the big boys as it spears effortlessly from one corner to the next while they puff and wheeze their way through the trees. And it'll do it hour after hour.

As an overall package the 200EXC is damn fun. It's brisk without being staggeringly fast. It's nimble and responds instantly to small amounts of body English. The suspension is plush and confidence inspiring. If you're prepared to put the effort in, it'll have you grinning like a Cheshire cat, and that's what it's all about.