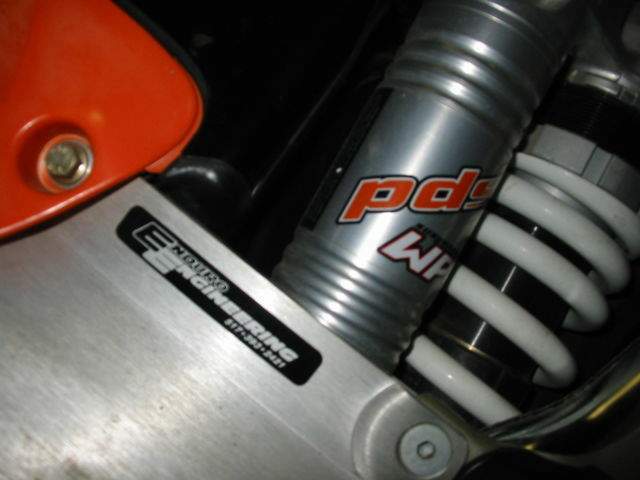 Four-strokes are so damn ubiquitous these days we barely hear a beep about anything with a two-stroke engine. So what's goin' on? It's almost as if two-strokes have fallen between the cracks and no-one's interested any more. That can't be right. There was a time, and not so long ago either, when two-strokes were the thing when you craved brutal acceleration, light weight, and a 20,000rpm limit. Back then, if you were a hairy-backed spider eater you wouldn't be seen dead on anything else.
Well, has all that vanished, like a vapour? Gone? It's a shameful proposition, disgusting in fact, so me and Dr Dan decided to do something to correct what seems to be a dreadful imbalance. Just before Christmas last year we grabbed an '04 KTM 250EXC and my WR450, then we headed out for what turned into a seven-hour test ride. Dr Dan hadn't had much time in the saddle of a two-stroke since selling his CR250, and I hadn't ridden one since, Jeez, I dunno, so on top of everything else you could say we were open to whatever might leave an impression. We were both shagged at the end of this seven hour campaign but we figured we had enough info on this particular bike, and certainly enough advice for anyone thinking about switching from a thumper to a two-stroke.
NICE GEAR
The KTM is a beautifully made motorcycle. That's the first thing that impresses you. The components are all first class, from the two-tone grips to the classy switch gear, the tapered Renthal bars, the 'wave' brake rotors, the massive 48mm WP fork and even the oversize footpegs. The bike is slim through the middle too. We didn't like the seat though. It's everything a supercross rider could hope for but way too hard for trail riders who have to spend five or six hours in the saddle. Dirt bike seats are made hard so you can trim your position to changing terrain, but they don't have to be this hard, do they?
The clutch is a hydraulic Magura and it requires almost no finger effort to actuate it. The gearbox is as smooth as any box you'll find in a dirt bike, even a Honda, although neutral was invariably difficult to find when the engine was running. Two-stroke dirt bikes don't have electric-start, or most of them don't, but firing up the engine never took more than two or three kicks, regardless of the situation. At one stage in The Bazz and Dr Dan Show we had the KTM stalled and wedged between two boulders at the top of a killer climb. We were panting like Great Danes by then, but thankfully the KTM fired up first kick while we held it on the rear brake and finally managed to scramble out of there with no damage to bike or bodies.
ANYONE CAN RIDE IT
That's true, anyone can ride the 250EXC, but you'll get more out of this bike if you can ride it well. The engine produces tractable power for a two-stroke, which means plenty of torque at low revs, so novices can get up hills without poking their little faces though the rpm ceiling and getting a nasty fright, but the top end is where this thing really starts to hum, and that's definitely not novice territory. On second thoughts, 'hum' is probably an inappropriate word. It doesn't hum, it accelerates, bolts, fires itself, launches, and just keeps on going until you lose your nerve or run out of gears. The explosive power two-strokes are famous for is embodied in this machine, and is still a potent influence in bike selection, or should be. Few engine-powered devices are as exhilarating as a two-stroke dirt bike at full noise and this KTM is one of the best.
The 250EXC is geared for the dirt, as it should be, but that means compromises elsewhere. Two-stroke dirt bikes are not good road bikes. They feel twitchy and agoraphobic on bitumen because they don't want to be restrained by legal speed limits and the necessity of having to slow down to keep up with the Joneses. They want to accelerate, bolt, fire, launch themselves, and anything that gets in the way is nothing less than a bloody nuisance. They also vibrate, this one at about 90km/h onwards, and they 'hunt and peck' like a chicken when you're on a trailing throttle. Riding a 250EXC on public roads is like saddling up Phar Lap to take Pugsley to kindy. This is a dirt bike, not a dual purpose bike, and if you treat it as such you'll have no option but to live with the compromises. No doubt there are people who ride high performance two-strokes to work every day but not too many of them would pretend it's a pleasant experience.
The KTM is set up fairly firm, or we thought it was, in fact it made my WR450 feel positively plush. The chassis exhibits mild headshake under hard acceleration, not an uncommon trait among high performance two-strokes, although it's nothing to provoke letters of complaint. The 13-42 gearing permits short shifting and in our opinion this is the way to ride this bike. Revving the ring out of it only destabilises the handling and makes a sensitive new age bike even more sensitive. Get yourself into fourth gear as quickly as you can. Fourth on lumpy trails is a lot more comfortable than third in the same place, and the bike feels a lot more settled on rough terrain when you use the torque and ride it in the higher gears.
The first thing you'll notice if you're coming off a four-stroke onto a high performance two-stroke is the lack of engine braking. There's none. Squat. Zippo. So don't come steaming into a corner and expect two downshifts to take care of things. You have to be on top of your game to ride this bike or it'll ride you, not because it's difficult to handle but because it's capable of so much and you mightn't be up to it. Typically, that sums up the real difference between a two-stroke and a four-stroke. Two-strokes aren't docile, sanitised. They don't want to dawdle, chat with the neighbours, pick up Pugsley, they want to rip and tear, and if you're not wired for "The Hit" then you may be over-awed.
Another conspicuous trait you'll pick up on is a two-stroke's tendency to be more physically influenced by the terrain. Because two-strokes carry less weight than four-strokes they don't rumble over obstacles with the same irresistible momentum. They deflect more over broken terrain where a heavier bike would simply barge through it. Maybe that's a compromise too. We liked the brute force this bike represents, and the funk factor, but what's also cool is how easy it is to flick around. It might feel more skittish than a four-stroke but it weighs about 113kg fuelled and it's an agile and exceptionally responsive bike, nimble, flicky, and godawful quick between turns if you know what you're doing.
Review: Bikesales