KTM 300 EXC Enduro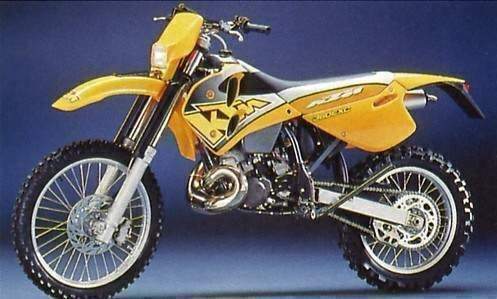 Make Model.

KTM 300 EXC Enduro

Year

1995 - 96

Engine

Two stroke, single cylinder

Capacity

297 cc / 18.1 cu in

Bore x Stroke

72 x 73 mm

Co

oling System

Liquid cooled

Induction

Keihin PWK38 D-slide carburetor

Ignition

SEM K11 CDI

Starting

Kick

Clutch

Wet, multi-plate

Transmission

5 Speed

Final Drive

Chain, Regina O-ring

Frame

Steel, CrMo

Front Suspension

Marzocchi 45 upside down fork and shock

Front Wheel Travel

295 mm / 11.6 in

Rear Suspension

Fully adjustable Ohlins 3A

mono-shock

Rear Wheel Travel

320 mm / 12.6 in

Front Brakes

Single260 mm disc

Rear Brakes

Single 220 mm disc

Front Tyre

90/90 - 21, Michelin MP11

Rear Tyre

140/80 - 18

Steering Head Angle

62.5o

Wheelbase

1480 mm / 58.3 in

Ground Clearance

385 mm / 15.2 in

Seat Height

945 mm / 37.2 in

Dry Weight

112 kg / 247 lbs

Fuel Capacity

13 L / 3.4 US gal / 2.9 Imp gal

Review

Motorcycle.com
KTM's EXC range is made up of dedicated competition enduro motorcycles. These machines are nominally road legal - many enduros have an on-road section, but they have only the very basic equipment required for road use, including a small headlight, speedo and tail-light. What the EXC is really designed for is difficult off-road conditions.
The single-cylinder two-stroke engine is compact, light and powerful - ideal for off-road use. But the most important part of an off-road machine is the suspension, and the EXC is very well-equipped. WP upside-down forks and rear monoshock are very tough, high-spec parts, and together with dedicated off-road tyres, makes the 300EXC a superb off-road machine.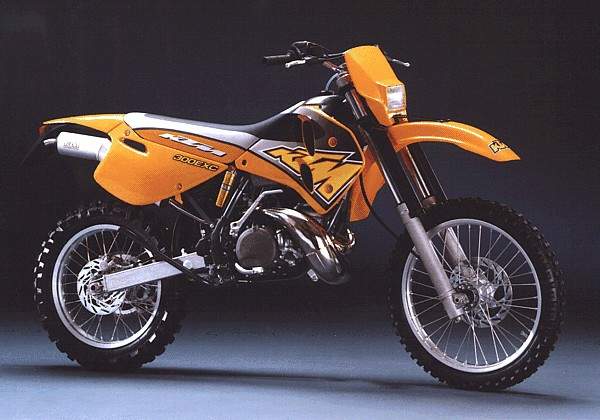 Review
Our testing regimen included racing the bike on every Sunday during the three weeks since it was uncrated and assembled. Richard Lafferty got first crack at the Delaware National, while Tech Editor Uth piloted the new iron at two local ECEA enduros.

Setup for these outings was little fuss, as the bike was run in nearly stock trim. Lafferty dialed in the suspension to what would suit a top level A class competitor in the mud of Delaware.

Those settings ended up at: fork compression (left fork leg) at full hard, one click out from full clockwise (CW); fork rebound (right fork leg) four clicks out from full CW; shock compression four clicks out from full hard (full CW); shock rebound 16 clicks out from fully closed (full CCW, when looking down); sag 110 mm.

Warm fall temperatures at Delaware called for a smaller 45 pilot to crispen up throttle response off idle. Rich dropped the gearing as well, swapping the stock 14T countershaft sprocket for a 13T cog. Finally, tires suited to the Delaware loam (if there is such an animal) replaced the stock Michelins. For the sand tests, the stock meats were remounted and the jetting returned to stock (48 pilot).

As temperatures turned cooler we richened up the bottom end, closing the air screw a full turn (to 1/2 turn out) and raised the needle a notch to the middle position (stock is the #4 position). This seemed to improve what was initially perceived as a soft bottom end during the Pine Barons run, and subsequently provided great throttle response at Stumpjumper.

Firing up the '96 300 finds the bike an easy starter when cold. Kickstarter effort is noticeably more than the KTM 250, but still not great by any measure. The new pipe and muffler discharges an exhaust note that remains plenty quiet, comparable to previous efforts. The revamped cylinder and head provided good power throughout the range, with a phenomenal top end. The motor revs on top like a weed wacker on race gas and never quits. It can be frighteningly fast any time the throttle is pinned for more than a blip. Fuel delivery is handled via a Keihin PWK 38 carby, stock jetted with a 180 main, 48 pilot, #6 slide, and N85C needle with the needle clip in the #4 position (4th notch from the bottom).

When we first rode the bike, a leanness in the bottom end jetting and wimpy Michelin rear tire made low end performance seem a bit soft. We moved the needle clip to the middle #3 position and turned in the air screw for better punch off idle in cooler (30-50 degrees F) temperatures. These jetting changes and a fresh rear meat turned starts into virtual missile launches, and throughout all testing the bike ran cleanly, with nary a fouled plug.

With all this heady throttle abuse, you might worry about the radiator spouting off here and there. Fortunately, the revised cooling system, which includes more internal cooling surface area within the cylinder and head (to facilitate transfer of heat from the cylinder to the coolant) and larger capacity radiators (to improve dumping of this heat energy from the radiators to the atmosphere), served to keep everything under control. While we haven't had any trouble with overheating KTMs anytime recently, increased cooling capacity is always welcomed around here. On the flip side, the bike is again equipped with an in-line thermostat, allaying any fears over too much cooling capacity keeping the bike from attaining proper operating temperature in cooler weather.

Fuel consumption is significantly greater than the 250, as the standard EXC 3.2 gallon tank gets less than 50 miles to the tankful when driving the 300. Richard ran out of gas at the Delaware National and we were on reserve after a little over 40 miles, traveled during the Stump Jumper event. Fortunately we were able to get nearly 10 miles out of the reserve position on the petcock.

Clutch action is light and consistent. While the 300 doesn't like to be ridden like a 250 (read: heavy clutch abuse), the clutch stood up to all the punishment we dished out without fade or failure. Clutch disengagement allows starts with the bike in gear as well, which is a welcome change on any KTM. EXC models come with a wide range five speed transmission that provide plenty of top speed for those road connectors. Even when the final drive was lowered from the stock 14/52 gearing to a 13-tooth countershaft sprocket, top speed was not an issue. The 13T sprocket still allowed the 300 to easily exceed 65 MPH and tightened up the gear ratios to boot. There was absolutely no gap between shifts in this configuration.

It seems KTM got the forks spot on this year, certainly much improved over our '95 experiences, as both the forks and shocks have been revalved. When KTM first came out with the Marzocchi conventional forks in '95, everyone thought they would be the same forks as those being run by factory racers like Hawkins and Hatch during the '94 enduro campaign. The '95 conventional forks were a shadow of those works forks, using a different lower leg casting and archaic holes in the damper rod to control valving (instead of valve shim stacks). While this year's version still uses the same valving scheme, the look and feel of the '96 forks are more like those works forks used in '94, and are excellent performers right out of the box.

The shock feels overly compliant with the bike at rest, sitting on its side stand, but works totally in unison with the forks. We found suspension action especially good on sharp hits like logs, chuck holes (and probably rocks too, although we haven't gotten north as of this writing). Rest assured, however, we plan on more fiddling with the clickers, especially after we readjust the sag to something closer to 100 mm.

Steering felt kind of slow at first, with the fork cap/fork tube junction just even with the top of the triple clamp. However, we quickly became accustomed to this setup which allowed turns to be railed without fear, and provided better than average stability at speed, even without a steering damper. At this point we have no plans to readjust the fork/triple clamp position.

The '96 KTM line is again equipped with quick change Brembos, the same as the '95 models, using organic brake pad material. We liked the feel of the front brake, as it was not as grabby as our '95, similar in action to earlier front stoppers. The rear brake proved serviceable, except for the annoying habit of losing grip when wet, especially immediately after negotiating a water obstacle. Similar to old style drum rear brakes, brake dragging for a few yards was required to "dry" things out. On top of that (or maybe because of it!), the stock rear organic pads really wear quickly, test rider Richard going through a set at Delaware and Uth wearing out pads after the second of two local enduros, both cases after about 120 trail miles. We suspect that both problems (water and longevity), will be easily corrected with a switch to aftermarket brake pads.

New stock tires, Michelin Model MP11 tires are perhaps the worst stock tires in memory. They proved unsuitable for the loamy mud of Delaware and do nothing but spin and slide in the sand. The rear tire was particularly offensive, perhaps partly due to its small size, but predominantly due to the ecologically friendly diamond knobby tread pattern. At the Pine Barons Enduro, the clutch engagement seemed funky as if there might have been some slippage. Once we changed the rear tire to a fresh Dunlop 752, everything felt fine, the perceived slippage actually due to poor rear tire traction. If you buy this bike, change the tires before you ride it and slap them on the next bike you sell.

The '96 300 uses the same basic frame and plastic layout employed by KTM since the '93 model year. Aside from lingering complaints about spark plug and carb access, this layout remains first rate and provides good rider position and comfort. Seat foam is again on the dense (read: hard) side, but shape and mobility remain good. The '96 bike returns to the mono color seat cover. A revised odo cable routing scheme, similar to the fix reported in our '95 KTM tests, will no doubt prolong odo cable life. We proved this repeatedly, crashing through nearly impenetrable sticks and brush while avoiding mud holes at the Stumpjumper enduro. The same great handlebars and Domino controls, featuring the quick adjust clutch perch, make for a top rate rider interface.

KTM has continued the evolution of the '96 300 model line, with changes that improve performance, reliability and maintainability. While virtually any bike leaves room for improvement, we'd have to concede that the '96 300 is a most refined off-road weapon, capable of vaulting riders of all skill levels into the winners circle. Spark plug/carb access remains a sour point, and we might even snivel a little about having to buy an aftermarket front disk protector.
Source:
Motorcycle.com