KTM 620 Duke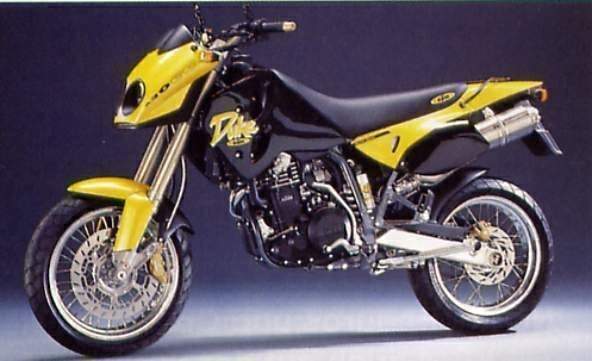 Make Model.

KTM 620 Duke

Year

1995 - 96

Engine

Four stroke, single cylinder, SOHC, 4 valves

Capacity

609 cc / 37.2 cu in

Bore x Stroke

101 x 76 mm

Compression Ratio

10.4:1

Co

oling System

Liquid cooled

Induction

Dell'Orto PHM 40 SD carburetor

Ignition

KDC-CDI

Starting

Kick

Max Power

40.1 kW / 55 hp @ 7000 rpm

Max Torque

60 Nm / 6.1 kgf-m / 44.3 lb-ft @ 5500 rpm

Transmission

5 Speed

Final Drive

Chain

Front Suspension

White Power 4054 Top Adjuster

Front Wheel Travel

142 mm / 5.6 in

Rear Suspension

White Power monoshock 4681 BAVP Single Adjuster

Rear Wheel Travel

170 mm / 6.7 in

Front Brakes

Single 320 mm disc, 4 piston caliper

Rear Brakes

Single 220 mm disc, 1 piston caliper

Front Wheel

3.50 x 17, wire spoked

Rear Wheel

4.50 x 17, wire spoked

Front Tyre

120/70 - 17 Pirelli MT60

Rear Tyre

160/60-17 Pirelli MT60
Seat Height
894 mm / 35.2 in

Dry Weight

145 kg / 320 lbs

Fuel Capacity

10.3 Litres

/ 2.7 US gal / 2.3 Imp gal

Fuel Reserve

1.8 L / 1.9 US qt / 1.6 Imp qt

Consumption Average

6.4 L/100 km / 15.7 km/l / 37 US mpg / 44.4 Imp mpg

Braking 100 km/h - 0

36 m / 118 ft

Standing ¼ Mile

13.1 sec / 156 km/h / 97 mph

Top Speed

169 km/h / 105 mph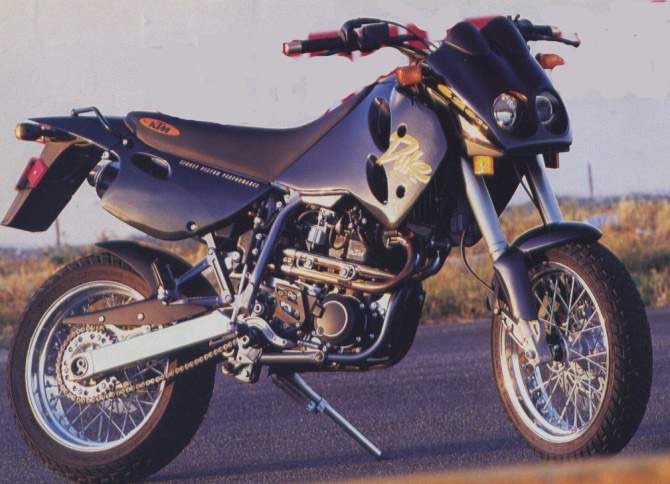 D0 NOT BUY THIS MOTORCYCLE. DON'T EVEN THINK ABOUT IT.
Steer clear. Move on before it's too late. Turn the page. Nothing good can come of it. KTM's Duke, the first pure streetbike the tiny Austrian firm has sold in the U.S., is a diabolic device that will land you in hot water quicker than Senator Bob PackWood at a panty raid. This bike is 609cc worth of stonkin' Single that lives for three things and three things only: 1) wheelies, 2) stoppies and 3) rorty romps through the gearbox. The meek may inherit the Earth, but they won't be riding around on KTM Dukes.
You can thank ABC Sports for the Duke. It's a direct descendent of the hybrid racebikes used in the early-'80s made-for-TV "Superbikers" shows. Run on a half-dirt, half-asphalt course, these were mainly big-bore two-stroke motocrossers with shortened suspensions, roadracing front brakes and tlat-track tires. Several years after the show went off the air, Superbikers racing was rediscovered by the Europeans-in particular the French, apparently unsatiated by old Jerry Lewis movies and "Baywatch" renins, and casting about for another American art form to adopt. "Supermotard" was born, soon to grow into a series with a season-ending finale that now attracts big-name racers from all over the world
All of this did not go unnoticed by KTM back home in Mattighofen at the foot of the Bavarian Alps. When the European show circuit rolled around in 1993, there on the KTM Sportmotorcycle AG stand, among the MXers and the enduros, was a curious-looking concept bike with supermotard styling. Reaction from the press and public was so strong that KTM put the bike on the books for 1994; now a limited number of Dukes have been brought to the U.S.
Not much has changed from that 1993 concept bike. The Duke's chassis is based heavily on the company's off-road frame, gussied up with a polished aluminum swingarm. The fuel tank is the same 3-gal-lon vessel used on the dirtbikes, molded in black plastic this time. Sheathing the sides of the tank and sweeping forward around the twin radiators are plastic shrouds finished in a very tasty gray-on-black checkerboard pattern meant to resemble carbon-fiber. Sidepanels and rear lender were also pulled from the dirtbike molds, set off by dark metallic-gray paint and more faux-fiber. A graceful pair of passenger grabrails bolts to the rear fender, and a nicely done subfender/chain-guard mates to the swingarm.
Leading this assemblage down the road is the Duke's most radical derivation from its dirtbike roots. The Dutch-made 40mm WP Roma fork is roadrace-quality stuff, mated to a similarly serious Brembo four-piston caliper. The latter, plumbed with a plastic-wrapped steel line, is capable of brutally severe stoppage-witness coverboy D. Canet standing the Duke on its nose like a trained circus seal.
Topping the whole affair is an organically styled fairing that incorporates twin headlights, tachometer, speedometer, ignition switch/fork lock and a small cluster of warning lights. The speedo and tach faces are particularly touchy-feely, with numbers done in a lilting, script type-style. Also, the tach doesn't read in anything as clinical as rpm; it records "beats per minute." Disregard the bold "620cc" emblazoned on the fairing's sides, by the way, truth-in-labeling being a somewhat loose concept in Austria-the Duke's 101 x 76mm bore and stroke works out to an actual 609cc.
Akront supplies the Duke's jaunty wire-spoked rims, 17-inchers, wide enough-at 3.5 inches front, 4.5 rear-to qualify for sportbike duty. Spooned onto these are limited-production Pirelli MT60 radials that, true to the supermotard theme, resemble dirt-track tires. These proved surprisingly grippy, the downside being accelerated wear, especially at the rear, and the fact that the MTs will most likely need to be special-ordered come replacement time.
The end result of all this cross-bred styling is a motorcycle with an undeniable flair-part dirt-slinger, part roadster, with a touch of Bat-bike thrown in for good measure, all put together with a level of fit-and-finish that rivals anything being built today.
That degree of refinement does not, however, extend to the Duke's engine. It was built for enduro and motocross competition, so it's fairly uncivilized for a street motor, which gives the bike a certain hooligan charm, but doesn't make it very suitable for around-town plonking or steady-state highway cruising. The Duke is happiest when it's pulling hard through its slick-shifting five-speed gearbox, revs zinging between 5000 and 8000 rpm (redline is 8500), cutting loose with the splendid sound that only a lightly muffled, high-.revving Single can generate-think of a BSA Gold Star on crystal-meth.
Fair enough; KTM makes no pretense that the Duke is anything other than "an unashamed street fighter...not for sissies...designed for the experienced enthusiast...built with true connoisseurs in mind," to quote the company literature.
In KTM's view, electric start has no place on such a he-man's machine, so the Duke has to be kicked to life. The good news is that the LC4 motor is one of the easiest-starting big-bore Singles ever. Retract the sidestand, making sure the double-spring-loaded apparatus-mandated by some well-meaning Euro-crat, no doubt-doesn't thwack you in the shin and draw blood. Swing the left-side kick lever out. Then, standing off to the side of the bike, kick with your right boot. Aided by an automatic compression release, the engine will almost always light off on the first or second kick-unless, of course, friends and family have gathered 'round to admire your vaunted kick-starting prowess, in which case all hope is lost....
CW s test Duke, the first California-spec model, had its 49-state Dell'Orto carb yanked in favor of a cleaner-running 38mm Edelbrock Qwik Silver II mixer. A derivative of the old Lectron carb, this uses a flat slide and a single needle-no jets. Officials of both companies admit that the Qwik Silver underwent-let's be kind here-an accelerated development program for use on the KTM. As such, the Duke's carburetion was less than ideal, with a hiccup or two in the powerband and the occasional dreaded flame-out at stoplights. Apparently, the hot tip is to fit a 40mm Qwik Silver, but don't let the California Air Resources Board know where ya heard that.
Other than the carb niggles, the Duke worked as anticipated, sling-shotting around corners and annihilating apexes the way any all-up fully gassed 340-pound street-tracker with near-limitless Ground Clearance should. If the KTM pays any penalties for its dirtbike upbringing, it's in a relatively high center of gravity; two byproducts of this being a seat height of 35 inches and a slight reluctance to be slammed hard-left, hard-right (or vice versa) during on-the-limit cornering.
KTM will import 80 Duke 620s this year, priced at a super-stiff $7900. It's a motorcycle for people who understand the allure of a performance Single, who like to be different, who want a bike with balls. And if you hurry, there might just be a few left that are unspoken for.
But, remember, we warned you.
Source Cycle World 1995