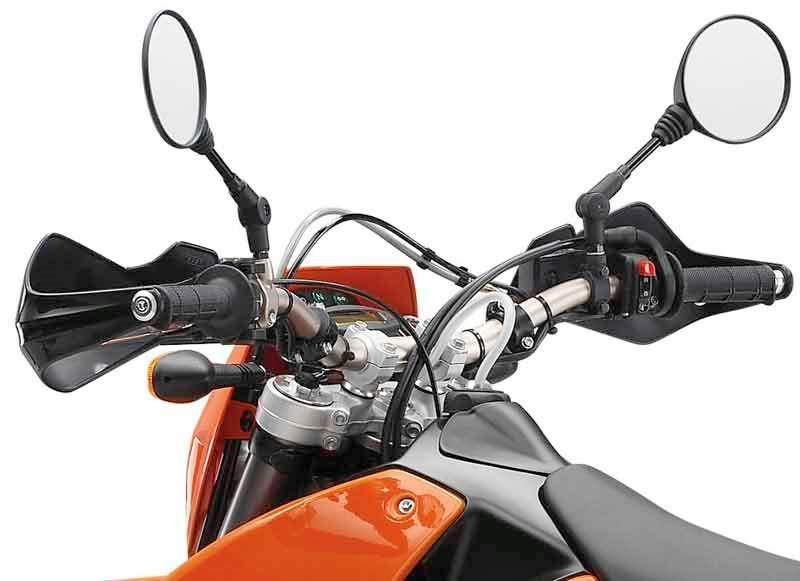 The KTM 625 SMC sits between the no-compromise 660 SMC and the heavier, more road-oriented LC4s in KTMís supermoto line-up. But itís not there to make up the numbers. Itís probably the pick of the bunch Ė combining the niceties of electric start with the harder race-spec SMC edge.
The KTM 625 SMC's four-piston Brembo brakes are superb, the fully-adjustable WP suspension way more than adequate and the simple chassis and wide bars conspire to murder every corner wide or acute. Itís not recommended for long journeys.
The KTM 625 SMC's SOHC, liquid-cooled single is broadly the same lump that powers the 640 LC4, only minus the latterís balancer shaft and with a lighter flywheel and 41mm carb. This translates into a vibey, revvy, ride Ė and one that misses out on some of the LC4ís torque. It comes restricted to a pathetic 30bhp, but almost every bike will have had the full fat 50+bhp unleashed by a dealer prior to sale.
KTM have been providing excellent off-roaders for years now. And the Austrian giant enjoys a well-regarded reputation for build quality. Regular oil and filter changes are part and parcel of the SMC experience. Big single-cylinder power pulses knacker chains, so keep an eye on yours.
Extracts from:
MCN