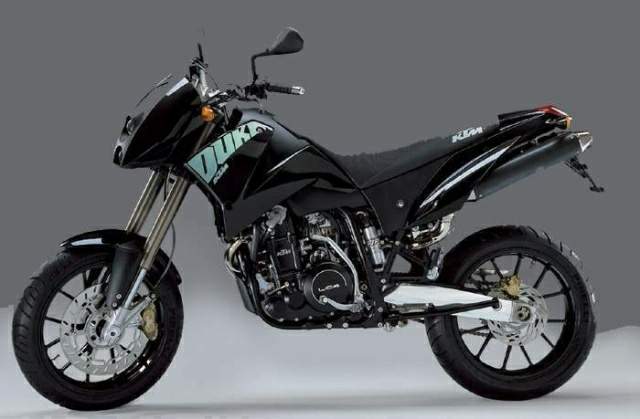 KTM's Duke was the machine that brought the Austrian firm to the attention of many riders in the late 1990s. Formerly restricted to niche off-road bikes, it was this supermotard-styled bike which gained KTM recognition as a major bike manufacturer.
The original Duke, launched in 1994 used a 610cc single-cylinder four-stroke engine in an off-road chassis, equipped with a distinctive twin headlight nosecone and 43cm (17in) wire spoked wheels. Its 41kW (55bhp) power and 145kg (3201b) mass made it an exciting ride, but it was only imported into the UK in limited numbers.
The latest Duke, the 640, was launched in 1999. It has an uprated 624cc version of the old four-valve engine, which produces similar power, but with more torque, in a similar steel-tube cradle chassis. WP upside-down forks and WP monoshock provide excellent handling, while stylish BBS 43cm (17in) cast wheels wear grippy sportsbike tyres. A massive 320mm (12.6in) front brake disc is matched to a single four-piston Brembo racing caliper, giving amazing braking power, helped by the tiny 145kg (3201b) mass. The outrageous nosecone is also still there, with a twin headlight design, and sweeping fuel tank.
On the road, the Duke excels in tight, twisty city streets or mountain passes, where its quick steering, long travel suspension and amazing brakes all work superbly.
Narrow uphill hairpin bends which can tie a 'proper' race-replica sportsbike in knots are easily dealt with on the Duke.
It is not really suited to longer trips though - there's little in the way of comfort or equipment, and the tiny fuel tank only holds 11.5 Litres (2.5 gal) - barely enough for 160km (100 miles) between refills.
The Duke's high-specification chassis parts also have a price penalty - it is an expensive machine, costing as much as some 600cc four-cylinder sportsbikes.