Make Model

Moto Guzzi Breva V 1100ie

Year

2008 - 09

Engine

Four stroke, V twin, longitudinally mounted, light alloy push-rod, 2 valves per cylinder.

Capacity

1064 cc / 64.9 cu-in

Bore x Stroke

92 x

80

mm
Cooling System
Air cooled

Compression Ratio

9.8:1

Induction

Weber-

Marelli

electronic

injection

with

stepper

motor
Lubrication
Splash

Ignition

Magneti

Marelli

IAW

electronic

digital

ignition

with

twin

spark
Starting
Electric

Max Power

87 hp / 63.4 kW @ 7500 rpm

Max Torque

89 Nm / 65.6 lb ft @ 6000 rpm

Transmission

6 Speed
Final Drive
Shaft
Gear Ratio
1st 17/38 = 1 : 2.235
2nd 20/34 = 1 : 1.700
3rd 23/31 = 1 : 1.347
4th 26/29 = 1 : 1.115
5th 31/30 = 1 : 0.967
6th 29/25 = 1 : 0.862
Frame
Detachable

tubular

duplex

cradle

Front Suspension

40mm Marzocchi hydraulic telescopic fork , preload adjustable
Front Wheel Travel
120 mm / 4.7 in

Rear Suspension

Swinging fork in light alloy cast with two dampers and spring adjustable for preload and rebound
Rear Wheel Travel
140 mm / 5.5 in

Front Brakes

2x 320mm discs 4 piston calipers

Rear Brakes

Single 282mm disc 2 piston caliper

Front Tyre

120/70-17

Rear Tyre

180/55-17
Rake
25°
Trail
110 mm / 4.3 in
Dimensions
Length 2,130 mm / 83.9 in
Width 810 mm / 31.9 in
Wheelbase
1490 mm / 58.7 in
Seat Height
800 mm / 31.5 in
Ground Clearance
185 mm / 7.3 in

Dry-Weight

235 kg / 513.7 lbs

Fuel Capacity

24 Litres / 6.3 US gal

Consumption Average

19.7 km/lit

Standing ¼ Mile

13.0 sec

Top Speed

202.9 km/h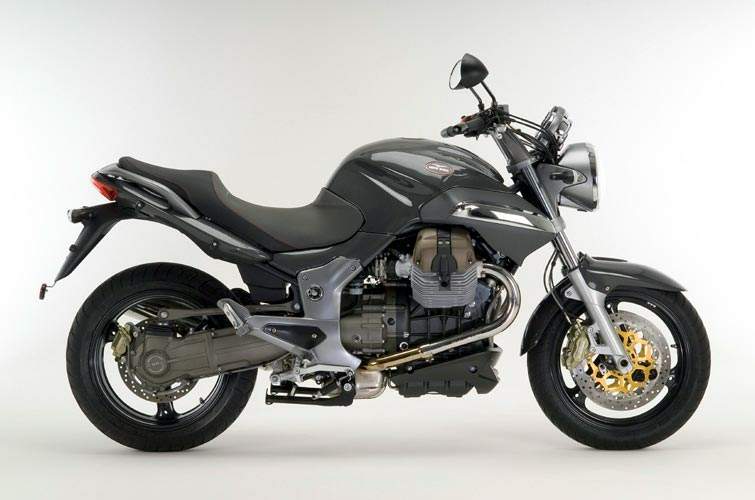 When Carlo Guzzi established Moto Guzzi back in 1921, he was brimming with simple but effective ideas. The motorcycle was waiting for someone to drag it out of the pioneering age and transform it into a functional and universal means of transport. Guzzi therefore set about designing practical machines to match the needs of the masses. Though often ingenious and innovative, his technology aimed primarily at comfort, easy riding, reliability and duration.

After more than eighty years, Carlo Guzzi's design principles are still valid, and represent the true inspiration behind the Breva V 1100. But though our guidelines are the same, motorcycling has changed dramatically over the decades. Motorcyclists have evolved; today they are demanding and attentive, and have acquired a thorough understanding of technology. It was with today's riders in mind that Moto Guzzi designed the new Breva V 1100, a revolutionary machine made to the highest standards.
The Breva V 1100 has all the credentials for success on today's fiercely competitive market, and is Italy's best ever answer to growing demand in the "naked" segment, now Europe's most important area of the motorcycle market. The Breva excels as an unexaggerated tourer and a true all-rounder: it provides plenty of reasons for passion, but also has a passion for reason.
Comfortable, easy to ride, lavishly equipped, and technically advanced, the Breva V 1100 is perfect for intensive daily use. It is made with everybody in mind, Guzzi fans who would never ride anything else, ex-Guzzi riders returning to the fold, and everybody seeking to discover the pleasures of Moto Guzzi's unique riding style

You don't have to copy a legend to follow in its footsteps. But you do need to share its spirit, and build on the elements behind its success. The Breva V 1100 project began by defining exactly what a Moto Guzzi is made of. The technical solutions that produce that Guzzi soul were then pieced together.
The motorcycles made at Moto Guzzi's historical factory at Mandello del Lario have always been unique combinations of innovation and tradition. Their design has become a classic, and their robustness and quality legendary. Universal motorcycles in every sense, they have become icons of Italian style and part of Italy's creative heritage.

The Guzzi design philosophy has become a lifestyle, and the joys of early motorcycling have expanded to encompass new pleasures. Comfort has turned into wellbeing. From simple means of transport, Moto Guzzi motorcycles have become means of companionship and shared enjoyment, means of joining the modern lifestyle of meetings, clubs, and true motorcyclists.
This is the passionate new lifestyle for which the Breva V 1100 is designed, and all true motorcyclists will jump at the chance it offers of enjoying riding and life the Moto Guzzi way. The Breva V 1100 has all the power of Europe's biggest motorcycle manufacturing group, plus the intelligence of a thorough, rational design, and, of course, the spirit and passion of Moto.

A legend reborn.
Once upon a time there was a bike that conquered America. That bike was a Moto Guzzi. In various versions, the legendary V7 was the protagonist of an amazing international success story. It was the machine that changed our very conception of the motorcycle. There could be no better starting point for the big V-Twin of the twenty first century.
The Breva V 1100 shares many obvious similarities with the V7, starting from the protruding cylinders of the 90° V-Twin, Moto Guzzi's recognised signature. The tireless thump of this mighty engine is the sound track that accompanies every ride, and total reliability and mighty pulling power from low revs are guaranteed too. Now electronic fuel injection has made this classic engine more docile and more responsive than ever, and a whole range of technical innovations have transformed it into a completely unit.
Progress inevitably leads away from even the best starting points. That is why the Breva V 1100 has such intensely personal lines, the work of Marabese Design Studio. And that is why it features so many innovative technical solutions, like Moto Guzzi's patented reactive shaft drive. These two examples alone give an idea of just how much real progress has been made.

Traditional and innovative solutions were all extensively tested to ensure an excellent level of reliability and safety. Before being unleashed on the road, the new 90° V-Twin was run for hundreds of hours on the test bench, and completed 60,000 km of full throttle rolling road testing, the equivalent of 200,000 km of riding under real road conditions.
But the most significant and convincing tests were those conducted on the road. In its natural habitat, the Breva V 1100 shows its true mettle, inspires instant confidence, and delivers unique, hard-to-describe sensations that make up the bike's great character and provide the fuel for true motorcycling passion.
You have to ride the Breva to understand the significance of its name. Breva is the southerly wind that blows over Lake Como, bringing the good weather with it. This lucky name has already brought success to the 1100's little sister, the Breva V 750, which the motorcycling public has welcomed with an enthusiasm beyond all expectations.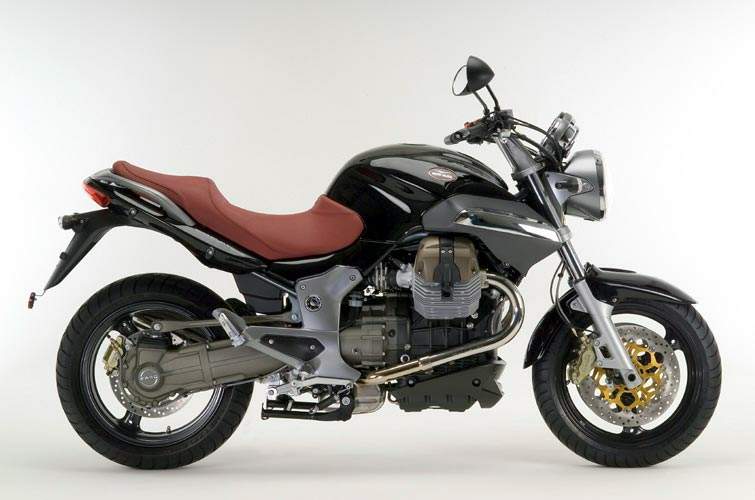 Between prose and poetry.
"There's no need for poetry", Carlo Guzzi used to tell his staff when they came up with an idea that put form before functionality. Yet poetry flowed spontaneously from the contrast between solids and spaces and from the simple beauty of Guzzi's machines.
The beauty of Moto Guzzi motorcycles was and still is technical beauty, in full view and never hidden away. The famous external flywheel of early Guzzis was a feature that attracted attention and praise for its courageous, eye-catching position. The Breva V 1100's new cylinder heads and shaft drive are its direct heirs, mechanical components with 'attitude' that dramatically enhance the appearance of the bike.
Rodolfo Frascoli of Marabese Design Studio, the man behind the Breva V 1100, drew inspiration from the V7 Special, Moto Guzzi's most famous naked tourer. Designed for the American market in the late 1960s, the V7 was powered by a 757 cc version of the 90° V-Twin and carried equipment designed specifically for U.S. riders. Its smooth yet rugged lines are shared by the Breva V 1100, which interprets this classic of motorcycle design in a modern key, but with the same inimitably stylish results.
In keeping with Moto Guzzi tradition, the Breva V 1100's design concept was extremely simple: to make a modern naked tourer. But though clear and decisive, the bike's visual impact is far from boring or banal. Its lines highlight its pleasant dynamics and sporting but unexaggerated nature. The Breva is totally original, but with clear historical inspiration.
In keeping with Carlo Guzzi's convictions, the Breva gives no room to technical frills, solutions that look good but only complicate motorcycling without bringing real benefits. On the Breva V 1100, technical innovation is practical, decisive and realistic, just like the original design concept.

A walk around the Breva V 1100.
The transverse 90° V-Twin engine and its shaft drive were chosen not as limitations on the freedom of design, but as the very heart of the design concept.
A great deal of design effort was put into the area around the engine. The seat is well shaped and extremely comfortable; the generous fuel tank permits great autonomy and ensures excellent riding ergonomics. The overall impression is of agility and dynamism, emphasised by side panels that stretch forward towards the front wheel, creating an aggressive looking front end and giving the impression that the bike is in perpetual motion, longing for speed. Yet not even these panels are there for beauty alone; they also serve the purpose of ensuring correct cylinder cooling and maximising ram air pressure.
The instrumentation is complete and accurate down to the smallest detail; the special oval headlight gives superb illumination; the front mudguard is integrated in the fork legs; and to demonstrate Guzzi's dedication to maximum functionality, a central aerodynamic spoiler designed in the wind tunnel improves air flow over the cylinders.
Logically, our walk around the Breva V 1100 ends at its streamlined, sporty looking tail. Moto Guzzi's concern for practicality in daily use emerges clearly from the provision made for panniers, the care for passenger comfort, and the luminosity of the powerful twin tail lights with the circular LED arrangement typical of Italian sports cars.
Tradition and innovation go together in the colour schemes too. The Breva V 1100 is available in Corsa red, the colour of Guzzi's racing victories, classical Guzzi black and sophisticated Sasso del Lario grey.
The pleasure of a comfortable ride.
An unexaggerated sports motorcycle, a tourer by heritage and a naked by choice, the Breva V 1100 satisfies the needs of all riders, offering unbeatable comfort on every trip. The sitting position is natural and relaxed, thanks in part to a new engine position, higher and further forward than before. Perfectly positioned handlebars, seat and footrests plus an anatomically shaped tank and a clean, no-frills design do the rest. Even the passenger can relax on a comfortable, wide seat with a practical rear grab handle for a safe grip.
This tremendous comfort transforms into instant pleasure the moment the Breva V 1100 starts to move. Perfect equilibrium and optimal weight distribution enable the Breva to flick with incredible agility along winding roads and through urban traffic, and an advanced suspension system smoothes out the roughest road surfaces. The rear monoshock incorporates adjustments for spring preload and rebound so that you can set up your suspension to match load for maximum efficiency.
On longer journeys, you can appreciate the excellent aerodynamics of the optional windshield, make full use of the autonomy afforded by the 23 litre tank, and use the generous capacity provided by the optional panniers and spacious under-seat storage compartment to carry all your personal effects. The special pannier mountings integrate perfectly into the overall design, maintaining the Breva's sleek lines when the luggage is not fitted.
Rider and machine are in constant, satisfying communication, with the futuristic instrument panel as visual focal point. Information is displayed on the active matrix LCD display, and the rider can dialog with the on-board computer using hand grip controls without having to take his hands off the handlebars. With Moto Guzzi, change is always for the better.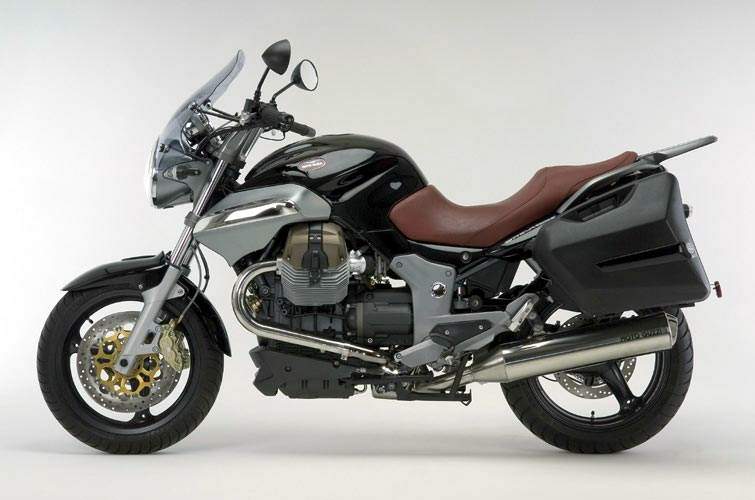 Fun on all roads.
The Breva V 1100 is a bike for all occasions, agile and responsive around town, highly manoeuvrable on country roads and rock steady on fast straights. The Breva's handling is the result of painstaking development and calibration of the frame and suspensions.
The high strength steel frame is incredibly rigid, as is the single sided aluminium swingarm that incorporates the reactive shaft drive. The result is precise, predictable handling, with instant response to rider input, and a satisfyingly entertaining ride with real sports performance on tap.
The Breva V 1100 robust 45 mm fork with spring preload adjustment maintains trajectories with total precision, and the rear suspension eliminates all wobble out of bends and keeps the bike glued to the road at all times.
The single sided swingarm, rising rate linkages and monoshock with adjustable preload and rebound adapt perfectly to all riding styles and road surfaces, and reactive shaft drive eliminates the variations in rear end action typical of conventional systems

The Breva V 1100's braking system deserves special mention, with its two powerful 320 mm floating discs and 4 opposed piston calipers at the front and single 282 mm disc with two parallel piston floating caliper at the rear.

The Breva V 1100 has more than enough stopping power for total safety in city traffic, unforeseen emergencies when touring, and last minute sports braking.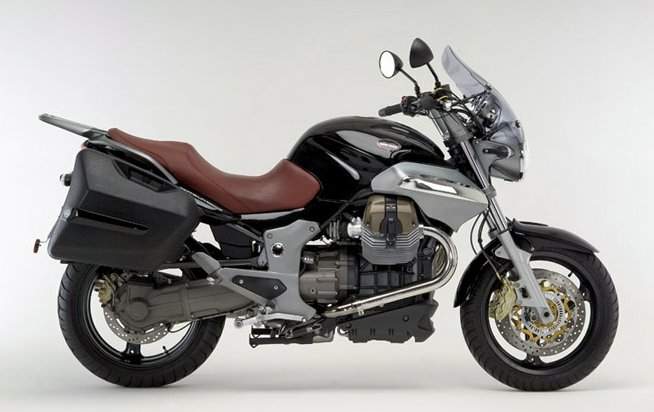 Out of history, on to the road.
We could, of course write a book about Moto Guzzi's transverse V-Twin. In fact, others already have. Many pages in the history of motorcycling are dedicated to this tireless and super-reliable engine, rightly famous for its easily recognised, thumping exhaust note, and for its easy-going docile nature with mighty torque at low revs. But Moto Guzzi has no intention of resting on its laurels. The Breva V 1100's engine has been completely renewed; only the shape is the same as before. A whole range of innovations have been introduced to enhance ridability and to improve those essential characteristics of all great Guzzis, control and smoothness.
Rider and motorcycle can establish an instant rapport as a result. For example, the electronic fuel injection system features a stepper motor to ensure consistent idling and easy starting in all weather conditions. On the road, the system guarantees smooth and controllable power delivery with minimised fuel consumption and exhaust emissions. The new V-Twin complies with Euro 3 and CARB standards.
Twin spark ignition and injectors located directly in the intake manifolds also improve combustion efficiency and performance. Maximum power is 63 kW (86 HP) at 7,500 rpm and maximum torque is 85 Nm at 6,800 rpm, impressive figures for any bike in this class.
A high cruising speed, elasticity and stability of performance in all climates and at all altitudes are the strong points of an engine that delivers pleasure and satisfaction at all times rather than exaggerated performance for mere moments.
Totally new engine design.
If you know anything at all about Moto Guzzi engines, you cannot fail to see the first major innovation. The alternator has moved from its classical position in front of the crankshaft to a new location between the cylinders. As a result, the engine is more compact and 4 cm shorter. This reduction in size results in improved weight distribution and better balance. The new alternator also puts out an impressive 540 W of power, so that you can use a number of accessories at the same time without affecting battery recharging. To maximise efficiency and energy saving, the alternator only generates power when needed, thus eliminating unnecessary use of engine power.
All-new engine components.

The revolution in engine design starts right from the crankcase, which is totally new. Even the con-rods are improved, and 10% lighter than before. The ratio between con-rod length and piston stroke is also higher, to reduce the inertia of alternating mass and keep vibrations down.

The pistons are lighter and shorter than before, and the new, lighter piston rings are more efficient. The piston skirt has a new profile, and the gudgeon pin is now lubricated by two oil jets. The old Klingerite cylinder head gaskets have been replaced by more efficient metal gaskets for better thermal transfer and more constant stud action.

In brief, the new engine is lighter, better lubricated and vibrates less, for a more comfortable ride and better performance.
Superior performance from the word go.

A stepper motor air valve (a solution derived from the automobile industry) eliminates the need for a cold starting choke, and makes starting off uphill or with a full load much easier, as well as stabilising idling speed and helping to reduce emissions.
Pico injectors, installed in the intake manifolds as near as possible to the valves improve combustion and engine responsiveness.

Twin spark ignition, now standard on many big bikes, ensures more even combustion and smoother power, while also reducing vibrations. Not only is the ride more comfortable as a result, but the emission levels demanded by Euro 3 standards are achieved with ease.
Numerous improvements have been made to the valves too. The seats are now sintered to ensure a constant tappet gap and the latest generation stainless steel exhaust valves are fitted for improved temperature resistance, reduced wear and extended life.

Greater reliability.
The crankcase, oil strainer and sump have all been redesigned to improve lubrication efficiency. The new configuration guarantees regular oil delivery under all conditions, especially during fierce braking and acceleration. Maintenance is easier too, because the oil filter is now external and instantly accessible.

If it doesn't exist, we invent it.

Though prudent and rational, Carlo Guzzi had a real feeling for innovation. Inside Moto Guzzi's historical Mandello del Lario factory, Guzzi set up a curious rig to test even the most extreme motorcycling solutions. The "Exaggeration Tester" as he affectionately called it, permitted him to try out even absurd ideas. As Carlo Guzzi often put it, "I know it won't work, but let's try it in any case".
If Carlo Guzzi had loved apparently impossible challenges, some of the technical innovations that made his marque one of the most famous in the world would probably have never come about. "Reactive shaft drive" is the latest of these challenges, and your first ride on a Breva V 1100 will tell you that it has been won hands down.

The patented CA.R.C. (Cardano Reattivo Compatto – Compact Reactive Drive Shaft) system integrates the drive shaft inside the aluminium alloy swingarm. The drive gear and the drive shaft are free to oscillate inside the swing arm, and the shaft has a double cardan joint with built in torsional dampers for smoothness and precision. This solution presents a number of benefits: firstly the 'anti-shaft' lifting effect so typical of conventional shaft drive systems is eliminated; secondly, the new system allows a single piece swingarm to be used, improving overall rigidity; finally, since the reaction rod is no longer a load bearing structure, safety margins are improved too.
Once again Moto Guzzi technology offers riders the tangible benefits of constant, smooth power, with none of the jerking normally associated with shaft drives when the throttle is opened and closed, yet with all the traditional advantages of cleanliness and maintenance-free, silent running.
Moto Guzzi's determination to improve both comfort and performance has led to a completely redesigned gearbox too. The helical gear primary drive is now mounted on the clutch shaft and there is just one driven shaft. The new box also features an indexed gear selector with a sliding action desmodromic preselector. The result is a reduction in weight of over 2 kg compared to the old 6 speed box. The new unit is also extremely silently, finds neutral effortlessly, delivers super-slick changes and compares favourably with the best international competition.