Münch Mammut 2000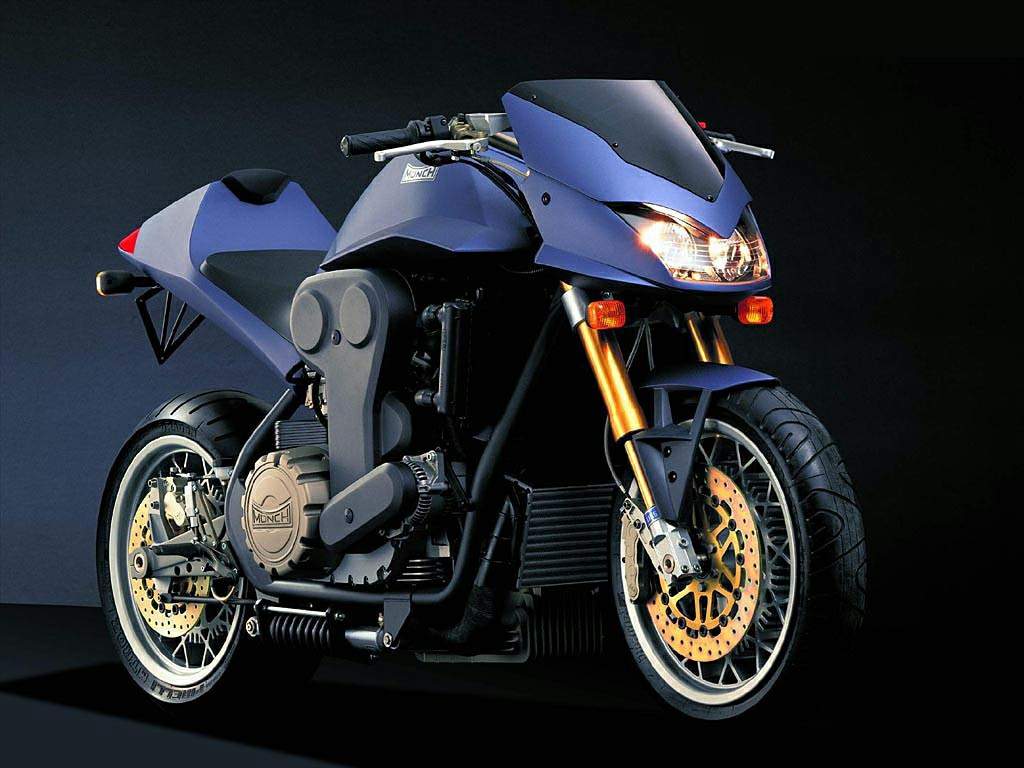 Make Model

Münch Mammut 2000

Year

2000

Engine

Cosworth, four-stroke, turbocharged. transverse four cylinder, 4 Valve per cylinder.

Capacity

1998 cc / 122 cu-in

Bore x Stroke

86 x 86 mm
Cooling System
Liquid cooled

Compression Ratio

9.0 : 1

Induction

Electronic fuel injection

Ignition

Electronical Münch Motor Steuerung with Lambda Sonde
Starting
Electric

Max power

260 hp / 191 kW @ 5650 rpm

Max Torque

295 Nm / 30.1 k

m

-

g

@ 3500 rpm

Transmission

6 Speed
Final Drive
Chain
Frame
Double cradle steel,

Front Suspension

Öhlins telescopic, Ø 43 mm, Adjustment, front spring base, rebound, compression, 120mm wheel travel

Rear Suspension

2 x WP horizontal, Adjustment, rear spring base, rebound, compression, 65mm wheel travel.

Front Brakes

2x 320mm discs 8 pistons calipers

Rear Brakes

Single 280mm disc 4 pistons caliper

Front Tyre

120/70 ZR17

Rear Tyre

200/50 ZR17
Wheelbase

1540

mm / 60.6 in

Seat Height
780 mm / 30.7 in

Dry Weight

354 kg / 780 lbs

Fuel Capacity

26.5 Liters / 7.0 US gal

Top Speed

156 mph 250 km/h electronically limited
Related links
Muench Story-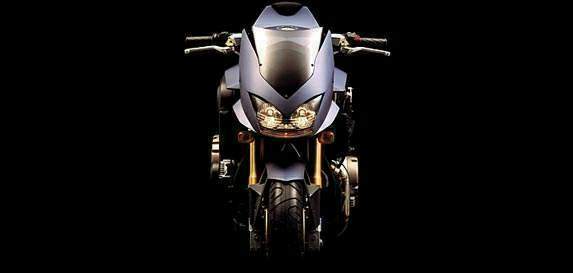 This Mammut 2000 is a 260bhp behemoth, powered by a blown, two-litre engine and it weighs a massive 354kg.
The 86 x 86mm, 1998cc transverse four-cylinder engine features a 16-valve Cosworth cylinder head. It is turbo-charged at 13 psi to satisfy those who wonder why Herr Münch didn't make it bigger. Peak power is given at only 5650 rpm, although the engine can safely rev to 8500. Electronically limited to 156 mph to satisfy the gray men in Brussels, this bike would otherwise top out in sixth gear at a modest 172 mph . Acceleration, according to the brochure, is "sufficient."
Suspension is 43mm Öhlins at the front, dual WP under-engine units at the rear. Braking is handled by maximal twin 320mm discs at the front, grasped by a pair of eight-piston calipers. The chassis is retro-conventional twin-loop steel, with conservative geometry of 28 degrees of rake, 4.5 inches of trail.
This giant satisfies European D4 emissions standards, thanks to automotive-style closed-loop Motronic fuel injection and a rapid-lightup metal-substrate catalytic converter. Using an accessory cable, factory technicians can address the onboard computer over the Internet, and analyze important functions. Ve have ze technology.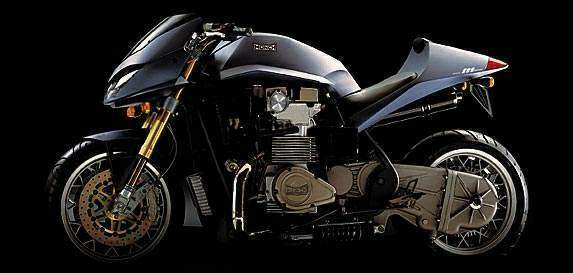 Features


*The beast is aided by an Electronic Fuel Injected Turbo Charged DOHC 16 valve engine.
*Of course, you might miss the main stand if you are the Governator or else all you could probably do is strech the side stand and appreciate the monster's beauty etched only in Aluminium alloy (engine), Magnesium alloy (oil sump), & Carbon fibre (Fairings and Tank).
*It has a Digital Control System with adjustable Footrests & Hand lever
*All engine data can be checked and adjusted over the Internet via diagnostic plug and a special adapter
*It also features a electronic immobilizer for those who might not have enough space in the garage to park it.

The man responsible for the monster Munch is none other than 73-year-old Friedrich Munch, who appears to have devoted his life to building big piles of metal. He said:

"/ am pleased to be able to present the culmination of my life's work." The long, winter nights must just fly by...

Herr Munch began building huge machines back in 1966. His first Munch was based around a car engine and re-wrote the history books by becoming the largest, heaviest and fastest production bike ever. Then, in 1973, he built exactly the same bike, but fuel-injected it.

From 1973 to 1977 he built the Horex 1400, then the Titan 1800 in 1984.1987 saw the Titan 1600 and, in 1989, he threatened to retire after building the Titan 2000. Didn't stick to it though...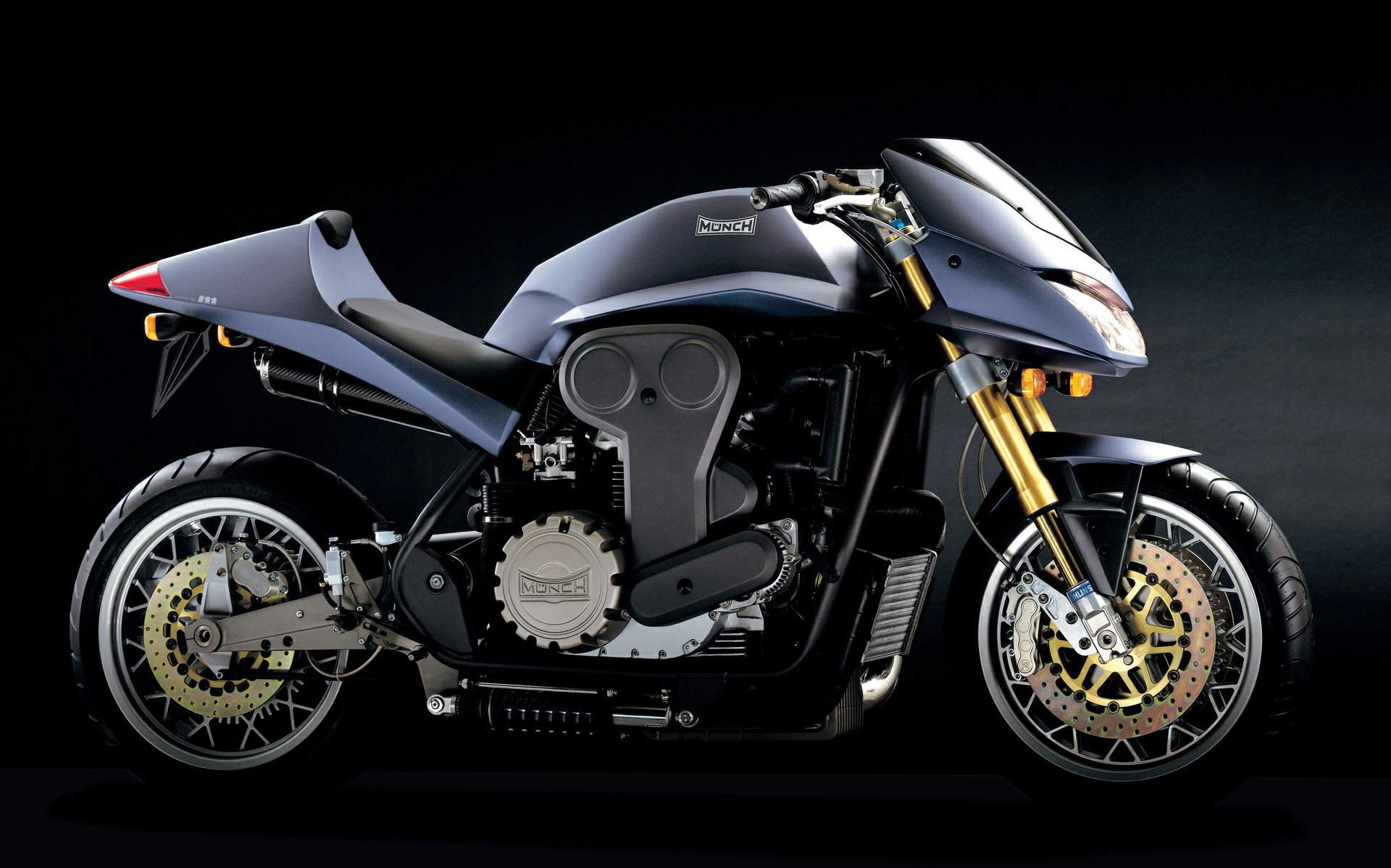 The great Friedl Munch started creating the Munch Mammoth monsterbike in the late 60s with different versions ranging from a 996cc streetbike to a 104bhp, 1278cc roadster fitted with an inline four-cylinder NSU engine which would reach speeds of around 200kmph/ 125mph.
Friedl Munch passion was to build racing motorcycles which could outrun almost anything on wheels. Post WW II, Munch worked in the Horex race shop, building 250 and 350 singles and dohc GP twins. In the 1960s, Munch developed his own, supremely effective, racing drum brake, which was fitted to many top privateer bikes like the legendary Manx Norton or G80 Matchless. In 1964 Munch created his first full motorcycle - a tidy, dohc 498cc four. In 1965 he was commissioned to build a machine for record-breaker Jean Murit, one which would be bigger, faster and more powerful than any production roadster, and so the first Mammut was born. Some 500 similar Mammoths would be produced over the following 20 years, all of them hand-built.
After some hiccups, again in 1968, British-made Rickman frames were used by the new Münch-URS team, whose first race was at the (non-Championship) Austrian Grand Prix on April 1970. It was a dream debut- Munch rider Kaczor won the race and set the fastest lap, with another Munch coming second, although it must be said that the opposition was not a strong as it would have been at World Championship level. Nevertheless, Hoppe's Münch-URS managed an impressive fourth place at the German Grand Prix at Hockenheim a week later.
Sadly, after this promising start the project fell apart. Disagreement among the top brass again led to the stoppage of the family run. There were a few more outings for the Münch-URS solo, but what should have been a credible challenge to the dominance of MV remains one of Grand Prix racing's more fascinating 'neverwozzas'.