Make Model

MV Agusta Brutal 800 Dragster

Year

2016 -

Engine

Four stroke, transverse three cylinder. DOHC, 4 Valve per cylinder,

Capacity

798 cc / 48.7 cu-in

Bore x Stroke

79 x 54.3 mm
Cooling System
Liquid Cooled

Compression Ratio

13.3;1

Induction

Integrated ignition - injection system MVICS (Motor & Vehicle Integrated Control System) with three injectors Engine control unit Eldor EM2.0, throttle body full drive by wire Mikuni, pencil-coil with ion-sensing technology, control of detonation and misfire Torque control with four maps, Traction Control with eight levels of intervention

Ignition

Multipoint electronic injection
Starting
Electric
Alternator
350 Wat 5000 r.p.m. 12V-8.6Ah

Max Power

92 kW / 125 hp @ 11600 rpm

Max Torque

81 Nm / 8.25 kgf-m @ 9600 rpm.
Clutch
Wet, multi-disc with mechanical drive Cassette style

Transmission

6 Speed
Final Drive
Chain
Gear Ratio
1st: 13/37 2nd 16/34 3rd 18/32 4th 19/30 5th 21/30 6th 22/29
Final Drive Ratio
16/41
Frame
ALS Steel tubular trellis Aluminium alloy

Front Suspension

Marzocchi "UPSIDE DOWN" telescopic hydraulic fork with rebound-compression damping and spring preload external and separate adjustment 43 mm
Front Wheel Travel
125 mm / 4.9 in

Rear Suspension

Progressive Sachs, single shock absorber with rebound and compression damping and spring preload adjustment Aluminium alloy
Rear Wheel Travel
125 mm / 4.9 in

Front Brakes

2x 320mm floating discs 4 piston calipers

Rear Brakes

Single 220mm disc 2 piston caliper
Rim Front
Aluminium alloy 3.50 " x 17 '
Rim Rear
Aluminium alloy 5.50 " x 17 '

Front Tyre

Rear Tyre

Trail
95 mm / 3.74 in.
Dimensions
Length 2060 mm / 81.0 in
Width 825 mm / 32.4 in
Wheelbase
1380 mm / 54.3 in
Ground Clarence
160 mm / 6.3 in
Seat Height
811 mm / 31.9 in

Dry Weight

167 Kg / 368.2 lbs

Fuel Capacity

16.6 Litres / 4.3 US gal
Reserve
5 Litres 1.3 US gal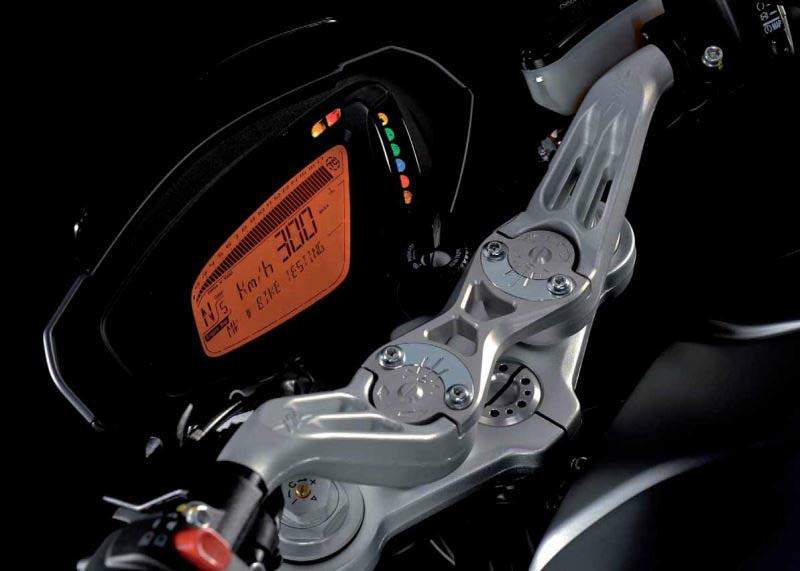 Throttle wide open. Engine at the rev limit. The rear wheel spinning relentlessly trying to gain traction, surrounded by a cloud of white smoke, defenning tyre squeal, raw power, biting into the tarmac and devouring it metre after metre. The MV Agusta Brutale 800 Dragster is all this and much, much more. It is motorcycling reduced to the essence of pure riding pleasure. Emotional, freedom.
MV Agusta continues to expand its motorcycle range: after introducing the Rivale 800, the emblem of motard-style sports appeal and ultra-dynamic road performance, the new Brutale 800 Dragster takes the very concept of 'motorcycling passion' and makes it breathtakingly tangible. No mere means of transport, a motorcycle is a symbol of freedom, of our need to get out there and explore and to savour mile after spine-tingling mile. Experiencing every single second of that freedom. The new Brutale 800 Dragster embodies and embraces the ambitions and dreams of every biker, making them nothing less than on-the-road reality. Thrills.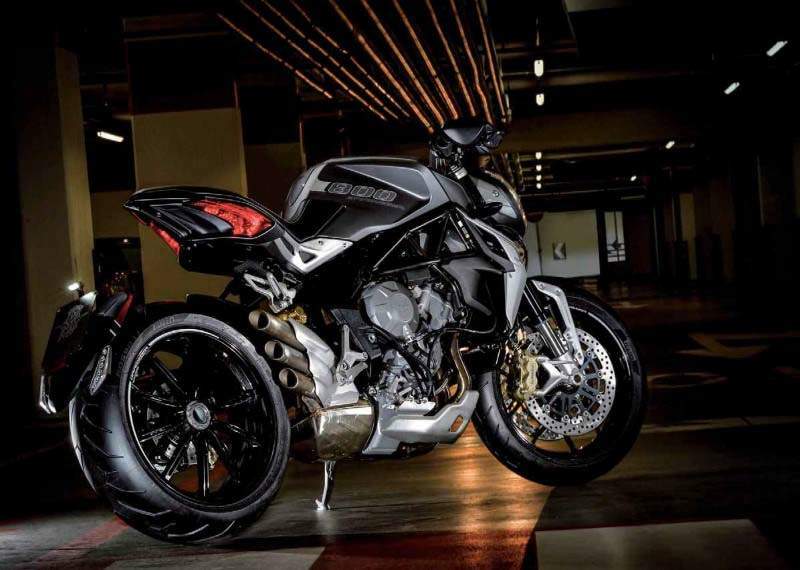 Unforgettable moments. The 3-cylinder Brutale 675 and 800 have introduced countless riders to that awesome buzz that goes with riding a high-performance naked bike. Outstanding ridability, power under constant control, lightness, great design, and exceptional value for money. This unmatched combination has made the 3-cylinder Brutale a huge success. Now, the Brutale 800 Dragster takes a big step forward into the future, yet does so with an attentive eye to the past. The most extreme Brutale ever is no fan of compromise: irreverent and brash, it is essential, brusque, outspoken and irascible. Packing a powerful punch, the Brutale 800 Dragster takes exhilaration to a whole new level. At the same time it draws on the ideas that shaped the first 4-cylinder Brutale bikes, the very essence of the naked concept and monuments to incomparable styling. Linking yesterday and tomorrow, the Brutale 800 Dragster embodies both experience and intuition, symbolising motorcycling past, present and forever. Pure essence. Pure thrills.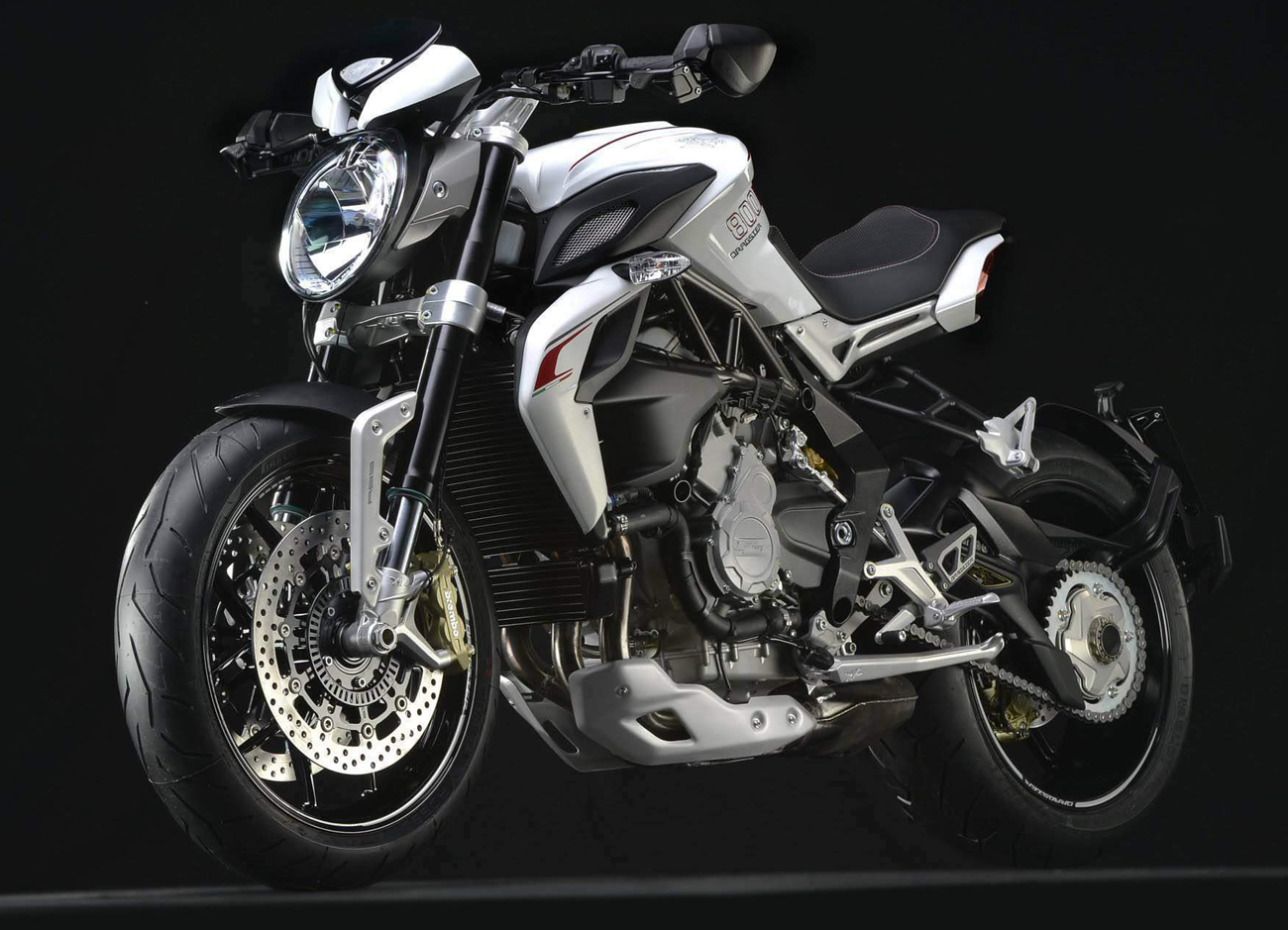 100% Brutale. With consummate Italian craftsmanship, the Brutale 800 Dragster re-evokes the epic DNA of the "dragster" race bikes, specifically built to release their explosive power in the few seconds that separate clutch release from the chequered flag. Seconds as scorching hot as the rubber left smoking on the tarmac. Seconds that speed by in the blink of a tachometer. In pursuit of unforgettable sensations. The Brutale 800 Dragster flings open the doors to the idea that freedom is attainable. On two wheels. Or even on just one.
Key Features
In detail, the main features of MV Agusta Brutale 800 Dragster:
In-line three-cylinder engine, 798 cc
Bore 79.0 mm, stroke 54.3 mm
Maximum power 125 HP-EC (92 kW) at 11,600 rpm
Maximum torque 81 Nm at 8,600 rpm
Limiter at 13,000 rpm
Dry weight 167 kg
Power-weight ratio 1.34 kg/HP
Tyres Pirelli DIABLO Rosso II 120/70 - ZR 17 front, 200/50 – ZR 17 rear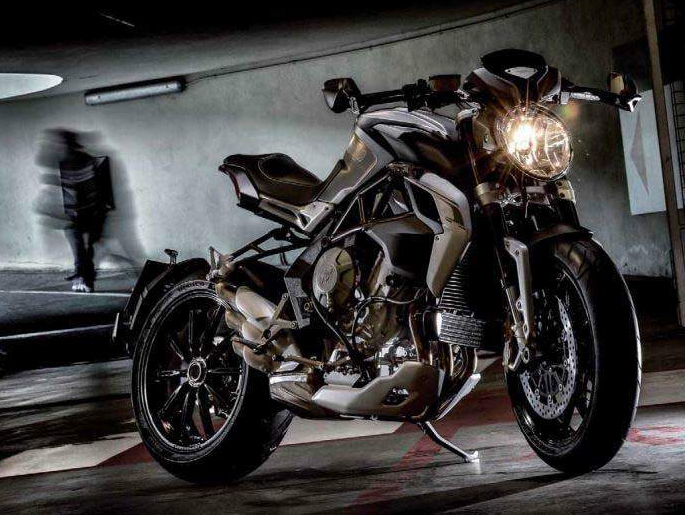 Features and Benefits
ENGINE
Engineering at the service of manufacturing efficiency: the 3-cylinder MV Agusta platform demonstrates how conscientiousness at the concept and design stages can result in the development of completely original models from the same, shared technological basis. The new Brutale 800 Dragster is no exception to that rule, once again highlighting the versatility of the cutting-edge MV Agusta platform centred on the 3-cylinder engine - the power unit that has made the greatest developmental progress in its market segment. The goals laid out in the project brief were highly ambitious: performance at the peak of their respective displacement categories (675 and 800), maximum elasticity, low fuel consumption and a torque curve spread evenly across the entire power range. And unprecedented compactness: the three-cylinder MV Agusta engine, built to achieve all these goals, weighs just 52 kg, giving improved output flexibility and better load distribution on the axles, on both the new Brutale 800 Dragster and the other models that already possess this feisty in-line 3-cylinder Italian engine. Key technical features include the shell-cast "closed-deck" crankcase with integral bore liners; the need for compactness has also imposed full integration of the water and oil circuits and the respective service pumps. Just as significant - and exclusive - is the choice of counter-rotating crankshaft, a solution with origins in the racing world where ride responsiveness has absolute priority, and the only judge of performance is the stopwatch. The counter-rotating crankshaft reduces inertia during changes of direction because it lowers that same inertia during deceleration; this enhances handling, the excellence of which is already a built-in top-priority feature of the MV Agusta chassis set-up. Compared to previous 3-cylinder configurations, the one specially developed for the Brutale 800 Dragster focuses on fast-response, linear power output, putting a mighty roar into this roadster. The 125 HP power peak is reached at 11,600 rpm, while the maximum torque of 81 Nm comes at 8,600 rpm. Completing this highly sophisticated package is the removable 6-speed gearbox, with ratios designed to ensure awesome acceleration and a sports-category top speed should the bike be unleashed on the track.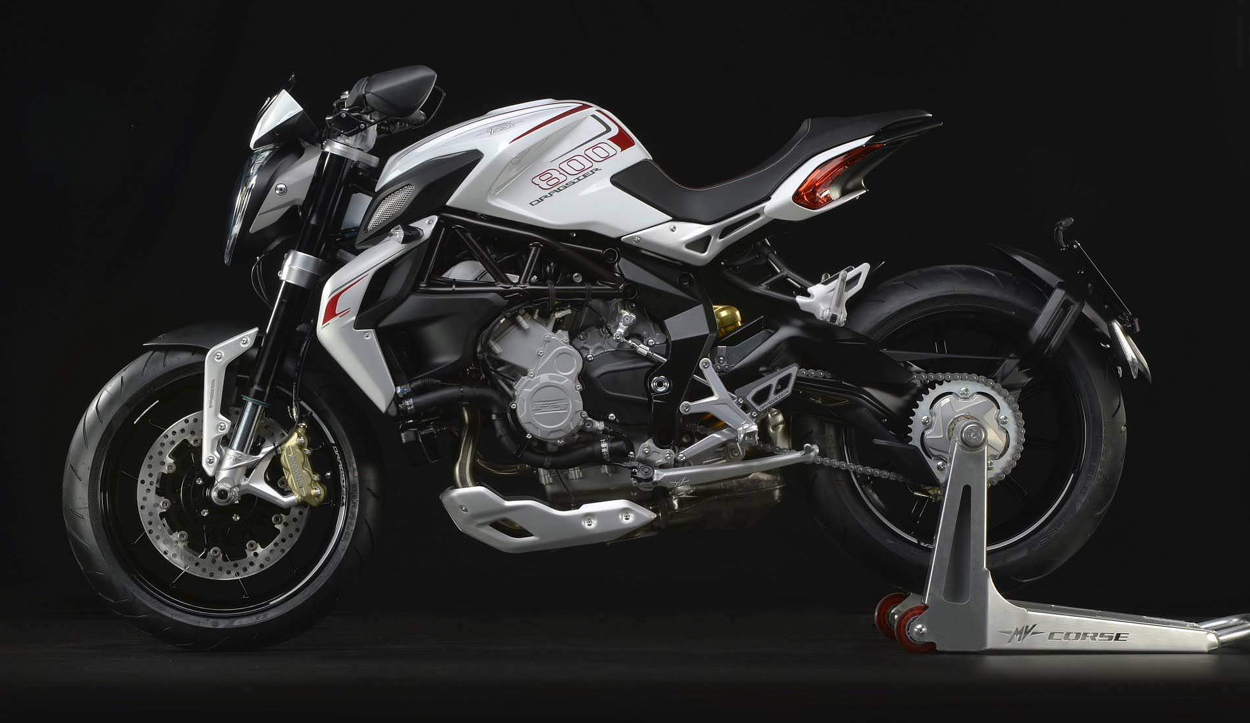 ELECTRONICS
The new MVICS (Motor&Vehicle Integrated Control) injection-ignition system features the very latest software and an engine control strategy first implemented, with great success, on the Rivale 800 and now extended to the entire 3-cylinder MY2014 range. MVICS also features the Eldor EM2.0 engine control unit and a Mikuni Full Ride-By-Wire throttle body. The fully integrated management allows, via the instruments and the handlebar switches, easy adjustment of numerous user-settable parameters. More specifically, the system lets the rider configure the torque setting with 4 different mappings. Three of these are set directly by the manufacturer and named according to the relative riding conditions (Sport, Normal and Rain) while the fourth leaves the rider free to define, within established limits, all the individual parameters: engine response, rev limiter, engine torque response, throttle sensitivity, engine braking. As one would expect, 8-level traction control (which can be disengaged) is also included: the relative algorithms have been tweaked to perfection for maximum precision, a must on a bike such as the new Brutale 800 Dragster as one of its defining characteristics is astounding acceleration.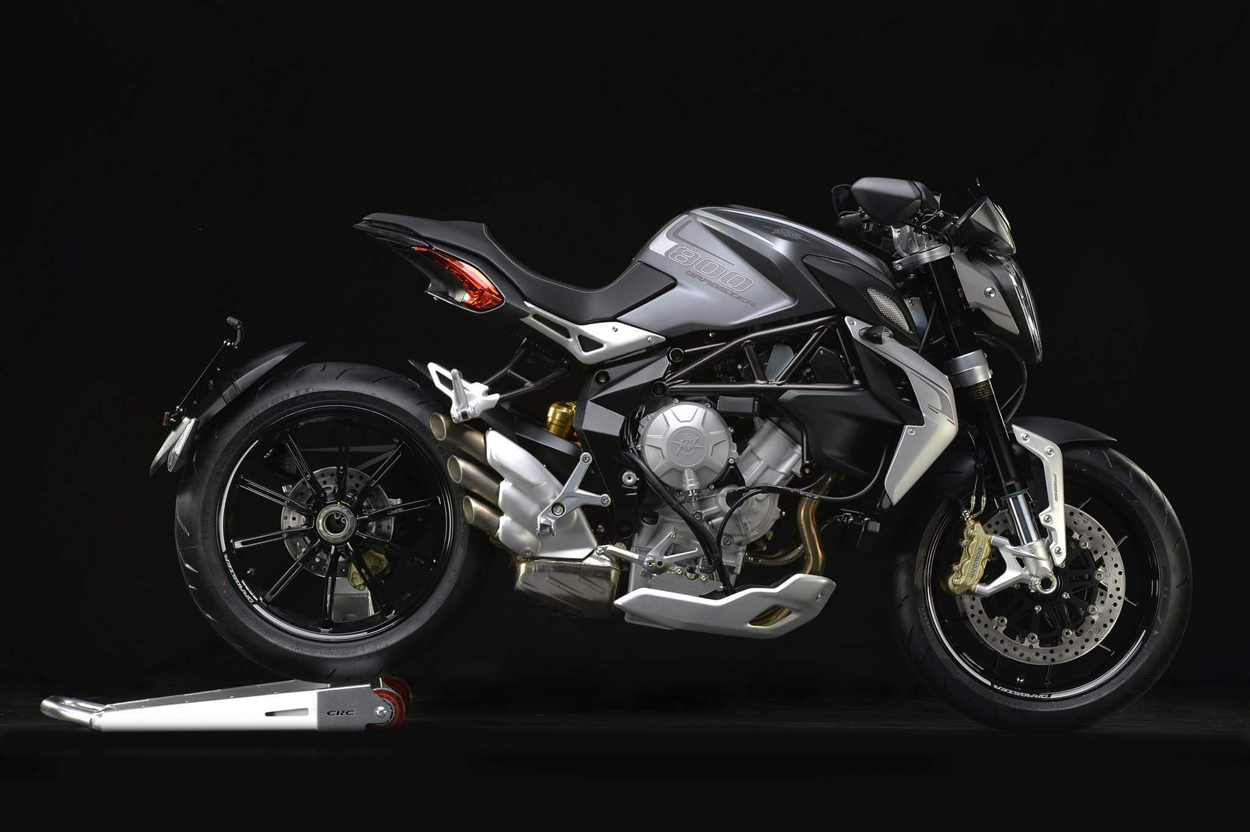 CHASSIS SET-UP
The frame configuration, which has characterised the 3-cylinder platform since its inception, features an ALS tubular steel load-bearing structure, supplemented by lightweight aluminium alloy plates. This combination forms part of that production flexibility concept which inspired the 3-cylinder project and consequently allows the design of specially-developed frames for each model without disrupting the underlying look or essence. Note that this same set-up has characterised MV Agusta models since the launch of the astonishing F4: today's 3-cylinder Italian-built MV Agusta bikes offer up an even more highly evolved version of the concept. The front, tubular section employs a steel alloy with exceptional metallurgical qualities that, while extremely lightweight, provides outstanding torsional stiffness, especially in those areas most subject to stress, such as the steering head. The aluminium alloy plates close off the structure at the rear and act as the fulcrum for the single-sided swingarm. A compact wheelbase of just 1,380 mm, identical to that of the Brutale 800, strikes a perfect balance, ensuring both excellent handling and stability; the 95 mm trail boosts the already outstanding front end performance, making for enhanced ridability and bike control. Another eye-catching feature perfectly in keeping with the Brutale 800 Dragster design ethos is the attentiongrabbing Pirelli DIABLO Rosso II rear tyre, having a width of 200 and a shoulder of 50. The suspension system features fully adjustable units, allowing personalisation of compression and rebound settings, as well as providing a selection of spring pre-load options. The Ø 43 mm upside-down Marzocchi fork offers 125 mm of travel; the Sachs rear shock gives the single-sided swingarm - also in aluminium alloy - 125 mm of travel. The seat, with a height of 811 mm, has been redesigned to improve comfort and function: it also boasts a craftsman-like finish with stylishly stitched seams. The rider can also count on even more functional foot pegs and supports, and new heel guards which, just like the wheel rims, have been specially customised for the Dragster. Equipped with first class Brembo components, the braking system relies on a pair of Ø 320 mm floating front discs, equipped with 4-piston callipers (Ø 32 mm); the rear unit, instead, has a Ø 220 mm steel disc and mounts a 2-piston calliper (Ø 34 mm).
Colours
Dragster 800 is available in 2 colour:
White
Matt Metallic Grey