MV Agusta F4 750 Senna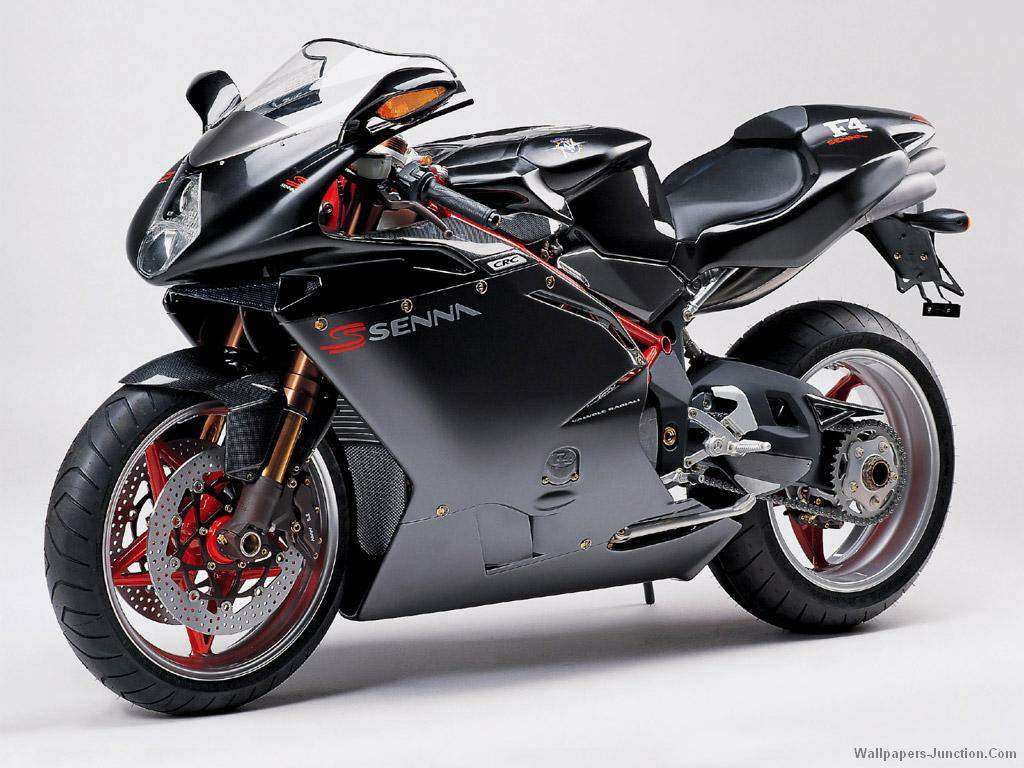 Make Model

MV Augusta F4 750 Senna

Year

2001 - 02

Engine

Four stroke, transverse four cylinder. DOHC, 4 valves per cylinder.

Capacity

749.4 cc / 45.7 cu-in

Bore x Stroke

73.8 x 43.8 mm
Cooling System
Liquid cooled

Compression Ratio

12.0:1

Induction

Fuel Injection

Ignition

Multipoint electronic

Starting
Electric

Max Power

140 hp / 102.2 kW @ 12600 rpm

Max Torque

81.4 Nm / 60.0 lb-ft @ 10500 rpm

Transmission

6 Speed

Final Drive
Chain

Front Suspension

Upside-down telescopic hydraulic fork with rebound-compression damping and spring preload adjustment 49mm diameter

Front Wheel TraveL
118 mm / 4.6 in

Rear Suspension

Progressive, with single sided swingarm, single shock absorber with rebound-compression damping and spring preload adjustment

Rear Wheel Travel
120 mm / 4.7 in

Front Brakes

2x 310mm discs 6 piston calipers

Rear Brakes

Single 210mm disc 4 piston caliper

Front Tyre

120/65 ZR17

Rear Tyre

190/50 ZR17

Dimensions
Length 2007 mm / 79.0 in
Width 685 mm / 27.0 in
Wheelbase
1398 mm / 55.0 in
Seat Height
790 mm / 31.1 in

Dry Weight

188.0 kg / 414.5 lbs

Fuel Capacity

21 Litres / 5.8 US gal

Consumption Average

33.4 mpg

Standing ¼ Mile

10.9 sec / 131.8 mph

Top Speed

170.9 mph / 275 km/h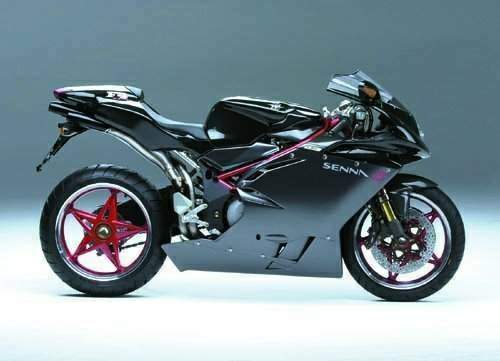 Claudio Castiglioni, the president of MV Agusta, was a close friend of Ayrton Senna, and has worked closely with the charitable Senna Foundation since the legendary Fl driver died in a crash at Imola in 1994. The F4 Senna is a limited edition of 300 machines, with all proceeds going to the Senna Foundation to help disadvantaged children. Based around the high-spec SPR version of the F4, it features the same engine and chassis, with a special black-and-red colour scheme and silver numbered plaque. The SPR engine has a higher rev ceiling, producing an impressive 109kW (146bhp). Stronger pistons and a lightened crankshaft allow the higher revs. Many chassis parts have been replaced with lighter, carbon-fibre parts.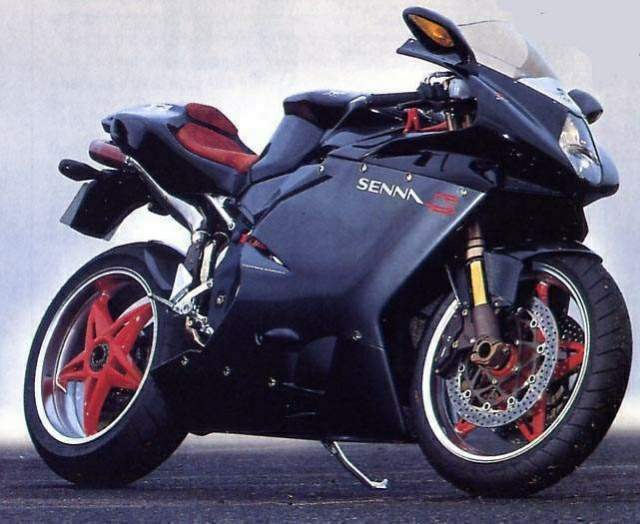 Model Evaluation
In a fitting tribute to its illustrious name, the resurgent MV Agusta, able to claim 75 world championships, 270 Grand Prix and 3027 race wins, has retooled its already truly superb 750cc sportbike for 2002. Although we were in line to receive an MV from the American importer over a year ago, the single example that had been set aside for press testing was crashed heavily by another magazine just before we were to receive it. Alas, as MV's U.S. sales volume is small, and every allotted bike is typically sold before it arrives on our shores, another press bike couldn't be justified. So, we were fortunate to obtain our bike from a private owner.
Although the basic F4 has been available on a limited basis since 2000, it is now offered in three separate versions; these are the F4 S (standard), the Senna (named for the late multi-time world Formula One champion, Aryton Senna) and the SPR. Our test unit, a Senna, serial #007 of just 300, was provided by our friend and sporting collector, Mr. Kaming Ko. Kaming, an ex-racer himself, has an impressive stable of collectable motorcycles, including two other modern MV Agustas, all of which he keeps immaculately prepared and rides hard without undue concern for their considerable value. Thank you, Kaming!

Double-O-Seven arrived direct from Italy after a brief stop in Texas. included in the price was an attractive nylon motorcycle cover and a kit containing the few necessary parts to transform the F4 for track duty. It included two alternative rear sprockets, a factory-issue, less-restrictive "RG3" exhaust (made by Arrow) and re-mapped ignition chip with installation instructions. While we prefer to test EPA-legal motorcycles, these parts had already been installed (who wouldn't install them on their own MV?), and so our performance numbers reflect the increased power they provide. it should be mentioned that the exhaust was not especially loud, and the bike can be street-ridden without making anything other than a visual spectacle of itself.
Technology
You don't have to look far to find features that distinguish the MV F4 Senna from other current 750cc sportbike offerings. Starting with the powerplant, this thoroughbred Italian 750 was designed with assistance from Ferrari. A radically "over square" DOHC in-line four, it has a bore of 74mm and a stroke of 43mm, for a total displacement of 749.4cc. A Weber Marelli electronic fuel injection system feeds its almost vertical down-draft intake tracts, and MV claims a compression ratio of 12:1, with a sky-high redline of 13,900 rpm.
Unique among modern sportbikes, MV's designers have embraced a "radial" four-valve cylinder head design, with all the valve stems tipped away from the cylinder centerline. Radial valve technology is not new, and in fact the 1930 four-valve Rudge-Whit-worth motorcycle was the first to use the idea. (And sadly, its costly technical development helped to eventually bankrupt the company.) it was also used successfully on the BMW M1, as well as Honda's XR series of single-cylinder four-strokes. The radial design's advantages are less valve-flow shrouding, a superior combustion chamber shape and enhanced mixture swirl resulting in faster, more efficient combustion.
The Engine
In the search for increased midrange, top-end power and higher rpm output, Agusta engineer Andrea Goggi and his busy team in Varese made substantial engine changes on the new F4 models. Newly designed forged pistons have received reshaped crowns and larger pin diameters, now 16mm. Not content with the intake flow, engineers moved the cylinder bore's axis rearward 1.5mm to create a larger distance between the intake valves and cylinder walls, to reduce shrouding, while the intake port diameters have been increased from 22 to 24.5mm. Combustion chamber shapes have also been revised, with all the changes aimed at increasing overall cylinder filling and combustion efficiency. To accommodate the improved flow, inlet cam timing has been advanced four degrees while exhaust camshaft profiles are now longer in duration with higher lift. Rounding out the numerous changes to the top end are new valve springs and lighter retainers.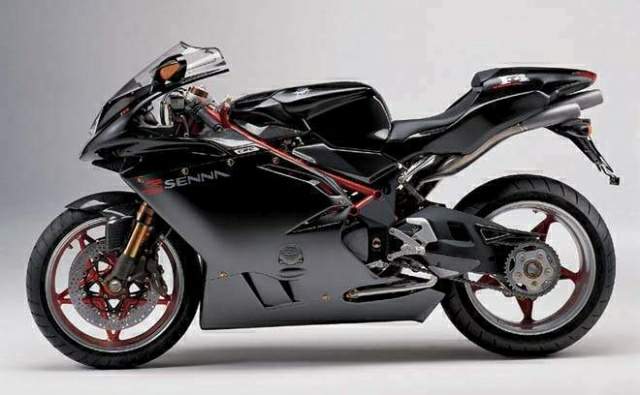 To reduce reciprocating mass and increase rpm, 2.2 lbs have been removed from the crankshaft and a shorter primary drive ratio is used to reduce the rotational speed of the alternator, again improving acceleration.
The F4 is available in three states of tune for 2002; the standard F4 being rated at 135 crank hp, the Senna at 138 hp (both at 12,600 rpm), with the SPR being the highest spec, rated at 144 hp @ 13,000 rpm. Peak rpm also varies; the F4 S redlines at 13,300 rpm, while both the SPR and the Senna models are elevated to 13,900. Our dyno tests indicated a peak rear wheel torque of 53.3 lb. ft. @ 10,500 rpm, with a peak horsepower of 116.7 @12,500.
In the case of premium-priced exotics like the MV Agusta, component costs do not have the same impact on a company's bottom line, thus MV is free to use racing-grade components on the F4. Significant examples here are the cassette-style gearbox that allows internal ratios to be changed without removing the engine from the frame; a seriously stiff, and drop-dead gorgeous, inverted 49mm Showa fork with quick "drop-out" axle retainers. Such equipment would not be considered "cost effective" on larger production model runs.
In the case of the gearbox, while each of the three models arrives with a different first gear ratio, only the Senna and SPR share the remaining five. Our Senna's first gear ratio was midway between the lowest found in the F4 S and the tallest on the SPR. But, this being said, the Senna still has a radically tall first-gear—good for 89 mph before shifting to second! Naturally, this places a serious burden on clutch performance, and we all winced when witnessing the abuse necessary to accomplish a dragrace start with such a tall gear. To accommodate the abuse, MV increased the size of the wet clutch's hub and plate diameters.
Performance
During our testing, the Senna easily bumped its rev-limiter in top gear, posting an impressive radar trap speed of 170.9 mph at an indicated 291 km @ 14,000, even though the final drive ratio was reduced this year for more speed. Changing to the spares kit's 37-tooth sprocket would have very likely have allowed the bike to attain 175+...Wow! More than just efficient streamlining and a small frontal area, the willingness of the engine to pull well past its power peak, soaring into redline at 13,900 rpm, is what it takes to make such a high speed.
However, the super-tall first gear definitely hurt its acceleration times. Our quarter-mile started with a comparatively slow 0-60 time of 3.50 seconds, ending with an elapsed time of 10.85 seconds @ 131.85 mph—certainly quick, but it could have been so much quicker with a shorter first gear ratio.
Perhaps most impressive was the audio track, an almost musical soprano howl at full-song. It gave us shivers.
Brakes & Suspension
For brake hardware, up front MV fits slim, updated Nissan six-piston calipers that work on 305mm stainless rotors. In the rear, engineers elected to use a small 205mm disc, stopped by a four-piston unit. Front braking power, feel and modulation were excellent and vastly improved from earlier models. In the rear, more stopping power could have been used on occasion, were it available. In our testing, consistency was the theme as two willing testers, both vying for top stopping honors, eventually achieved identical best 60-0 distances of 122.27'. The limiting factor during extreme braking was not impending tire lock-up, but instead the F4's forward weight transfer, causing the 750 to float the rear wheel slightly above the tarmac almost the entire stopping distance.
Front suspension on the F4 is indeed special; a massive no-expense-spared, 49mm diameter Showa fork, adjustable for rebound, compression and spring preload. The unique "drop-out" axle feature allows front wheel removal with the release of the hinged retaining caps at the bottom of each fork leg. An equally huge 40mm diameter hollow axle is integrated into the front wheel, and remains with the wheel as one assembly. Advantages here are threefold, the big axle is more effective at joining the sliders without flexing, all the components that need to be stiff are, and with the use of a proper stand, front wheel removal is fast with no falling spacers. To reduce friction and improve suspension feel, the huge 49mm sliders have also received a Ti-Nitride coating. Damping and spring rates were well matched for the sportiest of riding, offering excellent handling and suspension compliance over the available 4.65" of travel. Firmly securing the fork to the tubular trellis frame is a massive cast lower triple-clamp using three pinch bolts per side. No flex here.
The rear shock absorber is a Sachs unit, adjustable for rebound and compression damping and spring preload (via a threaded collar). As with the front end, our testers required no spring or damping changes, signifying well-balanced OEM settings.
Also on the MV is a rear ride height adjuster, similar to that found on the Ducati 998. Loosening two small pinch bolts allows the main adjuster to be turned in either direction with a single wrench. Although for our test no ride height changes were necessary, this system allows chassis rake adjustment (for steering feel) independent of spring preload settings. Again, along the lines of quick and easy, the single-sided swingarm permits almost instant removal of the rear wheel with a single 55mm socket.
Mr. Ko's Senna came shod with Pirelli Dragon tires. The compound designation "Corsa" meant that we should expect tenacious grip but limited life expectancy. The 120/65-17 front tire has a rounded profile which had a neutral influence on steering but required a fair amount of constant input at the bar. On the rear was a 180/55-17 Dragon. Overall tire performance was exceptional. Both traction and handling characteristics seemed suited the F4's geometry perfectly.
Controls, Fit and Finish
All rider controls are adjustable for position. The handlebars have the typical pinch bolts to secure the placement of the controls. Integrated eccentrics permit the adjustment of footpeg locations and pedal reach. Bar mounted switches are high quality, with the conventional layout, the only exceptions being a small choke lever positioned on the right bar just above the starter button and a separate headlight flash button on the left switch assembly. A pricey adjustable Ohlins steering damper is horizontally mounted just in front of the gas tank. Everywhere you look, the fit and finish are superb, with everything well thought out. Fairing removal is facilitated by aircraft-type twist fasteners, allowing for easy access to the components underneath. When dressed, every part is pleasing to the eye, with attention given to even the smallest detail—evidence of Massimo Tamburini's design mastery.
If there are any obvious shortcomings to be found, the most egregious would be in the area of handlebar clearance and turning radius. The Senna, as well as its MV predecessors, suffers from a lack of thumb clearance between the handlebar and fuel tank body panels at full lock. This poses a real concern, as the possibility for injury during an unforeseen lock-to-lock definitely exists. Although a fix for this is possible, it would not be simple.

Riding Impressions
The first impression of the F4 gives that of a small, compact motorcycle. With a total wet weight of 481 lbs, the Senna is not exceptionally light, however the overall weight distribution with the rider aboard is 48% front/52% rear, and provides one of the best-balanced rides we have experienced. Stability, especially at high speeds, is perhaps the Senna's strongest suit. Chassis feedback to the rider is ample thanks to the taut suspension rates and stiff components. Tighter roads welcome the use of the close ratio transmission, and the Senna responds best by dropping down two gears in situations where just one might be adequate on less-highly tuned machines. This tends to keep the rider busy, but the high-revving four never complains. In fact it almost demands to be ridden aggressively. Engine performance is very good with just a slight vibration noticeable at low rpm.
Conclusion
From the badge emblems on the tank and seat to the race-worthy components, this machine is almost as much fun to sit on and look at from the cockpit as it is to ride... almost. It's certainly not for everyone, but if a pedigreed exotic can fit your budget, you can't go wrong with an MV.

18 OCTOBER 2002 • MOTORCYCLE CONSUMER NEWS