MZ Baghira Street Moto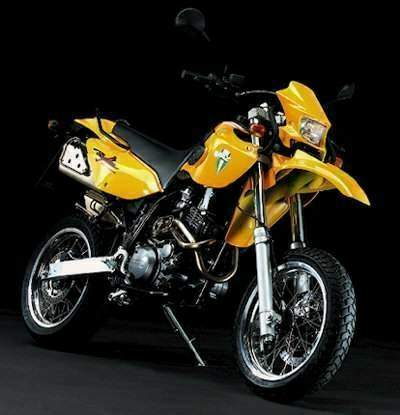 | | |
| --- | --- |
| Model | MZ Baghira Street Moto |
| Year | 2001 |
| Engine | Liquid cooled, four stroke, single cylinder, SOHC, 5 valve per cylinder. |
| Capacity | 660 |
| Bore x Stroke | 100 x 84 mm |
| Compression Ratio | 9.2:1 |
| Induction | |
| Ignition / Starting | Electronic |
| Max Power | 50 hp 36.4 kW @ 6500 rpm |
| Max Torque | 57 Nm @ 5250 rpm |
| Transmission / Drive | 5 Speed / chain |
| Front Suspension | Paioli 45mm telescopic fork, 280mm travel |
| Rear Suspension | White Power gas-suspension mono-shock |
| Front Brakes | Single 298mm disc 2 piston caliper |
| Rear Brakes | Single 245mm disc 1 piston caliper |
| Front Tyre | 120/70-17 |
| Rear Tyre | 160/60-17 |
| Dry Weight | 164 kg |
| Fuel Capacity | 12.5 Litres |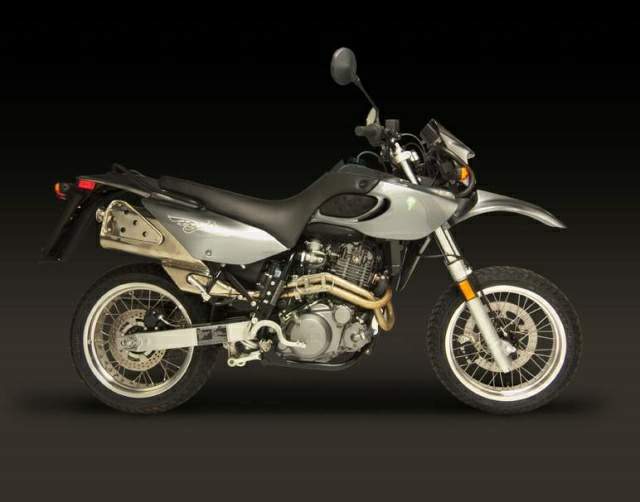 The MZ is a different cat. It looks like a dual purpose bike, but is set up primarily for the street. It is direct competition for the KTM Duke and the BMW F650. The standard Baghira is aimed more at the dirt, with sky-high seat and semi-knobby tires. The Street Moto is three inches lower. The Pirelli dual use tires disappear quickly on the street (I estimate 1000 miles, tops), and that's a good thing because I really wanted some premium sport-touring rubber on this cat. I have a set of Metzler MEZ-4's waiting to get spooned on. I'll provide an update when I get 'em on. (They're on, drop to the bottom of the page for updates. 4/03)
The bike uses Yamaha's excellent 660 cc, water-cooled engine. In stock form it makes about 45 rear wheel horsepower and about 40 fp of torque (as tested on the Cycle World dyno), just a bit less than what the BMW F650 makes. The demo model I bought has an aftermarket exhaust - M4 - and the dealer claims 52 hp but the M4 factory guestimates more like 48. As soon as I get a chance I'll have it dyno'd and post the HP and torque curves. If they're right with 52 hp, that puts it just a bit better than a stock KTM Duke. Weight (wet) is similar to the Duke, and about 40-50 lbs lighter than the BMW. Cycle World (April, 1998) tested the MZ Mastiff, the cousin of the Baghira (same engine) and lists the following specs:

- compression ratio: 9.5/1
- weight, tank full: 387 lbs
- fuel consumption (higk/low/avg): 41/36/39 (my first tankful, ridden pretty mildly, resulted in 47 mpg)
- seat height: 33.5 in
- best 1/4 mile: 13.52 seconds @ 92.5 mph
- zero-60 mph: 4.4 seconds
- 40-60 mph: 3.8 seconds
- 60-80 mph: 4.8 seconds
- measured top speed: 100 mph
For reference, Motorcyclist magazine ("Hard Numbers" section) lists the BMW F650 at 49 hp, 42 fp torque, best 1/4 mile of 13.01 seconds at 97.7 mph, 60-80 roll-on of 4.77 seconds, and a list price of $8,700 dollars. The KTM Duke measures to 48 hp, 40 fp torque, best 1/4 mile of 13.1 seconds at 96.75 mph, zero to 60 in 4.0 seconds, a top speed of 102 mph, and a $7,200 price tag. My MZ was under $6k including tax/title/license and aftermarket parts, but it was a demo model.
As an interesting comparison, a Suzuki Bandit 600 has 73 hp, 39 fp torque, a 12.6 second at 107 mph 1/4 mile, and (noteworthy) a 60-80 mph roll-on of 6.8 seconds. Now my friend, who's gonna win coming out of that corner? hehe. Suzuki's awesome GSX-R 600 with a whopping 101 hp and 46 fp torque barely edges the Baghira with a 60-80 mph roll-on of 4.7 seconds. A Honda VFR800 needs over 5 seconds for 60-80. Honda's RC51 takes 4.94 seconds. Honda's VTR1000 Superhawk takes 5.00 seconds. Suzuki's lovely SV650 needs 5.13 seconds. Triumph's Sprint RS does it in 4.8 seconds. That real-world oomph is the reason to play with a big single. Very few bikes in the 500-750 cc range match that grunt (Kawasaki's Ninjas do, as does Honda's CBR600F4i and Triumph's TT600). Yes, I do realize that every bike listed above will STOMP the MZ at the top end. How often, exactly, do you drive more than 100 mph in America?
This is a play bike for the twisty roads around your town, not for the race track. Where do you ride most of the time?
Source Nataraj Hauser.