Norton 500 Model 18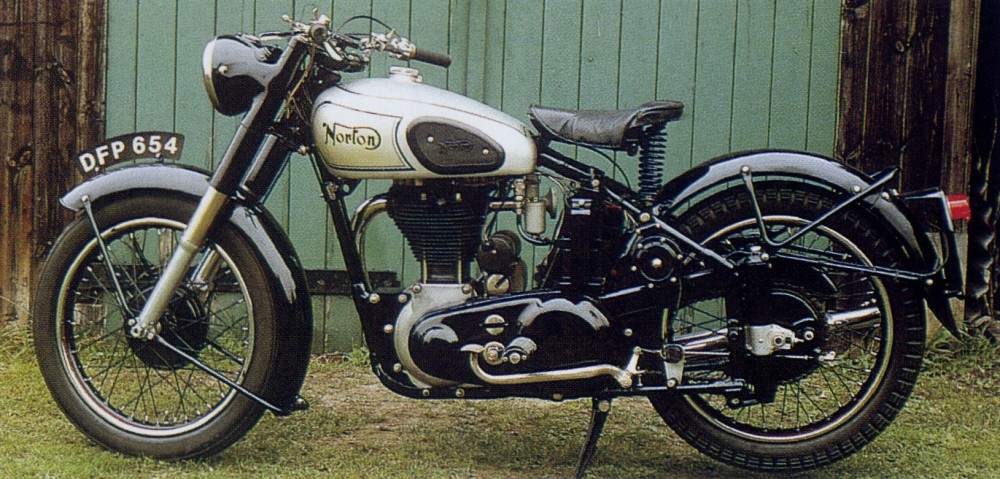 Make Model

Norton 500 Model 18 and ES2

Year

1947 - 54

Engine

Single cylinder, 4 stroke, side valve

Capacity

490 cc / 29.9 cub in.

Bore x Stroke

79 x 100 mm

Compression Ratio

6.45:1

Cooling System

Air cooled

Fuel System

Amal Monobloc 276

Ignition

Magneto

Starting

Kick

Exhaust

Armours exhaust and silencer

Max Power

15.4 kW / 21 hp

Front Suspension

"Roadholder" fork

Rear Suspension

Rigid, spring loaded saddle

ES2: Plunger

Dry-Weight

169.6 kg / 374 lb

Top Speed

126 km/h / 78 mph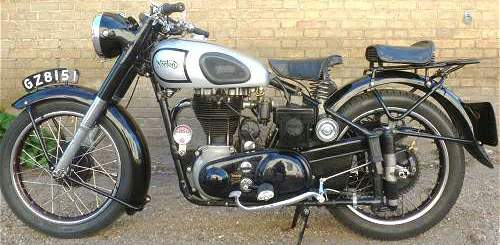 "ES2"
Pushrod Norton singles date back to 1922, but their heyday really began in 1924 when they carried the factory to a string of race victories. That role was to last a scant three years, supplanted by the more efficient overhead-cam racers. But as roadsters they would continue until 1963, gradually outclassed in the performance stakes, but offering occasional reminders of their sporting heritage.
The Model 18 was the first pushrod Norton, but it adopted a bottom end and 79 x 100 mm that went back to the dawn of the marque. It was followed by a host of variants, including the 600cc Model 19 and sports ES2. The origin of the latter model number is uncertain; one theory is that it stands for 'Enclosed Springs', as the first Model 18 had exposed pushrod and return springs.
The ES2 shared its heritage and most of its fittings with the Model 18. On the immediate post-war models, the most obvious difference between the two was the ES2's plunger rear suspension.
Post-war the Model 18 was the first pushrod Norton to go back into production in 1946. In 1947, it gained Norton's famous 'Roadholder' front forks, yet retained a rigid rear end.
The ES2, relaunched that year, had plunger rear suspension.
While Norton advertised on the basis of the company's racing heritage, in truth they were simply good, solid sporting singles. Many were used as sidecar tugs, still more, simply as basic transport. The Model 18 was also sold for trials use, but from 1949 to 1954 Norton offered a proper trials variant, the rigid 500T with a frame based on the wartime 16H.
A slow process of development followed and in 1953 the ES2 gained the swinging-arm frame used on the first Dominator twins. In 1954 the rigid Model 18 was phased out and the 600cc Model 19 was reintroduced. A 350cc Model 50, joined the range in 1956, and a new gearbox with a triangular selection mechanism was fitted to all the singles. In 1959, the Model 19 disappeared and the smaller variants found a new home - the revered Featherbed frame. After 1961, the singles gained the new Slimline frame, and this was the final chapter in their story. From then, Norton would concentrate on their twins range, while the 1965/66 ES2 Mk2 was nothing more than a cynically rebadged Matchless.
Norton's 'long Roadholder' forks were fitted to the Model 18 from 1947. They offered good handling at the expense of a slightly heavy appearance at the front end.