Norton Commander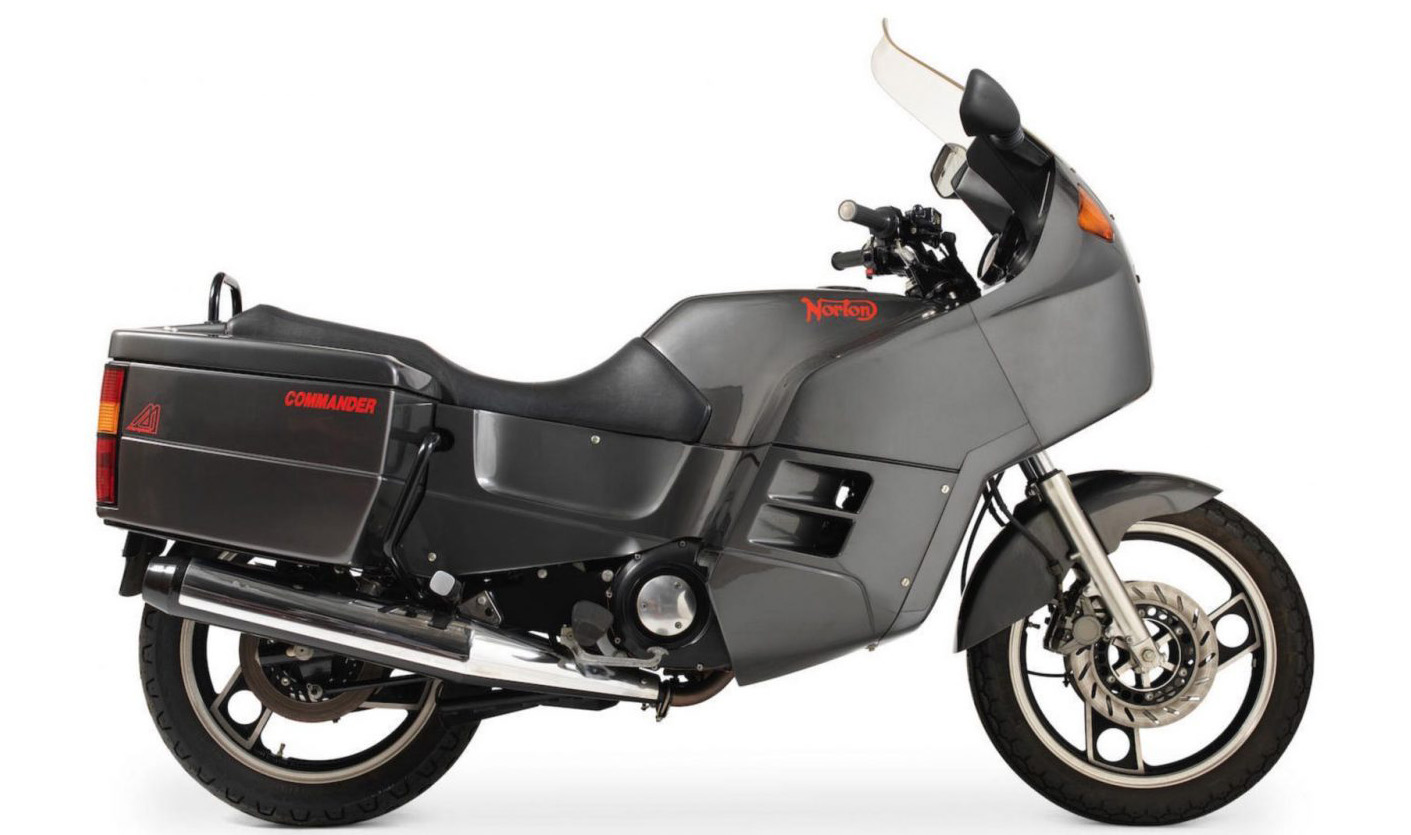 Make Model.

Norton Commander

Year

1991

Engine

Twin chamber rotary

Capacity

588 cc / 35.9 cu in

Compression Ratio

9.0:1

Co

oling System
Liquid cooled

Induction

2 x Ø38mm CV SUH14 carburetors

Starting

Electric

Max Power

63.4 kW / 85 hp @ 9000 rpm

Max Torque

75.3 Nm / 7.7 kgf-m / 55.6 lb/ft @ 7000 rpm

Transmission

5 Speed

Final Drive

Chain

Front Suspension

Ø38 mm Telescopic forks

Rear Suspension

Twin Koni with preload adjust

Front Brakes

2 x Ø265 mm discs

Rear Brakes

Single Ø265 mm disc

Front Tyre

100/90 V18

Rear Tyre

110/90 V18

Dry-Weight / Wet-weight

235 kg / 518 lbs

Fuel Capacity

23 L / 6.1 US gal

Consumption average

5.8 L/100 km / 17.2 km/l / 40.6 US mpg

Standing 1/4 Mile

13.2 sec / 159.3 km/h / 99 mph

Top Speed

181.4 km/h / 112.7 mph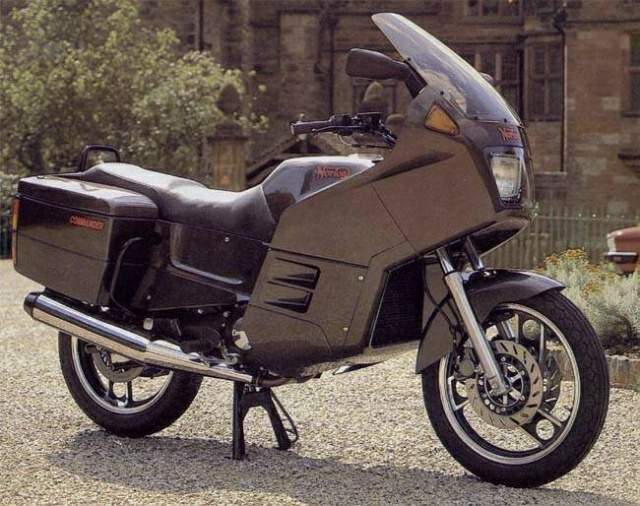 The Norton Commander is the best bike in the world - when it's parked. "So this is the new one is it?" ran the first of many one-sided conversations. "Very nice and a bit different from my old Commando. Of course I had to give 'em up when..." And he was off. His mandatory dog, unimpressed, surveyed the Commander's bulbous battleship-grey topsides looming down on puny looking XJ900 cycle parts like an SPG personnel carrier on a skateboard chassis. The mutt squatted and expressed its canine opinion; I made a note that not only tarmac adheres to Pirelli Phantoms, and this conversation, at least, terminated.
Birmingham (seen it), Clapham (been there), Brighton (done that); the pattern had been set. Wherever I rolled the Commander's 517lbs onto its main stand, a man and a dog would materialize for an ogle and a reminisce. As an ambassador for Bike I answered any questions with a: "Bugger-off-please, I'm supposed to be riding the thing", frantically clonked a reluctant first gear home, and squatted the watercooled rotary on its twin Konis. Hell of a Bike, though, and anyone drooling after a plain-clothes Commander should be told: a simple trip to Tescos could become a trip to hell.
That the Commander is such good spectator sport is understandable as it is: "the first true British challenger on the world motorcycle market in over a decade" (Norton) and a real eye-full to boot. But no matter how many laps I did on the bike (best time: two minutes, 37 seconds) - I couldn't bring myself to like one aspects of the styling. From the back I saw 'car', from the front I saw a porky fairing that looked like ... a porky's fairing. Which of course it is, minus VASCAR kit and all those extra buttons the lads have to play with. The Seymour-Powell styling works in that fairing is just a joy to be behind; it also attracts non-motorcyclists (hopefully a few with £7599 burning a hole). But for me, it's looks and approach represent part of an unwelcome TRRLian future; knee-cappers and running lights in place and a safety bag doubtless to follow as a bolt-on goodie.
Ensconced, though, on the business side of that fairing the Commander was ideal for a four day jaunt in late December. Price excepted, the K100RT/LTcan expect some healthy competition now the Shenstone factory has switched to civilian production.
But not, however, in the slightly crucial luggage department. Or not with my luggage anyway. The five gallon tank (140 mile range and metered by a brilliant fuel guage) and everything else is covered in concept fibreglass, which rules out bungie hook as well as magnetic tankbags. The Slim-Jim panniers ease urban slicery - we are talking relative here - but make that dreaded trip to Tescos unavoidable as they re non-QD, integral fixtures. Plastic bags (four pence a shot) required, each of 25 Litres capacity (approximately, a tankbag).
Thus having just escaped London for an undirty weekend in Brighton, the Norton's glorious return to its mod bashing haunt would have to be postponed while I dumped a few pairs of shreddies back home. More miles? In this weather? No problem. Wobbling out onto the A5 I couldn't have cared less if the Commander had a Chernobyl reactor twirling it's forget-about-it enclosed drive chain. All I wanted was warmth and comfort. And I got both. The fairing works better than any K series BMW's I've sat behind, though the dissapointing MIRA figures (all down on the aircooled Classic's despite a claimed five bhp advantage) suggest that its aerodynamic development owes more to the barn-door, rather than wind-tunnel, school of design. (Those same figures - you should note when a plod example appears in your mirrors - were also hampered by roadworks at the test track, restricting the Commander to one way runs, uphill, into a headwind ... in the wet. But then what's new?
On a hideous winter's eve, what should have been a windswept 80mph became a cosseted cruising speed. The twin chamber rotary really is smooth and the much chewed-over engineering merits of the rotary translate to tireless comfort and a crystal clear mirror image. Visor up (must get a new one) - the screen was optically up to the job if I abandoned official police posture and slumped down. Hands, knees and feet -especially feet, catching the engine's draughted heat -were forgotten so obviously warm.
I was surprised to discover that the straight-back, rod-up the-jacksie police posture isn't necessarily part of Hendon technique - but a function of the Commander's pegs/bars/ seat design. The rider is slotted into a worrying fixed position which turns out to be all right as the mega-foamed saddle's range far exceeds the petrol tank's. The fixed, vibe-free pegs are aft enough to hold your spine straight and ache free, but the bars let it all down a bit.
On the sweeping roads the Commander was built for (etc) the slight upward turn of the grips induced a mild wrist pain which spread up to my shoulders. In town they're too high and combine with a high seat height - and a weighty motorcycle, whatever is said about rotary's shortage of pounds - to give that oh-god-I-think-I'm-going-to-fall-flat-on-my-face feeling. But you don't, which brings in the engine.
The watercooled example is not the same monster torque job as the racer but from a 600rpm tickover up to a 95()0rpm red-line power is smooth and useable. The diaphragm-sprung clutch is quick but fiercely in or out. Thankfully, it can be left alone when trickling through traffic at two mph - doing it purely on the throttle. The Boyer electronic ignition has been praised for ironing out low-engine-speed glitches, and on this bike, that praise has not been misplaced. There's little transmission snatch or harshness, find a gap and wind it on. If you were looking over the screen you'll soon be looking down through it as the bike sits back like a Boxer but without the shaft reaction.
Lost again, somewhere in E11, I passed an afternoon wheelspinning on diesel as I accelerated through the competent, if unsophisticated, five-speed box and enjoying the rotary's unique characteristics. Talking numbers, the power comes steadily right through the rev range, but feels freer above 500rpm when the rotors come on the . . . whatever rotors come on. Their low inertia drops the revs right down if a gear change is anything but slick then it's straight onto the opposed piston brakes to wipe deceptive, vibeless speed away. In its way, topping up the oil tank with a pint of total-loss monogradeoil every 250-300 miles included, the Commander is strangely like a two-stroke; brakes become a reverse throttle for controlling speed not a last gasp back-up to engine braking.
On my damp travels around the sun-belt, the motor -although rev happy-suited the bike well. With survival the name of the game, there was doubly no need to go rushing down through the box into roundabouts. Apply reverse throttles (the front progressive but needing a good bleed, the rear quite inspiring) and just when I thought everything was about to bog down - how can I be in the right gear when there's no engine braking? I realised the motor was still revving, that it wasn't a two-stroke and away we surged, sounding like a turbo-prop on takeoff. All good touring stuff.
Ride like that all the time -and I did - and the chassis is untroubled. I'd happily report on appalling ground clearance or the shortcoming of dated suspension. But I can't. At sane winter speeds everything matched well. The Phantoms, though running on narrow 18 inch wheels, were as grippy and reassuring as ever; the uprated XJ forks, like the twin Konis, were comfortably soft and firmly damped. All combined to give a pretty awful in-town steerer a traditional (ok-dated), accurate and purposeful feel on the roads that count. Judging by the forks' propensity to take a dive when the throttle is snapped shut or the brakes are yanked, the whole plot, not surprisingly, feels a tad front-heavy and once or twice the spindly 37mm forks bottomed out going into a bend. The front tyre got skittish but not bothered and I decided smooth riding was what the Commander wanted, and even in civics you do as it asks.
A total lack of mods on Brighton's seafront left me with nothing to do but review the Norton's gizmos with every man and dog who cared to enquire. "Two batteries (fuzz needs them) . . . s'good innit? Fog lights at the back, no, no reverse lights, clock, sidestand engine-cut-out, excellent Yamaha self-cancelling indicators."
"What's bad about its bits, sir? Well, getting to the reserve tap involves unscrewing a sidepanel (five screws), those glove pouches are in fact a fuse box and a coolant header tank which also add two keys to the Norton fob, but that's about it.
And the bike itself? In terms of touring performance and comfort, I'd need some opposition on hand because it's right up there.
Source Bike Magazine 1989