Norton Commando 961 S.E.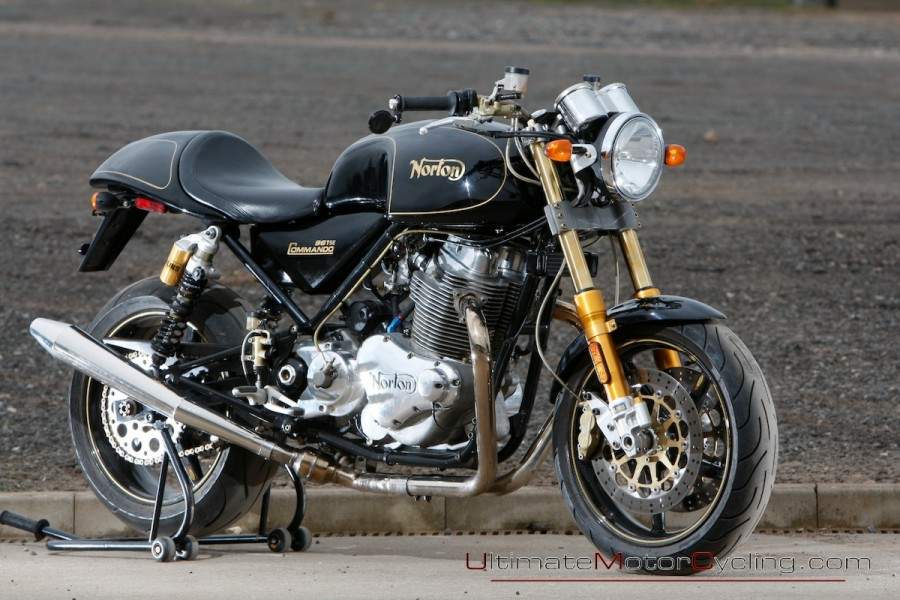 Make Model.

Norton Commando 961 S.E.

Year

2010-11

Engine

Parallel

twin

with

push-rod

valve

actuation, 3 bearing crank balancer shaft, 2 valves per cylinder

Capacity

961 cc / 58.6 cu in

Bore x Stroke

88

x

79

mm

Compression Ratio

10.1:1

Co

oling System
Air cooled
Lubrication
Dry sump

Induction

Fuel injected

Ignition

Crank fired electronic

Starting

Electric

Max Power

59.7 kW / 80 hp @

6500 rpm

Max Torque

90 Nm /

9.2 kgf-m / 65

ft-lb

@

5200 rpm

Clutch

Wet multi-plate with hydraulic lifter

Transmission

5 Speed, constant mesh

Final Drive

Chain, 525 "O" ring
Frame
Tubular steel with integral oil tank
Rake
24.5į
Trail
99 mm / 3.9 in

Front Suspension

ō43 mm

÷hlins

RSU, adjustable

preload,

compression,

and

rebound

damping.

Front Wheel Travel

115 mm / 4.53 in

Rear Suspension

÷hlins

reservoir-style

twin

shocks, adjustable

ride

height,

preload,

compression,

and

rebound

damping.

Rear Wheel Travel

100 mm / 3.94 in

Front Brakes

Brembo 2 x ō320 mm semi-floating carbon stainless steel discs, 4 piston "Gold Line" axial calipers

Rear Brakes

Brembo single ō220 mm disc, 2 piston "Gold Line"caliper

Front Wheel

3.50 x 17", BST carbon fibre

Rear Wheel

5.00 x 17", BST carbon fibre

Front Tyre

120/70 -17

Rear Tyre

180/55

-17

Wheelbase

1420 mm / 55.9 in

Dry Weight

188 kg / 414 lbs
Seat Height
813 mm / 32 in

Fuel Capacity

17 Litres / 4.5 US gal
While normally a job for deities, resurrection often requires a bit of hubris when tackled by mere mortals. But, when given the opportunity to return the Norton Motorcycles marque to its former prestigious glory, Stuart Garner could not resist the challenge.

The new Norton Commando 961 SE, limited to a production of 200, features an honest-to-goodness British-designed, air-cooled, long-stroke, parallel-twin powerplant, with pushrods, a dry sump and, saints preserve us, a balancer shaft (no Isolastic frame this time around).

"It was felt that to bring the Commando up to date and deliver a good value product, a ground-up engineering exercise was necessary," according to Head of Design Simon Skinner. "This work started in 2008 and has now progressed to completion."

Weighing in at a claimed 414 pounds dry-thanks, in part, to such components as BST carbon fiber wheels-and cranking out 67 ft/lbs of torque at a modest 5,200 rpm, acceleration should be brisk and easy. First-class bits abound, from a Brembo braking system to full ÷hlins suspension.

Built in a new manufacturing facility at legendary Donington Park in the British Midlands, the new Commando is a retro-styled motorcycle with its fair share of modern technology. "The biggest challenge for the UK design team was the full integration of the fuel injection and engine management systems," Skinner says.

"This needed to be done without compromising styling and the classic look of the Commando. The fuel injection system is necessary to pass modern worldwide emissions legislation but also offers other benefits such as improved drivability and reliability. The engine in the Norton Commando has been engineered to bring the 961cc parallel-twin engine up-to-date with modern expectations of refinement and durability as well as complying with the latest emissions and noise legislation. All this needed to be achieved whilst maintaining the classic lines and character of the Commando."

Norton Motorcycles will be distributed in the United States by South Bay Norton in Lomita, Calif., a dealership with over 35 years' experience in motorcycling.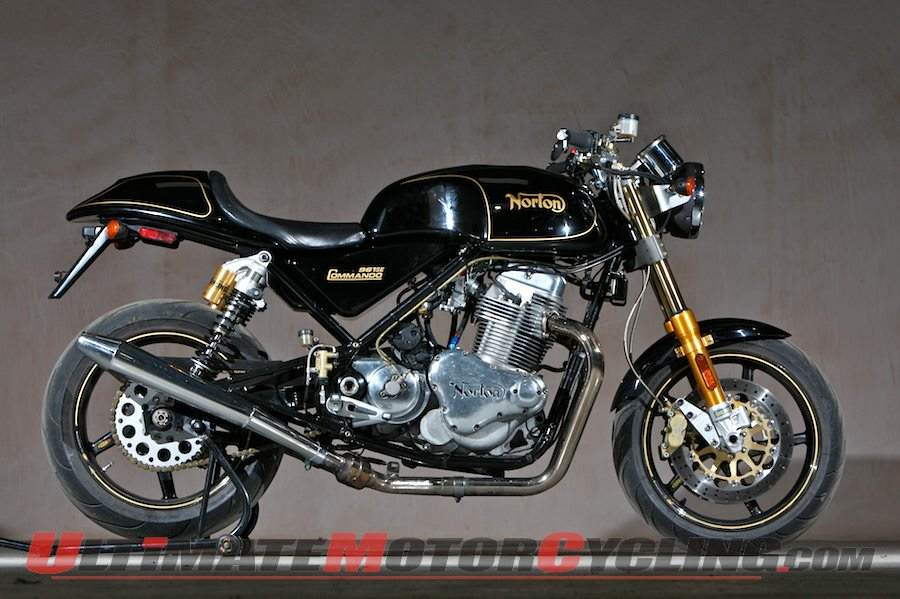 Review
So, first off, how British is the British Norton? Well, quite. The oil-carrying frames are made in Coventry (near the former heart of the British bike industry). Engine cases are cast by Grainger and Worrall in Telford (the self-proclaimed ďBirthplace of IndustryĒ). Engine components, exhaust and engine assembly are all made/carried out in England. The forthcoming 961 Cafť Racer and Sport models will have wheels made in the UK. Suspension is Swedish, brakes are Italian and the plastic bodywork is rotationally molded in Spain. The bike is assembled ďby British handsĒ on the grounds of the Donington Park race circuit, using British-made spanners. Can you tell that the companyís owner, Stuart Garner, is taking this British thing seriously?
At the heart of the machine is an engine that does a good job of looking like a relic from the era of free love and bellbottoms, but it is produced by Menard Competition Technologies, a motorsport company in Britainís Formula One beltóthe region, near Oxford, where dozens of firms are located to service the F-1 car industry (exactly why Kenny Roberts based his now-defunct GP team there some years ago). So, while it is classic in form and retains some classic features, execution is quite modern. The 88.0 x 79.0mm parallel-Twin displaces 961cc and uses pushrod valve actuation with hydraulic lifters. Fuel injection and catalyst-equipped exhausts help it meet Euro 3 emissions requirements. Itís also designed to pass even more stringent emissions regulations on the way. Hey, itís even got its gearshift lever on the left.
The 270-degree crankshaft gives the bike requisite character, although itís more Ducati than old-time 360-degree-crank Norton. A Twin, however modern it is, isnít supposed to be glass-smooth or buzzy, and the Norton isnít either of those. The counterbalancer quells the strongest of the vibes and leaves the rest for you. Output is a claimed 79 hp at 6500 rpm, and it feels like it on the road. Claimed torque is an equally welcome 66.4 ft.-lb. at 5200 rpm. Healthy enough figures for an air-cooled Twin.
At 70 mph, the motor is spinning at 4000 rpm in the top cog of the five-speed gearbox. Roll on another 1000 rpm and youíre doing 90. The testbike is also the firmís development mule, so it was fitted with aftermarket pipes made by a British company called Motad. Theyíre not as pretty as the reverse-cone megas that come standard, but these 2-into-1-into-2 pipes sound fantastic.
And while the engine is right on the money in comparison with similar-displacement, modern, air-cooled Twins, the handling of the SE is shocking. Not bad. Shocking, as in unexpected. The appearance of the new Commando is a mixture of British history, rose-tinted familiarity and trusted modern blue-chip brands. But grab it by the bars and wring its neck and any nostalgia trip is over. The bike twitches and shimmies like a stripped-down streetfighter. The bars kick as the front end goes light on the throttle. Perhaps itís the superlight South African-made BST carbon-fiber wheels (non-SE models will be equipped with alloy-rimmed wire-spoke wheels) that help it feel so frisky. The new Commando doesnít go AWOL but gives the impression itís up for a fight or fun, whichever comes its way.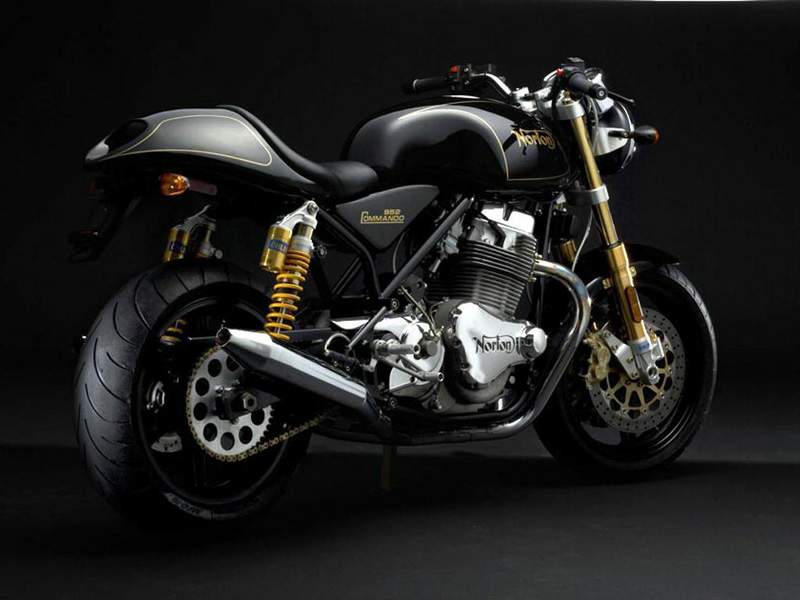 The clues are in the spec sheet: 24.5 degrees of rake, 3.9 inches of trail and a 55.9-inch wheelbase. Thatís shorter than a Ducati 1098, with the same rake and just a whisker more trail. This thing is set up like a sportbike. It isnít a dumbed-down heritage bike for balding fellas who remember when ďmen were men and bikes were bikes.Ē Itís a backroad scratcher. When the road becomes bumpier, the fully adjustable ÷hlins inverted fork and twin-shock rear suspension show themselves to be on the firm side. The brakes are fiercely powerful, thanks to radial Brembos biting large, 320mm discs. Get the Norton on a flowing road where you can surf the 961ís torque curve and itís a rapid bike without being hairball. Itís exciting, involving.
Of course, plenty of Com-mandos will be parked next to a Jaguar or Bentley, especially the 200 limited-edition SE models, and these are likely to get used gently. Surprisingly, the bike is fine with that because fueling is glitch-free. The 961 rolls through villages at little more than idle, as well-behaved as the local vicar.
Negatives? The testbike was fitted with a prototype gear linkage, and I struggled to find neutral a few times. The 961 would make a good pillion hauler, but thereís no option for that, though Norton is tooling up soon. The seat that is there isnít likely to be your best friend at the end of a 300-mile day. The price? Not cheap at the $19,499 Norton quotes for the carbon-wheeled SE, although the spec is high and the components are very good quality. The lower-spec Sport and Cafť Racer models that will follow are planned to be about 25 percent cheaper. The goal is to have bikes in the U.S. ďthis year.Ē The Federal approval process is under way for a 49-state model, with California-legal versions to come later.
Even if the Commando isnít your kind of bike, there can be few enthusiasts in the world who donít want to see a new motorcycle company making a go of it. And by the sound of it, Norton has a great deal of industry support. None of that would mean a thing if the first model out of the factory promised more than it delivered. Happily for everyone involved, the opposite is true.
Source Cycle World