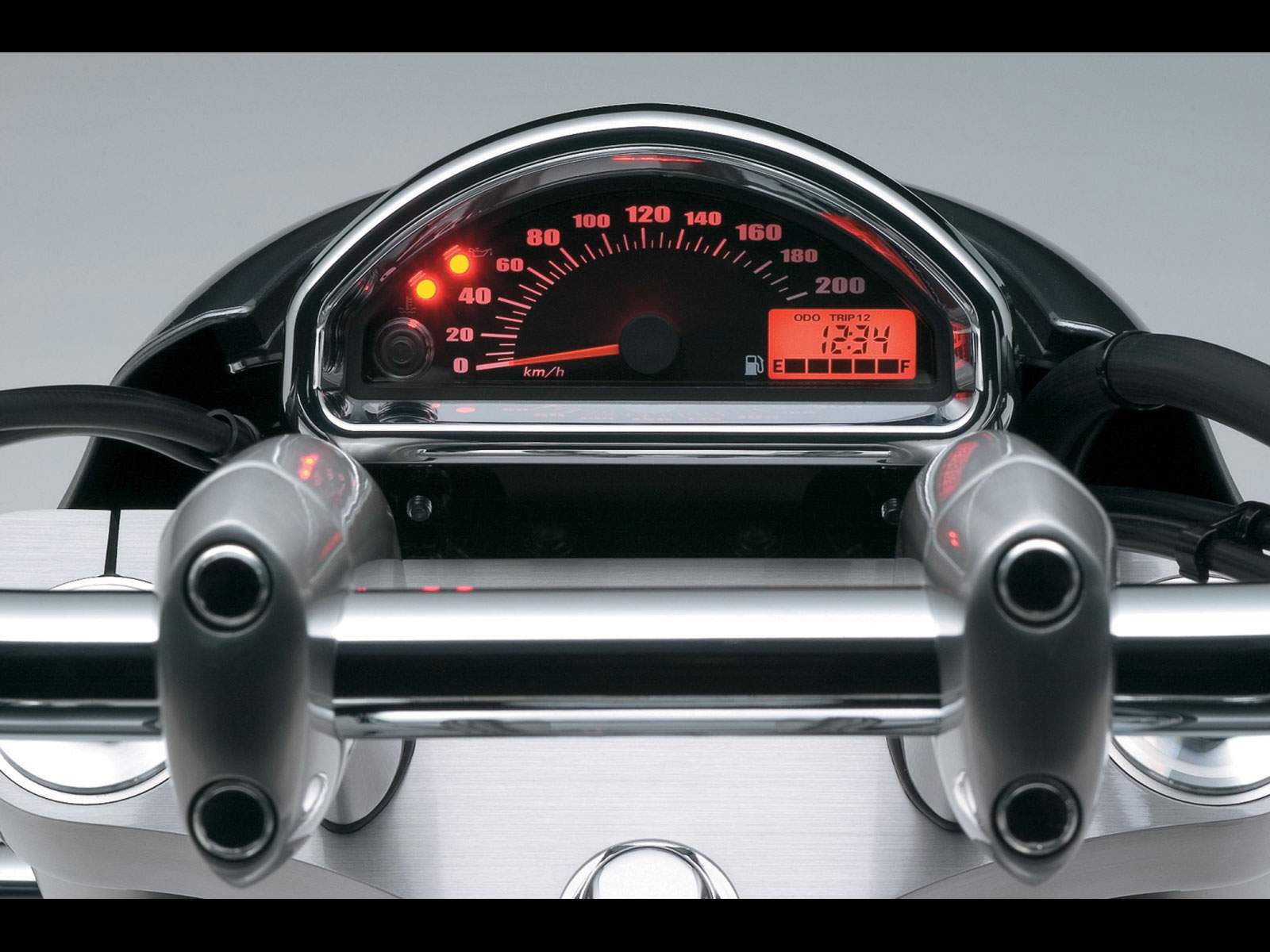 The Suzuki Boulevard M50. The Suzuki mid sized cruiser comes with new styling, is similar style to it bigger brothers such as the M90. It looks more muscular, thanks to the addition of the signature front cowling, a rear fender that hugs tighter and tapers down instead of lipping up, and an engine that's been spiffed up with more chrome-plated covers. Meanwhile the base technical is still the same as the previous model.

Suzuki Boulevard M50 now comes with more rider-friendly. It adjusted the rider's triangle, moving the low-rise handlebars in a tad, and the seat has been redesigned to accommodate the new rear fender. The tail section is now made of chromed steel as Suzuki looks to add a little more polish to the bike. There's also an optional new tail section cover.

The aggressive shape comes with the addition of the headlight cowl and tail section. The headlight is just like the bigger M109's. There is also a new instrument cluster going along with its cowl. The LED taillight got a makeover to keep it matched up to the restyled fender.

Powering the handsome Suzuki new Boulevard M50 is still a liquid-cooled 805cc 45-degree V-Twin engine, fuel injected, with a 32-bit ECM. The fuel injector is equipped with a Pulsed AIR (PAIR) injection system to cut down on emissions.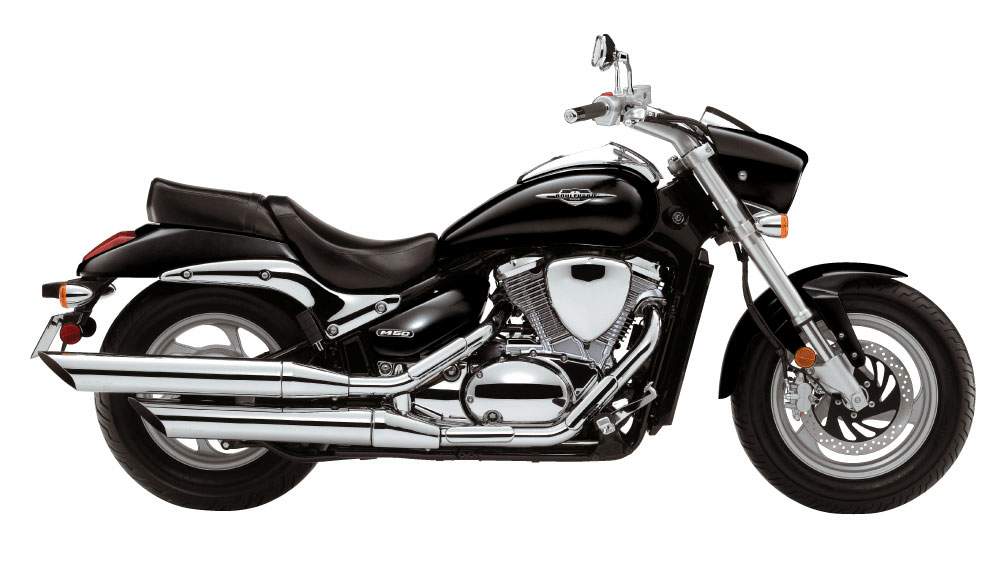 Key Features:
805cm3 (50 cubic inch) liquid-cooled, fuel-injected V-Twin powerplant is built to deliver exciting torque from down low in the rpm range.
The fuel injection system with Suzuki Dual Throttle Valve (SDTV) delivers smooth low-to-mid-rpm throttle response and high torque output.

Multi-hole-type fuel injectors deliver a fine spray for a powerful yet fuel-efficient operation.

An automatic Idle Speed Control (ISC) system eliminates the choke and shortens the engine's warm-up time.
Powerful 32-bit-prosessor Engine Control Module (ECM) helps ensure precise control.
A Pulsed AIR (PAIR) injection system introduces air into the exhaust ports to ignite unburned hydrocarbons and cut down on emissions.
The engine has a shiny, visually pleasing chrome-plated overall finish.
Sleek, flowing Suzuki performance-cruiser styling throughout, from the distinctive headlight cowl to the purposeful tail section.
The shapely instrument cluster, neatly integrated with the headlight cowl, includes a fuel gauge and a clock.
Cast-aluminum 16-inch front/15-inch rear wheels, with a gleaming silver finish.
41mm inverted front forks add sporty looks and performance.
Wide, comfortable seat, shaped for a smooth visual harmony with the sporty rear fender and the optional tail section cover
The LED tail light is shaped for a neat match with the tail section design.

Features
Engine Features
32-bit ECM provides precise control of ignition timing and multi-hole-type injectors ensuring quick startup and excellent drivability under all conditions
Crankshaft designed with 45-degree offset crank pins to reduce engine vibration without a counterbalancer for a more comfortable ride
Custom-styled exhaust designed for a deep rumbling sound and tuned low rpm power
Electronic fuel injection system features the Suzuki Dual Throttle Valve System (SDTV) - maintains optimum air velocity in the intake tract for smooth low-to-mid rpm throttle response and high torque output - includes Auto Fast Idle System (AFIS)
Five-speed transmission features a high fifth gear ratio for relaxed highway cruising
Fuel-injected, 50 cubic inch, eight-valve, liquid-cooled, 45-degree V-twin engine tuned for exceptional low rpm power and torque
Low-maintenance shaft final-drive system is clean-running with low torque reaction
Pulsed-secondary air-injection system introduces air into the exhaust ports to ignite unburned hydrocarbons and reduce emissions - CA. spec. model is equipped with a catalyst for further emission reduction
Chassis Features
Cast aluminum rims carry a wide 130/90-16 front tire and 170/80-15 rear tire
Bright bullet-style turn signals designed for high visibility and attractive appearance
Handlebar-mounted speedometer styled for a clean appearance and positioned for good visibility
Inverted, 41mm front fork for a performance look and comfortable ride - the only model in the class with an inverted fork
Large LED-type taillight with a clear lens provides a modern custom look
Link-type rear suspension connects to a truss-style swingarm and a single shock absorber with 7-way spring preload adjustment
Long, wide 15.5 L (3.4 Imp gal) fuel tank flows smoothly back to the seat -attractive raised fuel filler includes indicator lights for turn signals, high beam and low fuel
Low-rise handlebars mounted on pull-back risers provide a comfortable reach for the rider and increased comfort around town or on the highway
Powerful multi-reflector headlight housed in an attractive case with stylish headlight rim - headlight switches off during startup to reduce load on battery
Sharp-edged-styled front fender adds to the clean look of the front end, while the tapered rear fender adds to the flowing lines at the rear
Single front disc brake with large 300mm rotor for strong braking performance
Soft-tail-style frame creates a continuous flowing line from the headlight, through the fuel tank, seat and rear fender
Standard 4-way emergency flasher and high-beam passing switch
Wide, comfortable seat with low seat height - passenger seat can be removed for a bobbed rear fender appearance