The 2005 Bonneville T100 Multi-Swirl is yet another one-off Bonnie customized by Paul Smith, an instant collectible we'll most likely never get to see on the streets any time soon. However, the purpose of the bike is not to make us sigh, but to enjoy this explosion of happy colors and hippie styling.
The Bonneville T100 Multi-Swirl will turn a lot of heads!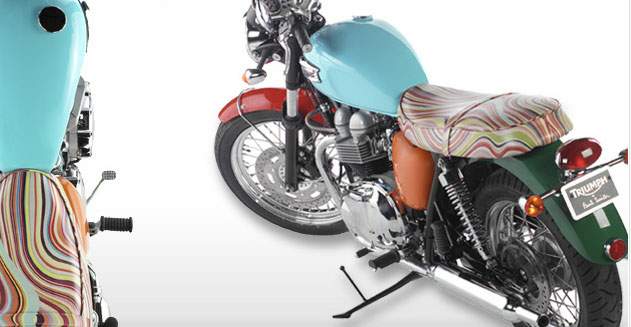 They say two heads are better than one. When the heads are Triumph and Paul Smith, there's no question about it. Passion for fashion; the Bonneville T100 like you've never seen it before.
The initial collaboration created 'Triumph by Paul Smith', a modern collection of accessories and jeans wear inspired by Triumph Motorcycles. However, as the partnership grew so did the creativity and nine Bonneville T100's were customised with individual paint schemes designed by Paul Smith to complement the clothing and accessory range. These nine one-off bikes generated so much interest that Triumph and Paul Smith created two more original Bonneville T100 custom designs, nicknamed the "Live-Fast" and "Multi-Union", especially for retail. Only 50 of each of these two Limited Edition Triumph Bonneville T100s by Paul Smith will be produced for sale globally.
With all the heritage that makes these brands great, this is quintessentially British design with an added Paul Smith twist.
Bonneville T100
A modern incarnation of the classic sixties speedster, the Bonneville T100 oozes authentic motorcycle chic. Its heavily chromed covers, distinctive air cooling fins and twin clocks complement the delicious Paul Smith designed paintwork, while the twin cylinder engine, with its distinctive throaty burble through pea shooter pipes, and easy-handling chassis make the T100 as good to ride as it is to look at.
Style-Ville
Paul Smith believes you can find inspiration in anything. His designs bring together tradition, humour and style to evoke British individuality and eccentricity. Over the years, he has become more than a fashion label, and since the seventies, the Paul Smith brand has been a major influence on UK design and culture - constantly redefining the essence of 'Britishness'.
Put them together...

With the combination of individual style, enduring quality and true Britishness, it makes perfect sense for Paul Smith and Triumph to get together. As the Commercial Director of Triumph, Tue Mantoni says;
"Paul Smith and Triumph are cut from the same cloth; with long-standing British heritage, classic design style and a global cult following."
And what do you get?

The Triumph by Paul Smith range of clothing and accessories are now available in selected Paul Smith stores globally.
Press Release
Paul Smith customised nine Triumph Bonneville T100's with one-off paint designs. These nine individually designed bikes were not intended for sale, but to be used as press pieces and global promotional activity.
In response to the overwhelming reaction to these special bikes, Triumph has decided to produce two limited edition Paul Smith designs for sale. Inspired by two of the original customised designs, the "Live-Fast" and "Multi-Union" models feature special hand-painted bodywork and mock-croc leather seats. Fifty of each design will be produced for sale globally and each bike will be individually numbered and authenticated with a certificate, signed by Paul Smith and John Bloor, Triumph's owner.