Tridays mastermind, Uli Brée, and LSL boss, Jochen Schmitz-LinkWeiler, got together to design a beautiful TRIDAYS LIMITED EDITION bike (only 20 in existence!). It quickly became clear that both of them have very similar tastes when it comes to the design for their motorbikes. With the good friendship that had developed in recent years, it was in the cards that they would ultimately customize a Triumph that reflected their shared vision. The result was a typical Uli Brée Triumph and a typical Jochen Schmitz-LinkWeiler Clubman. A magnificent symbiosis between two great minds.
A modern café racer, perfect for the ride from Krefeld (LSL) to Newchurch (Tridays)!
The bike, which has been kept in the classic Tridays colours, is based on the Triumph Bonneville with cast rims. Tridays is famous as the world's biggest Triumph rally and will celebrate its 5-year anniversary in 2010. Since the Triumph-Hinckley era will be celebrating its 20-year anniversary at the same time, Messrs. Brée & Schmitz-LinkWeiler grasped this as a worthy occasion to uncork a bottle (or two) of red wine, sit down in front of a production Bonneville and transform it in their own minds into a modern café racer.
The result was an incredibly versatile overall package with a stylish colour scheme, the classic Tridays logo, coupled with famously aesthetic and functional LSL technology. Remus exhausts, YSS struts and fine details such as an edition number on the engine cover, add the finishing touches to this top-notch machine. In addition to purchasing the bike itself, each proud owner of the Tridays-Edition receives a Tridays Package. This includes a 2-night stay, one of the newly designed shirts from the Tridays collection, a Tridays patch, free participation in guided tours and all entrance charges. (The package is redeemable within three years)
Source tridays.com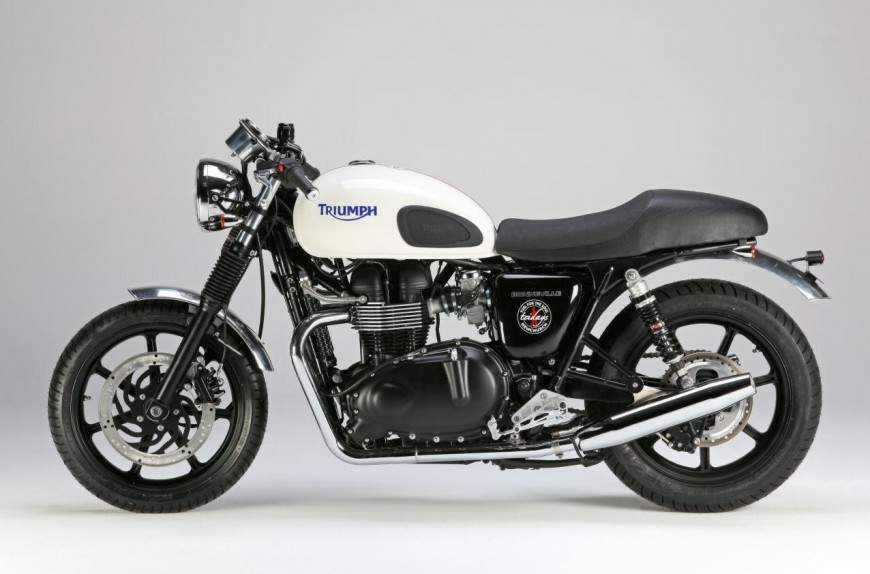 Every year in June, the small Austrian market town of Neukirchen changes its name for three days to Newchurch and celebrates all things British. Thousands of Triumph enthusiasts converge on the town for the annual Tridays rally, which has become one of the largest motorcycle gatherings in Europe.
This year, there's even a limited edition bike to celebrate the event, and it can be ordered from Triumph dealers. The idea came from Triumph's Uli Brée—who also organizes the Tridays—and Jochen Schmitz-Linkweiler, owner of the German custom shop LSL.
Just twenty limited editions will be built; all finished in the classic Tridays colors and based on the Bonneville with cast rims.
LSL lightly tweaks the bikes, with mods including Remus mufflers and upgrades to the bars, brake box, light mount and instrument panel. YSS shocks, mini blinkers and an LED rear light are fitted to complete the package.
Source:
bikeexif.com