THERE WAS NO way these would be crap. Triumph's mix-and-match production system means every 750 component has already made its debut in either the Daytona 1000 or Trident 900. And they were ace. So the chances of their little brothers turning out to be a couple of no-hopers were slim.
But of all the Triumph range the two little 'uns could easily be the most average. Both have identical short-stroke triple engines which carry frames, forks, and numerous other bits hefty enough to take care of 900 and 1000cc motors. Which may mean viceless handling, but what good's that if they're so heavy it takes all day to get up to interesting cornering speed? The Trident 750, for example, weighs no less than the Trident1000, and the Daytona 750 weighs 131bs more than that.
Thankfully, the smallest of Triumph's engines strikes a happy medium between the rev-the-nuts-off-me style of a GSX-R motor and the not-a-lot-happening style of a Zephyr. And the medium really is happy.
The motor has enough mid-range power to make riding along a pleasant and relaxing experience, yet enough urge at the top-end to make you get your arse in gear.
For a 750 the mid-range is arm-stretchingly impressive. There was a brief hesitancy at all revs when the throttle was opened ("inexplicable, hardly worth mentioning," said Triumph), but onceover this, it pulls cleanly from four thou, strongly from six, and it's grins all the way from eight to the 11,000 red line. After ten minutes on the Trident I actually stopped to check if some prankster at Triumph hadn't peeled off a 900 sticker (the only obvious visual difference between the two Tridents). The mid-range makes every other 750 seem gutless between five and eight thou.
Of course the pay-off for such a useful middle bit is that the top bit is not of GSX-R proportions. Which is not a problem on the Trident. Pulling away sitting bolt upright, you may not actually be accelerating as fast as a wailing racer-replica, but it bloody feels like it. Your neck strains, your arms stretch and you can wear a smug grin, because the engine isn't anywhere near the red-line.
Similarly, when speeds start to get silly and top-end propelled GSX-R pilots disappear over the horizon in search of fairing-encased adrenalin, I defy any Trident rider to want to go faster. And anyway, the Trident is a "roadster", has no sporty pretentions and doesn't have to compete with racer-reps on their own territory. But the Daytona does; no matter what Triumph says about it being designed unashamedly for road, not race track, use.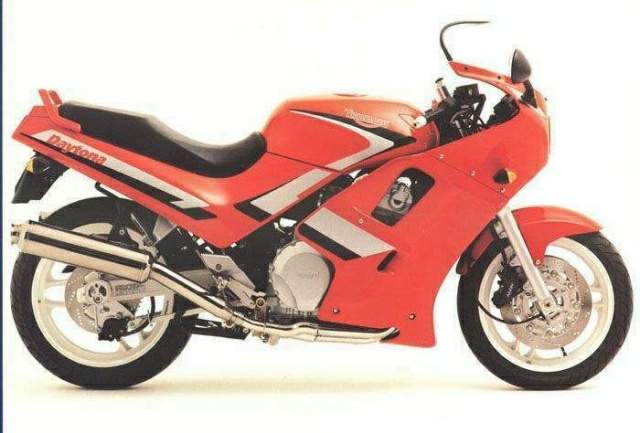 Its acrodynamically sculpted fairing, four piston Nissin calipers and low slung bars immediately throw it in the ring with some awesome competition. There's no way the engine can compete, because it isn't designed to. So if you're sitting at the lights with a long straight ahead, and matey-boy pulls alongside astride his arse-kicking ZXR750, don't expect to blow him away. If he knows what he's up to, he'll keep his engine screaming and you'll go backWards. But if he's not in the mood, or doesn't time his gear-changes with care you'll be right up his chuff even if you're a gear higher than you should be. There really is no excuse for not using the 'box on cither bike, because it is superb — more of a foot operated switch than a lever connected to a mass of quietly whirring gears. But the mid-range makes the Daytona an easy bike to be lax with gear changing yet ride deceptively quickly.
The deception is appreciated by those in car-shot. As Johnny Knceslider blasts his GSX-R along country B-roads, farmhouse curtains twitch in irritation and Granny Perkins starts banging on about how motorcyclists were quieter in her day. When a Daytona or Trident 750 powers past no-one complains and Granny P shuts up while she works out what it was. The noise is so different from fours. The triples emit a refined throb which is pleasing enough to have you acting your shoesize not your age at traffic lights and sit there pumping the throttle. The "sports" exhaust and silencer fitted to the Daytona did not make any appreciable difference. Not with earplugs in anyway. As the revs build, the noise becomes less refined, but no less pleasing, and at the top is not an oriental scream, but a hoarse British shout. Makes you proud.
The handling and feel of both Triumphs are dominated by their similarities. With a tall, upright engine, and a seat height of 31.5 inches both feel top heavy at first, and if you're short in the leg department, climbing aboard either can be an eye-waterer, never mind an eye-opener. They feel big; compared to Japanese racer-rep 750s the height and weight of the Triumphs makes the rider instantly aware that he is perched on top of a lot of metal.
The Trident is easier to adjust to, because being so high up seemed to fit in with the riding position; with the raised bars and pegs set directly below your bum, it's like sitting on a posh dining chair, whereas the very low 550 Zephyr I normally run around on feels more like sitting on a toilet.
Guiding the dining chair through bends was fun — at least as much of a laugh as the toilet. The Trident's weight and mid-range power gave it a secure feel, yet the steering was light enough to let you drop into bends, confident that the bike could be flicked upright round the other side. Perhaps because of the sturdy frame and 43mm forks, which are capable of keeping the 900 in order, the Trident did not suffer from the irritating/terrifying side-effect often afflicting light front-ends — high speed wibbly-wobbliness. My only "moment" came after hitting a large mysterious lump on a fast bend when the Trident lost its assurance, the exhaust grounded and I was a tad worried. Character building stuff.
But large mysterious lumps aside, the suspension copes superbly. On the standard settings it's soft enough not to make you grip the slim tank in terror when you see a sign saying "RAMP" and the car in front hop in the air, and it's firm enough to keep the exhaust clear on corners unless you're really going for it. Married with a comfy seat for both rider and pillion, a 5.5 gal tank and the same superb bungee hooks as the 900, it makes the Trident a realistic cruising tourer. Unless it rains. The easy-to-read clocks (speedo on the right for some reason) are big enough to cower behind for a while, but it's not long before you wish you had a decent fairing.
Like the Daytona's. Its fairing works well, directing the worst of the blast over your head, yet still leaving a goodly breeze to take weight off your wrists. But unless it's tipping down and you've still got 400 miles to do, this is outweighed by the fact that the handsome motor is cloaked behind high-tech bendy fibreglass. Slippery fairing aerodynamics give the Daytona a lOmph top speed advantage over the Trident, but who cares? This is more than out-weighed by the visible engine factor. Unless it rains.
The Daytona's bars are four inches lower than the Trident's which automatically has the rider leaning from his dining chair and stretching for the gravy on the other side of the table. But it's not a severe racing crouch, and needs half an hour of crawling through traffic before wrist-ache sets in. Above bimbling pace the Daytona is extremely comfortable because the riding position is not extreme. The footpegs, for example, are in exactly the same position as the Trident's — underneath the rider's bot. Which is not a problem unless you fancy dangling your knee toward Tarmac. If you do, and you're around six foot tall, remember to unhook your knee from behind the fairing to prevent a worrying micro-second or two as you try to work out why your leg is apparently glued to the bike.
The way the Daytona scampers safely and rapidly through a succession of bends is different from racer-rep 750s. It's softer, and there is never the worry that should the road surface suddenly change from being race-track smooth to what the council regards as smooth, you'll be in deep trouble. With their slowish (27° rake/105mm trail) steering, both Triumphs reward smooth, confident riding with enough feedback to let you safely correct cornering bungles on the spot. But thanks to the Daytona's riding position throwing more weight over the front wheel it is the more poised of the two. As it should be.
Just as the frame and forks make light work of a mere 750ccs worth of power, the brakes too are well up to the job — the Trident's two pistons coping just as well as the Daytona's four. Both bikes can be two-fingered to a stop rapidly in the dry, and warily in the wet; the Dunlop Sport Radials were superb until it rained. Then they moved disturbingly not a lot, but enough to make wet roundabouts a delicate tippy-toe affair.
The Trident 750 will sell. Its engine, riding position and handling conspire to make it fun and invigorating to ride. Its lustrous British racing green paint job (the new cherry red one looks good too) and dashing good looks attract many an admiring glance. And the competition is nowhere. Who wants a GT750, a 750 Zephyr, or even an FZ750 when there's a Brit that goes and looks so much better? Nutters, that's who.
The Daytona is a different proposition. It is a comfortable, sporty, 750 tourer. In this little niche, it's the best. But in the sporty niche next door sit yobs like the new GSX-R750, and in the tourer niche on the other side lurk FJ12s. The Daytona lacks the racing glamour and pedigree of a ZXR, yet is too small and buzzy (comparitively) for continent hoppers.
At ,£6149 the Daytona seems pricey unless it's compared to the Trident. For just £850 more, the Daytona gets extra little goodies like span-adjustable levers and extra big goodies like a fairing. It seems like a bargain until you realise the FJ12 costs under £6000.
From an engineering point of view Mr Bloor and Co certainly haven't failed; the Daytona's chassis and engine are as good as they get. Triumph has hit the bullseye with both Tridents, but with the Daytona 750 you have to ask whether they're aiming at the same dartboard as everyone else.
Source Bike Magazine1991