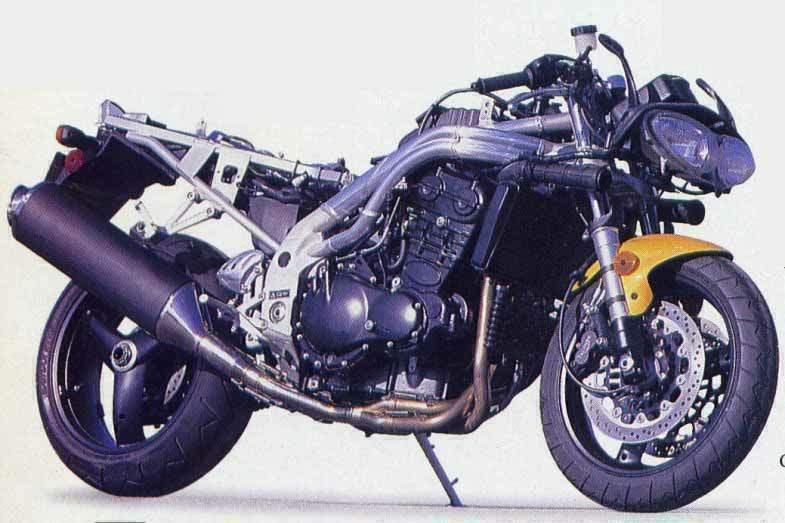 The T595 Daytona was the bike with which Triumph came of age as a superbike manufacturer. Fast and fine-handling, the Daytona was the first sports bike from the reborn British firm that was designed to compete head-on with the best from Italy and Japan. And although the Triumph was slightly less racy than some super-sports rivals, its unique blend of style, performance and three-cylinder character made it a big success.
A crucial factor in the Daytona's development was Triumph boss John Bloor's decision to abandon the modular format with which his firm had entered the market in 1991. Modular design involved several different models sharing many components, and had proved a cost-effective way of developing a range of bikes rapidly. But it involved too many compromises for a competitive super-sports machine.
The Daytona changed all that. This time, Triumph's designers had no such handicap in developing a purpose-built triple. The T595 title came from Triumph's factory codename, a factory tradition dating back to the T120 Bonneville and beyond, but the bike was later renamed the Daytona 955i because many people thought the 595 referred to capacity. This was in fact 955cc, as the motor was a bored-out version of the previous Daytona's 885cc liquid-cooled, dohc 12-valve unit.
Inside the motor, new semi-forged pistons held thinner, low-friction rings and moved in new aluminium liners. Lotus Engineering helped tune the motor by improving its breathing with larger valves, new cams and lightened crankshaft. Magnesium engine covers, modified crankcases and a redesigned gearbox and clutch further reduced weight. Other engine-related changes included a new airbox, three-into-one exhaust system and Sagem fuel-injection system.
If the motor was a development of its predecessor, then the chassis of which it formed a stressed member was totally new. In place of the old steel spine was a perimeter frame of twin oval-section aluminium tubes. Styling was a key factor in the chassis design, hence the frame's polished tubes and the single-sided swingarm that enhanced the Daytona's sleek and distinctive look. Suspension was by Showa of Japan, with 45mm forks and a similarly multi-adjustable shock.
Compact and eager to rev
From the rider's seat the Daytona felt notably more compact than previous Triumphs, and it was certainly much faster too. The new motor was smooth and eager to rev. It kicked hard anywhere above 6000rpm to send the triple surging forward and its rev-counter needle flicking towards the 10,500rpm redline. Peak output was 128bhp at 10,200rpm, giving a 15bhp advantage over the previous Daytona Super III. With its rider tucked down behind the fairly low screen the triple was good for over 160mph (257km/h). Only the slightly notchy six-speed gearbox and a noticeable power dip at about 5500rpm marred the impression of a superbly fast and sophisticated sportster.
There were no such complaints about the handling, particularly on the Triumph's combination of light, neutral steering and confidence-inspiring stability was very impressive. The top-heaviness of previous Triumphs was gone, replaced by a pleasantly manageable feel, and backed-up by excellent control from the firm yet compliant suspension. Although the Daytona could not quite match the agility of its raciest rivals, it was not far behind, and its Nissin brake system gave outstanding stopping power.
The T595 Daytona was more than an excellent sports bike, it was proof that Triumph was truly back in the big time. Almost 30 years after Honda's CB750 had arrived to outclass the previous Meriden-based factory's T150 Trident triple and hasten the demise of the once dominant British motorcycle industry, Triumph once again had a sporting superbike that stood comparison with the very best in the world.
T595 vs R1 vs CBR vs ZX-9R
LOS ANGELES, January, 1998 -- Screw the real world. Forget about gas mileage, weather protection, operating expenses, "real world power delivery," and comfortable ergonomics. Screw the bureaucratic nannies who harp about public safety and demand horsepower limits, and cuff the next twit who whines 'we don't get the really cool bikes in America' in the back of the head. This is the US of A, and on our long, wide, civilized and government-subsidized roads, brute power rules the day. So, we recently prompted the major manufacturers of three- and four-cylinder motorcycles: "give us the quickest, lightest asphalt-annihilator around." Give us Yamaha's YZF-R1, Honda's CBR900RR, Kawasaki's ZX-9R, Suzuki's GSX-R750 and Triumph's T595.
Assembled before you are five of the gnarliest multis ever made, each of them a marriage of horsepower, handling, and weight. Our goal: To separate the men from the boys; to take the fastest and best-handling bike from each of these manufacturers, regardless of displacement, put them on the same track together and let them tear each other apart. You might notice that there are no twins in this shootout, but don't despair, they will be covered in Part II. Best of the Best, Part III, will follow with the two victors dukin' it out for the title of Supreme Sportbike.
In the past we've received complaints from many readers who don't care about price, ergonomics, or streetability: Well, our squidly friends, this shootout is for you. No freeway testing, no touring, and no damned urban cruising. Just the track, some canyons, and the dragstrip. Nothin' but good old-fashioned scratching.

While it was really no big surprise that Yamaha's tour-de-force YZF-R1 was the winner in all objective categories -- it was the fastest at the drag strip, turned the quickest racetrack lap time, and kicked ass on the dyno -- and gathered first-place votes from four of our five testers, there were some surprises a little further down the food chain.

Honda's CBR900RR (Fireblade in some markets) returned for 1998 with what seemed like redesigns too minor to hang with this buffed out crowd. Ah, but all is not as it seems, and this year the 'RR matches up to the marketing hype that sold so many of the (ex-) wobbly machines in years past. Notably, a stiffer chassis, 5mm more trail (trail, not Steering Head Angle, is what provides front-end "stability"), 10mm more fork span to enhance handling and torsional rigidity, improved suspension valving and selected weight savings added up to a quantum leap forward from the previous model. In fact, it was argued that with more power the RR might have won this test: That is, despite its 114 horsepower motor being a little under par in this group, the RR proved to be a such a flickable, stable mount with predictable power delivery, it afforded all riders instant confidence to go fast in the twisties. Bottom line: the 'RR is the easiest bike to jump on and go fast.

One of the surprises of this test is that most of these mongo dong-swingin' hyper-bikes are also great street bikes with tractable power and livable ergonomics. Not so with the GSX-R750. As resident Willow Springs Motorcycle Club king-pin big-fish Chuck Graves -- who won seven out of seven classes this past season at Willow -- pointed out, "the GSX-R750 sure likes to be ridden hard, but it's a miserable street bike." Point the GSX-R750 at a track or a set of curves that you've scouted for dirt and cop officers and hang on for one awesome ride: The Gixxer captured the only other first place vote in the test, from AMA Dirt Tracker Brett Landes: "The harder I rode, the better it handled. I was very impressed with its racetrack prowess."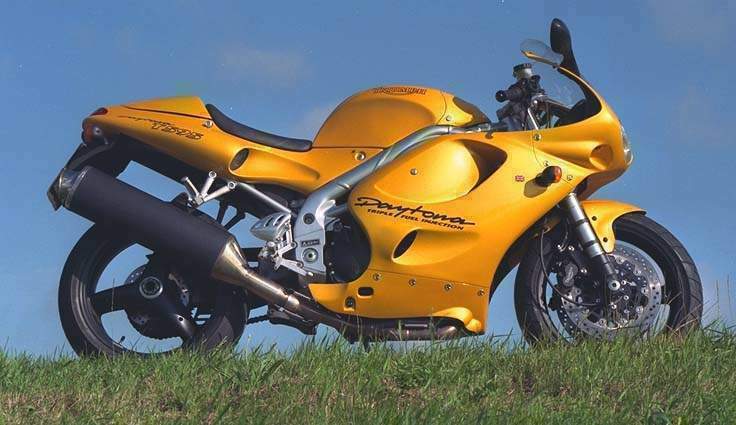 Impressions:
1. Brent Plummer, Editor-in-Chief
If you want the best sportbike made today, go get an R1. But you'll have to get in line behind me, 'cause I'm pulling industry strings to get one ASAP. Ha ha!

2.Chuck Graves, Contributing Editor Racer
The R1 is incredible, state-of-the-art through and through. The neatest thing about it was that while it still had suspension plush enough to give a smooth ride on the highway, the chassis still gave the razor-sharp feeling of a racebike when ridden at its limits. It's as stable as a rock. The other thing that made it leaps and bounds beyond everyone else's motorcycle is the smoothness of the throttle control -- the exact same thing that I was raving about on the old YZF1000. Rolling on the throttle was always smooth, always predictable, and that goes a long way towards instilling confidence when driving off a turn.

The Honda moved around a lot, but never gave you the feeling of getting out of control, even though it didn't have great control and wasn't smooth over the bumps, there was always confidence that the bike was going to stick when you turned it in. Suzuki's GSXR750 -- which got my vote for third place -- is better than last year's 750, which was an awesome bike. It's a great machine.
I was alone in liking the Triumph at the racetrack. While we agreed it looks great and that its tractable motor made for excellent streetability, I felt that its superior throttle response made it easy to achieve smoothness when ridden hard.

I thought the ZX-9R felt too vague. You couldn't tell what it was going to do when you tried to change direction quickly, and you couldn't turn it in really fast because you weren't sure what the front end was going to do because it was too soft and moved around so much. It had good brakes and a really comfortable riding position, but the off-to-on throttle transition was so abrupt that you really couldn't control the bike coming off the corners.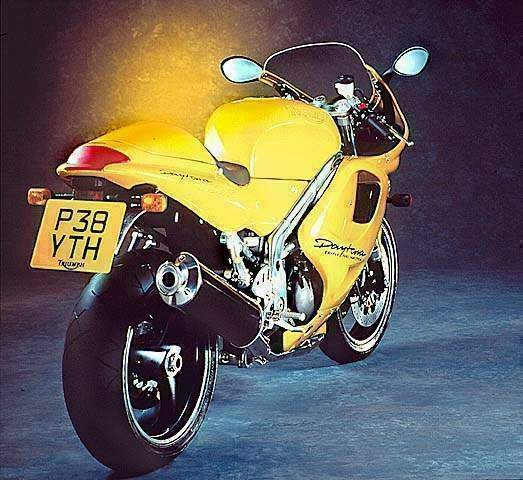 3. Billy Bartels, Associate Editor
I really wanted to pick the CBR900RR to win: Sure, it wasn't fastest, but it was so much fun to ride. I suppose it all depends on how much testosterone is in your riding diet. If you want to live to a ripe old age and have plenty of fun sweeping through the countryside at speeds double the legal limit get the CBR, if not then there's the R1.

In fact, if you belong to the Anthony Gobert win-or-wad school of racing, you will probably want to get the R1, but I hear you'll be waiting until next year, as they are already selling out in most locales.

The ZX-9R was a distant third, yet still an excellent bike, after all this is the Best of the Best. That motor is awesome. Give the Triumph the benefit of the doubt, it's a killer street bike, but in this company its only fourth. I don't get the GSX-R, its racing credentials are second to none, but on the street it's almost impossible to ride that bike the way it is designed.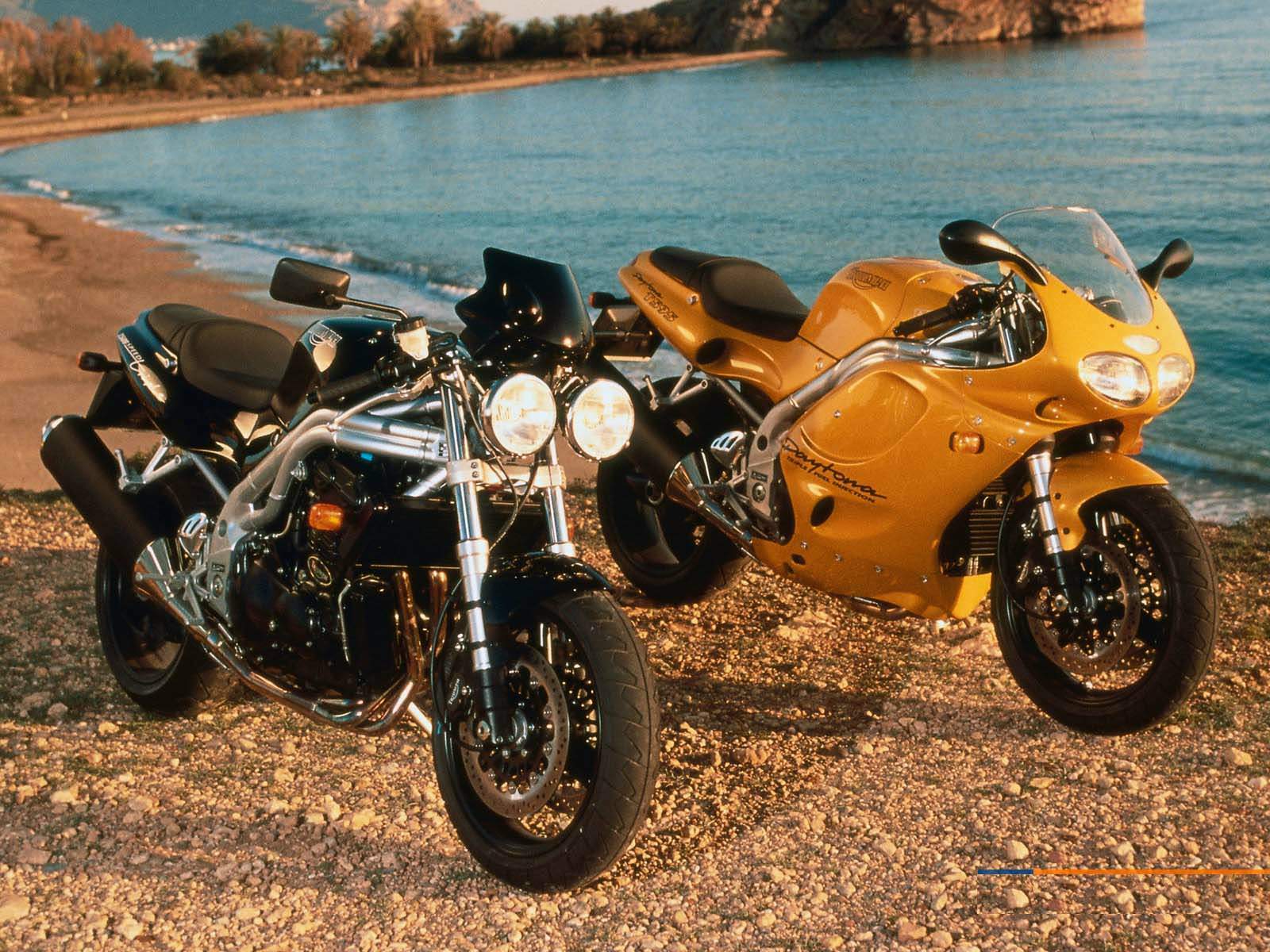 4. Brett Landes
The Honda was the first bike I rode. I was very impressed with everything about the bike. The bike felt real stable through the middle of the corner. The power was good and it stopped real well. The CBR really lets you build confidence in yourself. Going from the CBR to the Triumph is a let-down ... it's a fun bike to ride but does not compare to the other bikes in the test. I was impressed with the way the bike handled, but the transmission does not have a close enough gear ratio to be a race bike ... Also, I have a hard time riding a bike that leaks oil.

I was not very impressed with the Kawasaki. It felt like the bike moved around a lot in the corners and did not stop as well as the other bikes. I think the tires had a lot to do with that. The bike wanted to break loose exiting the corners. I spent a lot more time riding the GSX-R. At first I had to fight it in the middle of the corner in order to be where I wanted to be on the race track, but the harder I rode, the better the GSX-R handled. This bike has great brakes, accelerates well, steers well. And the Yamaha is an absolute ball to ride. It's very smooth doesn't do anything radical at all. I had a little trouble steering it in the middle of the corner, but I don't think it would take much to fix than perhaps a little stiffer spring in the back. In my opinion, I think it is the best looking bike at the test. The R1 is one great street bike!

I don't feel that there are any losers in this test. The bottom line is simple. If you want to go racing, the GSX-R is definitely the best bike to buy. If you want a great street bike that is extremely fast and comfortable, I would go with the R1 followed by the CBR.

5. Roland Sands
I love motorcycles more than most things and riding the Yamaha R1 made me realize that. Fast as all git out, the kind of fast that leaves you thinking about what would happen if it got away from you, but it never did. It greeted full-throttle slides with a smile. The only problem was a slight lag when getting back on the throttle, but most people wouldn't notice it. Good gear box, and good suspension, though a bit soft for me, but that's fixed easily enough.

The RR was the friendliest bike, I was immediately comfortable on it and ran like stink. (In Roland-speak, "like stink" translates into "very good" or "great.") The CBR is the best complete package if I were going to get a street bike, but I'm a little biased by the sheer, undeniable power of the R1. The very racy Suzuki was the closest thing of the bunch to my TZ, I ran it the hardest in the corners and it always felt like it wanted more. You have to rev the snot out of it to get it to do anything, but if you get it where it wants to be, it'll scream like a chick in a Hitchcock flick. Not so great if you want to run to the pub for some suds, but great if you want to win races.

I loved the ZX-9R, more so than anyone else here. It's lighter and faster than the old one. Smokey rear tire fast. Good brakes and sharp steering made it easy to pitch in, but there was a noticeable lack of mid-corner grip once there. The lack of traction might just have been the year-old lay-away rubber on the thing, and as we all know if you ain't got rubber, you ain't gonna get none. The Triumph is beautiful, I was in love. But on the track, I was always looking for more revs past the 10k red-line. It missed gears and leaked oil. Well, the chassis felt strong and the steering was good, and it sounded cool as hell, but its just a little out of league with this group.

Riding all these bikes is fun and anybody could ride one fast.

Source Motorcyle.com