Vincent Black Lightning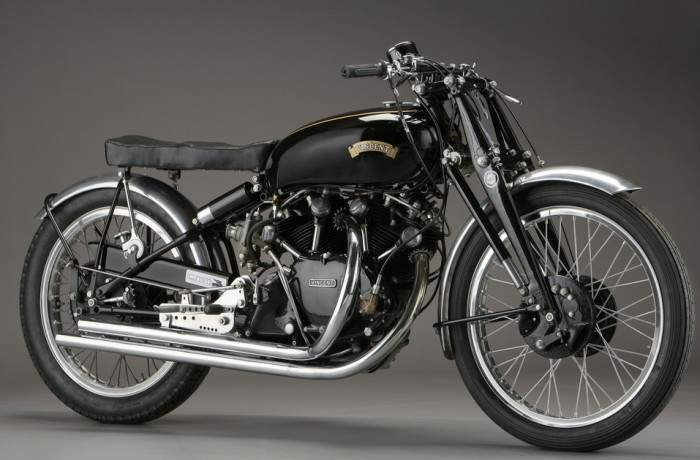 This 1000cc V-twin was THE super bike then. It was the ultimate ride. Its chassis was unlike anything ever produced then and till now the frame is still considered unique. The Vincent Black Lightning was built between 1948 and 1952 when the last model rolled out of the Vincent factory in Stevenage, England. It was at that time the fastest production motorcycle in the world. Even a song about this bike was recorded by Richard Thompson. The song '1952 Vincent Black Lightning' was later re-recorded by several others. Racing trims were supplied with magnesium alloy parts, special racing rims and tyres and others which made the Lightning lost weight to a mere 380 lbs.(170kg.) The 998cc V-twin, OHV, air cooled, pushrod engine was capable of 150 mph (240km/h) with only 70 bhp. A supercharged unit was specially built for a record attempt but never made it. That bike was subsequently sold for £221,500 (RM 1,121,750.00) in 2008. This set a record as the most expensive motorcycle ever sold at an auction in UK.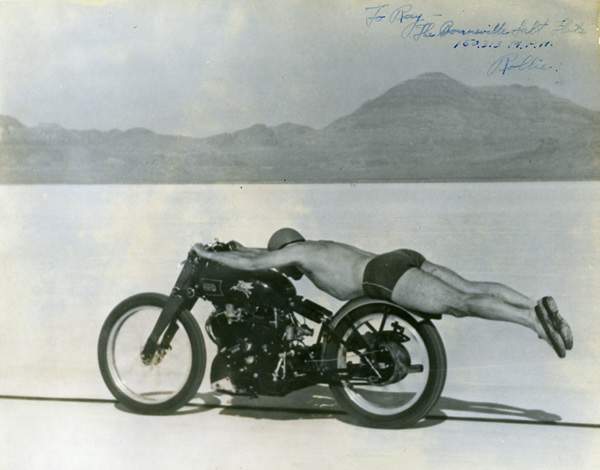 The famous picture of a man stretched out in only a bathing suit on a Vincent is not in fact a Black Shadow but a Black Lightning.
The Black Lightning was a custom order from the factory and was some 100 pounds lighter and 25 hp more powerful than the stock Black Shadow. In one of his books, Phil Irving (one of the designers) said that there were only about 16 of the model produced. The Black Lightning is the fastest Vincent ever produced.
As for the famous "bathing suit bike" picture, it is of Rollie Free, an American, riding on the Bonneville Salt Flats on 13 September 1948. Free was determined to break the land speed record in the "Flying Mile." His first pass hit 148 mph (238 km/h), which broke the record, but Free was determined to break 150. Noticing that his riding leathers had started to come apart at the seams from the force of the wind, Free borrowed a bathing suit, cap, and a pair of tennis shoes and laid down on the bike. With the decreased drag, Free broke 150 mph, topping out at 150.313 mph (241.905 km/h), shattering his record of only a few moments before. That bike, also known as the "John Edgar Lightning" after its sponsor, is currently in the private collection of Herb Harris of Austin, Texas.
Source The new Café racer Society
The Great Vincent Controversy 1 2

The Vincent Black Lightning: All that's needed for speed, and not much more. Was Cycle World's 1965 testbike a bad representative of the legendary brand?
Oh, boy, did we ever hack off Vincent lovers back in 1965. As detailed in my May editorial, Cycle World track-tested a 1955 Black Lightning, legendary Brit V-Twin speed merchant, to mark the tenth anniversary of the Vincent-H.R.D. factory shutting down.

To marque-polishers' horror, we hated the bike, declaring, "The Vincent Owners Club will not love us for some of the things we have said—and they will love us even less for what we are about to say: The Vincent motorcycle may be fast, but it is an evil-handling beast with simply awful brakes. Potentially (and by this we mean unless ridden with great restraint) it is the most dangerous motorcycle ever to come our way—and we are not sorry in the least that it is no longer being made."


Handling we can debate, but has there ever been a better logo?
Well, you can bet the faithful let us hear about that! In fact, the controversy was still simmering six years later when Cycle World published a special section on Vincents in the April '71 issue. One story was about Coburn Benson, a Massachusetts Vincent restorer, and he had some things to set straight.

"Ever since that Cycle World road test on a Lightning," he began, "I've been running into people who put down Vincent handling and braking. And you know, half of them haven't even seen a Vincent, much less ridden one!"

Benson got all worked up over the phenomenon of "Honda generation" critics of the Vincent legend, and magazine criticism from "people who should know better."

"Handling?" said Benson. "Well, let's be for real. Vincent handling was great compared with whatever else was around back in the Forties and early Fifties. Remember all those plunger BSAs, sprung-hub Triumphs and rigid-frame Hogs? Compared to them, the Vincent handled like a roadracer; in fact, about the only thing you could get that handled better were the early Manxes and Velocette production racers.


In the assembly shed at Stevenage. Bike in foreground sits with its major components separated. Oil tank/steering head/fork assembly mates to engine, as does triangulated swingarm. Top it all off with the gas tank and let's go riding! Photo: Dee Vincent-Day
"Vincent went out of production in 1955, at just the time when the rest of the industry was beginning to make real advances in suspension technology. If Vincent had stayed in production, they would have had to come up with a new frame and suspension to maintain their reputation for fine handling.

"By today's standards, their handling would be judged only fair. They do get kind of snaky when banked over hard for a fast corner on a poorly surfaced road, but if you don't push them, they're okay. Most of the people who put down Vincent handling are incapable of driving the machine to its limits, anyway.

"When it comes to straight-line highway cruising in the 90- to 100-mph range, though, I'll take a good Vincent over just about anything on the market today. Seems like the faster you go, the steadier those Girdraulic forks become...

Source Cycle Word